We believe that the SmartDesk mini is the next step in the work smarter revolution. We took the essential features of our famous Autonomous SmartDesk and integrated them into a more compact design to produce the best table top standing desk yet!
Today early adopters across industries have been using our Autonomous SmartDesk to stand at work. Standing throughout the day and making a break with the problematic tradition of sedentary working has been proven to enhance, health, focus and productivity. Beyond the health benefits, having autonomy over your work environment can make a huge improvement to overall well-being. Yet we realise the SmartDesk isn't the best solution for everyone.
Many of us are leading increasingly flexible lifestyles; working between cities, between studios or between work and home. We are less bound to our offices than in the past. What the SmartDesk mini offers, is the ability to turn any standard desk into a standing workstation.
Heading to a Hackathon? Going home from college for the summer? Working on a collaboration in a new studio? Moving around no longer means interrupting your flow or changing your workstyle meaning you can be productive from anywhere.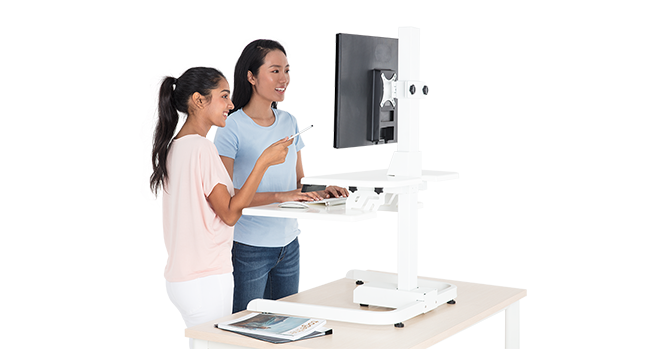 It's also great for shared use within your office or your home. Maybe you have a home office and your son likes using the standing desk for his homework. You can easily convert his bedroom desk into a standing desk and convert it back to your work desk the next morning.
On the other end of the spectrum, perhaps you're an early adopter in a more traditional working environment. Many organisations still have standardised furniture which means many people don't have the choice to change the desk itself. Whether you're in a cubicle shoulder to shoulder with colleagues or in a spacious office, you can easily add the SmartDesk mini to your set-up.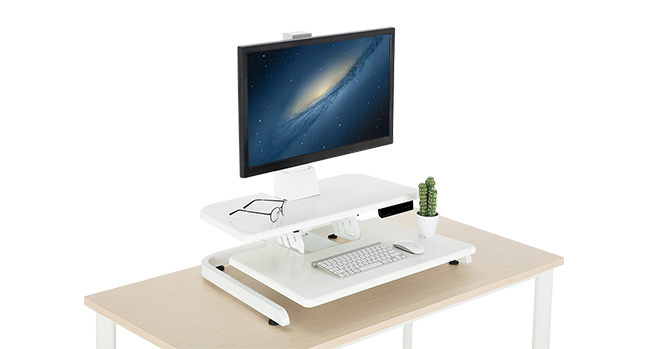 The SmartDesk mini is a gateway to experimenting with new styles of working, and to switch-up your working day. When the afternoon slump kicks in, you can decide to stand to restart your system or explore other approaches like active sitting or using a standing mat for different periods throughout the day. In other words, you can finally take steps to make an active difference to your physical and mental well-being at the office.
Beyond the extensive research and hundreds of articles dedicated to the benefits of standing, here at Autonomous, we have received countless reviews, excellent customer feedback and incredible enthusiasm from the community. This is why we are confident that standing at work, for just a few hours a day, makes a difference.
So this one goes out to all those people with regulation desks, standardised set-up's or even residing in the cubicles of yesteryear. We hope the SmartDesk mini will help you to worksmarter and be healthier, happier and more productive throughout the best hours of your day.
You can pre-order SmartDesk mini at $50 early-bird price at here
Sort by

Top comments

This week

This month
Why our SmartDesk mini is the best table top standing desk yet