Smart Products
Why You Need a Monitor Arm and How to Choose the Right One

Autonomous
|
Oct 15, 2020
6,661 Views
The average office worker spends about 1700 hours behind a screen every year. With all that time, it's essential to choose a professional-grade monitor arm that improves your comfort and productivity.
If you can't adjust your monitor, you adjust yourself and your posture to the position of your computer screen. You hunch. You crane your neck. And in computer-intensive tasks, you do this for extended periods. This can cause eye, back, neck strain, which results in musculoskeletal disorders, time off work, and potentially decrease in productivity.
This is where adjustable monitor arms come in handy. With an adjustable monitor arm, you can adjust the height, distance, and angle of your monitor to suit your requirements.  
However, monitor arms are available in all shapes and sizes, so it's daunting to pick the right one.
What Is A Monitor Arm?
A monitor arm elevates and supports your computer screen, laptop, or tablet. It offers a sturdy, semi-permanent placement, which allows for a wider range of monitor placement. Monitor arms come with one arm, dual arms, or even more arms—depending on your requirements. An articulating LCD monitor arm can hold multiple monitors for multiple users on one post.
A monitor arm features articulating arms, which must be mounted to the work surface or wall. The range of adjustment varies widely depending on the monitor arm you select, but in general there's:
Height adjustment – this allows you to move your computer screen up and/or down depending on your needs.
Depth adjustment – this allows you to adjust the distance between the post and the monitor by pushing your monitor back or pulling it forward. The length of the monitor arm you buy determines the distance you can move your monitor; this typically varies between 8'' and 24''.
Rotation – this allows you to adjust your monitor from landscape to portrait positioning. Most monitor arms offer 3600 rotation so you can rotate your monitor quickly to share information with others. Some monitor arms allow a wide range of rotation at multiple pivot points.
Tilt – all monitor arms provide some tilt, which allows you to move your monitor comfortably. But some models provide a greater range of tilt for various working positions. Some even offer as much as 2000 tilt to accommodate touch screen monitors as well as tablets. 
Why Do I Need A Monitor Arm? 
1.   To Create A Comfortable, Ergonomic Working Posture
Raising your monitor to the right, ergonomic height is essential in maintaining a comfortable working posture. An ergonomic working posture relieves pain in your upper body and back, that's caused by hunching over or leaning back awkwardly to view your screen.
With a monitor arm, you can safely adjust the height, depth, and angle of your monitor to find the setup that fits your body and workflow perfectly.
2.   To Get Rid of Computer Eye Strain
Working on a computer for extended periods can cause your eyes to tire by the end of the day. This can cause eyestrain also called computer vision syndrome. Without proper care and ergonomic adjustments; this can lead to eye fatigue, dryness, and even blurred vision. Fortunately, using a monitor arm can relieve these ailments by placing your monitor at the optimal viewing height, angle, distance, and position, minimizing eye strain and fatigue.
3.   A Monitor Arm Is the Ideal Standing Desk Accessory
If you alternate between sitting and standing throughout the day, a monitor arm is a perfect accessory to your ergonomic workstation. Because it easily adjusts to each position as you move.
To enjoy the ease of adjustability, you should select a monitor arm with a gas or spring lift system as it allows for one-touch height adjustments.
The built-in gas spring within the Autonomous adjustable monitor arm makes adjustments between monitor positions effortless.
4.   Boost Your Productivity
With dual and multi-monitor arms, you can total control over the visual display of your workstation. This offers numerous possibilities on how you can set up your screen(s) for the most comfortable working experience. Whether side-by-side or one monitor on top of the other; this creative control increases your productivity.
Curved displays are proven to boost productivity while improving comfort. Because the curvature brings the corners and sides of the screen closer to your eyes, reducing movement needed to navigate.
How Do I Pick the Right Monitor Arm? 5 Criterias
1.   Check VESA-Compatibility
When buying a monitor arm, pick an arm based on the technology you have or will have. First, make sure your monitors are VESA compatible. This entails having standard mounting holes bored into the back, right into the steel frame of the monitor itself. These holes allow for any compatible monitor arm to be screwed in.
VESA 100 (100'' L x 100'' H X 100'' W) is the standard, but some super-sized monitors above 35'' may have larger requirements. Many cheaper, smaller, or thinner monitors aren't VESA-compatible and will work only with custom monitor stands that came from the manufacturer. 
2.   Weight
To find the weight of your monitor, search for the manufacturer, and model number.
Make sure that the monitor doesn't exceed the maximum weight of the monitor arm, especially if you have an ultra-wide display or multi-monitor configurations.
3.   Check the Maximum Screen Size
Some monitor arms may not offer the right adjustability for extra-large displays if there's no space below the monitor. If you want multi-monitor setups, a large display can cause the screens not to fit or hit each other.
4.   Check Adjustability
A good monitor arm should move up and down easily to fit your height requirements. Also, it should tilt back 10-20 degrees to minimize stress on your eyes, and it shouldn't be perpendicular to your workstation.
A flexible monitor arm adds flexibility to your work surface. The ability to push your screen out of the way creates more space for different tasks and projects. Also, a good monitor arm should rotate your screen 90-degrees, turning your display into portrait mode to enable you to see documents at full size or change your workflow.
5.   Cable Management
A good monitor arm should include cable management. This helps control the cable chaos around your desk. 
However, make sure your cables have enough slack on the monitor arm so that they don't break or unplug when you move the monitor arm around.
Final Thoughts
Because ergonomic monitor arms boost productivity and create a comfortable working setup, investing in one is a direct investment in yourself—your work and your well-being. And figuring out which is one is perfect for your body and work is a simple matter of choosing one that's adjustable and compatible with your monitors. Don't forget to check out our smart office accessories to maximize your office productivity right now.
Video ads for product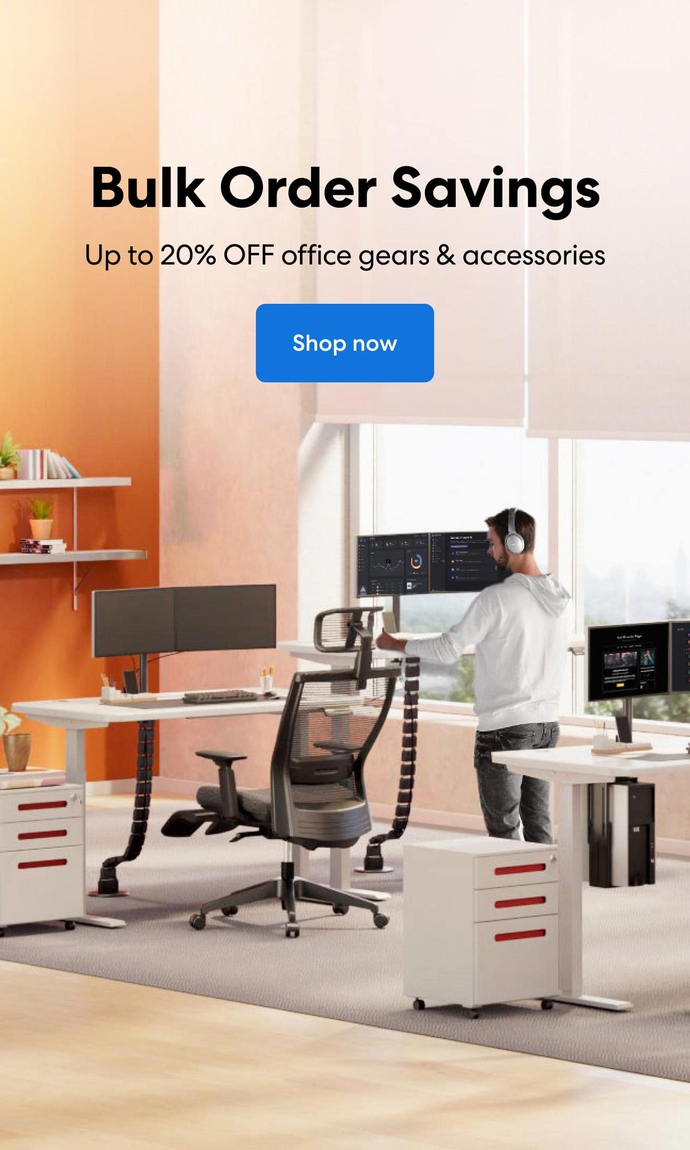 Subcribe newsletter and get $100 OFF.
Receive product updates, special offers, ergo tips, and inspiration form our team.