Remote Working
Work from Home Outfits Ideas - Simple but Fashionable

Autonomous
|
Oct 4, 2021
1,554 Views
Who thought we would be dressing up at home to sit in front of the laptop. But working from home routine has changed a lot of things. From setting up a home office to creating a comfortable workstation, work from home has been a real challenge. So besides the professionalism to attend meetings online, there need to be proper work-from-home outfits.
This does not mean you should get all fancy and dress up in tough work clothes and sit to attend those meetings all day. But the right choice of work-from-home clothes can instill some motivation to cover up those tough tasks with a positive attitude. This article will cover some of the basic ideas for work-from-home uniforms and some work-from-home must-haves if you need a good professional outlook in your home office setup.
Work from Home Outfits and Essentials
The collection of comfortable pajamas and oversized t-shirts or even comfy shorts with dress shirts has been our constant companion over the past year. But with many workplaces not thinking about getting back to the pre-Covid world, you might be short on work-from-home clothes.
Especially when there is no expectation of returning to offices, we all need an upgrade on our wardrobe to cover some best work from home clothes. So, besides basic work from home self-care tips, here are some work-from-home outfit inspirations you can enjoy making a clear impression during those online meetings.
Button Up Shirt
A button-up shirt is an all-time classic for both workplaces and work from home. With a button-up shirt, you can look professional and feel comfortable at the same time. Since workplaces see no shortage of button-up shirts, many offices still have that good work from home uniform. In addition, a button-up shirt is the ultimate go-to look for employees who have to meet and greet clients worldwide online.
Knitwear
You can never go wrong with knitwear. Even the cleanest and a new t-shirt cannot give off a professional vibe like a simple knitwear jersey or front closed knitted sweater. To give a graceful vibe on zoom meetings, this knitwear will be your go-to look when you enjoy the comfortable feel against the skin.
Everlane Jeans
While you work from home, would you wear jeans? YES! These are constructed of soft organic cotton that has already been broken in, so you'll be completely at ease.
Dress Pants
Not all dress pants have to be formal or painful for you. The modern dress pants are more comfortable than ever, and most of us can fall asleep in them too. So if you have been looking for that comfy yet professional vibe with a work-from-home outfit, a dress pant in plain blue, fawn, or black can do the job.
Black Leggings and Comfy Shirt
Were you in the dilemma of whether or not to wear black leggings for your workday? Well, here is the sign you have been waiting for. Black leggings are the staple of a work-from-home outfit that never goes out of style. They are comfortable, chic, and extremely flaunting.
Jumpsuit
Not many people would agree with us but wait until you slide yourself into a cotton jumpsuit. We are positive it would be hard to get you out of that jumpsuit anytime soon. The leopard print jumpsuit is always in business and ideal for people who want to add a touch of fashion and professionalism. Pair it with minimalist accessories, and you are good to go.
Hoodie and Pants
Hoodies are always in fashion, especially when we are talking about work in winter. Hoodies are timeless, and who says they don't look professional. So go for a black or white hoodie and watch your zoom meetings being taken seriously. You can also find yourself becoming more productive as you dress up in the comfiest of clothes.
Crop Cardigan
If you work in a creative atmosphere, a cropped cardigan can give your clients a cute, colorful vibe. For people who work in the design and fashion industry, dressing upright can be as important as speaking the right words with your prospects. And you don't want to compromise on the first impression with some basic tee or a pair of formal (but boring) work-from-home outfits. Hence, the cropped cardigan.
Low Cardigan
Not a fan of fabric hugging your neck? This lightweight cardigan from John and Jenn is a killer because of its style and one-of-a-kind comfort. The product boasts front buttons with a clean, professional look ready to ace those meetings. Pair it with a simple t-shirt or camisole, and you won't need an entire wardrobe change.
White Blouse
Here is one of the interesting work-from-home outfits. The great thing about a white blouse is that it never goes out of style. Wear it just as it is to get a nice sophisticated look in summer. Dress yourself up with a blazer over it in winters, or maybe put on some long pendant necklaces to get that new cool vibe? You can never go wrong with a plain white blouse that is ready to make your entire look flawless.
Wide-Legged Pants
When you're working from home, stretchy pants are your new best friend. It's a step up from pajamas, but it's more refined and adaptable.
Tee Dress
A comfortable t-shirt dress will quickly become your go-to outfit. Just big enough to feel at ease but stylish enough to wear with summer sandals or white sneakers.
Can You Impress Your Team with Furniture?
Chair
Once you are all set on the wardrobe, make sure you have a proper workstation. Start by getting an office chair that will go well with the workstation and provide you with the due comfort. The right chair can also make your posture straight, making you look more confident and appealing during online meetings.
Desk
What's the point of your cool and trendy outfit if no one (your clients) cannot take some fashion inspiration from it? The right outfit needs to be shown properly, and it will also give you a lot of confidence. Since the outfits in your wardrobe (from our list) will elevate the work from home vibe for you, there is no need to avoid taking meetings from that standing desk anymore.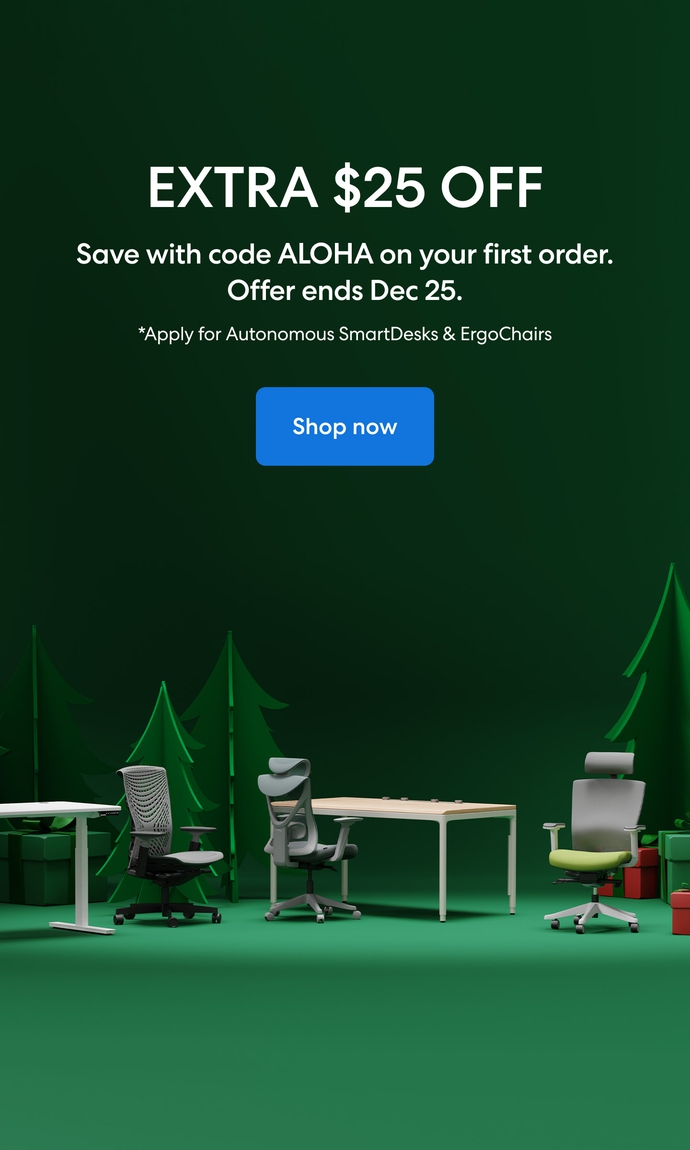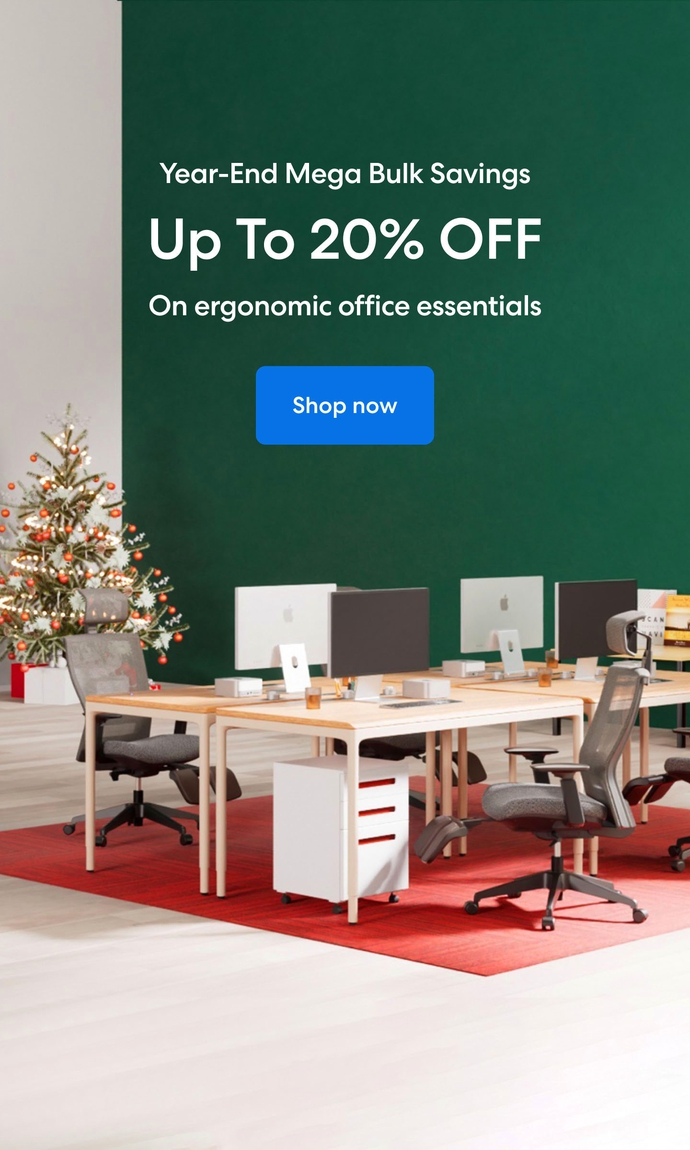 Subcribe newsletter and get $100 OFF.
Receive product updates, special offers, ergo tips, and inspiration form our team.