You might be thinking to yourself, what is the difference between work from home vs office? Today we compare both options side by side to assist you in understanding the particular advantages and disadvantages of each. 
Research suggests that half of a company's employees typically work from home at least twice a week, and a third had part-time remote jobs. 
Many businesses have adopted this new hybrid office model so that their teams can work remotely. Ever since the pandemic struck, industries worldwide had to adjust protocols to match safety standards. It was a flight and fight situation that was experienced by the workforce on a global scale. 
This adjustment was initially tough for employers and employees because of the new processes involved. Work from home statistics shows that this new office model is beneficial, and causes productivity to increase. Let us delve a little deeper into the subject and know what is the difference between work from home vs office. 
What Is the Difference Between Working from Home vs Office?
Well, there are quite a few unique differences between work from home vs office. A conventional office could be monotonous and mundane, lacking the aesthetics to satisfy an office worker. 
Many work from home statistics showed that traditional workspaces generally consist of a room packed with cubicles full with staff. That is a tiresome environment to operate in because of the excessive mental clutter. 
In your home office setup, you could create a perfect workspace for you that is ergonomic and oozes customization.  
The workstation could be set up with an electric standing desk to provide you with the option of sitting or standing. Of course, you would need to add an ergonomic office chair to support your lumbar region while working for long hours.  
When you are in a traditional office environment, you might not have access to equipment like this. Some offices have adopted the hybrid office model, and it has been very successful. 
The hybrid model consists of a multitude of ergonomic equipment to please staff and clients alike. A company like Facebook uses this office style, and its office includes items like the SmartDesk from Autonomous. 
It's used in meeting areas, and height is adjustable at the press of a button. Office workers also use it in communal work areas. Imagine how awesome it would look in your home office? 
A high tech home office is for someone who wants to splurge and have the best equipment supporting them. Other people prefer a more minimalist home office setup free of clutter and distractions. 
The process of designing your office can be a tedious one, and that is why this article has been created for you. With so much evidence pointing to the increased performance from the hybrid office model, it would be silly not to adopt this style. 
We can only hope that other companies follow suit so that their employees can move forward into the future. 
Pros and Cons of Working from Home
Working from home can be challenging. There are a large number of distractions, and keeping motivated can be difficult. We need to discuss some pros and cons with you to decide if this is for you. 
You see, working from home gives you the comfort and privacy some people might require when they process tasks. Other individuals could get easily distracted when working from home. That's where you need to adapt and bring elements of routine into your work life. 
Pros of Working from Home
So, what are the benefits of working at home vs office? Your home is your castle and working from it gives you the kind of satisfaction you can't get anywhere else. Those who have mastered it reap the benefit of freedom and time with their families. 
Not only that, but most have created home office spaces that are unique and help prevent ergonomic ailments. Even the simplest workspace can offer a minimalistic look while still maintaining office ergonomics. 
There are various products to choose from online, but some people might be worried about their budget. Luckily there is an employee purchase program out there where you can buy discounted ergonomic equipment. 
This equipment is vital because suffering from an injury of this nature is no joke. You might not be in pain right now, but in a few years, the pain can be unbearable. 
Studies have shown that ergonomic injury is the leading workplace ailment among 70% of office workers. 
One of the obvious work from home benefits is that it allows you to take breaks on your schedule and lounge out on your soft couches. That is also another guilty pleasure that you just can't beat. 
Besides having complete control of your office layout, workstation setup, and rest areas, there are other pros like not commuting to work. There are too many advantages to mention, so we leave it and continue with the cons. 
Cons of Working from Home
Besides some of the work from home benefits, it also has some drawbacks. The first thing to discuss is the budget. Often people shy away from building a home office because they think it costs too much. That doesn't need to be the case, as you can create an ideal workspace for pretty cheap.  
Another thing to consider is the size of your work area. Is it going to be big enough to handle any new office equipment? What sort of style do you want? Are there some items that can be donated or thrown away?  
The new age workspaces are often minimalistic in design, so you might have trouble getting rid of some of your things if you are a hoarder. 
Some people struggle to work with a routine if they are not in the office. These individuals could encounter problems when trying to work from home. Suggestions for such a person would be to create a timetable with your schedule and do your best to stick to it. 
Creating a routine can take time, and some might feel despondent when things aren't going their way. You need to keep pushing forward if you want to adapt to the work-from-home office environment. 
Often working from home can leave you bored and uninspired due to a lack of communication with your team or colleagues.  
If you can't get away from the desk, why not meet on Google Hangouts? 
It would help if you tried to check up with friends and family in your free time. Or have a quick Facebook video call. Human interaction is essential, so be sure not to neglect your loved ones.  
How to be More Productive When Working From Home
As mentioned, working from home can sometimes be challenging due to distractions; having the option of staying in bed a little longer doesn't help either. These things can hinder a person's productivity and can be detrimental to one's career. 
A schedule needs to be created, and you need to adhere to the rules you set out for yourself. Discipline is your friend in this instance, and the sooner you master it, the more your productivity increases. 
Taking a break is an often forgotten exercise that is essential during a workday. Taking a small 15-minute break every hour and a half can increase productivity. 
Studies show that the average human's attention span is only around 90 minutes and that taking breaks can effectively recharge the brain. 
Productivity comes in all shapes and forms, and that could mean an ergonomic office desk. Choosing a suitable table can be challenging, but it is an essential part of any office space.
If you have a minimalistic office, you want something sleek and modern. A home office standing desk can be a great asset to add to your workspace while giving you standing and sitting options. 
It has been proven that standing is better for your spine than sitting, so consider a Smart Desk if you are someone suffering from back pain.  
A great chair to include in your new office would be the ErgoChair Pro. A meticulously designed piece of equipment that offers full adjustable lumbar support. 
Sitting in this chair, you can feel the quality and comfort it provides when working for long periods. This seat cradles your spine and offers full pelvic support. Height is taken care of pneumatically, and the chair comes with an impressive two-year warranty. 
Another great way to create an ambiance at home would be to include a speaker in your inventory. The sound of music can motivate you to get things done and make a vibey atmosphere in the office. 
Ergonomic Furniture for the Office of The Future
There is a large selection of ergonomic furniture that can be found with a quick Google search. When deciding which products to use, it is always good to consider your height and weight. 
A seat much like the ErgoChair Recline is a great entry-level ergonomic chair. It gives you superior comfort with its ergonomic design and beautiful aesthetics. That gives you the advantage of being able to sit for long hours at your desk. 
These chairs can be purchased through a company called Autonomous. Autonomous is highly renowned for its quality artistry and attention to detail. Each piece of ergonomic office equipment that leaves the factory comes with a seal of approval. 
Products that come from the company all have a minimum one-year warranty with the option to extend. You can rest assured that these are some of the most carefully designed ergonomic equipment on the market. 
There are other accessories that you can add to your home office that complement each other. Things such as a LumiCharge 2 desk lamp can be an invaluable tool when working at night or in poorly lit areas. 
A cable tray can be added to a Smart Desk to keep your cables neat and protected. 
Sometimes people like to use a desk pad to hold their keyboard and mouse securely. That is where the sustainable cork desk pad comes in to provide a unique surface to mount your keyboard firmly. 
If you want to splash some cash, there is one last ergonomic item that you can add to your list. It is the ErgoChair Plus, and it's the epitome of excellence. This chair is dynamic as it adapts to your movement and molds to your spine. 
It's a seat for someone who wants full adjustable lumbar support. There are many customizable options, such as movable armrest, pneumatic height adjustment, and breathable mesh backrest.  
This chair gives you ultimate comfort, support, and satisfaction. 
Designing Your Home Office
Whether work from home vs office, there are many ways to design the office of your dreams. Maintaining an ergonomically safe office environment is imperative in this day and age. Be sure to take your time planning because this part is the most important. 
It is an excellent practice to Google some examples of designs that you wish to incorporate into your space. Make sure to write things down so that you can see your plan come to life. When you write something down, it affirms that action must be taken to achieve your goals. 
Something to consider when putting your plans together is the size of your office space. You want a functional office that can help you increase your productivity. Try to use every corner to its maximum potential without overcrowding the space. 
Keep your rest areas in mind when creating your layout. It would help if you had soft cushions and comfy couches to lounge on while you rest. Brighten the room up with posters or previous awards for projects you have completed. 
Another great addition to any office space is some lovely flowers. It helps to elevate mood while providing essential oxygen for us to breathe. Some good plants to use would be succulents and other varieties that don't require much light. 
Do not overcrowd the office with plants unless you are going for a jungle type of theme. Be cautious in your approach when planning, and watch your home office design come to life. 
Conclusion
The future is now. This statement proves its strength with the alarming rate technology is expanding. It would be silly not to consider a hybrid office model as it benefits your well-being and mindset. 
Not only does it promote productivity, but it also boosts your mood while motivating you to get things done. Start by getting all your home office must-haves and begin building the office of your dreams today.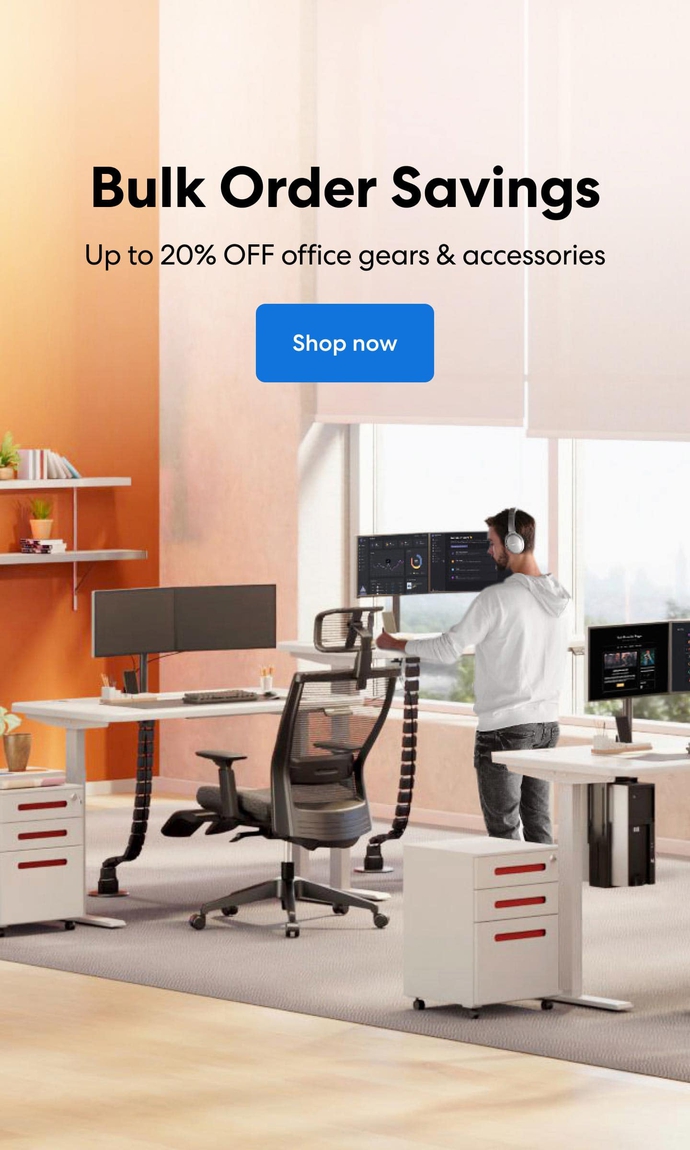 Subcribe newsletter and get $100 OFF.
Receive product updates, special offers, ergo tips, and inspiration form our team.