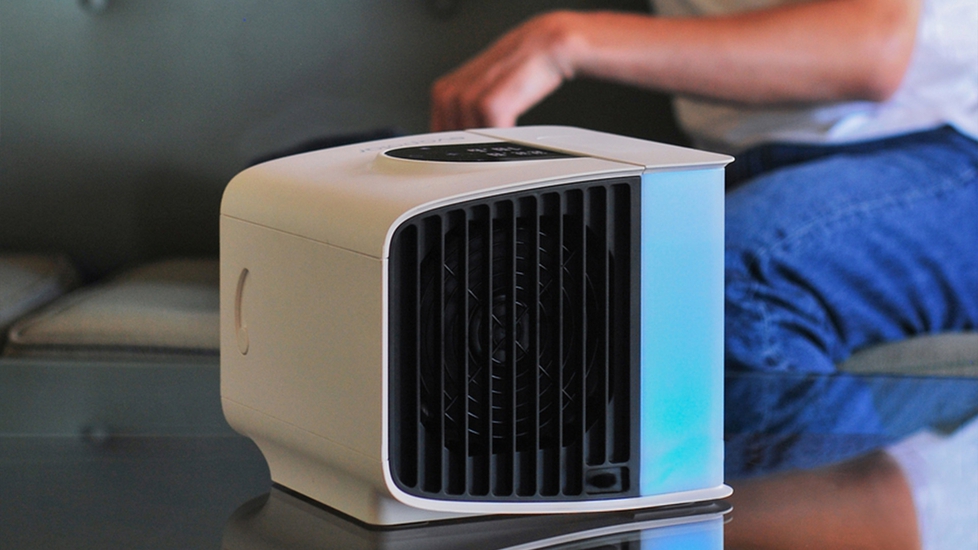 Evapolar evaSMART Personal Evaporative Air Cooler & Humidifier
Color:

Not available

Not available
Notify me when this item is available
Enter your email below. We'll let you know when it's back in stock.
Sold and shipped by Evapolar
• Chills, purifies & humidifies • Consumes only 12.5W • Touchscreen display • Smart home integration • Color playlists
• 1-year warranty
evaSMART is an intelligent personal evaporative air cooler with Smart Home and Mobile app control, removable water tank and full-spectrum LED light. Engineered as a 3-in-1 cooling device, it cools, purifies, and humidifies the air. Sleek minimalist design, sophisticated functionality, and a powerful cooling effect. evaSMART is fully compatible with Amazon Alexa and Google Home and can be remotely controlled via a mobile app, making it perfect for taking care of your pets and kids while you are away. evaSMART air cooler was created to cool down the personal area only in front of you, not wasting tons of energy to cool the whole room. Powered by unique evaBREEZE technology, the evaSMART air cooler can decrease outcoming air temperature up to 44.6-50 °F degrees (7-10 °C), depending on the humidity level. A portable and USB-powered SMART air cooler is perfectly suitable for sleeping, resting, and working in the office and from home. Created as a whisper-quiet personal cooling solution, it is a must-have device for hot sleepers. Portable and USB-powered, it creates your personal microclimate wherever you are. Enjoy the coolness effect as long as it is connected to an electricity source — a socket, a powerbank, a laptop, etc. Forget about installation costs contrary to an AC unit! Just add water, connect the device to power and enjoy the fresh air. You can control the airflow and the LED lighting on your evaSMART via the touchscreen on the device, smart assistants, or the mobile app. Breathe pure and fresh air, thanks to the long-lasting biodegradable basalt fibers inside the cartridge. They filter out the dust in the air and retain water for more efficient cooling and humidifying. To ensure good air quality, simply replace your cartridge every 3-6 months (depending on water and air qualities). Please note, natural color of evaBREEZE bazalt-based cartridge may differ from white to dark green!
Deep dive into specs