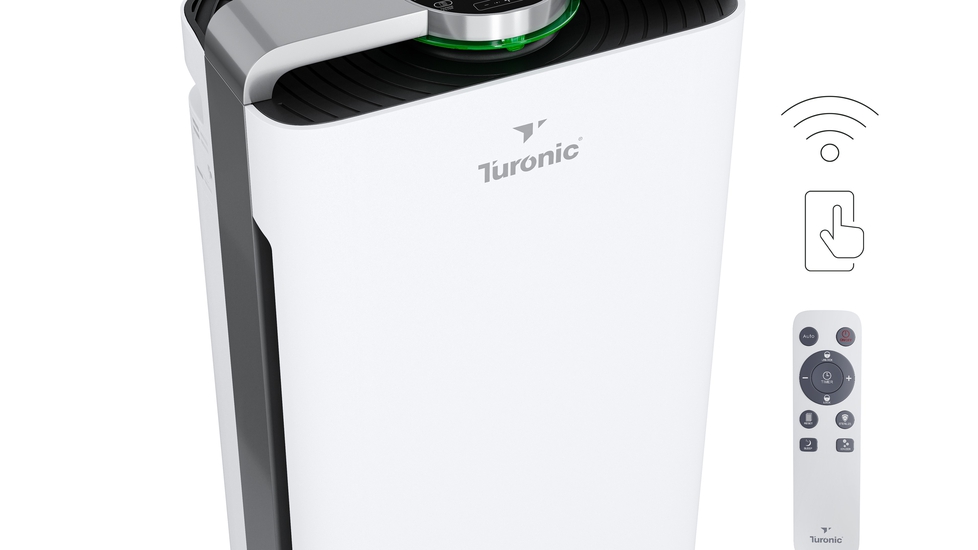 TREBLAB Turonic PH950 Hepa Air Purifier: with Humidifier
Buy now
Add to cart
FREE shipping May 31 - Jun 02. FREE 30-day returns.
Sold and shipped by TREBLAB.
- 8-Stage Purification - Crafted with 5 air filters including True HEPA 13, activated carbon, cold catalyst, cotton filter, and mesh prefilter. Also includes a humidifier, UV light, and ionizer. - Moisturizing Humidifier - Purifies air while maintaining a comfortable level of humidity. Keeps furniture + surfaces dry. - Smart Auto Mode - Auto mode with a laser sensor to detect pollution levels and regulate through 8 different speeds in response to air quality. - Silent Operation - Light sensor to turn the device to sleep mode in darkness. The low mode operates at just 36 dB. - UV-A Light and Ionizer - Negative air ionizer and UV-A light to help maintain optimal air quality. - LED Indicator & Replaceable Filters - Built-in filter quality indicator to identify when filters need to be replaced. - Smart Device Compatibility - Pairs with Apple, Android, and other smart devices through a real-time application. Built to adjust levels and various settings.
• 1-year warranty
- Premium Air Cleansing - Create a clean and fresh atmosphere in any large room with a PH950 HEPA air purifier for home. Powerful air purifier to cleanse up to 2500 sq ft/2 h, 1875 sq ft/1.5 h, and 1250 sq ft/h. - Advanced 8-Stage Air Purification – Сapture pet dander, smoke, dust, odors, and allergens from your place. PH950 is built with a mesh prefilter, cotton filter, true HEPA filter air purifier, activated carbon and cold catalyst filter, as well as a humidifier, UV light, and air ionizer. - Moisturizing Humidifier – Find the optimal level of humidity with a humidifier air purifier combo. Complete with water-cleaning balls for rich moisture. - Smart Auto Mode – Switch to an 8-speed auto mode for seamless air refining at a low from 36 dB. Contains an ambient light sensor for silence in darkness. - Essential Features – Control the smart air cleaner through a built with a touch panel, wi-fi app or remote. Includes a 12-h timer, filter health indicator, air quality display, and child lock.
Deep dive into specs
FAQs
Don't see the answer to your question?