Additional decorations are shown for illustrative purposes only and are not included with WorkPod. No heating & air conditioner included.
Ships to most US states


(excludes Hawaii & Alaska)
No permit required in most localities (*)
WorkPod
Earn a 3% discount with wire transfer
Customer Reviews
Save
$1,000 per Pod
when you buy two or more.
Have a question about Pod?
Book a call
Ships to most US states


(excludes Hawaii & Alaska)
No permit required in most localities (*)
Close the door
on distractions.
Step into your sound-insulated zone, with ceiling-to-floor windows so you can enjoy the inspiration of nature without the distractions.
Make WorkPod whatever you need it to be.
Fully wired and ready to go, WorkPod is more than just a workspace. It can be your games room, yoga studio, or simply a chillout zone.
What's inside your WorkPod.
Your WorkPod comes with everything you need. The SmartDesk Connect & ErgoChair Plus for an ergonomic workspace setup. The anti-fatigue mat that helps you focus, the cabinet that keeps you organized, and the bookshelf that provides accessible storage.
It's just plug and play.
WorkPod comes pre-wired and prepped with creature comforts, warm lighting, and handy outlets for all your gadgets and appliances. Just plug it into a power source and you're good to go.
Tested beyond
industry standards.
Every step of the prefabricated build is precisely controlled and tested to exceed factory standards – using a wooden frame, supported with plywood, honeycomb paper, bitume and vinyl sidings.
A simpler way to create space
It only takes a couple of days to complete with a headache-free construction process. Don't waste the better part of a year waiting for permits and expensive remodeling.(*)
Compatible with
your terrain.
No prep needed. WorkPod's fuss-free foundation is adjustable to accommodate uneven ground. Designed to uniformly distribute weight up to 2.9 tons, it will happily sit for years on everyday surfaces like concrete, gravel, grass and brick.(*)
Choose Your View
We're giving you the option to choose your view. Decide where you would like to place your main window.
*If a permit is required in your locality, we will provide technical drawing for permit submittal.
*For optimal results, we recommend hiring professional help to assemble your Pod.
*Please ensure the ground is on solid terrain and not vulnerable to subsiding. Otherwise, additional prep will be needed.
Tech specs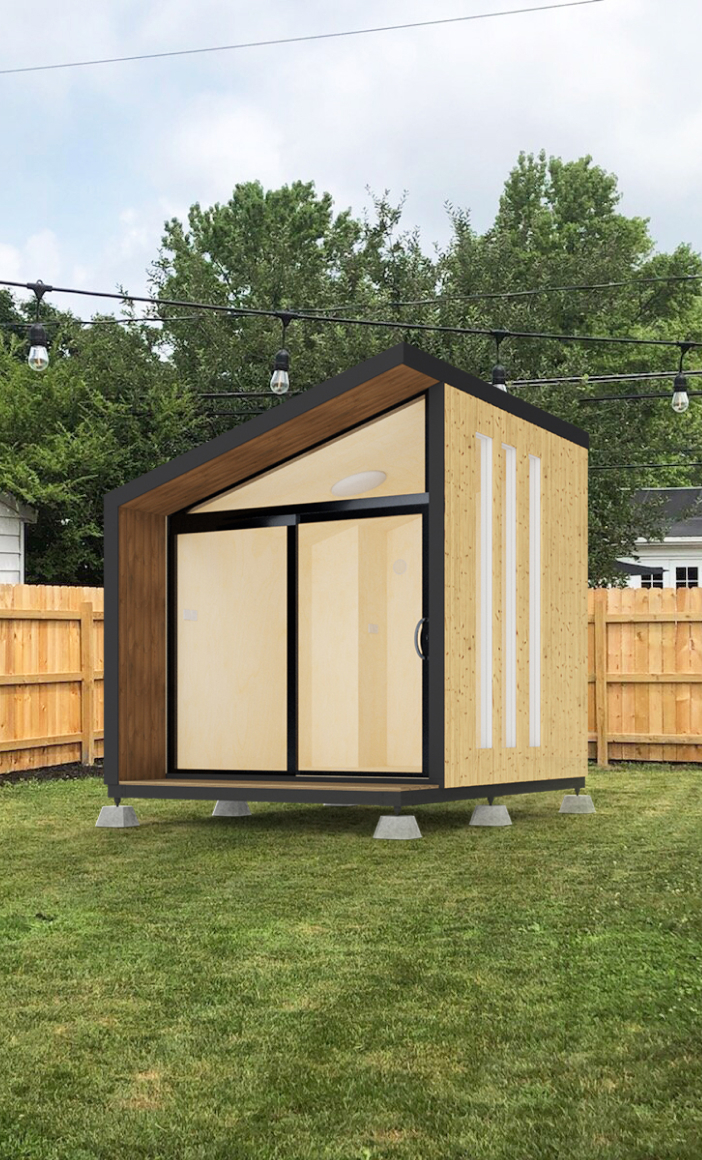 See Autonomous
Pod in AR.
Want to imagine Pod in your backyard? Take it further by trying an augmented reality (AR) model of your future Pod on your mobile device.
View Autonomous Pod AR model
Floor plan ideas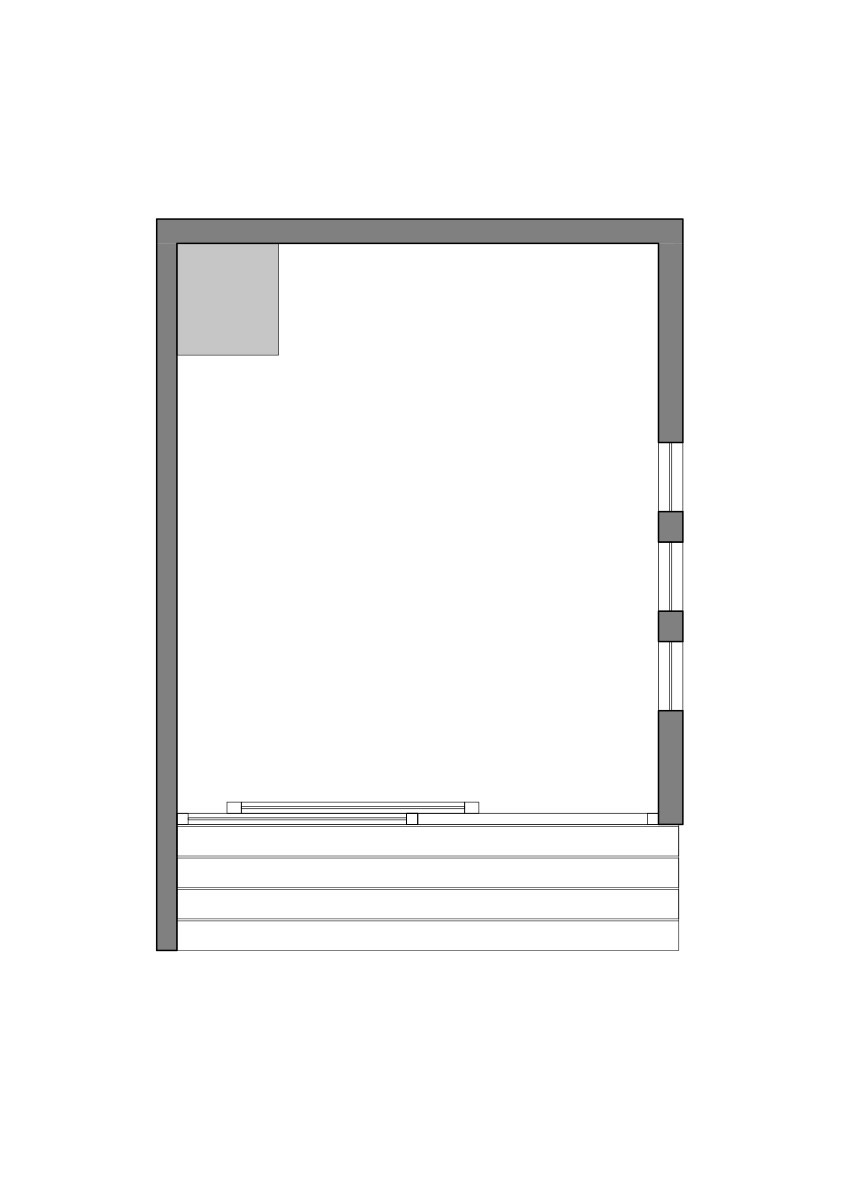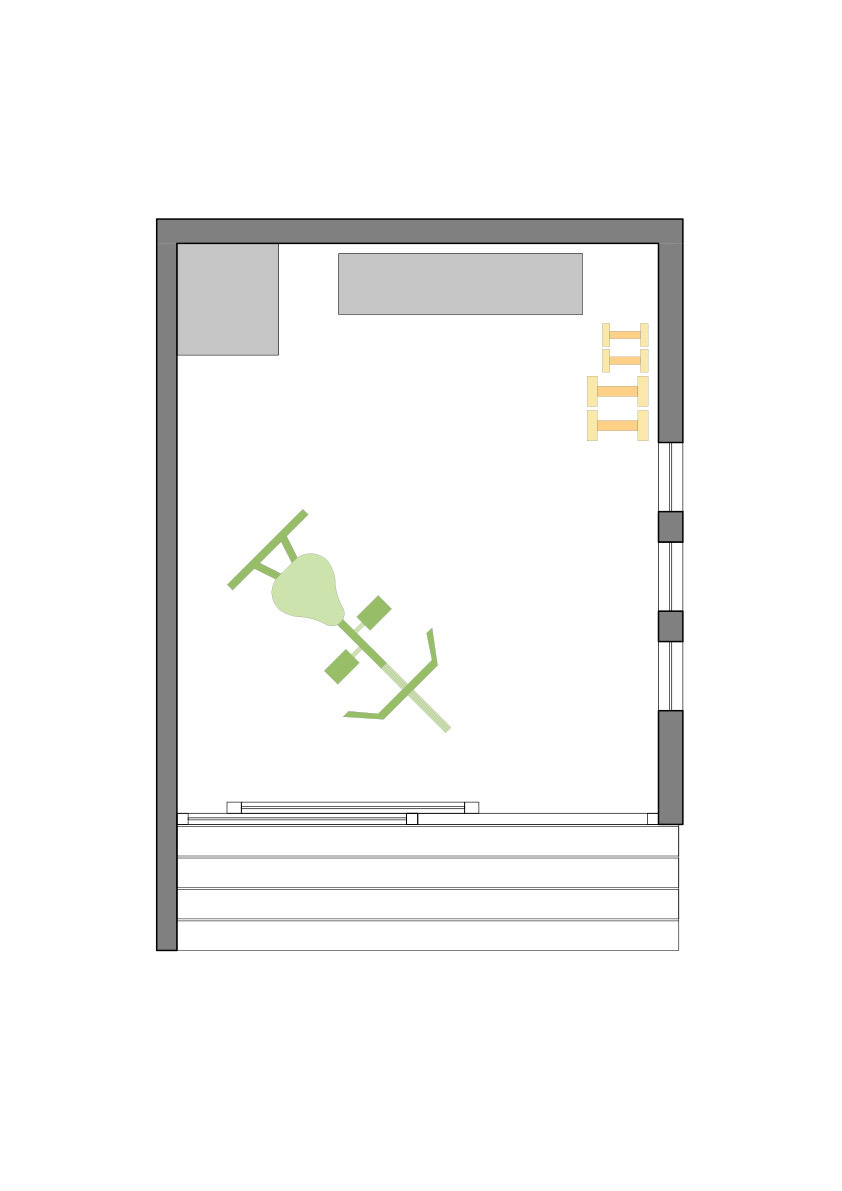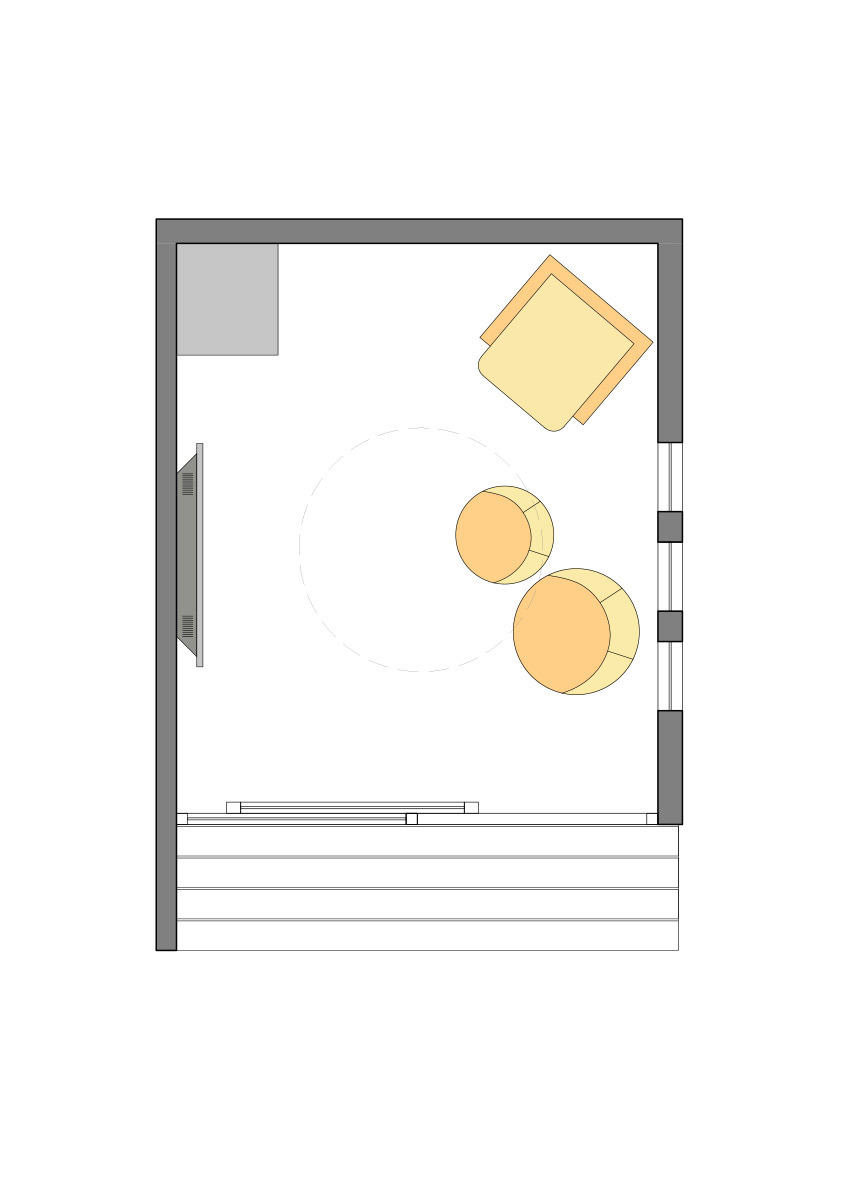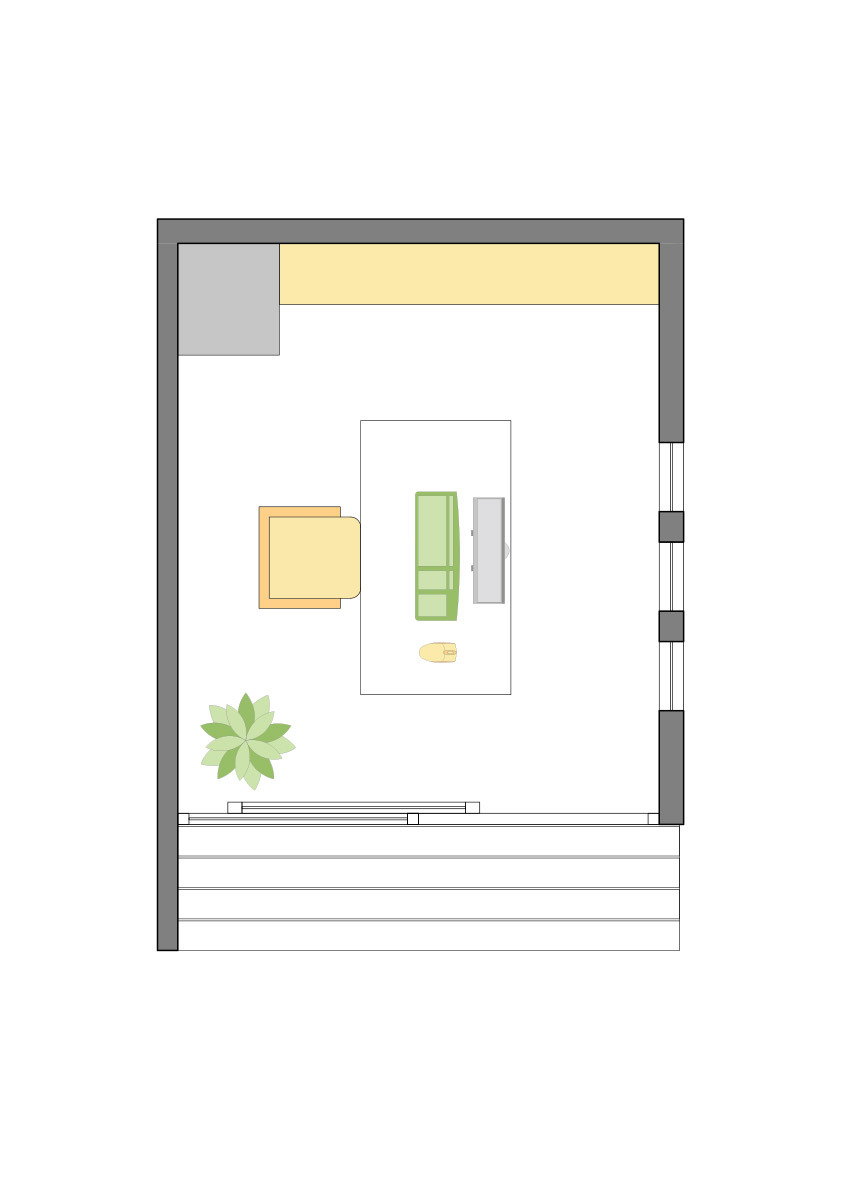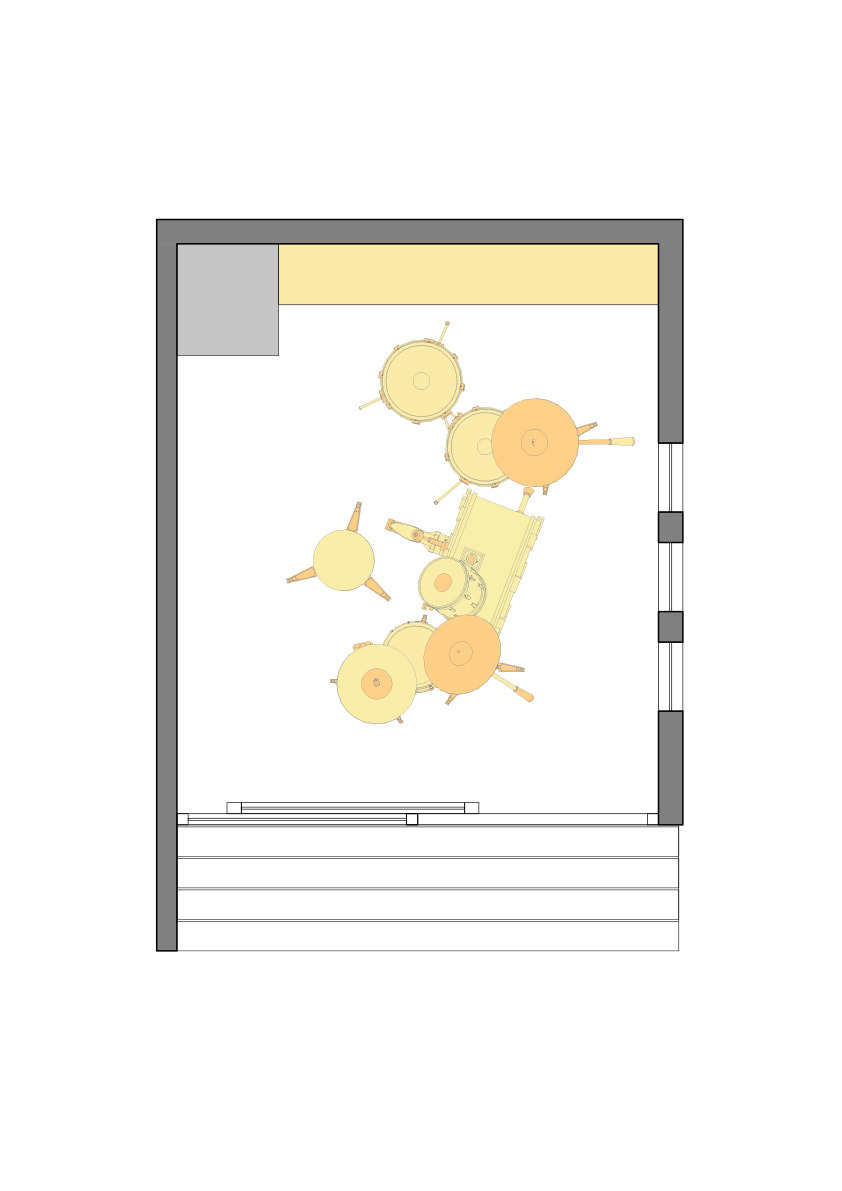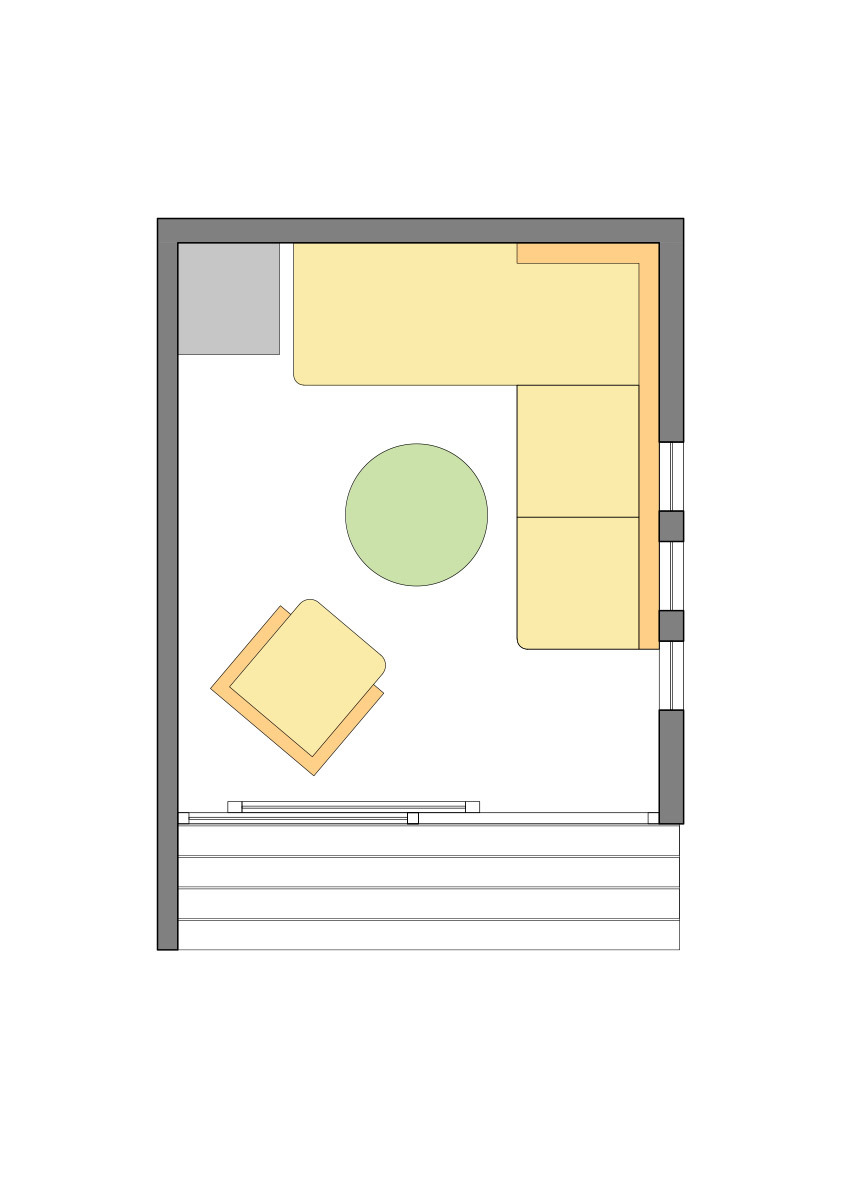 FAQs
I purchased the Pod/Work Pod old version, how about the warranty condition?
The old Pods/Workds Pod purchased before July 2022 will still remain the 3-year warranty, the accompanying furniture included in WorkPod (Smart desk Pro, Ergo chair Pro+, Cable tray, Filing Cabinet, Dual Monitor Arm, Anti-fatigue Mat) will be covered for warranty according to theirs own warranty period. Please visit
https://www.autonomous.ai/help-center/policy/warranty-policy
for more references.
How much space does WorkPod require?
The WorkPod is about 12' x 9'. For a comfortable fit, we recommend an area around double of that – 24' by 18'.
What kind of surface is suitable to build on?
Suitable common surfaces include brick, concrete, gravel, grass, etc. The foundation is uniquely engineered to bear the weight of the WorkPod and an additional 1 metric ton without the need for ground fixtures.
Can I set up WorkPod on a slope?
While flat ground is always best for ease of assembly, one of the beauties of the WorkPod foundation is its stability even if the ground is not completely level. We do recommend that any slope does not exceed 5°, or approximately 4.5 inches.
Can I move it to another location once it's set up?
WorkPod can be easily disassembled and put up again at its new location.
How do I power up WorkPod?
It has a simple port for power connection, so all you need to do is connect the outdoor wire to an existing power source from your home.
Can I install a heating and cooling unit?
Yes, Pod includes inputs for you to install your own heating and air conditioning units as needed. Pod also has an exhaust fan and an air duct to keep air fresh and circulating. We can provide a technical drawing to prevent cutting electrical wires. A 10,000 - 14,000 BTU air conditioner with heat is suitable for WorkPod.
What makes WorkPod sound-insulating?
The WorkPod is solidly built from several durable materials. The inner layer of Honeycomb paper has the effect of soundproofing and heat resistance. All glass is made of tempered glass and is 5/16" thick, which also helps you maintain the peace and tranquility of your oasis.
What is the maximum wattage?
The maximum wattage for WorkPod is 2750W.
Is WorkPod strong enough to support additional fixtures?
Its walls will easily support basic fixtures like frames and shelves, but please be aware that power lines are contained within the walls.
Do you offer assembly services?
We currently have a contractor network available in California and can assist with assembly service anywhere in California. Soon to be available in other regions.
I'm not a builder. Will I be able to assemble WorkPod?
WorkPod was specifically engineered to be DIY friendly. Very minimal expertise is required, but if you're a complete novice or feeling somewhat unsure, it can be helpful to have a spare pair of hands to help. Feel free to give us a call anytime, too. For optimal results, we recommend hiring professional help to assemble your Pod.
Is there a free trial for WorkPod?
As user assembly and setup may differ widely across different environments and scenarios, we cannot offer a trial period for the Pod itself. However, a 30-day trial does apply to other Autonomous products in the fully equipped WorkPod, such as SmartDesk Pro, ErgoChair Plus, etc. If you don't love it, we'll take it off your hands and issue a refund accordingly.
WorkPod is designed to a specific height and square footage (98 sq. ft.), so that permits are not usually required for the majority of states and localities. However, as regulations do change, we always recommend checking with your local authorities or homeowners association.
Do you supply building plans?
We are happy to provide building plans and other details if you need them for your own paperwork. Please help to find in
here
, If you have any questions feel free contact us at
[email protected]
for more information.
What is the weight capacity?
The foundation can support 2.9 tons (included Pod body)
What is the optimal insulation range?
‌
TERMS AND CONDITIONS
The following Terms & Conditions apply to all WorkPod orders placed via the Autonomous website, or via correspondence with Autonomous Customer support. By purchasing a WorkPod, you agree to these Terms & Conditions.
Customer hereby agrees to Order the Product at the stated costs and has read and agrees to the TERMS AND CONDITIONS, incorporated herein under this reference. Customer understands and agrees that Autonomous reserves the right to change, discontinue or substitute materials as may be deemed necessary to properly fulfill the Order..
1. PAYMENT, CANCELLATIONS, SHIPPING AND DELIVERY.
(A) Payment. The Customer ("Customer ") agrees to pay Autonomous Inc ("Autonomous") in accordance with the following ("Payment Terms"):
* Customer's Order will NOT ship until Autonomous receives full payment
Full-payment: 100% payment due in full at time of Order.
Failure to comply with the Payment Terms may result in the loss or exclusion of any promotional discounts extended by Autonomous as part of the Price (see below), including but not limited to free shipping, product discount or any other promotional offers. Failure to pay per the Payment Terms may also result in the delay of the shipment. Interest shall accrue on any past due sums at the greater of 18% A.P.R. or the highest interest rate allowed by applicable law. Autonomous is not responsible for any impacts related to such delay, and reserves all applicable lien rights.
(B) Cancellations. Cancellations may be made in writing within 72 hours of time an Order is received by Autonomous. Any cancellation made 72 hours or more from the time the Order is received by Autonomous shall be subject to a minimum $1000 cancellation fee plus any costs incurred by Autonomous related to the Order, including material costs. Any approved refunds shall be processed within thirty (30) days from the date Autonomous receives, in writing, the Order cancellation request.
(C) Forms of Payment. Work shall not begin on any Order until funds have cleared. Autonomous accepts major forms of payment including wire transfers, cash, debit cards and credit cards. Credit cards are not accepted for purchases in CT, MA, and ME.
(D) Shipping & Delivery. Shipping and Delivery are provided by licensed and insured third-party freight companies. Product is packaged/palletized in a warehouse, and is intended to be offloaded by hand. The offload Service towards the shipping unit, therefore, if the Offload Service is not included when the Pod is shipped to Customer's address, please let us know by contact with the Customer Service team, we will provide you the best solution towards your the situation. Autonomous is not responsible for freight companies not being able to deliver due to road or site conditions related to the Customer's address. Freight companies will deliver to the nearest public access point, and will not travel on private roads or property, unless otherwise agreed to in advance.
(i) Damage to Product during shipping or receiving may occur. If Customer notices damage upon delivery, Customer shall notify Autonomous immediately and provide a complete list of damaged Product with accompanying photos. Customer may be responsible for additional costs for replacement or repair of damaged Products if Autonomous is not notified within 72 hours of delivery.
(ii) If delivery company causes any damage to Customer's personal or real property during delivery, Customer shall contact that company directly to file a claim. Autonomous is not related to third party freight companies and is not liable for such damage.
(iii) All the components must be kept safe in storage/garage. If the customer is unable to keep components in storage/garage, the Customer shall also be responsible to keep all the components in good condition and make sure to keep them dry until installation. Autonomous reserves the right to refuse warranty/replacement for items stored outside.
(iv) Shipping and storage shall be fulfilled using the following terms:
1. For all Orders, storage is included for up to 30 calendar days from date the third-party delivery company receives the shipment, at no additional charge to Customer.
2. Storage days include weekends and holidays.
3. For storage durations of 31-45 days, Customer shall be charged per calendar day (including weekends and holidays) depending on the size of the Product.
4. All Product must be received within 45 calendar days from the shipment date. Arrangements must be made for storage on site, regardless of whether the site or installer are ready. If Product is not received by Customer within this time frame, or is refused by Customer, Customer shall be charged $300 per calendar day thereafter. There is no guarantee the shipping company will hold a kit longer than 60 calendar days, and may send back to Autonomous at that time. Customers shall be charged the return freight cost and a 30% restocking fee if this occurs.
(v) Delivery of Product shall occur to a PUBLIC street or other public right of way nearest to the Premises, as identified by the delivery company. Autonomous cannot guarantee, and is not responsible for, movement of the Product through the Customer's private property between the delivery location and the building pad, except as specifically identified in these Terms and Conditions. Deliver/Contractor does include movement of Product within 100 feet from delivery location, assuming there are no obstructions, steps, or significant grade changes along the travel path. Deliver/Contractor shall bill Customer directly for any labor above and beyond standard unloading and staging.
2. ORDERS
It is the Customer's responsibility to confirm the Order meets all applicable local codes, regulations, or rules. Orders remain in a pending/hold status until acknowledged and accepted in writing by Autonomous and Autonomous has received a valid form of Payment. Autonomous acceptance of Customer's Order is expressly conditioned upon Customer's acceptance of the Terms and Conditions herein. Any modification to the Terms and Conditions must be accepted by Autonomous in writing.
Customer understands and agrees that the Product delivered does not include any site clearing, grading, foundation, utilities, site preparation, steps, landings, decks, wheels, solar, electrical, mechanical, plumbing, or any other materials or work product not specifically defined in the Order. Such additional work shall be provided separately by Customer. Often, such additional work is quoted directly to the Customer by the Installation contractor, if that service is purchased by the Customer.
*Note: If a project is intended to be for commercial use or access, additional costs and design services may apply in order to comply with commercial accessibility or code requirements. Standard Autonomous pricing does not include such additional costs and shall be quoted separately by Autonomous.
3. PRICES AND QUOTATIONS
Unless specifically agreed to in writing in advance by Autonomous, all Product pricing shall be Autonomous list prices in effect at the time Customer's Order is received (the "Price"). The Price does not include sales or other applicable taxes. In addition to the Price, Customer agrees to pay (either directly to the appropriate governmental entity or to Autonomous) any sales or other tax due under any applicable law. Changes to Customer's Order may result in Price changes including, but not limited to, changes as a result of permitting and engineering specifications required by local building or other codes.
To the extent changes to an Order require a change to the estimated/scheduled Ship Date, Customer may also incur the loss or exclusion of any promotional discounts extended by Autonomous as part of the Price including, but not limited to, free shipping, product discounts or any other promotional offers.
Autonomous may alter materials or services offered if any materials, fixtures, or other products used in fabrication or installation are discontinued or are otherwise unavailable for any reason. Autonomous will notify the Customer promptly if such alterations are necessary.
Customer shall be responsible for costs associated with any product or design changes required as a result of building department plan review or other Authorities Having Jurisdiction ("AHJ") requirements.
4. WITH AND WITHOUT ASSEMBLY SERVICES
There are two ways to order Autonomous Pods. Naked Pod (without Assembly Service) or with Assembly Service.
(A) Naked Pod. As the name implies, it requires Customer to install the Product (or hire a third-party contractor directly). If Customer orders a Naked Pod, Customer is solely responsible for all necessary permits and any applicable architectural or engineering work, foundation work, utilities, other site work, and installation of the Product. Autonomous accepts no responsibility or liability related to a Naked installation. Customer is solely responsible for complying with all applicable building and safety codes while installing the Product. Customer shall contact Autonomous directly for a pre-installation phone call to discuss best practices. If Customer fails to contact Autonomous prior to installation, Customer releases Autonomous from any liability related to installation errors.
Customer shall also be responsible for minor repairs on site, if necessary. Minor repairs can include, but are not limited to, replacing fixed glass, door adjustment or repair, paint touch-up, cutting of siding or metal, etc.
(B) Assembly Service. If Customer purchases Pod with Assembly Service, customer authorizes Autonomous to do the following on Customer's behalf:
(a) Issue a work order for Installation to be performed by a third-party independent contractor by Autonomous and Autonomous's sole discretion.
(c) Inspect the Installer's work should Autonomous, in its sole discretion, choose to do so. Customer agrees that Autonomous has no obligation to perform on-site inspection.
(d) Pay the Installer after the completion of the Certified Installation and after receipt of a completion certificate, signed by Customer or on Customer's behalf, stating that the Installation has been satisfactorily completed (the "Certificate of Completion").
(ii) When installation of the Product is complete, the Customer and Installer shall perform a final walk-through inspection and execute a Certificate of Completion. If Customer is not available when the installation is complete, the Installer shall perform a final walk-through inspection without Customer and execute a Certificate of Completion on Customer's behalf. Autonomous will rely on the Certificate of Completion (whether signed by Customer or the Installer on Customer's behalf) in paying the Installer for installation.
(iii) The Installer is an Independent Contractor. Customer AGREES THAT THE INSTALLER SHALL PERFORM THE INSTALLATION ACTING AS AN INDEPENDENT CONTRACTOR AND THAT AUTONOMOUS SHALL HAVE NO LIABILITY FOR ANY ACT OF THE INSTALLER. Customer FURTHER UNDERSTANDS AND AGREES AUTONOMOUS DOES NOT GUARANTEE ANY TIMEFRAMES ASSOCIATED WITH INSTALLATION AND DEFERS TO CONTRACTOR'S SCHEDULE WHEN PLANNING INSTALLATION. The Autonomous Warranty does not cover errors in workmanship by Installer.
(iv) Services Not Included. Unless otherwise agreed to by Autonomous in writing, Customer agrees that the Price for Installation does not include architectural/engineering services, permit submittal fees (permit running), permit fees, plan review fees, impact fees, foundation work including site preparation or structural changes to the land upon which the Product will be installed (the "Premises") or any other services beyond the ordinary and routine installation of the Product. Installers may bill Customer directly for installation sites that are more than 100 feet from the site at which the Product is offloaded (carry distance), or if the access from offload location to the Premises contains steps, hills, or other obstructions.
(e) Travel Distance. Autonomous's network of third-party contractors is limited. Customer agrees that additional fees and trip charges may apply for Installation, including lodging, mileage, meals, fuel, or other costs, if the location of the Premises requires a one-way commute of further than 40 miles ("travel distance") or forty-five (45) minutes ("travel time"). All such additional fees or charges are the sole responsibility of the Customer, and shall be paid directly to the Installer, unless otherwise agreed to in writing by Autonomous.
(C) Customer's Responsibilities
(i) Customer represents and warrants that Customer's Premises is free and clear of debris and vermin, and that any pre-existing physical or environmental hazards or building/zoning code violations are remediated prior to installation.
(ii) Customer represents and warrants that, if the Product will be installed on an existing concrete slab, the concrete slab is both square and level, with variations no greater than one quarter of one inch (1/4″) per every 10 feet. If the slab is not square or is out of level by more than 1/4″, Customer shall be billed by the Installer for any additional labor resulting from such conditions. Otherwise, Autonomous may, at its sole discretion, elect to delay installation of the Product until the concrete foundation is square and level. Autonomous or its Certified Installer are not responsible for defects in existing foundations, or for verifying the existing foundation is suitable to support the weight of the Product. Customer is responsible for any design, engineering, labor, or material costs associated with connections to existing foundations. Customer is also responsible for ensuring that any concrete flatwork, pavers, landscaping material, or dirt outside of the existing foundation is at least eight inches (8") below top of foundation.
(iii) If installation will be on a wood-framed floor system, Customer represents and warrants that the site/pad is level within six inches. If the area where the Product will be installed is out of level more than six inches, Customer shall be billed by the Certified Installer to level the site/pad. Autonomous or the Certified Installer may, at their sole discretion, elect to delay installation of the Product until the site/pad square and level. If a wood-framed floor system is existing prior to installation of the Product, Customer certifies that the wood-framed floor system is square and level to no greater than 1/4" deviation per 10 feet of travel. Autonomous or its Certified Installer are not responsible for defects in existing foundations, or for verifying the existing foundation is suitable to support the weight of the Product. Customer is responsible for any design, engineering, labor, or material costs associated with connections to existing foundations.
(iv) Customer represents and warrants that any security system at the Premises will not interfere with performance of the installation.
(v) Customer shall facilitate the location of utility lines and identifying property lines, and shall ensure there are no power lines, cable lines, trees, or other obstructions.
(vi) Customer agrees not to impede the delivery of the Product including, but not limited to, moving cars, objects or any other personal property that may be an obstruction.
(vii) Customer agrees to provide the Installer with access to the Premises during working hours, and Customer also agrees he/she may be responsible for rental costs associated with sanitary facilities, disposal, material protection, or other items.
(viii) Customer agrees to provide temporary power to the Premises for construction. If power is not available within 100 feet of the building pad, Customer shall be billed by the Certified Installer for the rental and use of a generator to supply power.
(ix) Customer agrees not to allow unattended minors or other observers at the Premises while the Installer is present.
(x) Customer agrees to control and keep pets away from the Premises. Autonomous is not responsible for injuries or property damage associated with pets interacting with the Product.
(xi) Customer agrees that the Premises has clearance of at least three (3) feet from foundation on each side, and three (3) feet above highest point of roof. Customer may incur additional costs if there are any obstructions or debris within three (3) feet of the shed/foundation or roof location. Additional charges may apply for elevated work, or any other site conditions that impede the Certified Installer from installing the Product.
(xii) Customer agrees to obtain any permits required by local, state, or federal codes or regulations at its sole cost and expense, and shall keep any permits on display at all times. In the event that the Installer determines that a building permit is necessary and Customer has not obtained a building permit, or Customer has obtained a building permit but the building permit is deficient, the Installer and Autonomous may suspend Installation until the appropriate building permit is issued. Neither Autonomous nor the Installer shall have any obligation to confirm that Customer has an appropriate building permit. Customer shall bear any costs associated with suspension of work including, but not limited to, de-mobilization and re-mobilization of tools, equipment, or labor, or moving or demolishing the Product.
(xiii) Customer agrees that if Customer or any of its agents/dependents interferes with, or delays, performance of the Installation, Customer may be subject to additional transportation or storage charges, or other resulting charges.
(xiv) Any condition of the Premises that is not in the condition represented or promised by Customer, or any other condition that is not as represented, agreed to or promised by Customer above, shall be deemed an "Unfit Condition" (as further defined in Section 4(a) below).
(xv) Customer is responsible for obtaining any necessary HOA approvals, and is fully liable for any property constraints (such as easements, setbacks, building separation, etc.) that may impact the Product location.
(xvi) Customer shall be responsible for any cost impacts related to AHJ inspections, or Certified Installer down time related to such inspections or associated work.
(D) Unfit Conditions. The Price for Certified Installation assumes structurally sound existing sub-structures, sub-grade (soils conditions), or other site conditions. If any condition is not as represented or promised by Customer as set forth above, or if there are any defective existing conditions, weaknesses, or other dangerous conditions including, but not limited to, being out of level, being out of square, mold, mildew, rot, asbestos or infestation (collectively, "Unfit Conditions"), then Autonomous or the Installer may, at its sole discretion, suspend any installation until such Unfit Conditions are remedied by Customer to Autonomous's satisfaction at Customer's sole expense. Otherwise, Autonomous may increase the Price by the cost and reasonable profit to Autonomous of having to provide additional products, services, and/or installation services as a result of the Unfit Conditions. If Autonomous elects to increase its Price, Customer shall be required to execute a change order reflecting the Price change and shall pay the additional Price upon execution of the change order. In the event that Customer does not execute a change order and pay the additional price upon execution of the change order, or if the Customer does not correct all Unfit Conditions, then Autonomous shall suspend installation and shall be entitled to retain all monies previously paid by Customer and shall have no obligation to restore the Premises to its original condition.
(i) Claims. Customer agrees that any claim against Autonomous or the Installer relating to Customer's purchase or the Installation must be made to Autonomous or the Certified Installer within thirty (30) calendar days of the date Customer first becomes aware of the issue, or such claim will be deemed waived. Autonomous will attempt resolution of any claim(s) within sixty (60) calendar days of receipt of Customer's notice. Autonomous is not liable for any work not included in the Order.
(ii) Customer AGREES TO PROVIDE AUTONOMOUS WITH THE EXACT LOCATION REQUIREMENTS AND ORIENTATION FOR PURCHASED PRODUCTS PRIOR TO INSTALLATION. PRICES QUOTED BY AUTONOMOUS FOR INSTALLED PRODUCT ASSUME A LEVEL WORK AREA NOT MORE THAN 100 FEET FROM THE POINT OF DELIVERY. IF THE LOCATION, ORIENTATION, OR ANYTHING ELSE RELATED TO THE PRODUCT CHANGES DURING INSTALLATION, Customer SHALL BE RESPONSIBLE FOR ANY ADDITIONAL COSTS ASSOCIATED WITH SUCH CHANGES. Customer IS RESPONSIBLE FOR CONFIRMING ALL PROPERTY LINES, SETBACK REQUIREMENTS, SUB-GRADE/SOILS CONDITIONS, OR OTHER APPLICABLE PROPERTY CONDITIONS.
E) Punch List / Completion. For orders that include Installation, upon completion the Customer is entitled to one (1) punch list with reasonable items for Installer to remedy. Reasonable items included in the punch list shall be agreed upon by the Customer and Installer, and may reference the National Association of Home Builders (NAHB) Residential Construction Performance Guidelines, if necessary. The punch/completion walk shall occur within 24 hours of final completion, or as otherwise agreed upon by Installer and Customer. If Customer is not available within 24 hours of final completion, and no other punch walk schedule has been agreed upon by Installer and Customer, Installer may sign the completion certificate without Customer present. Installer shall have one (1) week to complete punch list items. After the punch list is complete, any additional work requested by Customer that is not considered a warranty claim shall be billed to Customer at Installer's billable rates.
F) Autonomous is NOT liable for issues caused by local/jobsite conditions such as termite infestations, mold growth, tree debris or ice buildup on the roof, improper site drainage, improper foundation placement, corrosive ocean air, or other exposure to natural elements.
5. PERMITS
WorkPod is designed to a specific height and square footage (98 sq. ft.), so that permits are not usually required for the majority of states and localities. However, as regulations do change, we always recommend checking with your local authorities or homeowners association to have the latest update.
Autonomous will not be responsible for any legal issues that relate to the permit requested during or after the assembly process.
6. DELIVERY AND FORCE MAJEURE
Any shipping, delivery, or installation dates provided by Autonomous or Installers are estimates only, and Autonomous does not guarantee that the Product will be shipped, delivered, or installed in accordance with such estimates. Without limiting the generality of the foregoing, Autonomous may delay delivery of the Product without any liability as a result of any delay caused by events outside Autonomous's reasonable control including, but not limited to, work stoppages, labor difficulties, Autonomous's inability to obtain necessary materials, components, labor, or manufacturing facilities, or anything else that would in any way impair Autonomous's ability to deliver the Product in the quantities ordered at the prices quoted. Autonomous shall not be responsible for non-performance or delay as a result of acts of God, war, strikes, riots, pandemic or other public health crisis, weather, vendor back-orders or delays, or any other unforeseen condition or event beyond its control.
QUOTED SHIPPING RATES ARE FOR MAJOR CALIFORNIA STATE AREAS; SURCHARGES FOR RURAL OR LIMITED ACCESS DELIVERIES MAY APPLY AND WILL BE COMMUNICATED TO Customer PRIOR TO SHIPMENT.
7. RETURNS
Pod is not allowed to be returned. However, in some cases of force majeure, or the product's issue seriously affects Customer's benefit (need to be proven by specific documents if any), Autonomous will provide the best solution possible. If Customer does not agree with our solutions and want to proceed with the product returning, the product appraisal process is made by Autonomous representative before agreeing to let the product be returned. The processing time can be up to 60 days from the date of the return request. Autonomous has the right to decline the return request of the cases below:
The Pod has been assembled and used over 30 days from the received date.
Problems caused by mold, termites, insects or quality changes are affected by the weather and surrounding conditions.
The effects/damages while being used by Customer.
Sensory-related factors, unspecified
Defects caused by improper assembly
Defects occurring after purchase due to product modification, intentional damage, accidents, misuse, abuse or negligence
Pod is made completely by qualified material and has a certificate not to affect the user's health. If Customer notices any chemical odor, the product checking process will be made by Autonomous representative.
Note: Autonomous only agree on the product checking towards used under 30 days. Any problems that arise after 30 days of use will be refused.
Any returned product shall be subject to a minimum restocking fee of 30% of the purchase price. Customer will also be responsible for all return shipping costs and labor to re-package any Product. Autonomous has the right to refuse to help if the customer does not cooperate and intentionally threatens and obstructs the returning process. Any Product returned to Autonomous without prior authorization shall be returned to Customer, freight collect.
8. LIMITED WARRANTY
Autonomous warrants to the original purchaser of the Product that, should there be any defects in the Product material or workmanship during the initial 12 months (one calendar year) depend on Pod version from Customer's receipt of the Product, Autonomous will either repair or send replacement for defective parts/pieces (Autonomous is not responsible for the labor when replacement sent). Customer must notify Autonomous of any claim of defects in the material or workmanship within twelve (12) months after Customer's receipt of the Product. Such notice must be in writing via online form, setting forth specifically the basis for the claim, and must include photographs of the defect(s). Failure to satisfy the requirements above shall constitute irrevocable acceptance of the Product. Failure to follow the Construction Manual (also known as Installation Guide) or any related instructions or drawings, or any abuse or misuse of the Product including unauthorized alterations, shall immediately void this Limited Warranty. Autonomous is not responsible for damage caused by the location of the Product on or over inappropriate soils or terrain, where manufacturer warranties are excluded or do not apply, or by the use of improper replacement parts. Autonomous is not liable and expressly disclaims all liability for damages due to misuse, using the Product for other than what's specified in the Order or what's allowed by applicable codes, neglect, improper maintenance or adjustments, and normal wear and tear of the Product. Autonomous also is not liable for damages related to use of an un-permitted unit when a permit is required. Autonomous reserves the right to change and/or improve the design and/or specifications of the Product without notice or obligation to modify previously produced units. No installation or other instructions, advice, Product information, or marketing materials, whether oral or written, obtained by Customer at any time from Autonomous or any vendor or retailer of Autonomous Product shall create any Autonomous express warranty not expressly stated in this Section.
Autonomous is not responsible for corrosion on any metal components if Product is installed closer than 1,100 yards (5/8 mile) to any body of salt water.
Autonomous MAKES NO EXPRESS WARRANTIES EXCEPT AS STATED IN THIS SECTION. ANY AND ALL EXPRESS OR IMPLIED WARRANTIES, INCLUDING BUT NOT LIMITED TO THE IMPLIED WARRANTIES OF MERCHANTABILITY AND FITNESS FOR A PARTICULAR PURPOSE, SHALL TERMINATE THREE HUNDRED SIXTY-FIVE (365) DAYS FROM Customer'S RECEIPT OF THE PRODUCT. (SOME STATES DO NOT ALLOW LIMITATIONS ON HOW LONG AN IMPLIED WARRANTY LASTS, SO THE ABOVE LIMITATION MAY NOT APPLY TO Customer.)
Note: All the issues that arise after warranty period and need to be replaced will be at the customer's expense.
9. INDEMNIFICATION
Customer agrees to defend, with counsel approved by Autonomous, all actions against Autonomous, its officers, directors, managers, shareholders, members, employees, agents, beneficiaries, successors, and other representatives (the "Indemnified Parties") with respect to, and to pay, protect, and indemnify and hold harmless all Indemnified Parties from and against, any and all liabilities, losses, damages, costs, expenses (including reasonable attorneys' fees and expenses), causes of action, suits, claims, demands, or judgments of any nature arising from or relating to the injury to or death of any person, or damage to or loss of property, caused by or incurred in connection with Customer's use or misuse of the Product.
LIMITATION OF LIABILITY. IN NO EVENT SHALL Autonomous BE LIABLE FOR LOST PROFITS, BUSINESS INTERRUPTION, LOST BUSINESS OPPORTUNITIES, OR ANY OTHER INDIRECT, SPECIAL, PUNITIVE, EXEMPLARY, INCIDENTAL, OR CONSEQUENTIAL DAMAGES ARISING OUT OF OR RELATING TO THE THESE TERMS AND CONDITIONS OR Customer'S PURCHASE OF PRODUCT (WHETHER IN CONTRACT, WARRANTY, TORT (INCLUDING NEGLIGENCE WHETHER ACTIVE, PASSIVE, OR IMPUTED), PRODUCT LIABILITY, STRICT LIABILITY, OR OTHER THEORY), EVEN IF Autonomous HAS BEEN ADVISED OF THE POSSIBILITY OF SUCH DAMAGES. IN NO EVENT SHALL Autonomous'S AGGREGATE LIABILITY WHETHER IN CONTRACT, WARRANTY, OR TORT, INCLUDING NEGLIGENCE WHETHER ACTIVE, PASSIVE, OR IMPUTED, PRODUCT LIABILITY, STRICT LIABILITY, OR OTHER THEORY, EXCEED THE PRICE PAID BY Customer TO Autonomous.
(Certain state laws do not allow the exclusion or limitation of certain damages. If these laws apply, some or all of the above exclusions or limitations may not apply to Customer, and Customer may have additional rights to those contained herein. In such states, Autonomous's liability is limited to the greatest extent permitted by law.)
10. TRADEMARKS AND TRADENAMES
Customer acknowledges and agrees that all brand names, trade names, and trademarks incorporated onto or associated with the Product (collectively, the "Marks") purchased hereunder are the exclusive property of Autonomous and that Customer shall not acquire any rights in any of the Marks by purchasing the Product. Customer shall not make any use of the Marks at any time except as otherwise authorized by Autonomous in writing.
11. NO WAIVER
No waiver of any provision of these terms and conditions or delay by either party in enforcement of any right hereunder shall be construed as a continuing waiver or create an expectation of non-enforcement of that or any other provision or right.
12. SEVERABILITY
In the event any provision herein should be held unenforceable by a court of competent jurisdiction, such court is hereby authorized to amend such provision so that it will be enforceable to the fullest extent permitted by law, and all remaining provisions shall continue in full force without being affected, impaired, or invalidated thereby in any way.
13. NO ASSIGNMENT
Customer agrees that Customer may not assign or transfer any of Customer's rights arising out of or related to these terms and conditions or Customer's purchase of Product.
14. ENTIRE AGREEMENT
These Terms and Conditions together with the Order constitute the parties' entire agreement relating to the subject matter hereof and supersede all prior or contemporaneous oral or written communications, proposals, and representations with respect to such subject matter. No modification to these Terms and Conditions will be binding unless in writing and signed by each party.
15. PROMO CODES
Discount or referral codes are applicable to any Pod order. However, we DO NOT offer Referral Rewards in conjunction with any Autonomous Promotion. Orders made via the Employee Purchase Program ARE NOT eligible to earn you Referral Rewards.