Smart Products
20 Best Electric Standing Desk Base Frames for 2023

Autonomous
|
Jan 11, 2021
11,250 Views
Sitting at a desk for extended periods of time has been linked to an increase in poor posture and bad back health. Sitting down can put a lot of strain on the back and its supporting muscles. This causes back pain in most individuals, especially those who sit down for the entire day at an office job.
The introduction of certain ergonomic tools into the workplace can work wonders for any office worker. An example of this is a standing desk. A standing desk allows the user to transition from sitting to standing, which gives the back and its supporting muscles a break. The use of a standing desk has also been shown to have other health-related benefits such as improved concentration and focus. Does this have you interested in purchasing an electric standing desk frame?
There are a variety of standing desks available to the consumer. These include electric standing desks. These desks simplify the process of adjusting the standing desk height and are more convenient for the user in general. Making use of either of these has profound impacts on one's health. The purchase of a standing desk is one that you won't regret due to the massive difference you note as a result of it.
Why Choose an Electric DIY Standing Desk?
Should you be considering the purchase of a standing desk, what exactly sets the electric DIY standing desks apart from the regular ergonomic options? There are a few things to be noted, the first of which is the fact that the DIY option is available at a lower price than the regular option. If you are looking to save some money while still getting your hands on an electric standing desk, then this option is perfect for you. Saving some money on the purchase is always attractive as that money can be put to use elsewhere.
The next benefit of purchasing the DIY standing desk is that the desktop can be completely customized. Because the desk comes as a SmartDesk Frame, it allows the user to assemble and customize the desk as they see fit. This can be an attraction if you have specific needs for the desk, or even if you would just like to get your creative juices flowing and customize the desk to your heart's desire.
Next, if you are someone who enjoys DIY in general and likes the process of assembling your purchases, then this is a no brainer. The motorized desk frame option should satisfy your desire to assemble it yourself, and the reward of completing the assembly is definitely an attraction. Once the assembly is complete, the desk functions exactly the same as an already assembled option.
The final benefit of this option is that the desk can be fully adjusted. The standing desk frame can be set to the perfect height for you. This has a heap of benefits, such as easy adjustments being made and no need for straining while using the desk. The frame can be adjusted for any individual who wishes to make use of it. This provides a level of convenience that is definitely appreciated by most customers.
Benefits of Electric Standing Desk
Convenient Technology
An electric standing desk frame can move up or down faster for sitting or standing convenience. Most frames are fitted with quiet, smooth motors that respond to a button console that raises or lowers the desktop.
Reduced Aches & Pains
The standing desk height allows employees to be more focused, increase their blood flow, and decrease back pain by increasing blood flow. Researchers concluded people working at standing desks were less stressed, tired, and numb.
Boosted Productivity
When your mind and body feel lighter and less stressed out, you work in a more alert way. You don't find yourself focusing on smaller, nagging pains in your shoulders, neck, etc. 
Healthier Solution
One study found that standing sheds 88 calories per hour instead of sitting, so standing at work cuts down on sitting time. Long periods of sitting reduce back pain by tightening muscles and causing back pain, especially if you have poor posture.
Electric Standing Desk: Factors to Consider
Weight
Make sure that the desk can support your equipment since each has its weight limit.
Width
If people want to spread out their work, a 30" desk base depth is recommended as a minimum. Smaller footprints are another option if space is not an issue. Furthermore, keep in mind that the work surface can often be shaped in many different ways.
Price
Price is everything; for a higher-priced electric standing desk frame, you won't necessarily be better than a cheaper one. Always consider the cost of the desk you plan on purchasing before you actually buy it.
Material
A lot of companies offer custom options, but not all desks can offer them. Customers can sometimes mix up the style, the material, and the color of the motorized desk frame with some companies. Select a standing desk that meets not only your productivity needs but is also in line with your style.
Top 20 Electric Standing Desk Frame
Choosing the right motorized desk frame for you can prove a more difficult process than you may originally have thought. There are certain things that need to be considered before deciding to purchase an ergonomic desk; one could follow a guide in order to ensure that the best possible decision is made. The things to consider before choosing the standing desk frame for your home office are:
The price of the desk
The lift capacity that best suits your needs
What the best available options are
After considering these options, you can determine which option is most suitable for you. Whether you require a desk with high lift capacity or even a general economical option, there are many variations that can be found. So when considering all the options, what are the best standing desk frames available on the market?
When considering which standing desk is the best, there are certain factors to be considered. All the best DIY electric standing desks should have the following attributes incorporated into their design:
Good adjustment speed
The right amount of space
Good overall functionality
An easy assembly process
They should be affordable
They should be manufactured from high-quality materials
The desk should possess a strong weight capacity
Another important factor to consider is that a good standing desk should have a firm base. This means that it should not wobble around when in use. A desk that incorporates a flexible height adjustment system is crucial so that you can avoid remaining seated for too long, and the height can be adjusted to suit your personal needs.
With all things considered, the following are the top 20 ergonomic standing desk that can be purchased.
1. SmartDesk Frame
This is one of the best DIY standing desk frames available on the market. The desk spoils you for choice in terms of the options it provides. The electric standing desk frame allows you to choose from any of the four programmable height settings. The height-adjustable frames are also extremely well made and can withstand weights of up to 300 lbs. This high-quality motorized desk frame is also available in different colors, such as black, white, and gray. It is available as either an L-shaped or premium frame depending on your needs. The product is approved by BIFMA and EMC, which certifies the quality that you receive when purchasing the desk.
2. Jarvis Frame Kit
The Jarvis has its own desk frame. This frame varies from mid-range to extended reach. The height of the frame is adjustable through an electronic control. The desk offers both vertical and horizontal adjustments to be made, and this can be done freely. Also included is programmable memory that remembers your height preferences. You can choose between the frame being wide or narrow-based on how much space you plan to use.
The motorized desk frame is available in black, white, gray, and alloy. There are also eco-friendly versions of this frame available. These options are made from bamboo and hardwood. These components are custom made, and the package with which it is shipped is also recyclable.
3. Forfar Electric Standing Desk Frame
This DIY standing desk frame uses a single motor to lift itself. This frame incorporates touch control and allows you to choose from any of the four memory presets related to your preferred standing desk height. The frame is made from heavy-duty steel that allows for the desk frame to be durable. Due to the lift system being electronic, the electric standing desk legs can transition from a sitting to a standing position in a matter of seconds. This option is only available in a black or white variant.
4. Flexispot Electric Standing Desk Frame
This standing desk frame is offered along with economical options. The frame has a basic keypad that allows you to adjust the height of the desk. A digital keypad display can be added to the frame for an additional $50. This affordable option does include smooth and seamless adjustments. The DIY standing desk frame is made from double steel to provide maximum stability. The desk is available in black, white, and gray. The desk is also coated in order to prevent scratches and damage.
5. VIVO Electric Desk Frame
This steel constructed electric frame provides a sturdy foundation while being durable. The desk moves smoothly and does not make any noise. The DIY standing desk frame is available in black or white and is one of the more economical options. Along with this, you can choose to pay for the desk with monthly payments. A three-year warranty is also available. The parts are all manufactured from metal, and the assembly is easy.
6. Monoprice Workstream
This is the best adjustable standing desk frame manufactured by Monoprice. It makes use of a single motor that operates the lift system while being completely electric. Sitting and standing intervals can be easily programmed with the push of a button. The amount of space is also very practical for a home office setup. The frame colors are black, white, and gray. The frame can be used with a variety of desktops and can be personalized with many different ideas.
7. FLAT Tech Standing Desk Frames
This standing desk frame is made from two different frames rather than just one. Both of the legs are lightweight, making them easy to move around. A versatile table base is incorporated so that you have more options for longer desktops. The motorized desk base itself is manufactured from cast iron to ensure durability. The desk has T-shaped bars in order to help it maintain stability, even on uneven floors. The frames also have sensors that are capable of adjusting to the floors. Although it is one of the most economical options, there is no monthly payment option available. The desk is black with green electronic wires.
8. Stoltz Standing Desk Frame
The height adjustability offered by this desk allows you to take healthy breaks from sitting and standing. This desk does, unfortunately, use a crank, unlike most standing desks. The crank is used to manually adjust the height of the desk. The transition between sitting and standing heights are still smooth, regardless of this. The motorized desk base is also made from durable metal. The desk is only available in white, and a protection plan is available at an additional cost.
9. MI-7931 Standing Desk Frame
This desk is also a manual standing desk and is adjusted through the use of a crank. The frames are made from durable steel. The use of this steel means that you get extra longevity out of the desk frame. The desk is available in black and white. The design also has smooth edges to prevent any hard surfaces on the side of the desk. This desk frame is very easy to assemble and is definitely a very economical option.
10. Stand Up Standing Desk Frame
This frame uses heavy-duty steel in order to reinforce its durability and resilience. Personal height preferences can be set through the use of the electronic controller. There are three different width adjustments that you can choose from for your desktop. The motorized desk base is only available in black, and it takes about 15 minutes to assemble the entire thing. This option is perfect for DIY beginners who are looking for an easy to assemble yet effective standing desk.
11. Fezibo Single Motor Adjustable Frame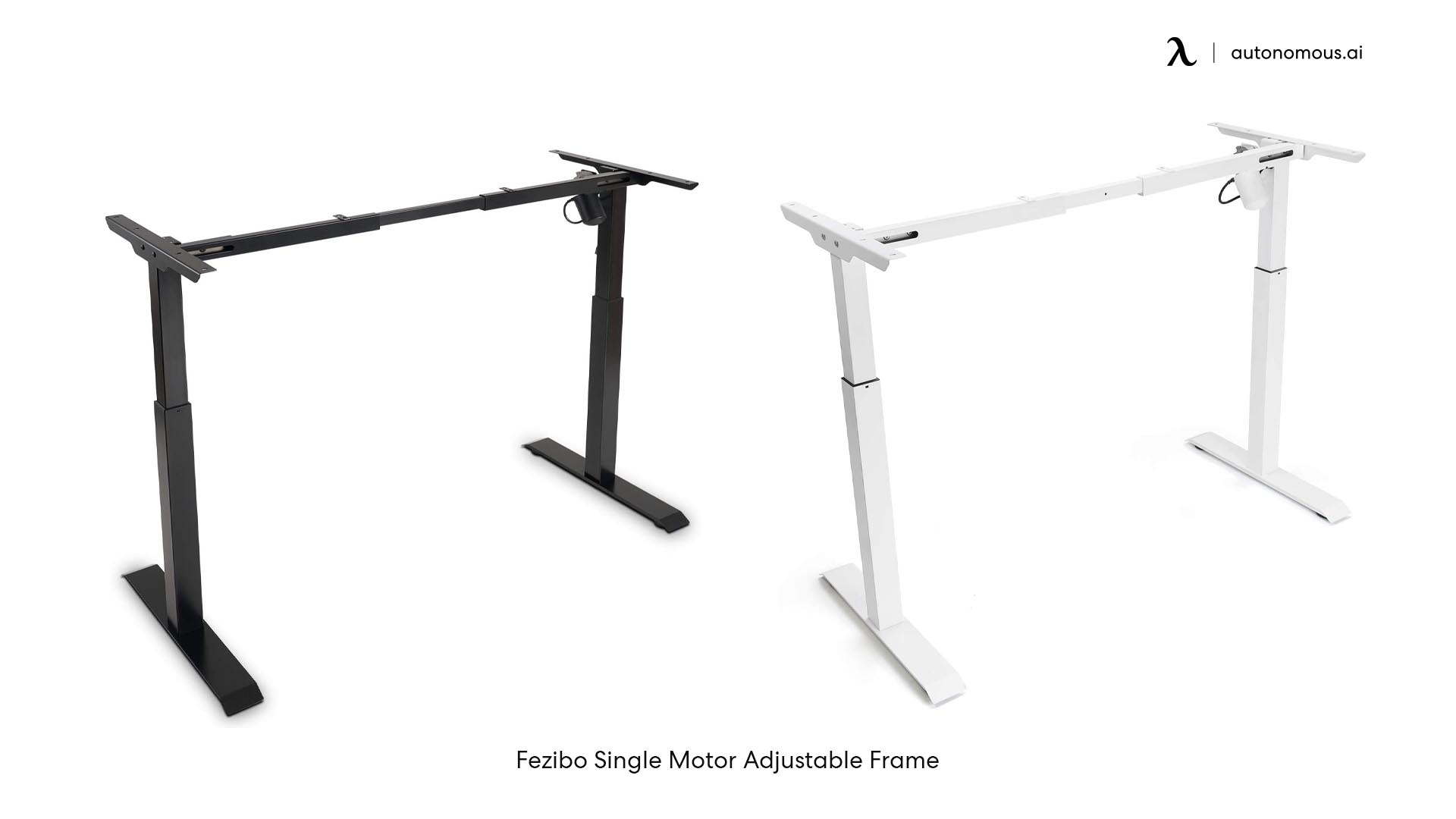 The legs of the DIY standing desk frame can move from sitting to standing with a touch of a button. A touch screen controller with configurable settings helps you get the optimal height more often to suit your task. This lift offers a load capacity of 176 lbs, with four adjustable height preset options and anti-collision technology.
12. LUMI Brateck Dual Motor Adjustable frame
Dual motors with CE, FCC, RoHS certifications power the Height Adjustment, which is very smooth, quiet. The desk can be adjusted as fast as 38mm per second Using the motor. Furthermore, three-stage motorized desk base columns are very strong and stable, which contributes to stability at taller heights. Other features include a Programmable Gyro-Current Collision Avoidance System, sleep mode. The height can be adjusted from 620mm to 1280mm. All tabletops can be accommodated with a width of 1000-1650mm.
13. Ergomate Four-level Motorized Frame
It features eight adjustable converters to help users switch from sitting to standing quickly and easily to become healthier and more ergonomic. A soft, padded layer protects the surface edge. With its ergonomic design and rounded edges, it has an ergonomic edge. A versatile design, this serving tray functions as a laptop desk, bed tray, sofa tray, workstation, or breakfast/dinner tray, among other things.
14. ErgoYou Motorized Desk Frame
A leading manufacturer of electronic-motion systems, TiMOTION, manufactures the motor and control box. In the event of a collision, its smart sensors automatically stop the motor. With the tabletop removed, the height can be adjusted from 640 mm to 1,290 mm (for the table only). When the tabletop is removed, it can reach the maximum height.
15. AIMEZO Stand up workstation
In seconds, you can stand by simply touching the base of your legs. An adjustable footpad and crossbar provide additional stability. A single motor system provides quiet and precise height adjustment. There are four different ways to adjust the height, making it perfect for any situation. The unit's capacity is 198lbs, has a large range of lift capability, and lifts at a 1" per second speed.
16. Progressive Desk FLT-20 Electric Stand-up Frame
The FLT-20 is currently the most affordable standing desk frame this company offers. The motorized standing desk legs frame comes with memory position controls to set up to four different heights. Because the legs can rise to 47.6 inches, desk frames like this are not limited by height. It can be used with anything from tablets to desk surfaces! The desk frame can be adjusted from 39.4" to 58.7" wide so that you can use it with anything!
17. Dual Motor VWINDESK VF201 Desk Frame
Dual motors provide hefty power, a speedy lift, and a quiet lift. The frame also includes an integrated gyroscope to provide the best level of computer and valuable protection. The two-stage leg supports 320 pounds of weight capacity. You can adjust the tabletop thickness and the height for kids and yourself in seconds with the elegant LCD control on this DIY home office desk.
18. L-Shaped VWINDESK VJ301 Electric Frame
It has a load capacity of 360 pounds and is constructed of 100% steel. Three motors create a huge amount of power as well as a 1.5" per second speed. A built-in electronic gyroscope provides optimal safety protection for your PC and valuables on your desk. A simple press moves the legs easily from sitting to standing with four memory height settings. This L-shaped standing desk frame features an elegant LCD control panel that lets you set the height to whatever you need for studying, playing or working.
19. Dual Motor HAIAOJIA Frame
Built with heavy-duty laminate and steel and constructed with solid steel for a sleek, sturdy, and 270-pound weight capacity. Controlled lifting, a height display with LED, overload protection, and limit setting are included with this model. It is easy to install wherever you like on a tabletop. Resetting the motor after installation is necessary.
20. Fromann Electric Dual Frame Workstation
Handset with a digital display that adjusts according to user height and three presets is easy to adjust. Two powerful motors lift the chair smoothly. Tabletop dimensions should be 47.3" to 78.8" in length and 23.6" to 35.4" in width. This frame measures 43.3" x 70.87", and the height of the frame is 27.16" x 46.85".
Which Standing Desk Should You Choose?
When choosing which desk is the best for you, you must consider the assembly time and affordability of the desk itself. Choosing the right standing can have phenomenal health benefits. A standing desk breaks the monotony of just sitting at your desk.
The 20 desks mentioned above are all perfect for any home office and, while being fully functional, are also very aesthetically pleasing. Their sleek designs make sure that they can fit into any home office design. The desk you choose should be the one that appeals to you most in terms of features along with its pricing. No matter your desires and budget, there is a standing desk that perfectly suits your needs.
The Bottom Line
An electric standing desk is an investment that improves the way you work. While also making work more interesting, it also assists in improving concentration and focus levels. This article serves the purpose of assisting you in choosing the best possible option for yourself. You can undoubtedly find the perfect desk for you and your home office. The desk makes your life easier and improves your workflow.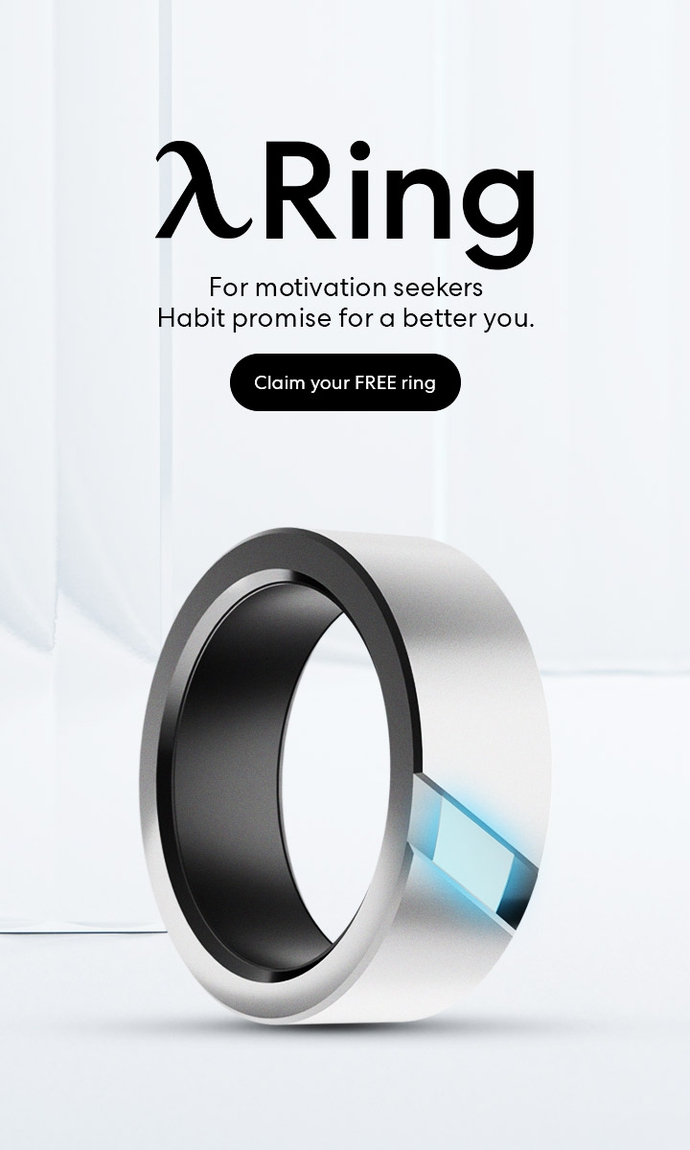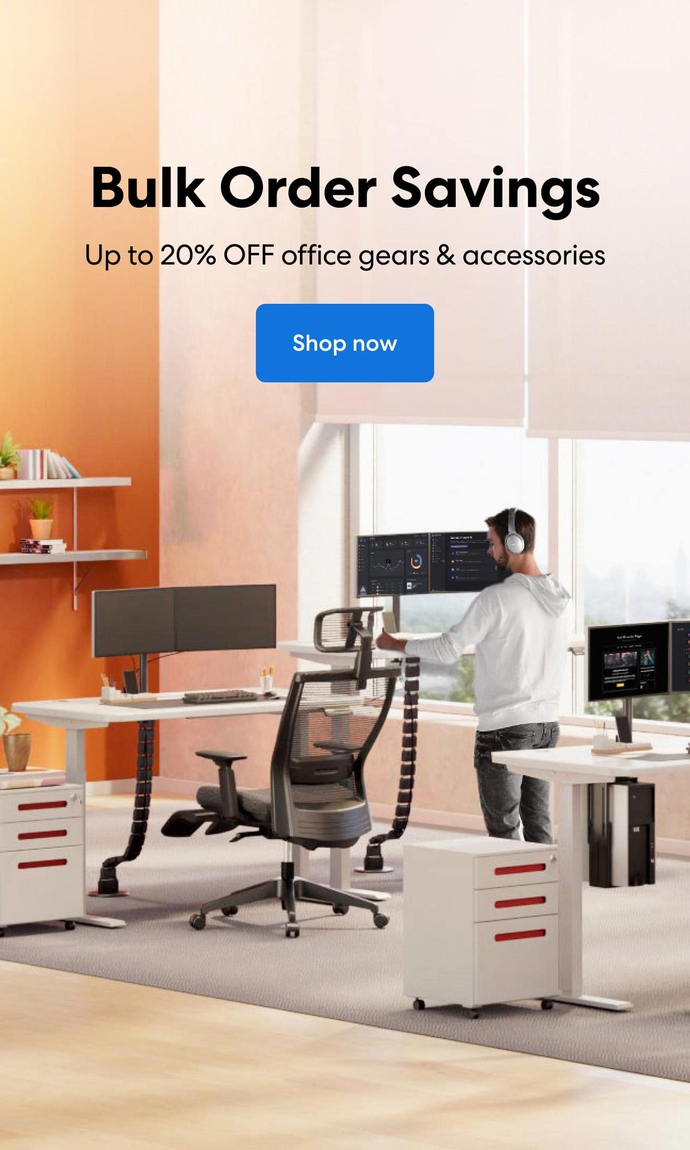 Subcribe newsletter and get $100 OFF.
Receive product updates, special offers, ergo tips, and inspiration form our team.