Smart Products
5 Best Ergonomic Office Chairs for Short People with Back Pain

Olanrewaju Salau
|
Feb 9, 2021
17,896 Views
If you're shorter than average height and suffer from back pain, it can be difficult to find the right ergonomic solutions suited to your body type. Fortunately there are a lot of options out there if you know where to look. We've compiled our top 5 picks for ergonomic office chairs that are sure to alleviate back pain for short people.
Most ergonomic office chairs are designed to accommodate an average frame. Thus, if you're petite or short—under 5'8'' for men and under 5'3'' for women, your ergonomic office chair could be worsening your existing back pain—or even creating new back pain problems.
Sitting in an office chair that's too big, can cause back pain, poor blood circulation in your legs, and even pain in other places. If this sounds familiar, you should buy a suitable ergonomic office chair.
However, what's the best office chair for a petite or short person with back pain? A good ergonomic chair should provide proper lumbar support for your back. But if you're shorter than average, you just find an office chair that provides adjustability to accommodate your size.
Here are the top ergonomic office chairs for short or petite people with back pain.
1.  Herman Miller Aeron Ergonomic Office Chair Size A
This ergonomic chair is available in three different sizes—sizes A, B, and C. Size A is the smallest size, with a seat height range of 15-19", which is ideal for people measuring 4'10-5'9'' and those who weigh between 90-150 lbs. This seat height range is ideal for petite people in dire need of ergonomic support. If you're slightly larger than that, pick Size B instead.
The Aeron features a wide range of motions, which support users when leaning forward or reclining. Its adjustable seat and backrest offer eight "latitudinal zones" with varying tension to hold you when seated. Also, this office chair features a tilt limiter with seat angle adjustment. No matter how short or petite you are, this office chair has got your back. This chair also features adjustable individual pads in the backrest, which can lower for petite users, offering lumbar support to your spine while maintaining the natural forward tilt of your pelvis. This results in a firmer, more powerful sitting position.
2.  Steelcase Leap v2 Office Chair
This office chair features a streamlined and classic design, which conforms to the shape of your spine. Its patented LiveBack technology supports your spine and contours to your spine movement.
This ergonomic chair also features a low minimum seat height of 15.5 inches. Plus, its seat depth adjustment allows the seat depth to go as low as 15.7 inches. The Leap v2 also sports a nice arm height range of 7 to 11'' and a wide range of width adjustment of 12.75 to 20 inches. Thus, you can make this office chair really small to accommodate your height.
Also, the Leap v2 features a ton of adjustability. It's one of the most adjustable office chairs out there. It features a synchro-tilt mechanism, two-way adjustable lumbar support, and multiple locking positions. Its lumbar height range is massive, which is a tremendous bonus for petite or short people. Its lumbar support goes almost to the bottom of the backrest.
3.  Alera Etros Series Mesh Mid-Back for Petite People
This office chair is perfect for short people on a budget. However, it's not as nearly as adjustable as high-end office chairs, but its dimensions and key features will serve petite people well for moderate sitting.
This office chair features a low minimum seat height of 17.25 inches. Coupled with an adjustable seat depth of 16 inches at the lowest, this is why 5" users say this office chair is "ideal for petite people."
Although the Alera Petite features fixed lumbar support, it makes up for it by allowing you to adjust the backrest's height by 3 inches.
4.  SIDIZ T50
The SIDIZ T50 supports forward tilting, which relieves lower back pain. Its waterfall seat edge design also helps tremendously in easing pressure under the thighs and hips when seated.
This office chair also features a seat height range with a minimum height of 15 inches, which is ideal for petite people. The adjustable seat depth is also another bonus for people with shorter legs. You can set the SIDIZ T50 to an 18.3 inches depth, which is perfect for most people in the 5 inches range. This prevents the edge of the seat from cutting off blood circulation in your legs.
This office chair is a perfect mid-range ergonomic office chair for petite or short people. However, the SIDIZ T50 sports a fabric material that may not be right for everyone, and its seat cushion is a little firm. Still, this office chair is ideal for moderate sitting.
5.  AvoChair
This ergonomic office chair from Autonomous features a stylish design that blends perfectly with your office décor. Its height range goes down to 16 inches, which is ideal for short people, and pairs nicely with the breathable and flexible backrest system. The AvoChair features a design that mimics the natural curve of your spine, so you can sit on this office chair for long periods without compromising your back health. Also, its seat features a nice waterfall design that's very comfortable for your legs because it does not press against the back of your knees.
This ergonomic office chair has an elastomeric mesh on the backrest, which promotes a good balance between airflow, comfort, and back support. Its backrest offers supportive reclining tension, which improves your sitting posture at work. The AvoChair also sports a nice arm height range of 7.87" to 11.6". This ergonomic office chair is perfect for short or petite people who sit for long periods, and it can hold a weight capacity of 250 lbs.
Final Thoughts
As a short or petite person, you have more comfort issues to contend with when buying an office chair. Since you'll be using your office chair for over eight hours a day, it's imperative to know your own measurements and the seating measurements.
Fortunately, the ergonomic office chairs we've listed are all perfect for short or petite persons. Although it takes a bit of research, finding an ergonomic office chair with the right lumbar support features and a strong framework for your petite frame can carry you through the workdays and beyond in style and comfort.  
Video ads for product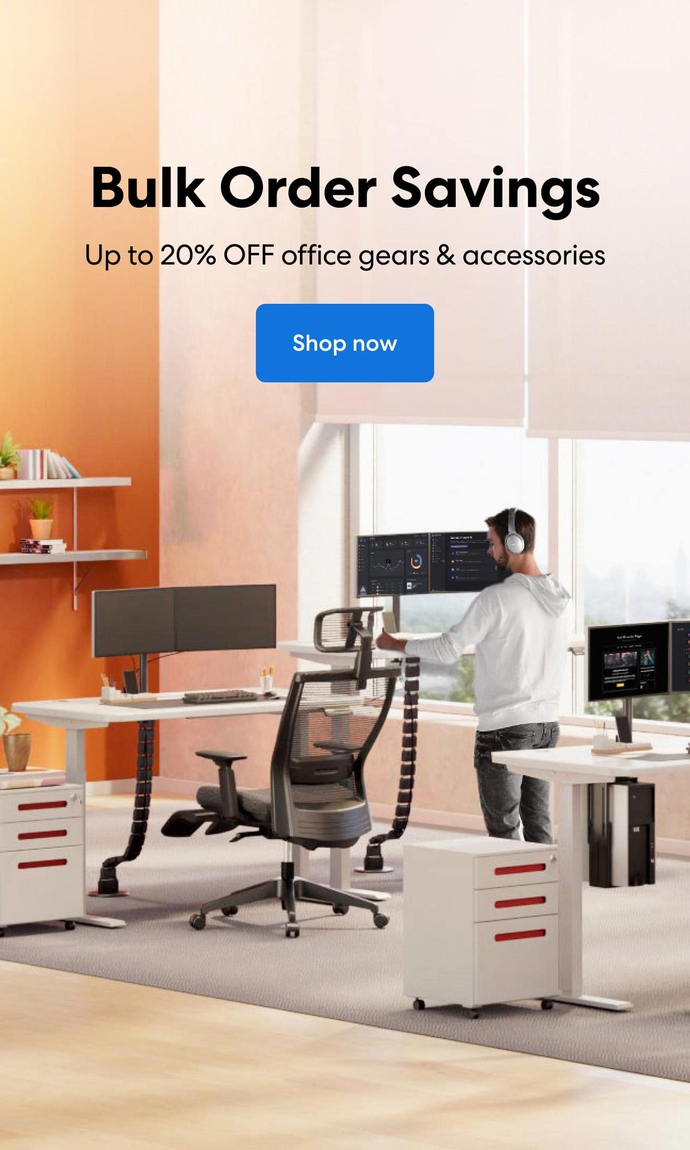 Subcribe newsletter and get $100 OFF.
Receive product updates, special offers, ergo tips, and inspiration form our team.