Have you ever been so limited in the space of your work area that you've experienced difficulty moving around and adding more furniture? Are you aware of improvements that you can make to fix this? If you want to fix the problem, then you're in the right place. We're aware that you want to feel as comfortable as possible in your small but convenient office space. Our goal is to educate you about office furniture for small spaces and other methods of increasing space.
There are a number of things you can do to fix this problem. The solution begins with moving out old, space consuming office materials. Next, you should bring in modern office furniture for small spaces designed for use in small area.
How to Maximize Space for Your Small Space Office Furniture?
Are you tasked with designing your home with office furniture or other items to accommodate for small spaces? Then here are some tips you can use to make the room more convenient and increase it for optimum space.
Use the space from every area as conveniently as possible. Sections that only occupy one piece of furniture can accommodate another to correctly combine for multipurpose usage.

Replace the quantity of items stored physically elsewhere. If they are disposable, then throw them out. On the other hand, if it can be stored digitally then upload it.

Get rid of reoccurring documents in the workspace that are left all about. Masses of unorganized or unnecessary information can make it difficult to move around as well as find information. If you can acquire office furniture that can adequately store specific office furniture for small room, then utilize it.

Reduce furniture size to small-scale furniture that can easily be restructured or constructed. Get rid of big desks and chairs and use small ones that are moveable and convenient.
Small Space for Office Furniture Ideas?
When adding home office furniture for small spaces to accommodate conservative spaces, you must be mindful of a range of factors. These factors allow you to anticipate just how much office furniture can be used to provide optimum conservation of small room spaces. Factors include:
Having knowledge of the size of the furniture being added.

The ability of the furniture to assemble and disassemble, allowing you to relocate and conserve or use space effectively and adequately.

How and where a small desk setup can fit without making much of a significant difference in your work area.
You can turn your attention to a few office furniture that are potentially some of the best you can incorporate for small space maintenance. These are:
1. ErgoChair Pro
The ErgoChair Pro is one of the premium modern furniture used for small spaces where conservation is concerned. If you haven't experienced or heard of the ErgoChair Pro, then you need to know this. You haven't experienced comfort and furniture that allows space conservation both at the same time.
The home office design of the ErgoChair makes it seem classy with respect to its purpose. Its development is centered around giving you optimal relaxation while you complete your tasks.
This is simply because it has an adjustable height and frame and provides movement in any small or clustered work area.
ErgoChair Pro
Its medical properties make it a great buy for you. It saves the spinal cord from pain through bad posture
This allows you to sustain longer hours of work while receiving optimal physical care
It's convenient size and additional wheels allows for mobility around the office
Adjustable height increase
Easy assembly and disassembly for convenience in workspace in case you may or may not need to use it
Can be very expensive, and as such, costly for you to purchase
2. SmartDesk Core
The SmartDesk Core provide a quick and easy 15 to 30-minute installation allowing for you to disassemble and assemble where and when you see fit. This allows you to increase maximum space, being able to add and remove for convenience and mobility in your remote small room area.
Additionally, the SmartDesk Core which is available for a bulk office furniture order can adjust its heights for more comfortable and healthy usage from your work site. Why is it one of the best office furniture options for you? Simply put, it allows for a convenient fit in small spaces. It also provides a strong, steady foundation that is safe, and proves to be compatible with any workspace.
SmartDesk Core
Ensures that you receive certain health benefits
Easy for you to assemble
Available for a bulk office furniture order
Can be an expensive purchase for you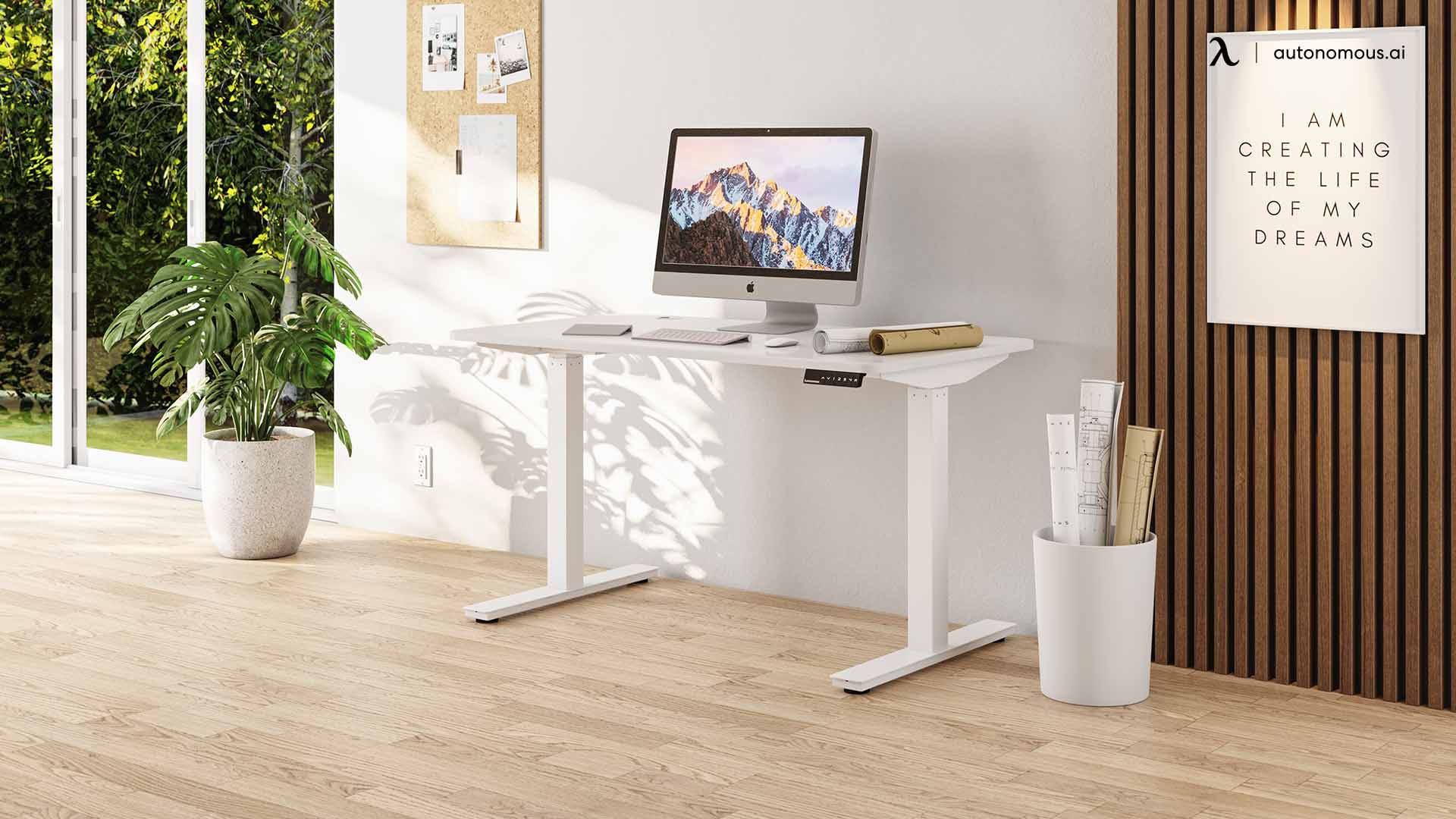 3. Small Desk
Small desk furniture proves very useful home office furniture for small spaces that effectively accommodates the disadvantages of a small space setting. The setup is actually quite easy and convenient.
Each small desk represents a kind of furniture that effectively allows you to adjust its size for available space. It also provides a strong base for holding objects above it.
Small Desk
Cost effective.
Allows less clutter in the room space
Requires that you perform DIY setup to achieve maximum furniture capabilities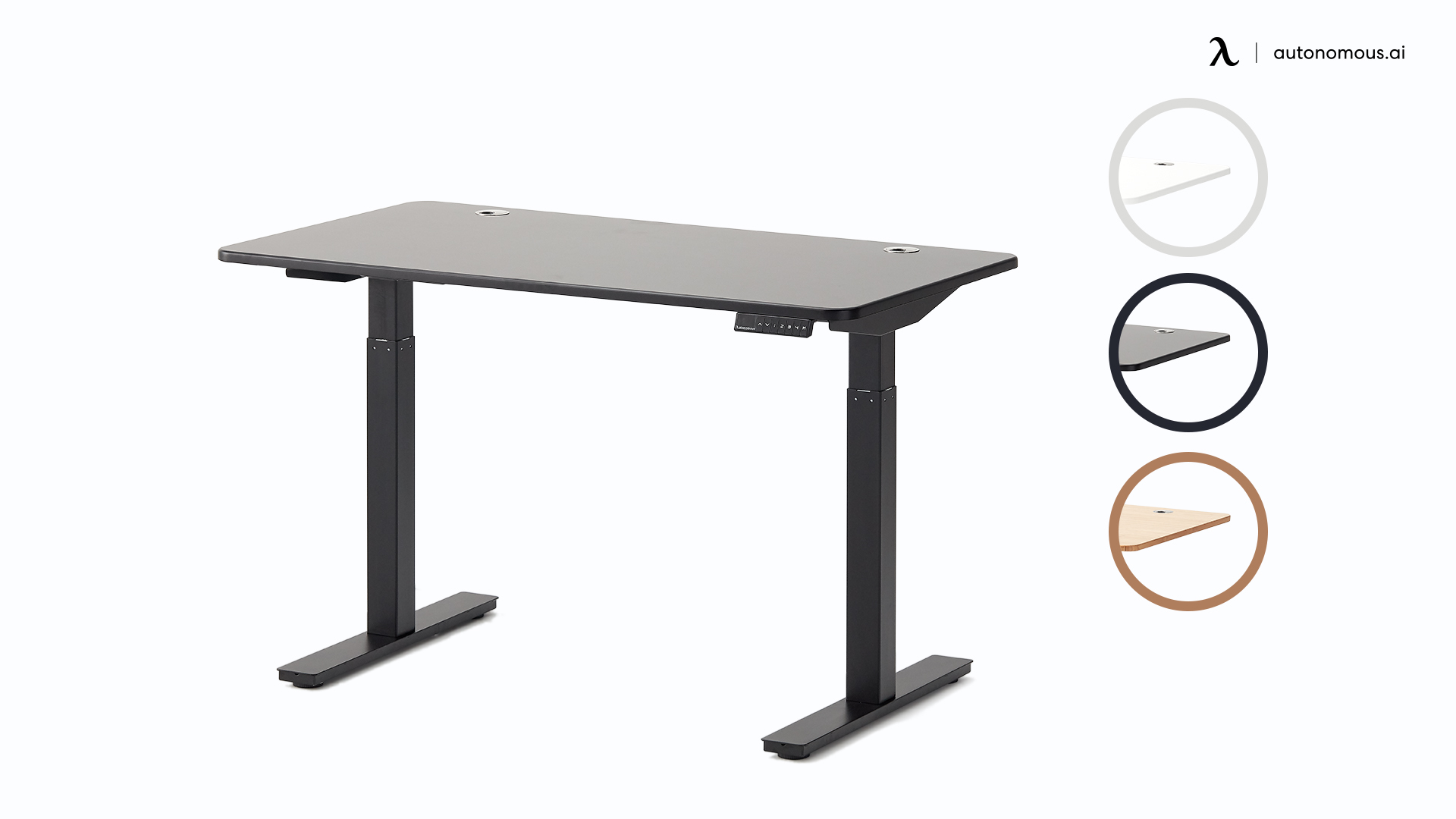 4. DIY Desk
If you've found that a lack of space or a team to help with the successful setup of your furniture is the problem then you can check this out. The design and conservativeness of your small workspace has never been more in your power than now.
All you require to get started with your DIY desk for small spaces is the material for constructing. This is the type of office furniture you can design in any way you desire for a creative convenient work area. Also, you may add a stylish sense of space for personalization.
DIY Desk
An excellent medium for completing office work while providing a healthy environment
Allows the organization and customization of home office furniture for small spaces used to support rooms
The space provided may still be too small to facilitate the design you have crafted.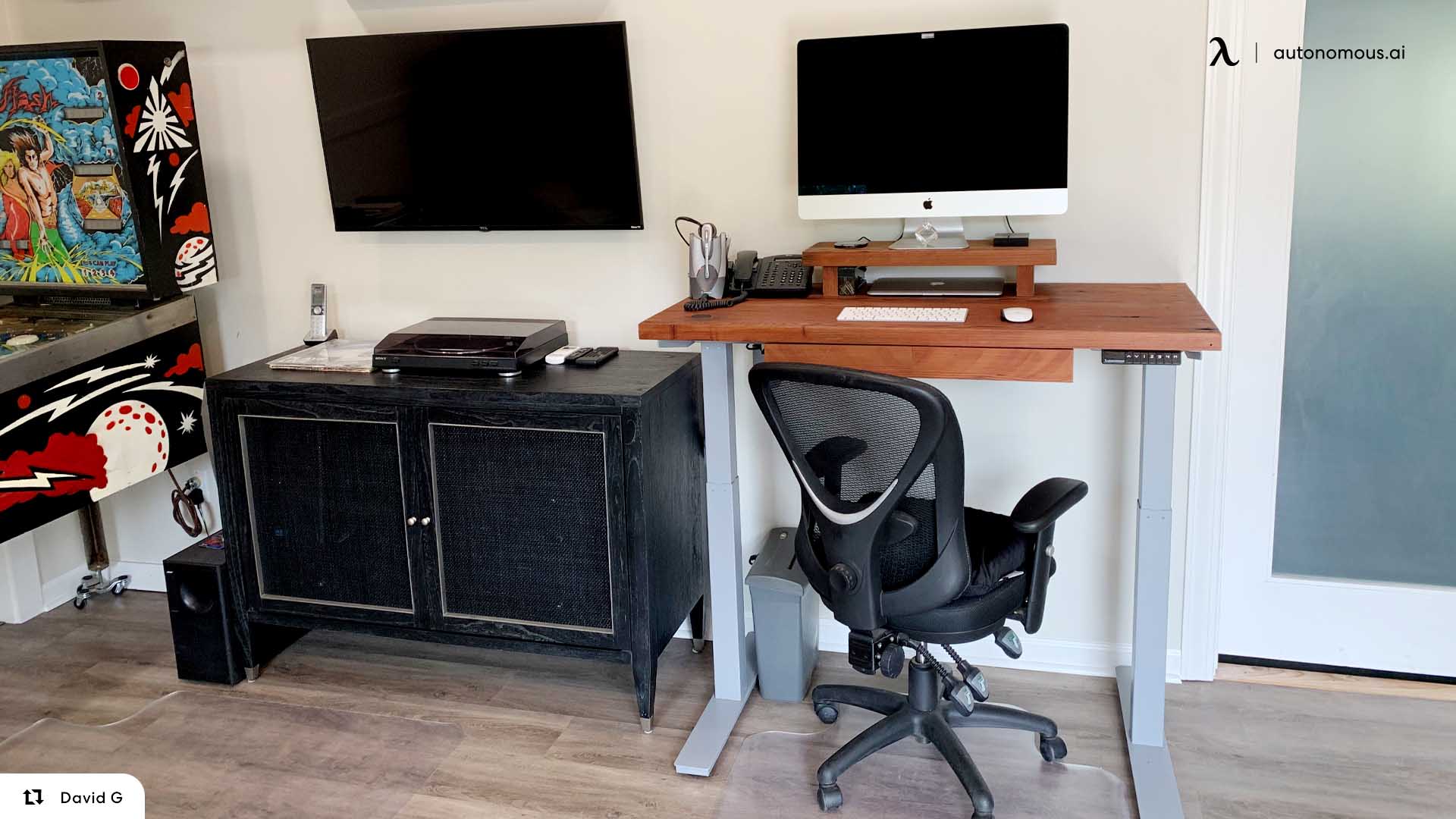 High Tech Office Furniture
This type of modern office furniture trend is the latest to decorate your small spaces. The furniture's high technological capabilities support the activities you're engaged in, considering you're an advanced remote employee. This furniture adds effectiveness to your small room space.
High Tech Office Furniture
Very effective and advanced in carrying out the job they are designed to for your convenience and comfort.
Is versatile and can support several workspace orientation.
In most cases these can be very expensive allowing for little to no cheap affordability rates.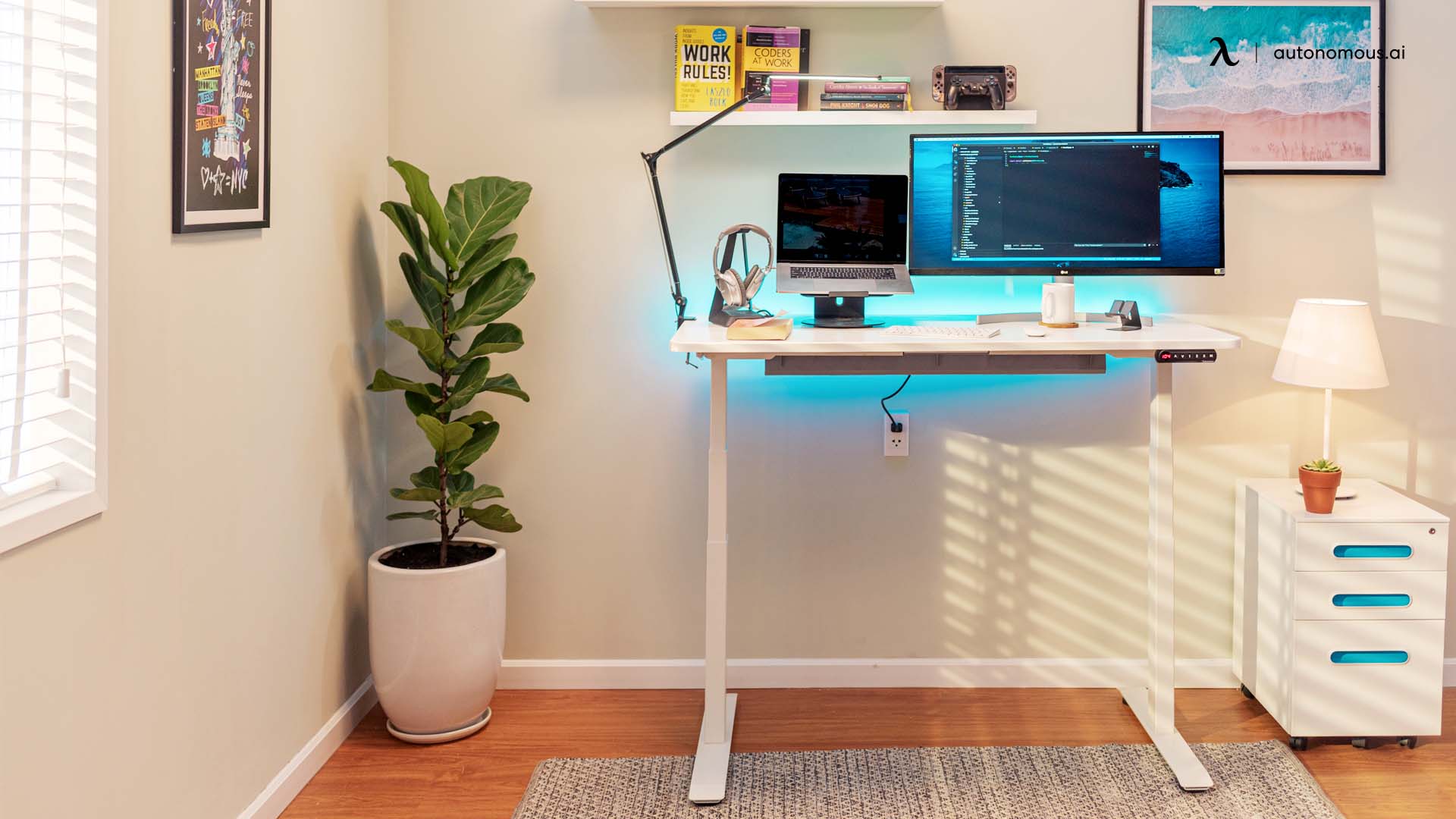 Conclusion
Your work space should be appealing and comfortable to your needs. We have provided you with several office furniture to more efficiently use your limited space. These ideas are ranged from the SmartDesk Pro to DIY desks. You should now be able to whip up a stylish office while saving as much space as possible. Why keep these ideas to yourself? Share with a friend and help them find a solution to their small space problem.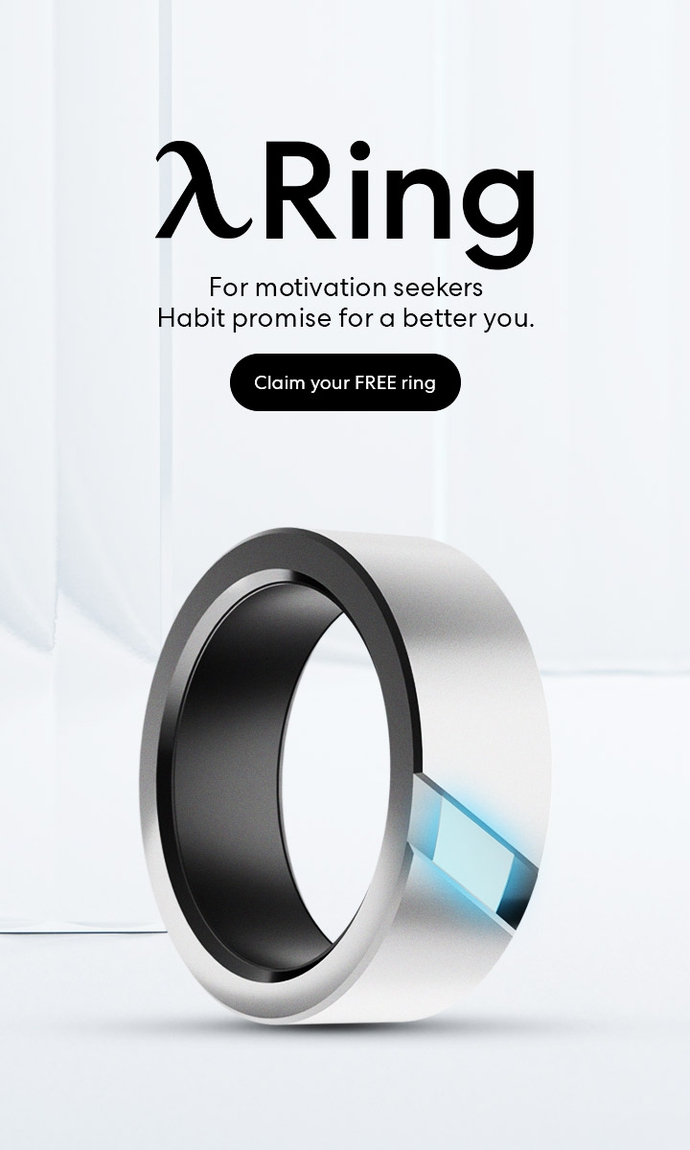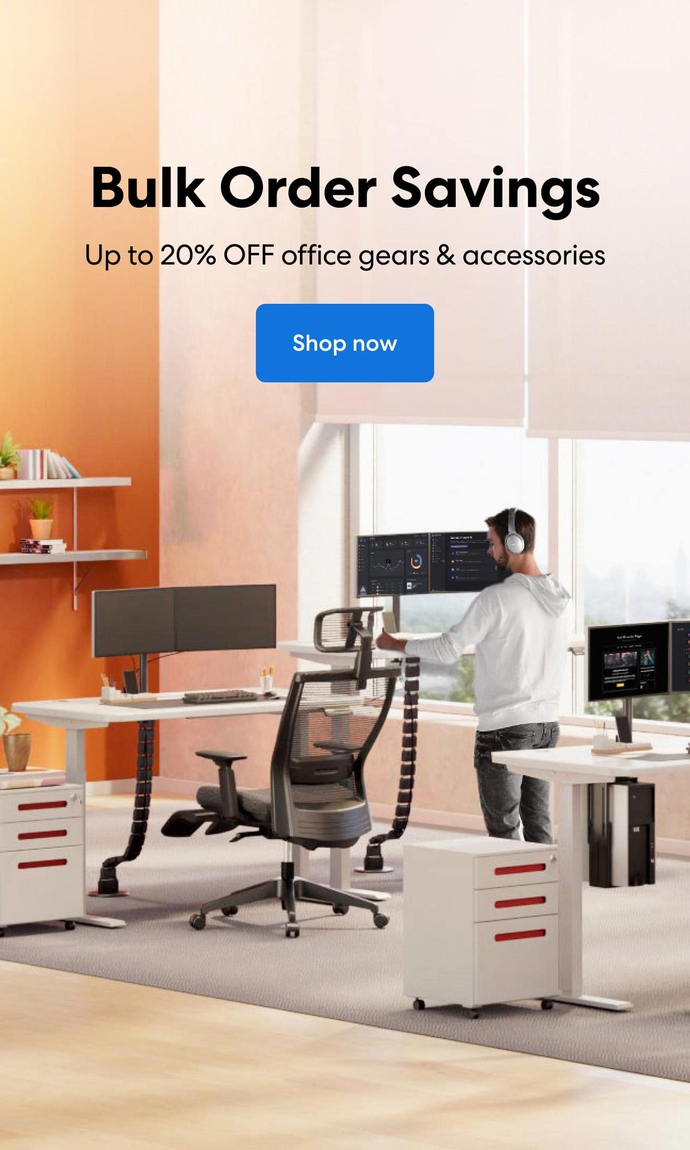 Subcribe newsletter and get $100 OFF.
Receive product updates, special offers, ergo tips, and inspiration form our team.