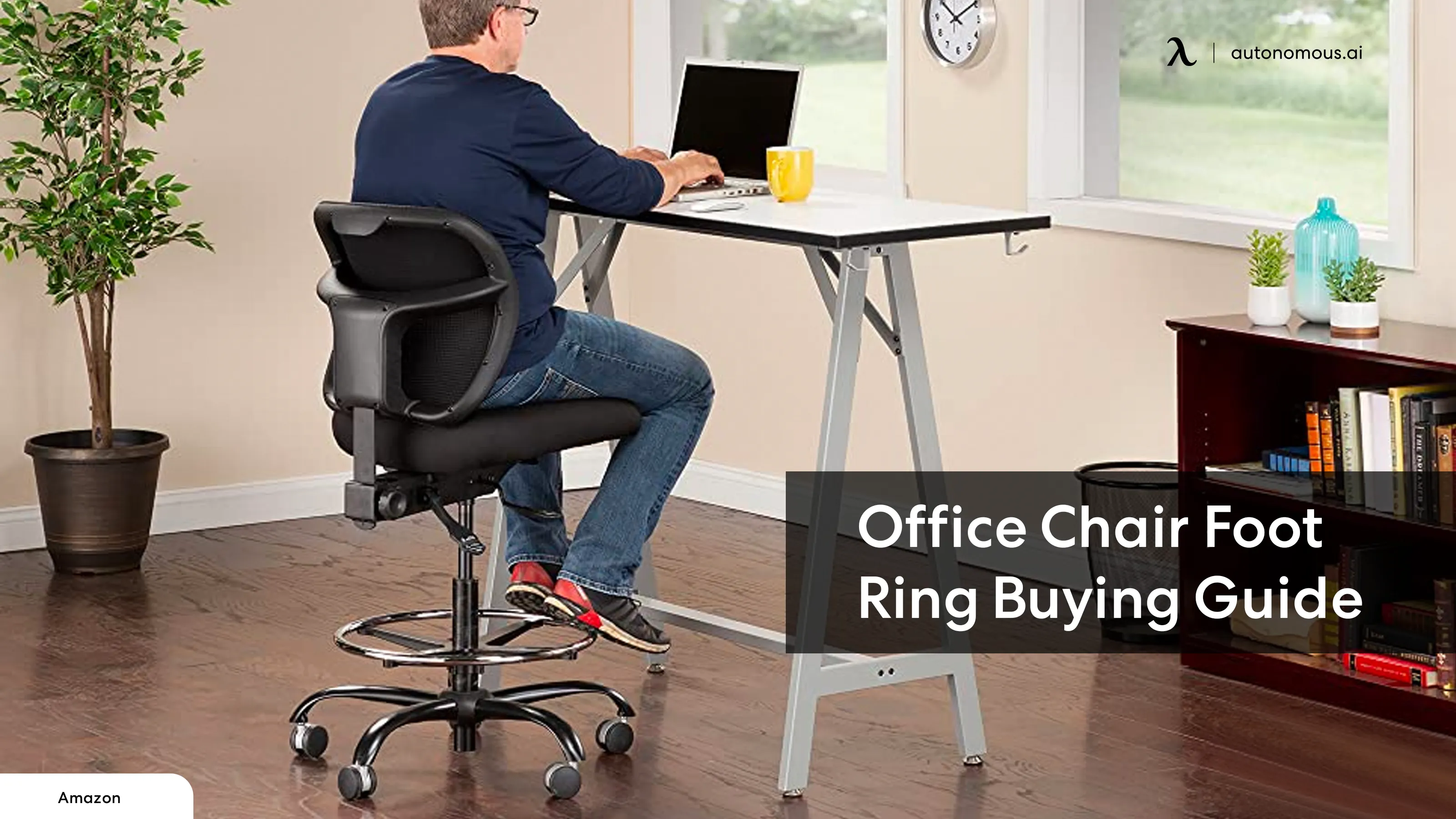 Work Wellness
Improve Your Posture with a Foot Ring for Your Office Chair

Autonomous
|
May 19, 2023
939 Views
Do you spend more than 7-8 hours in your office? If yes, you need the most comfortable office chair. Office workers and others who spend long periods of time at computers need ergonomic chairs as it's important to remain relaxed and at ease, while working at a desk.
If you find yourself in dire need of something to relieve the stress of sitting at a computer all day, the following is a list of the different benefits of a foot ring for an office chair.
Office Chair with Foot Ring Meaning
The legs of a drafting chair or a desk chair with no wheels can be fitted with a metal chrome foot chair ring. It's made to be a soft and supportive landing spot for tired feet during long periods of sitting.
The office chair footrest ring is normally manufactured from metal or plastic and coated in chrome for a contemporary design and long life. It's a must-have for anyone who spends hours at a desk or drafting table, and its height-adjustability makes it suitable for a wide range of users.
Most chair rings are made with a standard 2-inch diameter, so you can easily use them with different office chairs. It's a sturdy footrest that can be used with any stool or chair, giving you peace of mind while you MOVE your feet comfortably.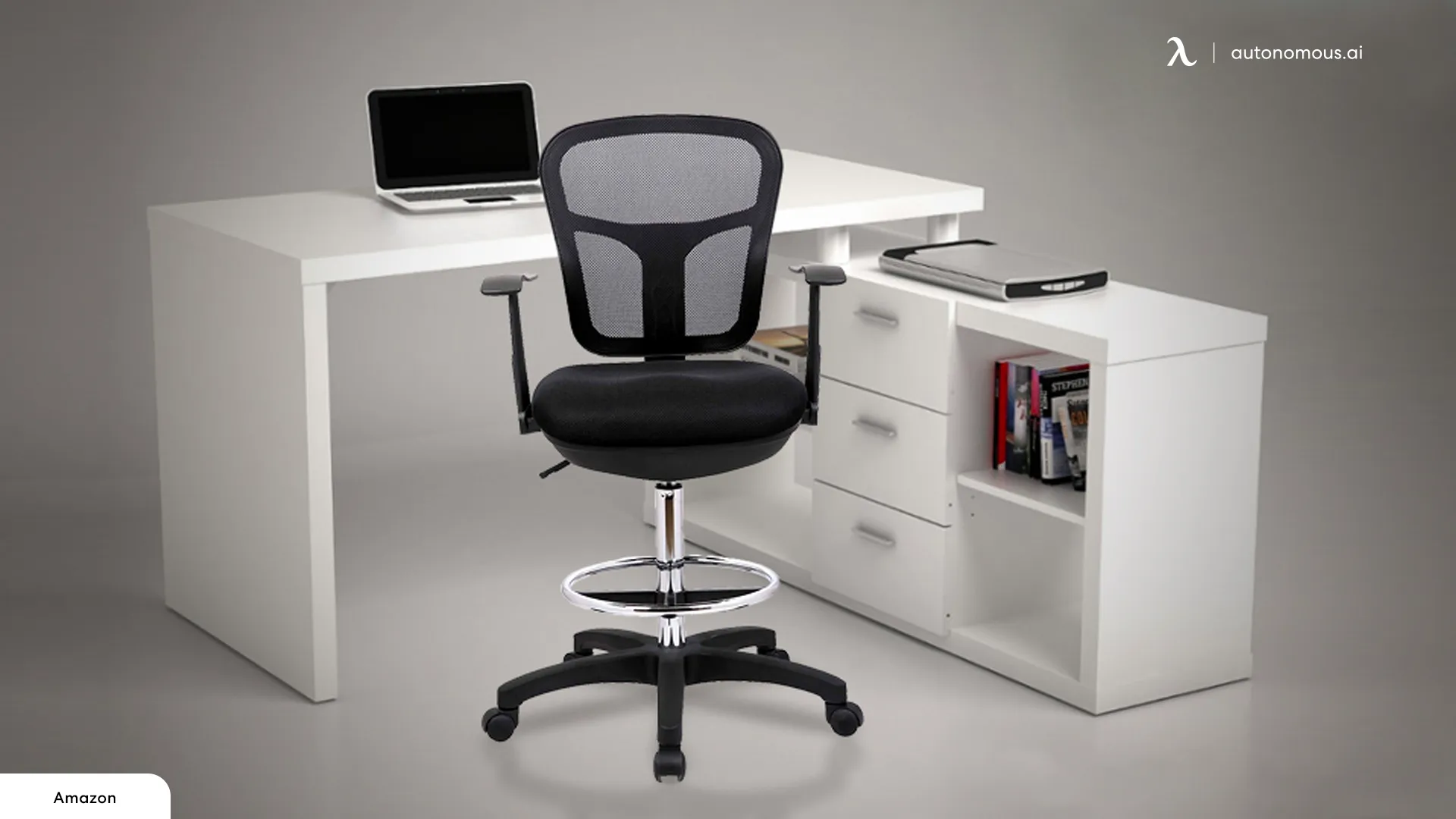 Benefits and Drawbacks of Foot Rings For Office Chair
It's widely known that even a little bit of exercise every day can do wonders for your health, but making time to get in a workout can be challenging. Sitting at a computer for as long as eight hours a day harms our health but is unfortunately necessary in the modern world and business.
Therefore, ergonomic office chairs with foot rings provide the following benefits just from sitting at your work chair.
Benefits
Better Posture
When seated, your hips should be slightly higher than your knees for optimal comfort and health. This encourages proper posture, relieving strain on the back and spine. An office chair with a footrest ring helps you to rest your feet on a comfortable level, and this helps to relieve strain on your lower back.
Foot rings offer an even weight distribution, allowing you to sit for longer periods of time. By encouraging proper hip alignment, they encourage healthy and better posture.
Higher Blood Flow in the Legs
Long periods of sitting cause blood to collect in the legs and feet. Leg pain and varicose veins are less likely to occur when the feet are propped up on a chair ring, even if only slightly. According to research conducted in Japan in 2014, elevating your feet at an angle of 15 degrees to 30 degrees can help prevent leg swelling.
Less Exhaustion
It's tiresome to stay seated in one place all day, and we rapidly tire and lose focus when we aren't supported properly in our seats. If you're struggling to get work done due to discomfort, exhaustion, or pain, try switching up your desk routine by moving around your legs. Having the freedom to move your feet around on a drafting chair might give you a renewed burst of vitality.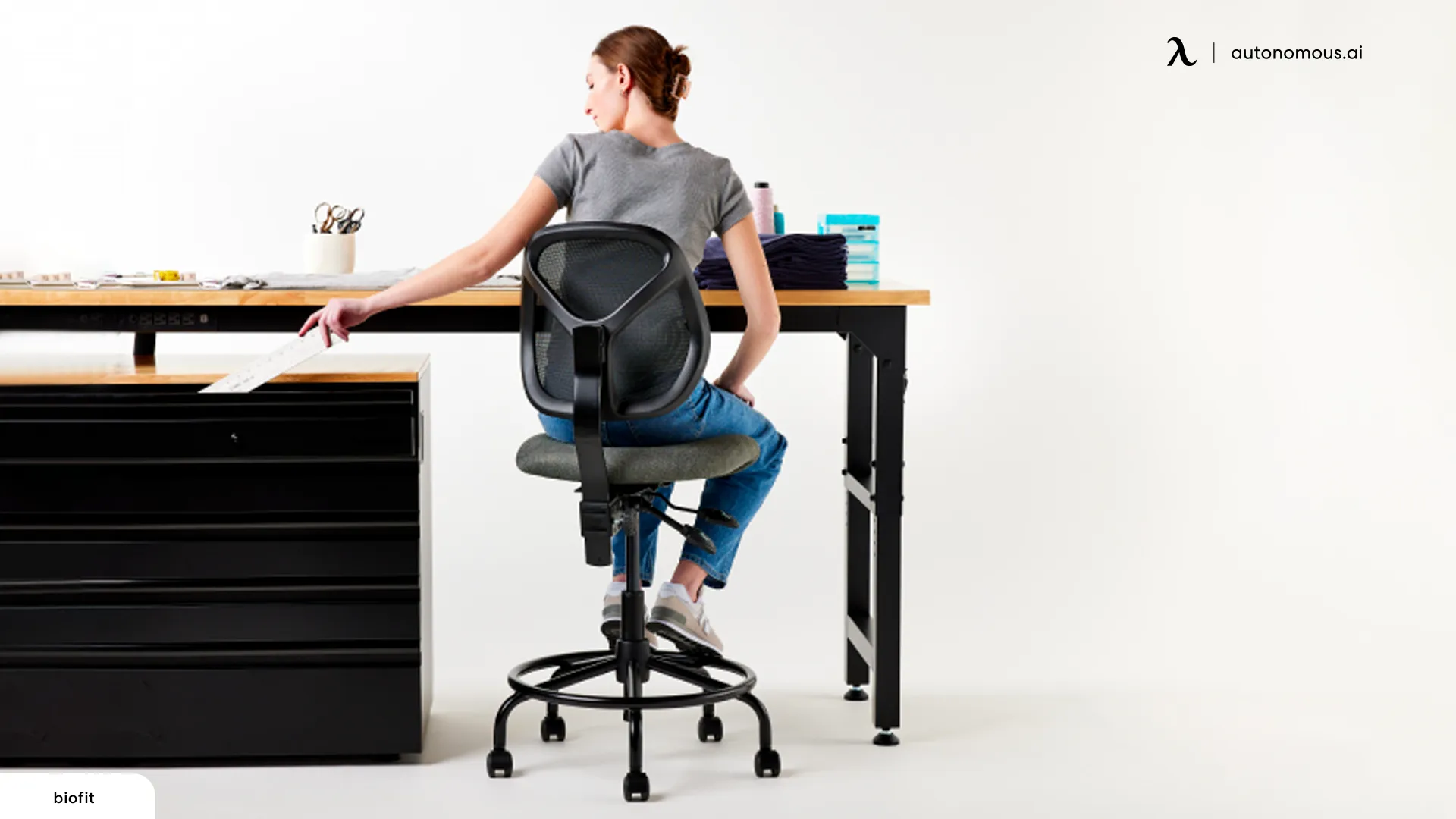 Drawbacks
Easily Damaged
Your feet can rest comfortably on a foot ring for an office chair because they are built to support your weight. However, it can be broken if too much weight is put on it or if you attempt to stand on it.
The weight restriction is rarely met on chair rings. But there shouldn't be any trouble as long as it is a high-quality footrest ring and is put to its intended use.
Poorly Crafted Footrests
Office chairs with foot rings that could be better made or designed can be more of a distraction than a help. Without a non-slip finish, your feet will slip about on the foot ring, making it uncomfortable to place them on.
Weak components that move around when you put weight on them are other potential problems that can cause your feet swaying unsteadily while sitting at an office desk.
Buying Guide of Foot Ring for Office Chair
The Standard of the Goods
Consideration of the chair ring's quality should always go into your search. Remember that a product's longevity is directly proportional to its quality. Knowing the materials that went into their construction is a good indicator of the items' value. If high-quality materials were utilized in production, then the footrest ring offered should also be of a similar standard.
Footrest Size
If your feet are huge, you may want to double-check if the chair ring size can accommodate the size of your shoes. It's uncomfortable if the foot ring doesn't properly support your feet. Additionally, consider the breadth of the foot ring to ensure it will allow for comfortable movement of your feet.
Adjustability
Think about how many ways the foot ring can be adjusted before you buy it. If only three or fewer height adjustments are available, the foot rings probably only function for a narrow range of body heights. However, office chairs with foot rings that have four or more adjusting options offer greater versatility.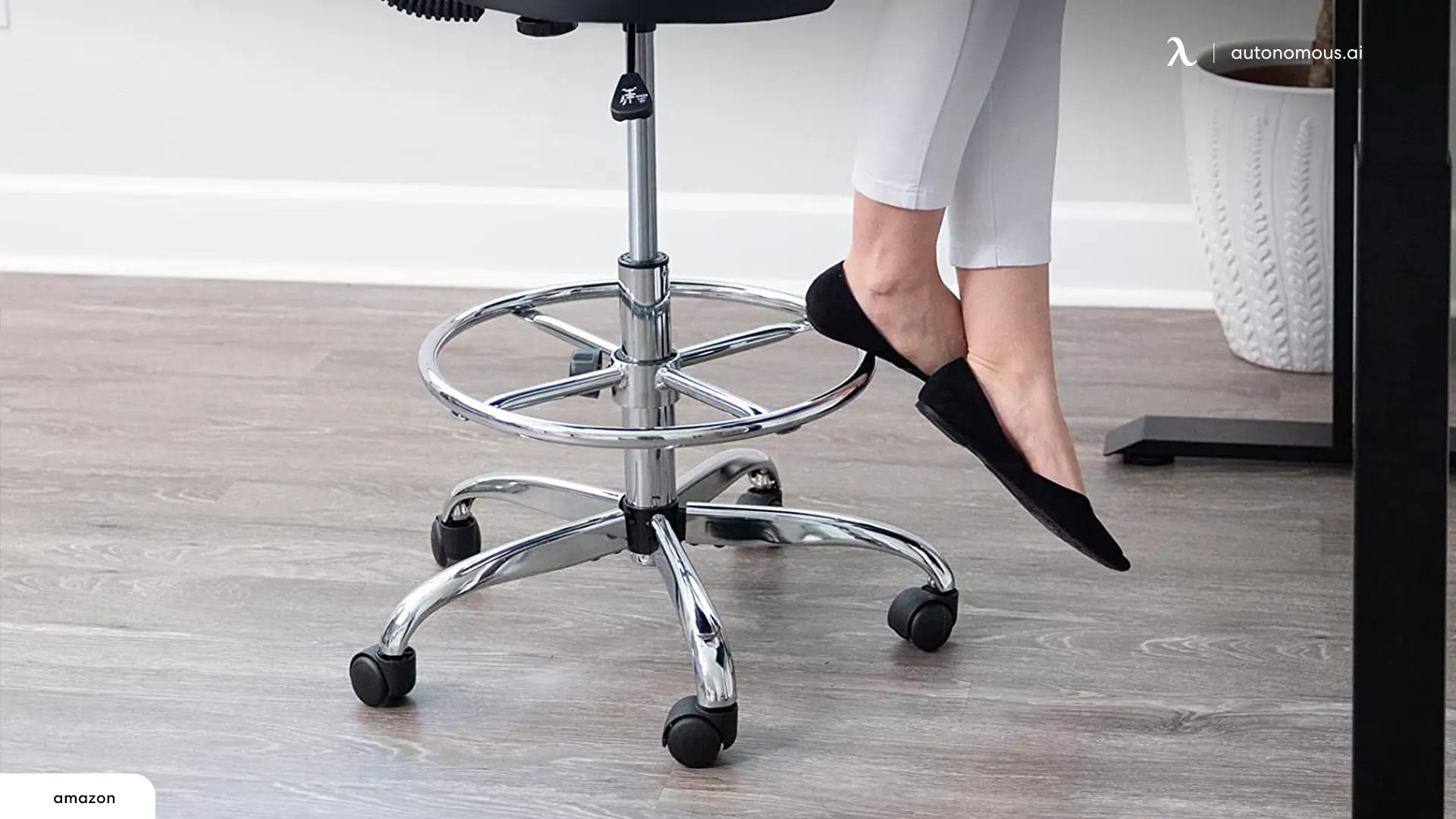 Variation
A foot ring might be an essential piece of office chair decor if you consider the different colors and shapes it comes in. You should expect greater prices for uniquely designed products in several colors, emblems, and even brand personalization.
It's always better to look for an office chair footrest ring that goes well with your statement or a cute desk chair that looks good for a cleaner and more sorted look.
Refund
Most return policies for foot rings give buyers 30 days to try the product before sending it back. Within that time frame, you can get a full refund if you aren't satisfied.
Therefore, If you want to know if the drafting chair foot ring is worth buying, one of the easiest ways is to try it out for yourself. As a result, you should prioritize deals from sites that offer this kind of refund policy.
Final Note
A footrest ring is a holy grail if you spend most of your day sitting on an office chair. So, get an office chair with a foot ring to rest your feet and provide them a second area to rest while you work.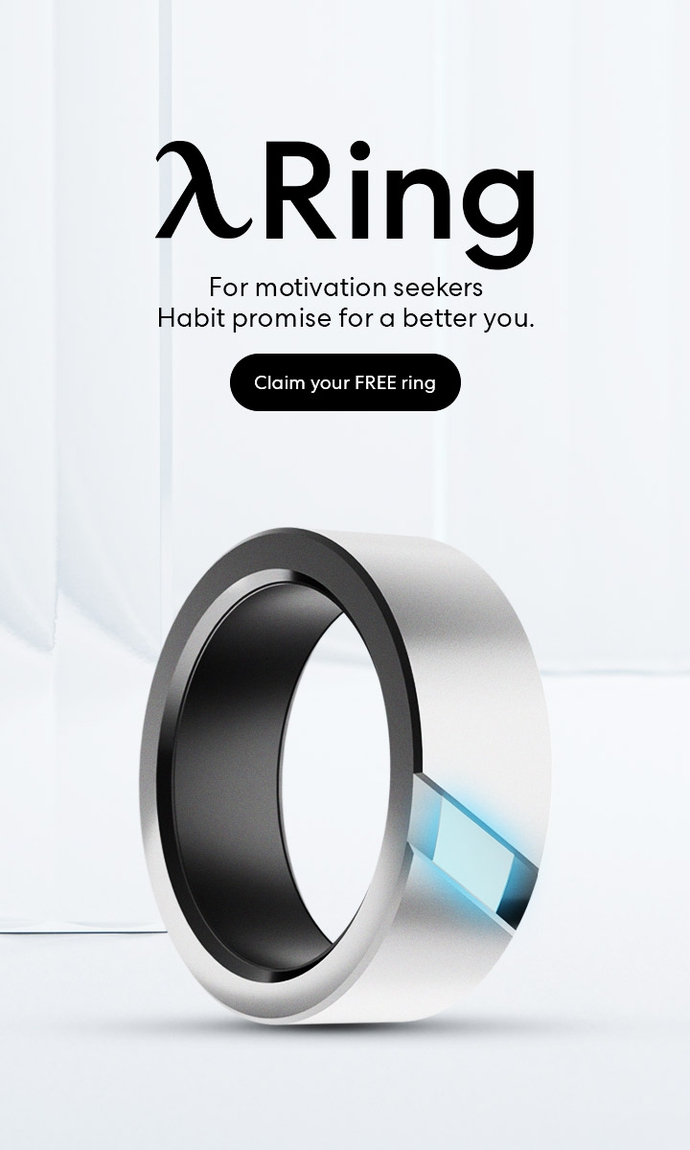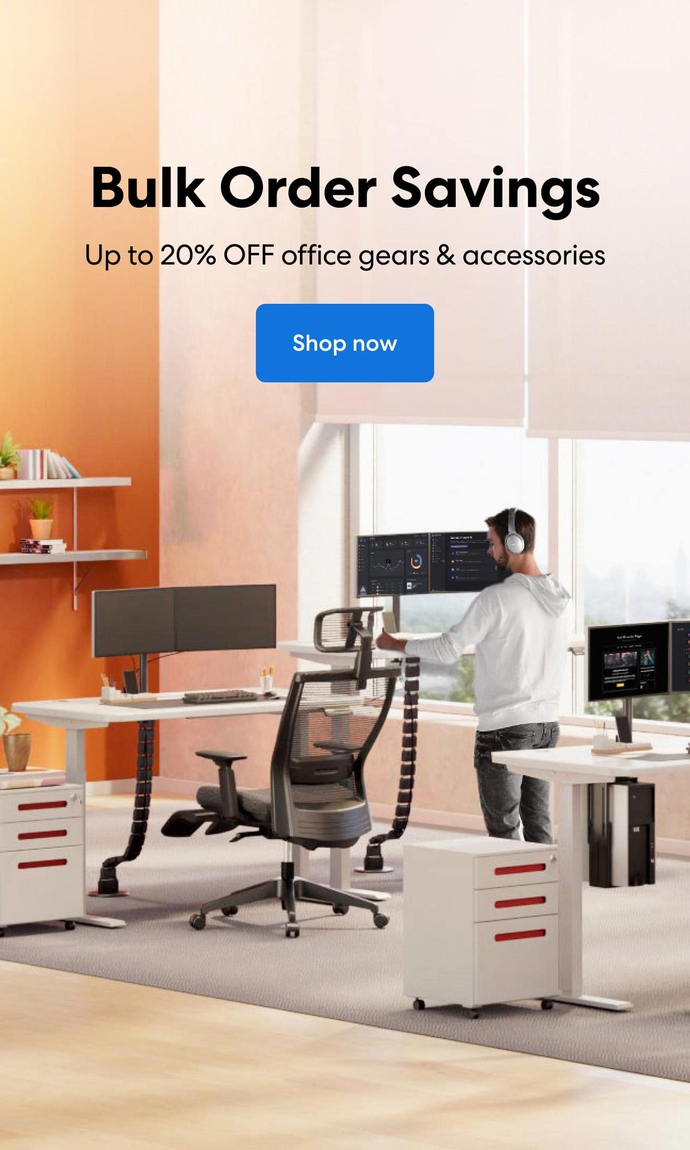 Subcribe newsletter and get $100 OFF.
Receive product updates, special offers, ergo tips, and inspiration form our team.