Logicfox Ergonomic Office Chair: Saddle-shaped Sponge Seat
Logicfox Ergonomic Office Chair: Saddle-shaped Sponge Seat
33 reviews
Visit our store
Buy now
Add to cart
FREE shipping Dec 17 - Dec 19. FREE 30-day returns.
Bought by 151+ Microsoft employees.
Sold and shipped by Logicfox
• Encouraging great posture with up to 8 points of adjustment: Adjustable memory foam lumbar support, Adjustable height headrest, Adjustable seat height, Adjustable seat tilt (90-130°), Adjustable tilt tension and Adjustable 3D armrests (Height, Rotation, Depth) • Bodies of all sizes: 5'2" - 6'2"; up to 330 lbs • 8+ hours of comfortable work. • High-density sponge seat • 30 days trial • Free shipping • 3-year warranty • BIFMA Standards & SGS Certified
• 3-year warranty
The Logicfox Ergonomic Office Chair: Saddle-shaped sponge seat designed a comfortable thick sponge seat and breathable mesh back, ensure that leg pressure is minimized during a long period of seating and gives your back a cool feeling. Adjustable height memory foam lumbar support can effective support your lower back, relief your muscles pain.
Deep dive into specs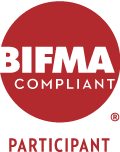 Features
FAQs
Specs
reviews
4.4
Many different kinds and configurations have been tried in the never-ending hunt for the perfect ergonomic saddle office chair. Some of these improvements led to the development of modern office chairs with features like positioning armrests, dynamic lumbar tension, and lumbar support. Other sorts of stools include barstools and other stools, such as ergonomically active-sitting stools. Others, meanwhile, are thinking up more and more absurd ideas. Saddle seat office chair alternatives often don't resemble or feel like horse saddles. They are larger and prettier than the saddle of a bicycle. The front part is typically depressed to rest the legs without blocking circulation, and they have a more triangular shape overall. Options for adjustable office chairs may also have a small or nonexistent back to discourage employees from reclining and taking a nap. The best one is the Logicfox ergonomic office chair. The majority of office chairs are designed with this common knowledge and ease. But it's getting more and more obvious that this isn't the best posture. A growing amount of evidence suggests that it is best to recline 135 degrees. In many excellent ergonomic seats, particularly the Logicfox ergonomic saddle office chair, one of the greatest alternatives for breathability, you can see yourself leaning back slightly, between horizontal and vertical, by using this sponge seat office chair.
Logicfox Ergonomic Office Chair Benefits
How long have you been sitting in an office chair before finding it hard to get up? As a last option, you may use a sturdy surface, such as a desk or corner, to lift yourself out of the chair using your arms. This may happen with any chair, especially if it is too low, but large, plush chairs are more likely to result in it. Purchase the Logicfox sponge seat office chair as a result for healthier standing and sitting habits. After back injuries, blood circulation issues in the legs are among the most frequent side effects of a regular office chair. Many traditional office chairs have flat or raised front borders that press into the back of the thighs, where blood and oxygen circulate since the seat pan is often neglected. You'll benefit from a breathable and comfortable office chair that is ventilated. You're more likely to lean on a Logicfox breathable office chair's back, which eases the tension in your back muscles. However, if you suddenly feel the urge to get up and move, you'll be stimulating previously relaxed muscles, which may not be able to swiftly reengage and work.
Highlighting Features Of Logicfox Ergonomic Office Chair
Long-lasting Saddle Office Chair: Backrest & 3D Armrests
The backrest structure of the Logicfox ergonomic office chair is strong and long-lasting. With the back tilt's elastic adjustment, you may lean more comfortably. The smooth recline has three locking setups and a 40° range of seat tilt. It's a fantastic method to relax your body. The 3D armrests may be lifted and lowered as well as tilted 35 degrees forward and backward. The multi-purpose, adjustable, and comfortable PU armrests help to reduce shoulder strain and have many other benefits, it surely plays a role in better productivity.
Flexible, Robust, and Thick Mesh - Chair Headrest Height Adjustment
The seat of the Logicfox adjustable office chair is made of high-elastic mesh. This saddle office chair cushion will be more beneficial to your hips and thighs. The grid-weaving method is used in this fabric, which is breathable and kind to the skin. Extensively assessed using a wide range of weights and dimensions. You can rely on it since it has BIFMA certification for long-term usage and safety. Your head may be supported more comfortably with the headrest's 1.2-inch height adjustment and Arc up/down the functionality of this comfy desk chair. A plush, skin-friendly sponge will support your neck and head as you sit down.