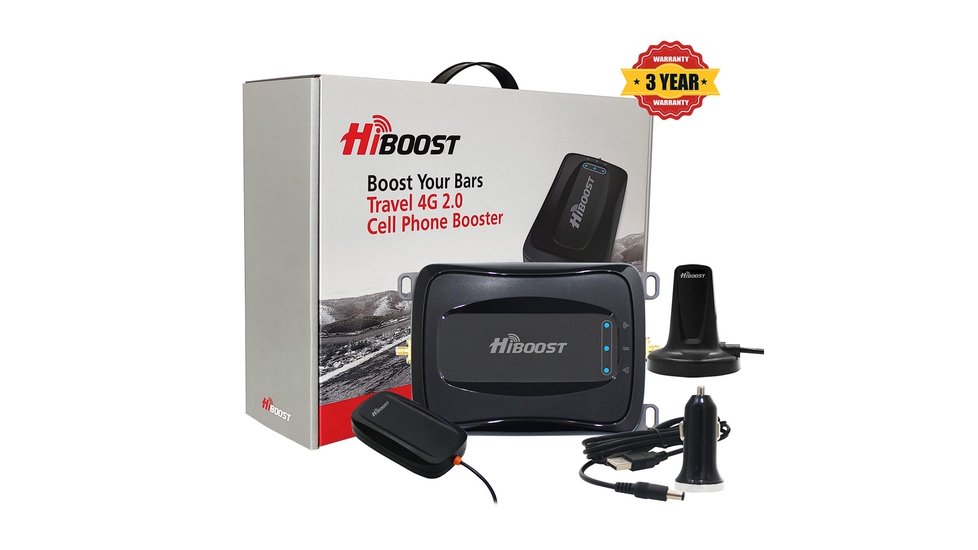 Working from home?
Obtenir des prix spéciaux
Portable Cell Phone Signal Booster by HiBoost
$399
On-the-go connectivity. Can be used within any vehicle. Amplifies 2G, 3G and 4G LTE signals across all cellular devices on all US and Canadian carriers.
Expédié sous 2 jours ouvrés
|
Livraison gratuite
Faites-le payer à votre entreprise
Nous pouvons transmettre cette commande à un contact de bureau et demander le paiement en votre nom.
Économisez jusqu'à 10 %.
Achetez plus, économisez plus
Quantité
Prix unitaire ($)
| Quantité | Prix unitaire ($) |
| --- | --- |
Portable Cell Phone Signal Booster by HiBoost en un coup d'œil.
• Travel 4.0 - cars, vans, SUVs
• Travel 4.0 RV - RVs, campers, mobile homes
• Boosts voice + data signal
• Multiuser coverage
• Supports all cellular devices
• HiBoost App local signal monitor
• Long battery life
• 5G ready
• FCC, IC certified
• 3-year warranty
Plongez-vous dans les spécifications
FAQ
Vous ne voyez pas la réponse à votre question ?
Does this just boost cell signal or internet signal or both?
Hiboost signal booster is used to amplify cellular signals only. It does not amplify internet signals like wifi or bluetooth.
How long does it take to install a portable booster?
Every cell phone signal booster installation has its own unique set of circumstances and therefore time for installing a signal amplifier system varies greatly. However, on average, it takes between 1 to 2 hours.
Can I install this product myself?
Our signal boosters do not require professional installation. They're easy to set up. Of course, it's perfectly fine to hire a local handyman, installer, or any professional that deals with running cable.
Will this work outside the US?
No. This product is designed and licensed by the FCC and IC for North American carriers only.
Is your signal booster compatible with all carriers ?
Yes, this is a FCC Licensed Class B. It covers all carriers across North America.
Do I need WiFi for this to work?
You do not need Wi-Fi for this to work. The LCD display on the front of the unit is all you need to properly adjust and set up the booster.