Is having a gaming computer and chair enough to set the right mood for gaming? The truth is otherwise. As much as we think gaming is about the virtual world, it is equally important to pay attention to the world surrounding us. From the right gaming furniture to gaming room setup, the right accessories to gaming room décor, each thing plays a vital role in setting up the entire mood. And not to mention the comfort for gamers. Since gaming is considered an unhealthy addiction, but it is also equally impossible to avoid it altogether, modern studies now suggest ways to minimize the negative impacts of gaming.
Hence you will find many ideas focused around improving the gaming experience for you while minimizing all the negative impacts. And having the right type of gaming wall lighting is one such thing. The importance of gaming room lighting setup isn't just centered around aesthetics. Still, the right choice of gaming lighting setup can minimize eye strain, prevent headaches, and ensure your eyes are well protected. While we all are too centered on the RGB gaming room lighting ideas, in this article, you will find some creative tips and décor for gaming wall ideas décor.
Importance Of Gaming Wall Lighting
Lighting and ambiance for areas where you and some visitors are playing video games or table games are provided by gaming room lights. The ideal gaming wall lighting can be both aesthetic and functional for your gaming experience. Here are some reasons to choose the best gaming room wall lighting.
Elevate The Environment
The most immersive, even bizarre gaming experiences. Purchase lighting for your gaming space to help you escape reality, sharpen your attention, and maintain composure when playing high-stakes games.
Create The Ideal Mood
Your daytime ceiling lights may not create a particularly unique gaming atmosphere if they are a harsh white or a gentler off-yellow. Use the lighting in the gaming area to make it more comfortable, welcoming, and immersive rather than crisp and average.
Helps in Controlling Intensity
The discussion has centered on aesthetics, but gaming room lights can also serve practical purposes. Gaming room lights reduce the amount of TV screen glare that your ceiling lights cause while still illuminating your workspace just enough for you to see your controller or keyboard. Additionally, they illuminate table games directly while maintaining the serenity and composure of your surroundings.
Add Personality
Not only are gaming room lights for you, but also your visitors. You may create a system that instantly transforms people's moods using gaming area-specific lighting.
The Best Ideas for Gaming Wall Setup
The right lighting choice is the core to the success of any gaming room. It transforms your space to look better, and with the type of theme you are planning, it becomes much easier to create that particular vibe if you choose the lights wisely. While RGB and LED strip lights are common in the gaming room, normal white lights on walls can cause screen glare and affect aesthetics. Hence below are some unique gaming room lighting ideas with the right gaming vibes.
1. Lamp Depot Modular Wall Lights
Consider it a remaining piece of a jigsaw puzzle or maybe Tetris, but this Lamp Depot touch-sensitive modular lights will gather all the focus. With a unique design or maybe the first you have seen in wall lights; these lights have many features to be admired other than just the looks.
Firstly, they have a modular design, and each lamp offers the option to be independently controlled. The 13 fixed colors ensure you get every vibe you need in the room. Moreover, you will get adjustable brightness, timing function, remote control, and touch sensor to operate these lights.
2. Cololight Multi Color Gaming Lights
A three-pack of sizable, circular LED lights called the Cololight Multi-Color Music Sync Ambient Lights is suitable for many modern-style gaming setups. The lights are installed in a square plastic housing, although they are round in shape. The broad and flat design is 5 inches on each side and 1.2 inches thick so these lights will be a statement piece in your room. Moreover, these lights can be linked and synced up using Colo light's hexagonal kit. When coupled, two or more lights can simultaneously share power and be controlled.
3. Lamp Depot RGB Corner Lamps
If you are not a fan of drilling holes on your walls, then look at this smart gaming setup which will make your gaming room look rich. One of our favorites, these Lamp Depot RGB corner lamps are remote controls and offer the perfect warmth and vibrance. The RGB Colors combine to form several attractive shades, and you will get a minimalistic LED lamp look effortlessly. You can choose among 1+ million colors and 300+ multicolor effects, all with a touch of convenient remote control. These lights also come with a 1-year warranty.
4. Skylights
Skylights, a specialty of many mesmerizing gaming rooms, create patterns of starry nights or wispy galaxies that fill your room. Your skylight projector should be pointed at a wall or tilted to the ceiling. Remove the stars and only project the sky by setting the lights to pulse or remain fixed. You have a wide range of options with galaxy lights to get the precise illumination you want in your game room.
5. Lamp Depot Polygon
Enjoy the wide assortment of 16 million colors (does this number even exist) and get 330+ multicolor effects to choose from. The Lamp Depot polygon music rhythm is remote-controlled and can also be controlled by a mobile application. Get ready to amaze your friends and family with the sound reactive mechanism. It also has adjustable lighting speed and is fully dimmable for the right type of brightness needed. The high-quality, eco-friendly lamp is suitable for multiple works and gaming adventures.
6. Govee Smart LED Lights
Regarding modern-style LED lights, Govee is a top name for many buyers. Their wireless LED light strips suit well for many gaming setups and are durable in the long run.
The Govee Smart LED Light Bar is a pair of independent RGB lights. Each one has a light along one end and is about 12 inches broad and wedge-shaped. The lights can be placed on your wall or a desk or tabletop. You can set them down on their sides or stand them up in their flat, black bases for use on a table.
Video ads for product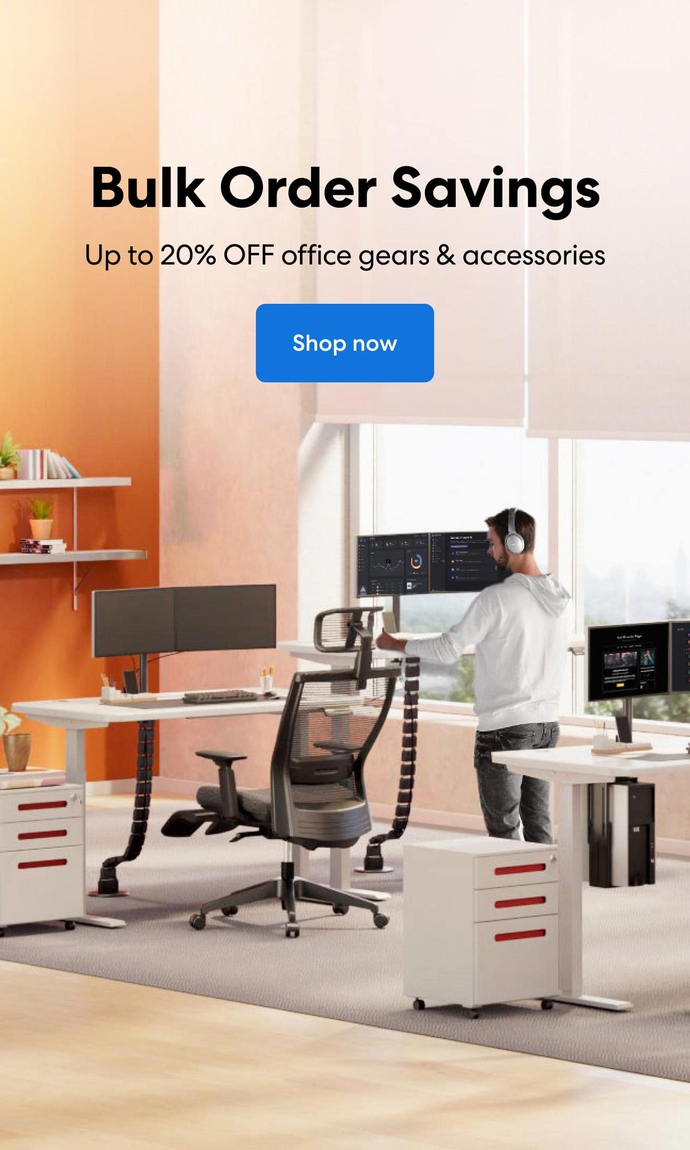 Subcribe newsletter and get $100 OFF.
Receive product updates, special offers, ergo tips, and inspiration form our team.