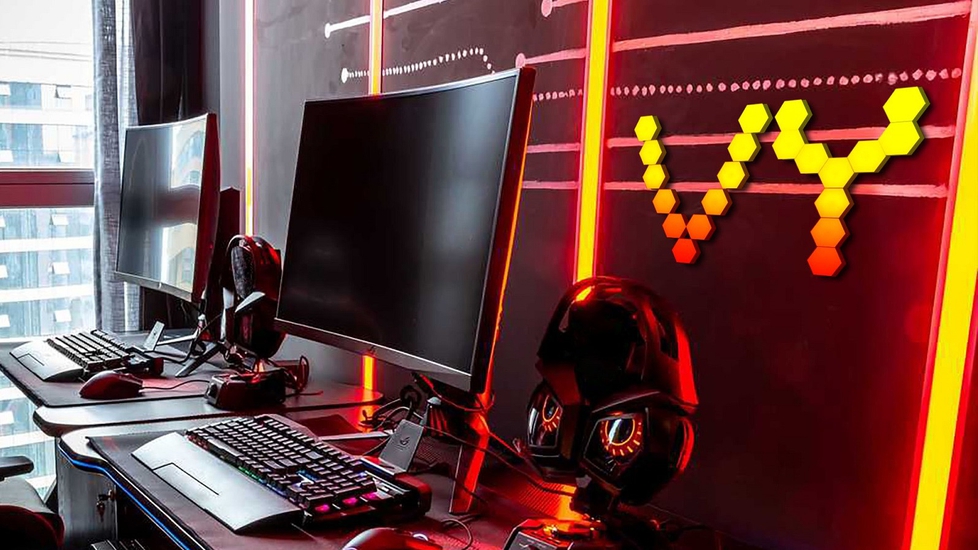 Lamp Depot Honeycomb Lights: Touch Sensitivity
5 Commentaires
Visit our store
Livraison gratuite et flexible
Commande en grosEnregistrer jusqu'à 

5%
Acheter maintenant
Ajouter au panier
Livraison gratuite Dec 07 - Dec 11
Acheté par 47+ Shopify employés.
Vendu et expédié par Lamp Depot
Fonctionnalités principales
• Modular Design • Each Lamp Can Be Independently Controlled • 13 Fixed Colors • 3 Dynamic Modes: Colorful Slow-Change, Fast-Change&Monochrome Flash • Adjustable Brightness • Timing Function • Remote Control • Touch Sensor
• 1-year warranty
Connect the 6 modular tiles and control them independently to create whatever kind of design you can imagine. Each one offers 13 fixed colors and 3 dynamic modes, along with timing functions, touch-sensor activation, and an included remote control.
Plongez-vous dans les spécifications
Caractéristiques
FAQs
Spécifications
Commentaires
4.6
About Lamp Depot Honeycomb Lights: Touch Sensitivity
Any gaming setup must have RGB desk or modular wall lights. Their aesthetics are especially made to provide the ideal gaming atmosphere and adhere to whatever theme you want your gaming setup to support. With the finest RGB wall lights, you can give your pro gaming setup an amazing display while also getting more efficient and comfortable gaming time. The finest RGB lights and modular wall lights for gaming rooms, therefore, are a better option than bright lights, which may disrupt the atmosphere and cause eye strain, as well as provide the perfect setting to completely immerse yourself in the gaming experience. Numerous manufacturers have seized the lead in offering the finest lighting option for gaming settings due to the widespread usage of various kinds of RGB wall light panels and other desk RGB lights along with modular wall lights. Read on to find out which RGB wall lights and honeycomb lightings are perfect for your gaming space if you're also seeking methods to improve your setup's aesthetics.
Lamp Depot Modular Wall Lights
The Lamp Depot store's honeycomb-shaped modular wall lights, contemporary, and aesthetically pleasing modular wall lights are among the top choices for RGB gaming wall lights. Its modular construction makes it adaptable to any gaming setup. Despite being close together, each bulb in the honeycomb may be controlled separately. Throughout the day, the 13 fixed hues may provide different levels of brightness and intensity. These lights are one of the best gaming desk accessories every gamer should have.
Honeycomb Lightings - A Perfect Touch Lights for Wall
These lights are amazing for remodeling your home. To construct any sort of design you can think of, connect the 6 modular tiles and manage them separately. In addition to these hues, you also receive three control features: a monochrome flash, a colorful quick change, and a colorful gradual change. Additionally, as other modular touch lights, the RGB honeycomb lights include a touch sensor and may be operated remotely. They may be installed on the ceiling or beside your desk, and they go nicely with any gaming furniture. Using these modular wall lights and honeycomb light panels to update your environment is fantastic and simple. To construct any sort of design you can think of, connect the 6 modular tiles and manage them separately. Each one has three dynamic modes, 13 fixed colors, timing features, touch-sensor actuation, and a built-in remote control.
Why Use RGB Lights?
A sort of light that may be utilized to produce various colors is known as RGB lighting. Due to the additional thrill and immersion, they may provide, these lights are frequently employed in gaming settings. Red, green, and blue are referred to as RGB. These are the three main colors, out of which all other colors are made. Any color you can think of can be created by mixing these three hues in various ratios. We recommend you get the honeycomb lightings by Lamp Depots. A controller is used to combine the three main colors of RGB lighting, like the RGB honeycomb lights by Lamp Depot. Usually, this controller is linked to a computer or another gaming system. After receiving user input, the controller will blend the colors to provide the desired effect.
About Lamp Depot
Lamp Depot wants to provide customers with a great balance of service, choice, and price. As a young lighting shop, we offer thousands of unique and patented lighting, home furniture, and décor concepts from dozens of renowned designers and artists. The special handling of materials and the ardent pursuit of lightness and designs used in Lamp Depot's creations make them immediately distinguishable as luxurious lighting fixtures. Designer lamps, fixtures, and lighting for both indoor and outdoor environments are part of the product line. Each item is distinctive due to the material used, and the skilled workmanship used to create it.