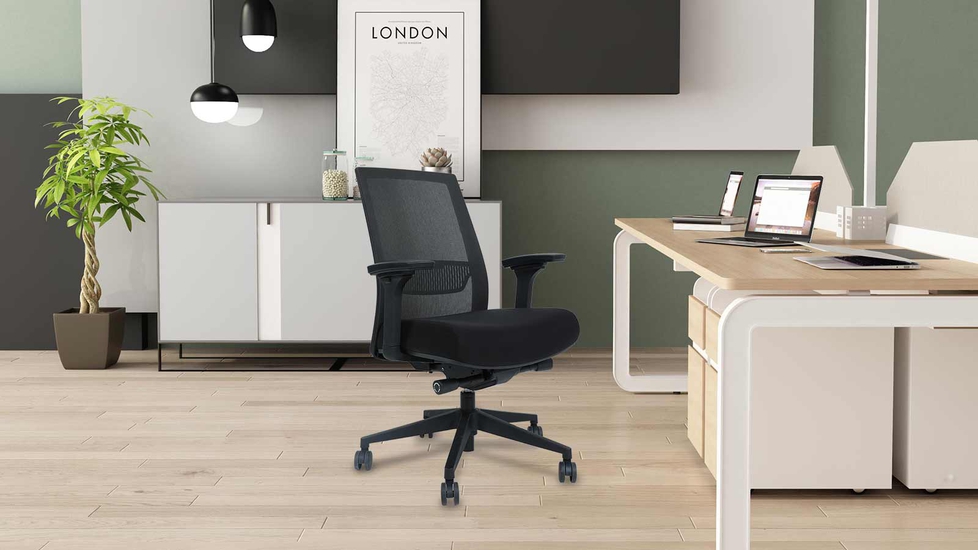 Northread Ergonomic Mid Back Swivel Black Mesh Desk Chair
Northread Ergonomic Mid Back Swivel Black Mesh Desk Chair
Notify me when this item is available
Enter your email below. We'll let you know when it's back in stock.
Sold and shipped by Northread
• Adjustable height, lumbar support, and seat tilt • Adjustable and lockable seat back • Active lumbar support • Cushion adjustable • 3D Armrests • Breathable mesh back
• 3-year warranty
Get extra comfortable in the adjustable mesh swivel office chair with armrests. this easy assembly, sturdy office chair is perfect for long work days.
Deep dive into specs
About Northread Ergonomic Mid Back Swivel Black Mesh Desk Chair
A swivel desk chair or a black mesh office chair is a great option if you want a high-quality ergonomic office chair that allows you to move around freely, increasing your comfort and productivity. A swivel desk chair, often called a mesh chair, is a rotating seat that provides full 360-degree freedom of movement at work. These mesh or black desk chairs are widely utilized in domestic and professional settings because they give comfort and support for extended durations of sitting. The swivel mesh chair is a game-changer in the office because of its ergonomic benefits to workers' posture, comfort, and general health.
Why Should You Use A Swivel Desk Chair?
Flexible & Durable
Adjustable features on such chairs often include armrests, seat height, and tilt tension, allowing the user to tailor the chair to their needs. The mesh texture of the chair allows air to circulate through and around the user, keeping them cool and comfortable even after extended sitting. Aside from their stylish design, these heavy duty office chairs are also extremely long-lasting. Strong and long-lasting, the mesh material is paired with scratch- and dent-proof steel or aluminum for the base and legs.
Ergonomics
The ergonomic shape of this chair's backrest and lumbar support is intended to alleviate back pain and stop you from slouching. In addition to reducing the likelihood of muscular strains and tiredness, the swivel function of the chair allows the user to move freely and change positions without having to stand up or stretch. They are the best office chair for back pain out there.
Benefits Of A Mesh Office Chair And How To Protect It
Mesh upholstery on a chair provides excellent breathability, allowing the user to remain cool and comfortable even after extended sitting periods. The ergonomic shape of the mid back chair's lumbar support discourages unhealthy postures like slouching and hunching. Adjustable armrests, seat height, and tilt tension are some of the standard features that allow the user to fine-tune the chair to their body. The mesh of these mid back chairs is tough and long-lasting, and the sturdy steel or aluminum used for the frame can withstand a lot of pressure without showing signs of wear. By considering the points mentioned below, you may pick a swivel mesh fabric office chair that works for you and gives you the necessary comfort and support. Maintaining a clean and sanitary mesh black desk chair is as simple as regularly wiping it with a moist towel or disinfectant wipes. You can protect your black mesh office chair from warping and fading by keeping it away from any heat sources, such as a radiator or a window. Put down a chair mat. Protect your mesh chair from damage on hard floors by placing a chair pad below it. Avoid exposure to moisture. The metal components of your chair will last longer if you keep them dry. Make good use of it. To get the most out of your chair and extend its life, use it just for what it was designed for and avoid doing things like standing on it.
What To Look For When Purchasing A Swivel Desk Chair?
Ergonomics, Adjustability & Materials
Find a chair that encourages healthy posture and lessens the likelihood of developing back discomfort. The lumbar support and backrest of the chair should be flexible so that they can conform to the shape of the user's back. Find a chair that allows you to modify the seat height and width of the armrests along the angle of the tilt. Now you may adjust the chair to meet your unique requirements and enjoy superior convenience and comfort. Try to get a chair with an aluminum or steel frame with a mesh back and seat to keep you cool and comfortable.
Weight Capacity & Wheelbase, Status Of The Brand & Price
Make sure the chair can easily hold your weight by checking its weight capability. It will be much easier to go around your office without getting out of your chair if the wheelbase is sturdy and the wheels are smooth. Learn the company's track record and customer service, and guarantee policies as much as possible. Think about how much money you can spend, and then go shopping for a chair that can accommodate your needs while staying within your budget. You'll surely find one which suits your needs and fits the cheque size, after all, it's your comfort that you need to look out for.