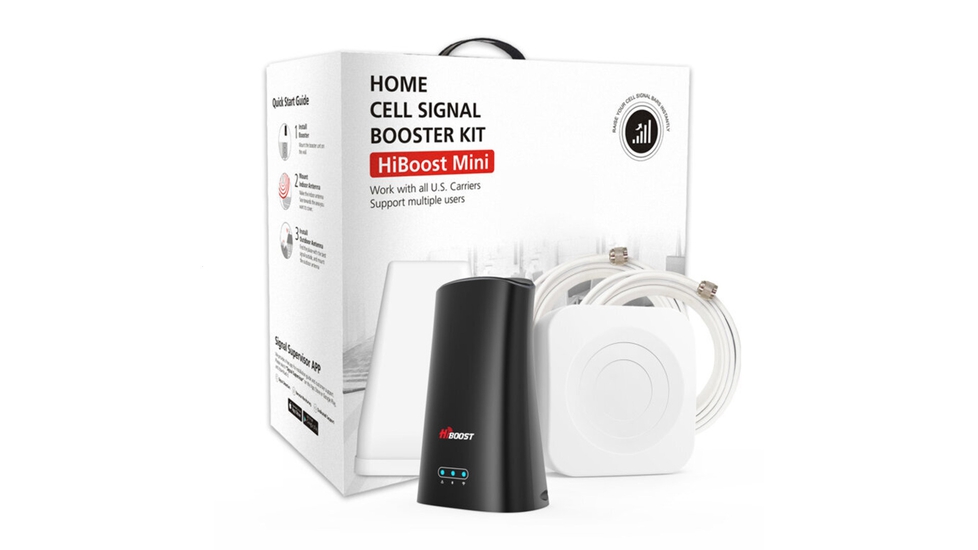 Cellular Signal Booster by HiBoost
$299
Your Price
Unlock business pricing with your work email
Ships by Aug 11
|
Free shipping
Charge it to your company
Need help with a more complicated project?
Fill in
this form
or call us at
(+1) 888 384 7374
Cellular Signal Booster by HiBoost at a glance.
Amplify weak voice and data signals across all cellular devices on all US carriers, including AT&T, T-Mobile, Sprint, Verizon, and more.
• HiBoost A local signal monitor
• Boosts voice and data signals
• Coverage up to 2,000 sq. ft
• All phones & carriers
• Gloss finish
• Supports multiple users/devices
• Max. output UL 18 dBm, DL 10 dBm
• 5G compatible
• FCC, IC certified
• 3-year warranty
Deep dive into specs
HiBoost Mini Cell Phone Signal Booster: Stay Connected at All Times
The HiBoost Mini Cell Phone Signal Booster can become one of the best office accessories you can include at your home office. This way, it'll be possible for you to stay connected at all times without any worries – something necessary for you to continue working in your responsibilities and stay in touch with the people you know despite the distance. Many people are working from home nowadays. If that's your case and you often struggle with the cellular signal at your house, then a cell phone booster for home can help you. It is a standing desk accessory you need if you constantly experience cellular network-related problems. Signal boosters contain "bigger" antennas that will help you capture cellular signals way easier. That signal is then passed through another device, the signal booster, which amplifies it and lets it all out throughout your space so you can receive a stronger signal in your smartphone.
Do you need a portable cell phone signal booster for home?
If you have weak or no cellular signal at all at home, perhaps a cell phone booster mobile can help you sort out the issue. Some of the advantages that you'll enjoy if you choose an electronic device to your home are to enhance the quality of your phone calls and your mobile data speed will also increase exponentially, allowing you to keep track of all that's happening in the online world.
How do portable cell phone signal boosters work?
There are three main parts of a Cell phone booster for home, each of which has a specific function that makes the overall appliance function appropriately:
1. The outside antenna, which will connect to the nearest cell tower and will receive the signal the station emits.
2. The booster, which needs to be placed inside your house so it can "amplify" the signal received by the antenna.
3. There's also an Inside antenna, which will expand the boosted signal throughout your house, allowing each of your devices to work as it should.
Overall, cell phone boosters will "enhance" the overall signal that you receive in your devices to make sure that you stay connected at all times while you're at home. There isn't that much to learn about how they work. As you can see, there are plenty of advantages that come with the inclusion of one of these devices at home. However, what is the best cell phone booster you can choose? Now, let's discuss what the HiBoost Mini Cell Phone Booster has to offer. This way, you can decide if it's good enough for you to add it to your house as one of the must-have office accessories.
Why you should choose HiBoost Mini Cell Phone Signal Booster
HiBoost Mini Cell Phone Signal Booster is highly convenient for small houses and office environments. It works within a 2,000 sq. ft. space, and it's also compatible with all cellular network providers within the US territory, such as AT&T and Verizon. It is also compatible with Canadian carriers. The HiBoost Mini Cell Phone Signal Booster is compatible with multiple users and devices at once. Therefore, everyone at home will be able to enjoy the benefits that come with including the portable cell phone signal booster at the house. You will be able to enjoy better connectivity – which is necessary in a world where telecommuting has become an essential part of our lives. It works with all wireless devices, including smartphones, tablets and laptops. You will be able to gain up to +60 dB in amplification. When you have a good cellular signal, you can complete all your responsibilities in less time. Therefore, including this HiBoost Mini Cell Phone Signal Booster at home can help you increase your productivity in the long term, allowing you to have a reliable service at home at all times without worrying about interruptions or any other potential problem that may happen.
About HiBoost
HiBoost is a company that specializes in cell phone signal amplifiers for vehicles, homes, small offices and big enterprises. Thanks to HiBoost, thousands of people across America, India and Europe can stay connected with their co-workers, friends and family. All HiBoost amplifiers work wonderfully regardless of your area of residence. The company has been functioning for more than ten years, and now more than thirty countries can enjoy better cellular networks.
FAQs
Don't see the answer to your question?