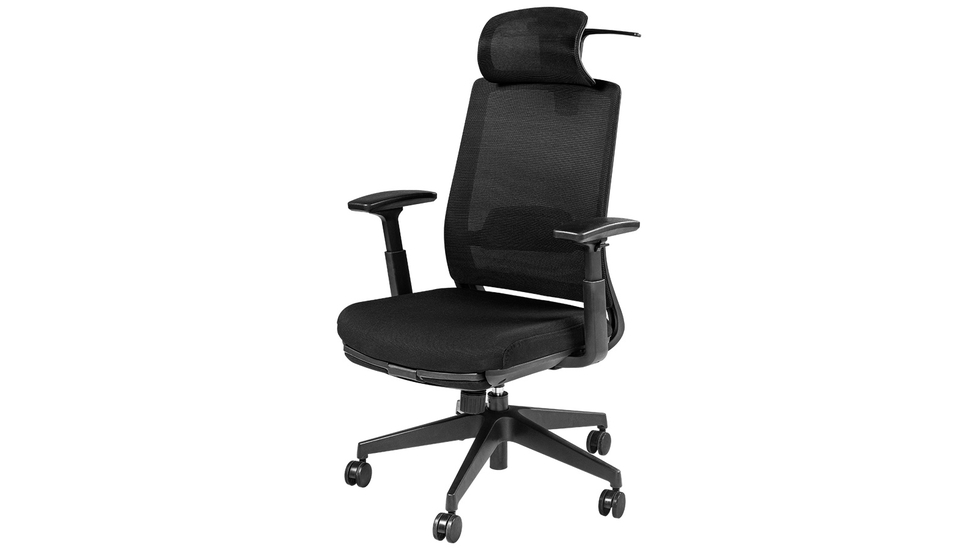 FinerCrafts Finercrafts The Office Chair: Headrest & Legrest
Bought by 2 YipitData employees
FREE shipping Apr 04 - Apr 06. FREE 30-day returns.
Sold and shipped by FinerCrafts. Visit our store
• Ergonomically designed • Easy assembly • A chair that's up to any task
• 5-year warranty
A premium ergonomic chair that is best paired with our standing desks.
Deep dive into specs
Solve Your Leg, Neck, and Back Problems with FinerCrafts Office Chair With Footrest & Headrest
Doing a nine-to-five job is already exhausting and frustrating, but did you know that your years-old squeaky and uncomfortable office chair actively damages your health, productivity, and overall work experience? That's right, folks, and all you need is an ergonomic chair with a headrest and footrest to improve most of the problems with your work life. Here's how FinerCrafts office chair with footrest and headrest's going to do wonders for you.
FinerCrafts - An Improvement in Posture
Be honest. How are you sitting right now? Is your back straight? Or are you sitting like a senior citizen with back problems? Has it felt unsettling to you how you relate to so many memes about having back issues at a rather young age? Well, your posture is responsible for all that. And more importantly, your basic and uncomfortable office chair, where you spend almost seven to eight hours daily, is making it worse. One of the first things you can do to improve your back problems is to switch your squeaky office chair with a new ergonomic chair with leg rest. How will that help, you may ask? Well, if you rest your legs at an angle of ninety degrees against the floor, it makes a significant difference in your muscle health by improving your lower body's blood flow and digestion.
Finercrafts Office Chair With Footrest is User-Friendly and Improves Neck Problems
Gone are the days when you had to sit for hours and watch tutorials on YouTube on how to put together an office chair or change the settings on your ergonomic office chair with leg rest according to whatever suits you the most. Now all you need is to look at the pictorial representation of what to do, and in just a few seconds, you're good to go. Not only are these extremely user-friendly, but ergonomic chair with headrest are also the best computer chair for long hours, and they improve your neck muscles by giving you a very comfortable spot to rest your head. So you don't have to worry about waking up with a painful cramp in your neck right after you wake up from your post-work nap. Many people might not take it that seriously, but the more you dig deeper into this topic, the more concerning things you discover. For example, did you know that the people who work at call centers or have jobs involving many computer users are at a very high risk of developing cervical spondylosis? That's right, folks and something as minor as switching your regular old office chair can reduce your chances of falling victim to the wear and tear in the cervical spines of your neck.
Lower the Pressure on Hips and Back Pain with Finercrafts Office Chair With Footrest
You might have noticed after ending your shift that your hips feel stiff and hurt when you get done with work after almost seven to eight hours. That, ladies and gentlemen, is also because of your squeaky old office chair. Thanks to the hardback ergonomic chair with leg rest has, your shoulders, back, and hips never adjust to the anatomically correct posture. In fact, it's more like a one size fits all situation going on, and due to the several different types of bodies, regular and non-ergonomic causes health problems. On the other hand, an office chair with headrest provides adequate support to not only your neck but back and hips as well. The pressure on your hips is reduced, and due to the slouch-shaped design of the office chair, your tailbone is allowed to float freely instead of just uncomfortably pressing against a hard surface.
Boost in Productivity
We don't think much needs to be said about the difference between work quality when you have a good posture and your muscles are comfortably rested and when you're stiff, cramped, and disturbed. Thanks to the much-needed headrest and footrest, your neck and even feet are rightly positioned and improve your overall productivity. With the adjustable armrests and the freedom to incline your FinerCrafts office chair with footrest however much you want, it won't be wrong to say that the right office chair brings out the best in you.
FAQs
Don't see the answer to your question?