Have you ever found a person who does not like to get new things? Buying new office equipment is an exciting experience, especially when you are trying to revamp a small office space. Did you know that there are benefits associated with this?
New office equipment is not simply about the aesthetic; it is about the comfort, feels, and qualities as well. This may have a positive impact on your employees in more than one way. Keep reading if you want to know the advantages of buying new equipment for your workspace.
What Type of New Equipment Should You Purchase for the Small Offices?
As a business owner, if you are going to invest in new modern office furniture, you need to ensure that you are making the correct decisions. These new items should consist of:
1. Standing Desks
Standing desks are the way forward, especially if you are working in a small space. Amongst the various benefits of standing desks, these products are ideal for almost any space you have to work with.
If you are looking for a sleek and modern look to your office space, this is perfect for you. You may be impressed by the benefit of buying new equipment as a standing desk. Other than the aesthetic design features, these products promote maximum productivity in the workplace. Your employees are going to experience an increase in their energy levels due to the fact that they are getting their physical activity in during the day.
Autonomous standing desks are ideal for any type of office, including small spaces, because they are adjustable and come in various shapes and sizes. You could find exactly what you are looking for. For example, the SmartDesk 2 is an excellent choice for all employees and their workspaces.  
2. Ergonomic Chairs
An ergonomic office chair is a perfect companion for your standing desk. These products offer complete adjustability, which is essential for a day spent at the office. You want to ensure that your employees are comfortable so that they can perform to the best of their ability, which is exactly what these products bring to the table (quite literally)!
From reclining ergonomic chairs to ergonomic chairs with a headrest, these products offer just about everything you need. What qualities should you look for in the ideal office chair? Features that all ergonomic chairs should have include:
Adjustable seat height and depth.

Neck and lumbar support

A reclining feature.

Freedom of movement – wheels

Adjustable armrests
If you are looking for multiple chairs to create a cohesive appearance in your offices, Autonomous has a wide range of chairs that are suitable for all your possible needs.
3. The Correct Desk Accessories
Specific desk accessories are essential. They can transform your entire space from something dull into a vibrant, bright, and motivating office. What are the most common accessories? These include LED desk lamps, monitor arms, plants, and so much more.
Choosing the appropriate office accessories helps to improve focus and motivation amongst your employees. Ensure that you do not get carried away when decorating as a cluttered space equals a cluttered mind.
What are the accessories you are planning on decorating with? Do they contribute positively to work performance, or are they simply for decorative purposes?
10 Benefits of Buying New Equipment and Using New Equipment for a Small Office
The advantages of buying new office equipment (mentioned above) are:
It enables you to adapt to the changes of business needs.

Purchasing the correct equipment leads to increased productivity and work performance.

The new ergonomic equipment ensures that you improve both your

mental and physical health.

Ergonomic equipment has a higher quality, which results in less wastage of time, less resource usage, and less human interaction, which is a time-saving factor.

You are improving the safety and security measures in the office space.

There is a warranty on the new equipment, which means that you do not have to worry about replacing it anytime soon.

One more benefit of using new equipment is that it may increase the morale of the staff and workplace culture.

There is a more organized, tidy, and aesthetic design associated with the new environment.

Employees experience a boost in their mood and

energy levels.

 The offices look more professional and put together, which makes the staff enjoy their work more. 
The Cons of Buying New Office Equipment
Besides many benefits of buying new equipment, they is still a few disadvantages include:
New office equipment is often relatively expensive – You need to budget for this change.

Putting all the furniture and equipment together may be a tedious and time-consuming task.

You need to ensure that all the items are cohesive and dome together nicely.
What Should You Consider When Purchasing New Equipment?
When you decide to purchase new equipment, there are various factors that you need to consider. Unfortunately, one cannot only focus on the outcome because as a business you need to ensure that you are making a smart decision. You need to consider:
The company's budget 
The most essential factor is whether the company can afford to make the changes or not. Do not purchase equipment that is going to place a financial strain on the company.
Priorities of the company 
Is your business in a place where this is the most vital thing to consider? Make a list of priorities to determine whether this can be done immediately or whether something else needs to get preference over this.
Human Resources 
Is the staff satisfied with the current state of the equipment? Do your employees need a change? Take note of whether the current setup affects their moods and work performance or not.
One guarantee is that the benefit of using new equipment is definitely going to show in terms of work performance and output.
The Bottom Line
We cannot deny the advantages of buying new equipment. Buying new office equipment is an exciting task; however, there are so many things to take into consideration. The correct equipment can transform a small office into an ideal work environment if done adequately. Your business is going to benefit tremendously from making this change?
Are you ready for a total office revamp?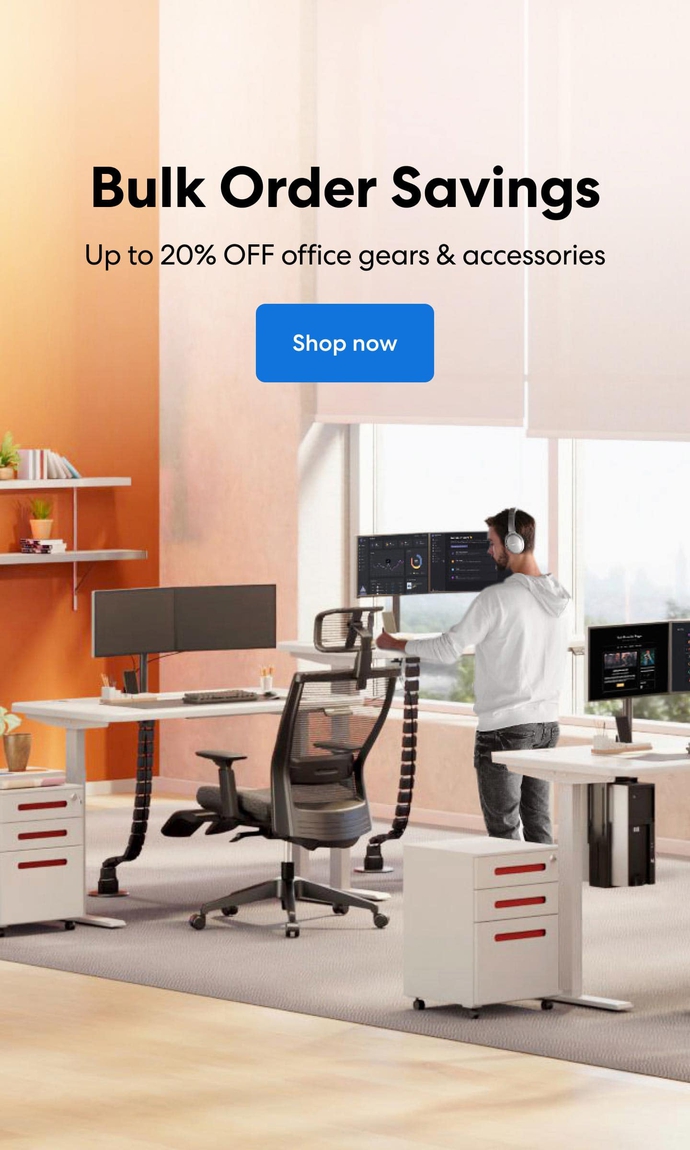 Subcribe newsletter and get $100 OFF.
Receive product updates, special offers, ergo tips, and inspiration form our team.