Smart Products
10 Best Extra-Long Office Desks for Shared Work Settings

Autonomous
|
Mar 25, 2022
1,811 Views
A proper home office setup provides you with that required amount of productivity and boosts your energy level while working. Especially when we are working from home, an improper office setup can substantially reduce the motivation to work while also giving rise to frustration. In such cases, employees find it hard to complete work on time, spend extra time in front of the screens, and lose work-life balance. This is particularly a major reason why many employees suffered from stress during the WFH routine.
A simple change such as the right office desk and a selection of correct work desks can make a huge difference. Whether it's a shared office space, an individual workstation or a study setup, extra-long office desks are popular in the majority of the settings. A long office table desk gives you extra space for work and gives you the closest to professional workspace vibes. In this article, we will cover the best long home office desk for two and more people.
Best Extra Long Office Desks
Here are some desks that qualify for that extra-long workstation.
1. SmartDesk Corner
Long desks don't have to belong to a wooden platform that has no bend. Such desks can be a hassle rather than a help because they cover up a lot of space, and not all of us are blessed with huge homes. An L-shaped desk is the safest solution when discussing a workstation for two people. The smart desk corner is an ergonomic L-shaped desk with extra-wide space on the desk and minimum square footage.
This extra-long office desk offers height adjustability to a wider range, ensuring that shorter and taller sides are well accommodated. The desk also has tall legs; hence you can easily slide in under the desk file cabinet for your work documents.
2. Foluban Industrial Computer Desk
It's simply elegant, and it produces a clear, clutter-free space that's ideal for efficiency. This writing desk is made of MDF with wood grain that has been beautifully weathered for a reclaimed look, while a clean-lined metal body in a powder-coated matte black finish creates a complicated contrast.
3. Bestier L-shaped Desk
The best all-rounder option has four extra storage shelves, so none of your valuables would be lost. The desk has a 95 inches surface, the longest on our list. The neutral color makes it a good pick for all kinds of themes and home offices.
The solid steel construction ensures the desk bears enough load, and we also love the side shelves, which keep the rarely used items away when you are working.
4. Viper L-shaped Desk
This is an L-shaped extra-long office desk with around 70 inches combined surface length. The desk has an advantage over other desks because it is a long office desk with storage. Viper L-shaped desk fits perfectly in a corner in any room, and it is made versatile to match with the majority of the home office themes.
The desk has storage options at the top with shelves and a front open cupboard, so you don't have to compromise on the aesthetics in any way. The desk has a solid steel frame topped with a wooden finish that adds the perfect home office theme. You can rely on this desk for years with MDF and metal construction.
5. Vari Electric Standing Desk
The Vari electric standing desk comes with a single construction, but this extra-long office desk has all the reasons to be admired. First of all, its height adjustability makes it a versatile option. The desk is solid with a metal frame that can lift three heavy extra-large desktops. The desk comes in two options, 60 inches and 72 inches, so that you can choose the best one for you.
6. Fitueyes Computer Desk
A desktop covering 81 inches in length with a storage cube for both users is the perfect work desk for two people who need to collaborate while needing their own space. The desk has small office storage as central shelves, and it also has separate drawers shelves on both sides.
We love the stylish legs, which makes accommodating users of various heights easier. The desk also offers an affordable price and is the perfect solution to purchase with your work or study buddy.
7. Martin Modern Desk
The modern Martin desk is the perfect long office desk with drawers. Boasting slightly more than the average desk depth, the desk is suitable for multiple monitor setups and space sharing. The 70-inch surface provides enough area to work, and we admire the multiple storage options that make this desk one of the most versatile and tidy workstations.
8. Homcom Office Desk
The low price flexible setup can be used as one or dual workstations depending on what you need. This desk comes at the most reasonable price and is ideal for dorm rooms and places where you are limited on space but need a setup to work peacefully.
A 94 inches work surface, the desk is separated for two partners, and when used wisely, even three people can collaborate and efficiently work on a project. The top shelves also provide smart storage options for people who need a clutter-free workspace.
9. Cubiker Computer Desk
The Cubiker extra-long office desk is known for its sturdiness though we love the pretty aesthetics. The desk has depth and dimensions for extra-large desktop settings and is specially made for programmers and gamers. You can choose from several colors and get the option to choose the color of the side storage bag, which is a unique idea.
10. Tribesigns Office Desk
Tribesigns 99 inches office desk is another longest desk on our list, and this one comes with an attractive vintage walnut design. The desk is known for its commendable stability and practically simple design. You will get two workstations with enough central storage, so both the users are happy with how their office desk accessories are resting and always closer to them.
How Long Should A Shared Desk Be?
Depending on the style and purpose, a conventional desk measures 40" to 59" in length, with business computer desks often being at the top of the spectrum and regular home office desks being slightly smaller.
The optimal length of a desk is determined by the number of people who will be using it, their size, and the activities they will be doing.
Extra-long desks offer a working area of 60" or more, allowing numerous people to work simultaneously or one person to use the desk for multiple computers or activities.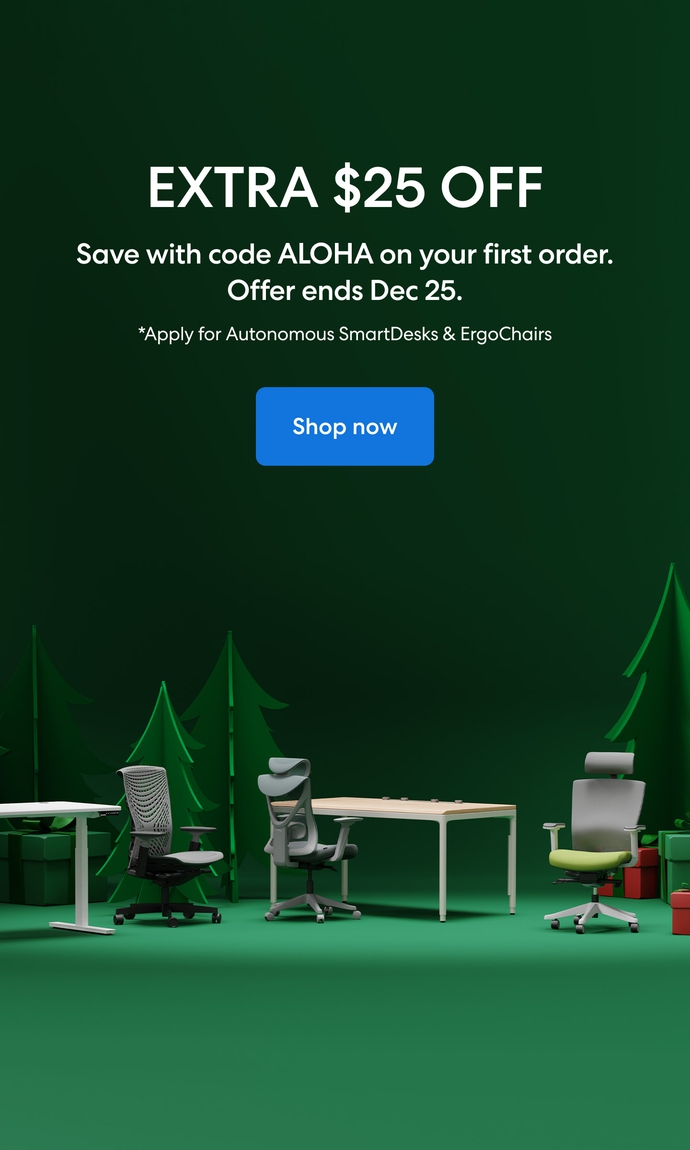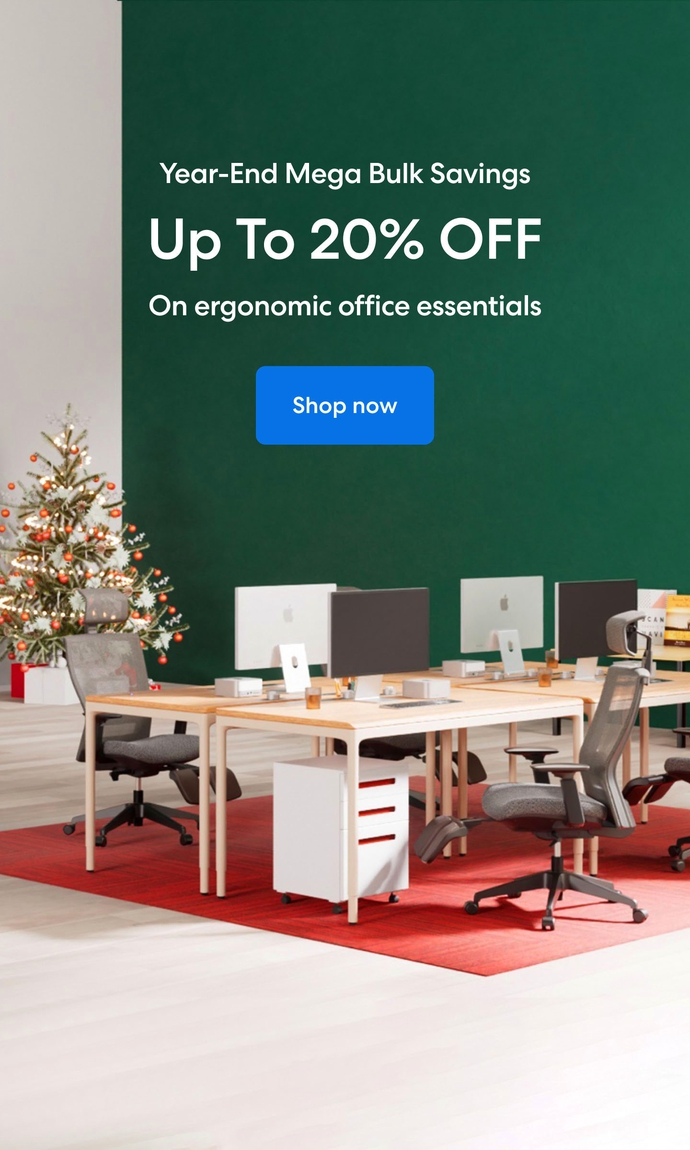 Subcribe newsletter and get $100 OFF.
Receive product updates, special offers, ergo tips, and inspiration form our team.