Smart Products
The 24 Top Picks for the Best Office Chair for Long Hours in 2023

Autonomous
|
Apr 20, 2021
65,292 Views
Did you also forget the ability to differentiate between night and day while working from home? The sudden change in work dynamics brought many challenges, and the loss of work-life balance is one of those. Most of us experienced different body pains just because we were too fond of the most comfortable office chair. It is also true that back pain has been a major complaint when employees shifted to checking emails in bed or other places to work.
As an office worker, you're no stranger to long hours behind a computer. Although sitting for extended periods is common, that doesn't dismiss the strain these long hours put on your body. You might believe that back, neck, and shoulder pain comes with the job. However, it doesn't and the truth is that you don't need to put yourself through this unnecessary strain to complete your daily work requirements.
If you belong to that crowd, who cannot differentiate night from day just because they are working for the whole day, the importance of a comfortable home office chair for long hours increases by ten fold. The best office chair for upper back pain and eco-friendly office chairs are the talk of the town because many people have now smartly opted for comfort and health conscious ways of a home office.
That's where an ergonomic office chair comes in and saves the day. When including the right ergonomic furniture, you no longer have to deal with being uncomfortably seated for hours at a time. Nonetheless, finding the most comfortable office chair for long hours that's specifically catered to your body and adjustment preferences can be tricky, as there's no universally perfect model.
For this reason, we have developed a list of the top 10 picks for the best home office chair for long hours. In addition to this, we also have a guide of the top considerations you should make before purchasing the most comfortable office chair for long hours. This way, you're guaranteed to gain the best home desk chair for long hours.
Why Should You Use a Comfortable Home Office Chair for Long Hours?
It might be difficult to believe, but studies have shown that the average American spends 90,000 hours seated at the office in one lifetime. Now, you aren't exactly doing exercise while working. You spend most of your time sitting. That's an overwhelming amount of time that you remain seated for and it doesn't even account for when you're sleeping or watching TV.
We already know that remaining seated for too long is detrimental to your health can cause many health risks, but knowing the statistics just makes it that much more real. Some of the most prominent adverse effects of remaining seated for extended periods are deteriorating back health, low motivation levels, and reduced circulation. All of these affect the overall quality of work you produce while seated in front of your office desk.
However, these adverse effects can easily be reduced and negated by incorporating a comfortable office for long hours into your workspace. This ergonomic office chair is equipped to provide effective posture support, which helps keep your spine in its natural curvature while remaining seated for extended periods. Thus, less strain is placed on your lower back, neck, and shoulders.
These chairs help reduce the overall pain that comes with sitting for long hours. With that being said, this reduced pain has a direct impact on an office worker's productivity. This is because the office worker is placed in a more comfortable and productive work environment. All of these factors make a best home office chair for long hours an excellent addition to any workspace.
The Criteria You Should Look for When Purchasing a Comfortable Home Office Chair for Long Hours
To find the best desk chair for sitting all day, there are some features you should consider before making a purchase. These include:
Lumbar Back Support
One of the most crucial features that you should consider when looking at purchasing an ergonomic home office chair is the lumbar back support. When picking the best chair for sitting all day, you're going to want one that has an adjustable lumbar support system. This system helps relieve most of the tension and pressure on your back from sitting for long periods while its adjustability allows you to sit in the most comfortable position as you're working.
Leg Rest
A leg rest helps enhance your blood circulation around your feet. While sitting for long hours, your feet take most of the gravity, which can lead to your feet and legs cramping up. An adjustable leg rest is an excellent addition to an ergonomic home office chair, as it allows you to tailor your sitting experience and make it more comfortable for long hours in front of your office desk. You can choose a reclining ergonomic office chair for your workstation.
Breathability
You need to consider the materials included in the design of an office chair if you plan to use this ergonomic chair for long hours. Having sweat remain on your skin for extended periods can make you incredibly uncomfortable. Not to mention, this sweat cam created unpleasant smells and painful rashes. That's when you should look for 24 hour office chairs that have breathable materials included in its design to keep you cool and comfortable while you conduct your work.
Reclining Seat
While it's crucial to maintain proper posture when sitting, sitting up straight for hours on end can place a lot of strain on your back. That's why a reclining seat back is so beneficial. When purchasing a best home office chair for long hours, it's recommended to pick a work from home chair that has a reclining seat back like a heavy duty office chair with the capacity to recline at least 135 degrees. This angle allows you to take a lot of pressure off your back and sit more comfortably for extended periods.
Seat Depth
Most office workers don't often think about their knees when they're seated for long periods. However, this is a vital consideration that you need to make. The right ergonomic home office chair should be designed with an adequate seat depth that allows you to keep your knee joints in great shape and prevent them from getting sore. You should be looking for an office chair with a seat depth of approximately two to four inches present between your knees and end of the chair when your back is pressed against the chair's backrest.
What are the Most Comfortable Options for the Best Home Desk Chair for Long Hours?
This article will cover the most comfortable computer chair for long hours, subject to extra features that make comfort a top priority in these best work from home chairs.
It's no secret that the ergonomic office furniture market with modern office furniture is saturated with various comfortable office chair options to accompany you during your long hours at work. However, this endless array of choices can make it difficult to find the best home office chair for long hours that fits your preferences and requirements. For this reason, we have searched far and wide to provide you with our top picks for the most comfortable office chair for long hours.
It is estimated that an individual uses this product for eight to ten hours per day. Moreover, more time spent in a home office chair for long hours is a defining element in deciding people's irritability and comfort. We are sure you already know this, but let us confirm it. Our reference is to the work from home chair. All of us have probably wondered at least once why office chairs cost so much. Why are they so expensive? There are many benefits to exercising, including health benefits. Here are a few of the best home office chairs.
1. Autonomous ErgoChair Plus
The Autonomous ErgoChair Plus is possibly one of the most unconventional ergonomic office chairs on the market. It boasts a unique fishbone design that's constructed with advanced TPE material. This special design is equipped to correct your sitting posture while promoting back health. One of the main benefits of using this comfortable office chairs for long hours is that you gain optimal support while sitting at your office desk for long hours. It's extremely well-liked for its dynamic blend of nurture and nature, which allows it to adapt to each body and offer tailor-made support that's specific to your exact spine.
2. Autonomous ErgoChair Recline
This is another best home office chair for long hours. The Autonomous ErgoChair Recline is an excellent addition to any workspace, as it provides top-notch ergonomics that make working long hours more comfortable. This comfortable office chair is equipped with features that provide effective support to your back. Not to mention, its reclining feature offers toe-to-top comfort. In addition to this, all of the support features are adjustable, which means that you can custom the support and comfort offered to your exact preferences. This ensures that you gain optimal comfort and support while working long hours.
3. Autonomous ErgoChair Pro
This Autonomous ErgoChair Pro can easily be seen as the best ergonomic office chair currently on the market. This is mainly because this chair is designed with the highest-quality materials and an incredibly versatile support system. In addition to this, its foam seats are extremely soft and offer extra support to the user while reducing back and neck pain from sitting for extended periods. Moreover, this additional cushioning enhances your sitting posture. You can also easily recline your chair to your desired comfort and support with the inclusion of the Flexible Lumbar System feature in the chair's design. With this feature, you can effortlessly adjust the ErgoChair Pro to provide you with optimal support.
4. AvoChair
AvoChair can be declared as the best office chair for lower back pain. Furthermore, it is classified as one of the best computer chairs for long hours thanks to its many features adding value to this product. This eco-friendly office chairs is a simple product that offers complete adjustability, thus focusing on ergonomics completely. Another great feature of this product is that it is made from 100% recycled materials.
5. Autonomous ErgoChair Core
Your back will be properly supported every time with this ergonomic home office chair. Two intuitive levers allow you to adjust the support according to your position. You should always move your body, and this chair can help you do that. Whether you are putting heavy weight on your spine or not, ErgoChair Core keeps it safe. When you move safely and freely, you won't strain your shoulders, arms, or back, and it is the most comfortable office chair.
It's important to stay cool in the best home desk chair. There is a BIFMA test for durability, a woven test for strength, and an assessment for airflow. It allows you to move slightly while closely conforming to your body, evenly distributing weight and pressure.
This best home office chair is both stylish and functional. The designer has taken inspiration from nature and designed a health-conscious product. Modern computer ergonomic chair solutions promote good posture, combining manufactured and organic materials.
In addition to providing comfort, the ErgoChair Corer's airy elastomeric mesh back provides excellent support for the spine. Its design concept focused on eliminating any hard edges so that the front rolled off gently and the arm pads were ellipsoidal. Your preferences, such as arm position and seat height, can be locked in, so finding the perfect reclining tension, position, and height is simple.
6. Gabrylly Ergonomic Mesh Office Chair
When it comes to working at your desk for long hours, you're likely hunched over your screen struggling to keep focus. This often comes from a lack of proper circulation, which ultimately leads to back and neck strain. Not to mention, your productivity levels are also tarnished by this unhealthy sitting posture. That's where the Gabrylly Ergonomic Mesh Office Chair comes in handy. This ergonomic device is equipped with advanced features, like an adjustable headrest, armrest, lumbar support system, and seat-height adjustment to ensure that you receive optimal support without sacrificing comfort while working for extended periods.
7. Herman Miller Mirra 2 Office Chair
The Herman Miller Aeron Office Chair is known for being one of the most expensive models of comfortable desk chairs available. This might not work for most office workers' budgets. Nonetheless, you might still want a Herman Miller ergonomic office chair. If this is the case, the Herman Miller Mirra 2 is the right option for you. This comfortable offer chair is a less expensive option that offers the main features commonly found in the Aeron model. Its mesh back is one of the most well-liked features, as it helps enhance the breathability of the chair while ensuring you stay cool and comfortable during your long hours at the office. Not to mention, the adjustable arms, lumbar support, and seat angle offer exceptional comfort and support while sitting for extended periods.
8. Humanscale Freedom Office Chair
The Humanscale Freedom Office Chair is designed to provide users with the maximum amount of adaptability without the hassle of having to use various levers to achieve optimal support and comfort. This best home office chair for long hours equipped with a self-adjusting reclining feature that adapts your body's natural weight and curvature to provide you with the best comfort and support possible without you having to do anything. 
9. Tivoca Ergonomic Office Chair
The Tivoca Ergonomic Office Chair is extremely well-liked for its entirely customizable headrest. This is also one of the best home office chair for long hours. This headrest helps to provide optimal support to your neck, back, and head. Not to mention, the adjustable armrests and solid lumbar support work to ensure that an office worker remains comfortable and supported while working for long hours. Not to mention, these features also help to maintain the natural curve in the lower back and promote the correct upper-back posture while seated. It is such one of the best computer chairs for long hours.
10. Office Star Deluxe Breathable Armless Ergonomic Office Chair
The options mentioned above might not be the right choice if you're working with a very tiny space. If this is the case, the Office Star Deluxe Ergonomic Office Chair is the right option for you. It's a great cost-effective office chair that's simple, yet effective when it comes to enhancing the ergonomics offered in your workspace. One of the best features of this comfortable desk chair is its supportive lumbar system that promotes a healthy seated posture.
11. Herman Miller Aeron Chair
This Herman Miller model is designed to offer office workers the best ergonomic experience to ensure that they can work for long hours. When using this best home desk chair for long hours, you're provided with effective support that works to maintain a neutral sitting posture. In addition to this, you can easily sit for long hours with your knees slightly higher than your hips, your feet flat to the floor, and your shoulders, hips, and ears lined with each other to ensure that optimal support is provided. Due to this, back pain and tension in your neck and shoulders are eradicated for a more comfortable seated experience, even if you're sitting for extended periods.
12. AmazonBasics High Back Chair
The best computer chair AmazonBasics is a typical office chair with a mid-back. From the start, it doesn't appear to be something you'd want in your home office. It's also possible that you won't be able to tilt or recline the chair. However, you'll be amazed at how cozy it is.
13. Dada Ergonomic Chair
The curved curves of this high-backed chair will maintain your body in correct alignment. Extra cushioning around the neck and lower back gives additional support for long periods of usage. To maintain good posture while working at the computer, adjust the chair's height using the pneumatic control handle.
14. Steelcase Leap
If you are looking for the most comfortable computer chair for long hours, then you have come to the right place. The Steelcase leap chair ranks on top of many lists because of multiple reasons. First, this product is smart, modern, and offers overall support for your upper and lower back.
15. Sidi Ergonomic Chair
A very well thought product with a great ergonomic design, this most comfortable chair for long hours is modern and comfortable. It is especially known to provide comfort for the neck and upper body when working for hours at a time.
16. Eurotech Vera
The Eurotech Vera is a simple chair with a flexible meshed back and a comfortable overall seat. The chair provides strong lumbar support and has a nice curve for support on the lower back. This chair also looks pretty appealing when working for long hours, and you won't feel a hint of discomfort.
17. Boss B7501 Chair
For the best computer chair, even on a limited budget, the boss chair is the right pick. This best chair for sitting all day is nearest to the feel of working from a couch with a strong posture. In addition, the chair is wide enough to give you the proper support and comfort you need.
18. Steelcase Gesture
The Steelcase gesture is known for its exceptional armrest quality. These comfortable computer chairs for long hours offer enough support for your arms and back. In addition, the height, width, and seat depth of this product allow the user to feel at ease even when working for hours at a time.
19. BTOD Akir
The thick padded seat of this chair makes comfort the topmost feature of this product. The whole chair is made in a seamless frame, so there are no blunt to rough edges. The chair offers complete adjustability for people to sit on it for hours.
20. ICON Gaming Chair
An icon gaming chair can be used for work and gaming thanks to its unlimited comfort and full adjustability. Its purpose is to assist the user in maintaining excellent posture throughout the day and keep you comfortable for up to eight hours.
21. Modway Articulate Ergonomic Mesh Office Chair
One of the most recommended comfortable office chairs for long hours out there is this Modway Articulate model, which is designed with an effective and supportive mesh back. The inclusion of mesh material helps to enhance the breathability of this ergonomic chair and ensures that you remain cool and comfortable while seated for long hours. Not to mention, this mesh fabric also helps support your spine's natural curvature. This ultimately promotes proper spinal alignment and sitting posture.
22. Innowin Jazz Chair
Working from home requires a chair that provides the support and comfort needed. Made with a mesh back and padded seat, this chair is comfortable and supportive. In addition, it is equipped with an adjustable lumbar support pillow for back pain prevention. Heavy-duty nylon base and glass-filled seat make this chair extremely sturdy. Many of the features can be adjusted, such as the height, the armrest, and the headrest. It can support 120 pounds of weight. With its premium comfort at an extremely competitive price, the Innowin Jazz chair is an ideal option for working from home.
23. Chair designed by Misuraa
In addition to providing physical comfort, the Misuraa modern chair is durable. Molded foam is used to make this seat, giving you a relaxing experience as you sit down. To prevent back pain, it features lumbar support. The chair is sturdy due to its chrome base. Many adjustments are available, such as height and backrest. Up to 120 kilos can be accommodated. In addition to supporting you well while working at your desk, the Misuraa modern has an ergonomic design.
24. SpaceX Chair from Rose Designer
This is another best home office chair for you. A heavily padded SpaceX office chair claims to give users comfort while also providing them with a stable back. The chair's armrest can be adjusted and the height of the chair. This comfortable chair can also be reclined up to 105 degrees. It is upholstered in leatherette for added luxury. The chair can comfortably support up to 110 kg. A chair with a premium look, such as the SpaceX, makes a perfect addition to a desk.
Fabric vs. Leather: Which Are the Most Comfortable Office Chair Materials?
Leather chairs offer a prestigious look that is complemented by the same level of comfort. Due to the material's cost, leather chairs require constant maintenance. By avoiding direct sunlight and keeping your leather chair clean regularly, you can prevent it from getting tanned. If you want to ensure that your leather chair looks great and lasts a long time, make sure to find tips on how to clean a leather chair!
Leather remains the most popular upholstery material for office chairs in executive suites and conference rooms. Furthermore, leather dries quickly and easily. For maximum breathability, the mesh is now the preferred fabric to use in place of leather, as leather is not ideal for sitting on for extended periods.
Even though leather is expensive, it makes for a classy and smooth covering. Taking care of leather can make it last a very long time. In addition to being water-resistant and easy to maintain, the fabric gets softer with time. Since leather hides away scratches, it is a good option for pets and children.   
It is the fabric chair that is most common. Choosing one that matches your existing decor is easy, with various colors and patterns available. Since fabric chairs do not allow air to circulate as freely as mesh chairs, moisture and odors can easily accumulate. If you're trying to avoid spilling beverages on your desk, a fabric chair shouldn't pose a problem since it's easy to know how to clean fabric office chairs.
Choosing durable fabric yourself is the easiest way to ensure it will last. Be sure to read reviews, order samples, and ask family and friends about purchasing. Pets can claw and spill drinks and ketchup on; you need to see how it wears.
It is imperative to remember that the tighter the weave, the stronger the fabric. Don't forget to choose a fabric with a high thread count. Stretch the material and check its weave to determine how strong it is. Sitting on fabric is another way to determine whether it is durable. If the fabric is durable, the furniture will return to its original state.
Frequently Asked Questions
When finding the best chair for sitting all day, there are lots of questions that might pop into your mind. Here are a few common issues that might occur when choosing the right chair.
1. What is a 24 Hour Chair?
24-hour chairs are specifically made to provide comfort for long hours of work. The best chair for sitting all day has features which make sitting on them easy and comfortable and you can operate with them even for hours at a time. A 24-hour chair has many options such as memory foam, cushioned seat, lumbar support, and adjustable armrests, seat tilt, and height.
2. What is the Most Comfortable Chair?
The most comfortable chair for sitting provides complete adjustability. Such chairs have adjustable height, seat tilt, seat recline, and other various features. The programmer chairs are especially the most comfortable chairs as programmers have to work for hours.
3. How to Sit in a Chair for Long Hours?
As much as the right chair is important, the way you sit on a chair also plays a vital role in defining the chair's comfort level. Here are a few ways to sit properly on a chair.
To attain the right sitting position prevent crossing the knees or even ankles. This might cause pressure in lower limbs.

Keep the legs and feet at a certain distance from each other. Knees should be the same height as or slightly lower than the hips.

It is also important to relax the shoulders so there is no shrugging or slouching

Keep your elbows straight and parallel to the floor
4. How Many Hours Should I Sit A Day?
Many studies prove you should work while standing for around 4 hours a day. The ideal way is to switch between sit and stand positions to negate the negative impacts of sitting.
5. What Happens When You sit 8 Hours a Day?
People who sit around 8 or more hours a day have a greater risk of dying due to health conditions such as obesity and other heart diseases. In addition, sitting for more than 8 hours has negative impacts on both mental and physical health.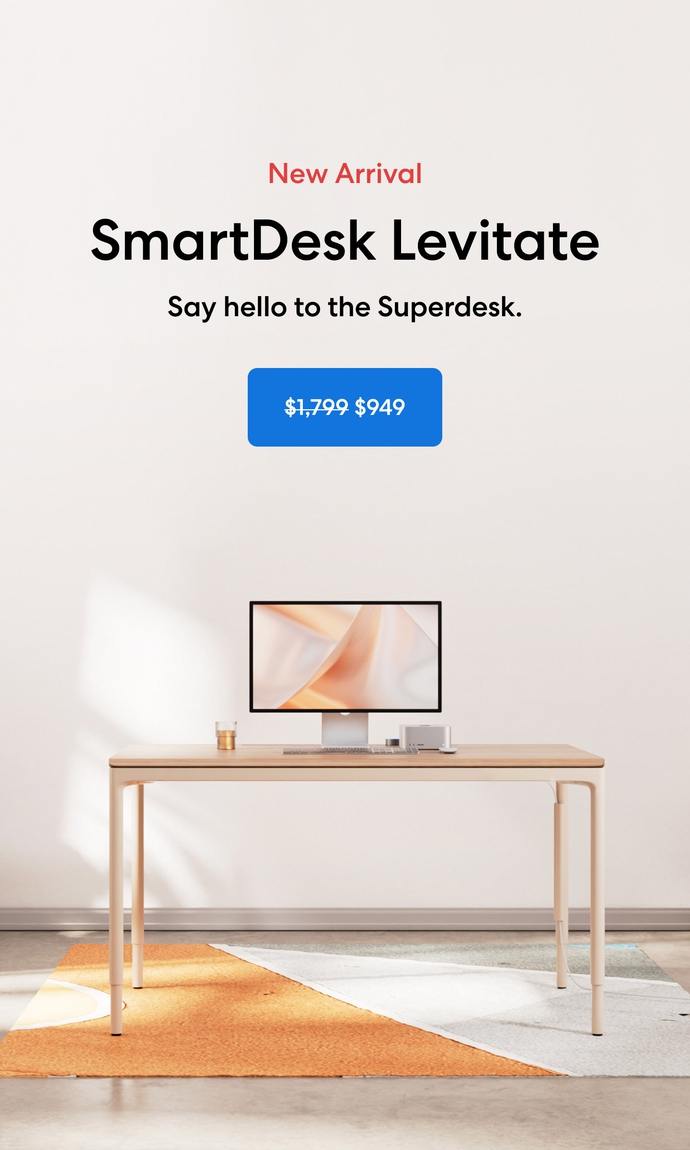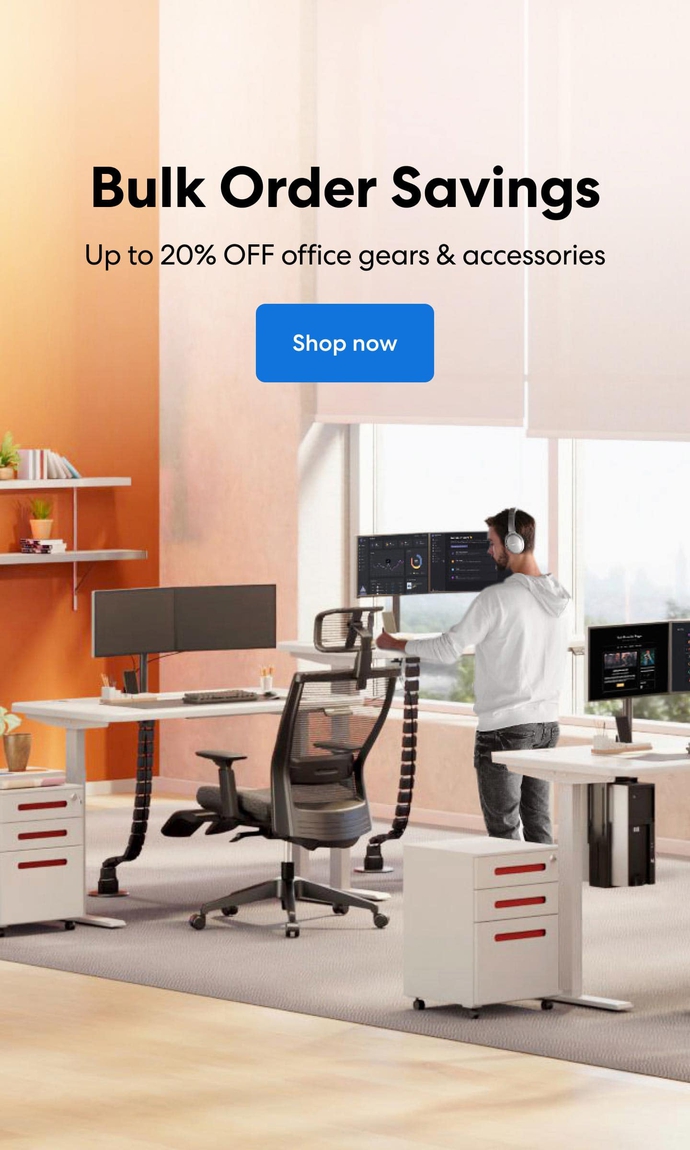 Subcribe newsletter and get $100 OFF.
Receive product updates, special offers, ergo tips, and inspiration form our team.