Back pain is perhaps the most common work-related health problem among office workers. It can be complicated to deal with as there are many causes related to it, from pre-existing conditions to bad seating solutions. Still, we now have access to many ways to feel relief, including seat cushions for back pain.
There are diverse causes for back pain, but bad seats and poor sitting habits are one of the most common. Now we have many ways to correct such problems and alleviate our physical complaints.
Over 23% of adults worldwide suffer from chronic low back pain. Most of these victims blame improper sitting posture and poor sitting habits. Don't worry; we have brought the best back seat cushions for lower back pain to help you lead a productive and healthy lifestyle.
We'll present you with some of the best seat cushions for back pain you can choose in today's market for today's article. Still, suppose the back pain has been ongoing for a long time. In that case, we highly recommend you visit a physician as soon as possible to receive a proper diagnosis regarding your specific problem.
Seat Cushions for Back Pain – Top 12 Options
A person can struggle with back pain for diverse reasons. However, most of the time, the pain becomes so unbearable that it becomes impossible for them to concentrate on their daily tasks. Hence, a chair cushion for back pain can be extremely helpful to be as comfortable as possible during your work sessions.
We have tested and selected some of the best lower back pain seat cushions available on the market. Moreover, we highly recommend you choose one of the best office chairs for back pain so you can accustom your seat to your unique body proportions.
1. Logicfox Lumbar Support Pillow
This designer-style lumbar support pillow from Logicfox will become your best friend, especially if you drive a lot. The pillow is perfect for your car seat, providing optimal comfort during long drives. It consists of a high-density memory foam that conforms to your body.
2.  ErgoActive Cooling Gel Seat Cushion
The ErgoActive Cooling Gel Seat Cushion is an excellent option if you want to add a few extra inches to your seat while also acting toward your back pain. It integrates a non-slip bottom that will keep it in the same place no matter how much you move. Plus, the U-shape will adapt easily to any person's size, allowing you to feel comfortable regardless of your body proportions. During your work sessions, this pillow for back pain while sitting will become your best friend.
3. Mount-It! ErgoActive Lumbar Support Pillow
This lumbar support pillow offers the best sitting position for sciatica and people suffering from lower back pain. It can be easily fixed to any chair. This lumbar pillow contains memory foam that conforms to your back and provides premium comfort. The ErgoActive lumbar support pillow is perfect for aligning your spine, especially if you use reclining office chairs. The adjustable straps allow the pillow to fit any chair, and it is made of a breathable material that makes the pillow perfect for hot weather.
4. ErgoFoam Lumbar Support Pillow
The ErgoFoam Lumbar Support Pillow is an excellent cost-effective option that you can choose if you deal with back pain and struggle to maintain a good posture throughout the day. It can be easily attached to your office chair. It'll help you keep the optimal posture during your work sessions while also allowing you to reduce the exhausting and soreness you feel in your back and neck after being seated for such a prolonged period.
5.  ErgoActive Memory Foam Seat Cushion
The ErgoActive Memory Foam Seat Cushion is another good option if you want to feel relief regarding your back pain. It can be used in any seat, including your office chair, dining chair, and even your car seat. Its portable design allows you to take it anywhere and reduce the back pain you feel on a daily basis. Plus, it will help you keep your spine in the optimal position at all times, allowing you to improve your concentration and productivity in the process.
6. EverLasting Comfort Seat Cushion Pillow
This seat cushion for back pain has been designed to help you with multiple problems simultaneously. It can do wonders for those who struggle with back pain, but it can also be useful for users who suffer from sciatica pain. Thanks to this cushion, you will be able to sit comfortably and work on your responsibilities without worrying about such problems.
7. ComfiLife Gel Enhanced Seat Cushion
This chair cushion for back pain combines orthopedic gel and memory foam in the same product to provide the user with the utmost comfort possible. This way, you'll be able to work comfortably and relax for a while. It has been designed to relieve the pressure and support the different parts in your lower back area, aligning your spine in the process. It is a good choice as it can be used in pretty much any seat, including your office chair and car seat.
8. SnugPad Premium Memory Foam Seat Cushion
This option is another versatile seat cushion for back pain that you can use on plenty of surfaces. The non-slip bottom makes it easy to attach to most surfaces, allowing you to carry it around and use it no matter where you go. It has been built with high-quality material to ensure its durability. Plus, it will retain the same shape even if you spend several hours sitting on it, ensuring that your lower back area receives the support it needs for you to be comfortable throughout the day.
9. TISHIJIE Memory Foam Lumbar Support Pilow
While this back support cushion is advertised for car use, it can also be utilized in an office chair without problems. It'll help you alleviate the pressure you feel on your lower back area while you're sitting while allowing you to correct your posture in the process. It's an excellent and cost-effective option that will help you feel comfortable while working on your responsibilities.
10. Vaunn Medical Lumbar Back Support Cushion
This medical lumbar back support cushion is an affordable option. It has a special cooling gel that can be heated or used according to your needs. It has adjustable straps and buckles that keep the bad boy in its place. Overall, it is a travel-friendly option to carry along.
11. Plixio Memory Foam Seat Cushion
The Plixio memory foam seat cushion works best with a mesh back office chair, which channels the pressure from your back evenly across the cushion. It is a premium-shaped cushion that takes the perfect shape of your butt, providing a complete sitting experience.
12. Tempur-Pedic Seat Cushion
This orthopedic seat cushion offers you the best sitting position for hip pain. It is a thicker cushion than most options mentioned in this list. It gives you a comfortable layer of padding and a natural ergonomic fit to provide the ideal sitting position.
What to Consider When Buying a Seat Cushion for Back Pain?
If you are struggling with what to look for when buying an office chair cushion for back pain, here are some factors to consider:
Shape
Well, every body shape is somewhat unique. A cushion that takes your shape best will provide you with the ultimate comfort. Always go for cushions that match the natural curve of your spine. Moreover, the bottom of the pillow should match your tailbone.
Material
Very firm cushions are not adequate if you wish to reduce your back pain. Go for squishy memory foam cushions and take your natural body shape. The main purpose is to distribute your weight evenly across the pillow and allow your muscles to relax.
Positioning Straps
No one needs a seat cushion for back pain that does not stay in place. You are bound to move in your seat while working as a living being. Positioning straps on the cushion make it stay in its place. This is important since improper cushion support can also lead to lower back pain.
Cover Material
The outside covering of the back pain cushion also plays a crucial role. The best option is an anti-slip cushion that does not slip when in contact with you. These anti-slip cushions stay in place even when you move a lot.
Pricing
According to us, this is the least important factor when buying a seat cushion for back pain. Go for a premium product since this purchase will directly impact your health. However, consider options that offer value for money rather than settling for overly priced cushions.
Conclusion
Back pain is a serious problem that most people tend to overlook. Still, if you want to feel more comfortable while you're working on your responsibilities, we highly recommend you add a seat cushion for back pain to your office accessories. It'll help you align your back and will act as an additional way to support your back while you're working.
If you believe that your office chair is not helping you align your back as it should, perhaps you can correct the problem by using one of the best lumbar support pillows for an office chair there are available in the market. The best seat cushions for back pain provide the ideal level of back support and comfort, boosting your productivity levels in the sky. Make sure that you pay proper attention to your health. As we all know, prevention is better than cure.
Video ads for product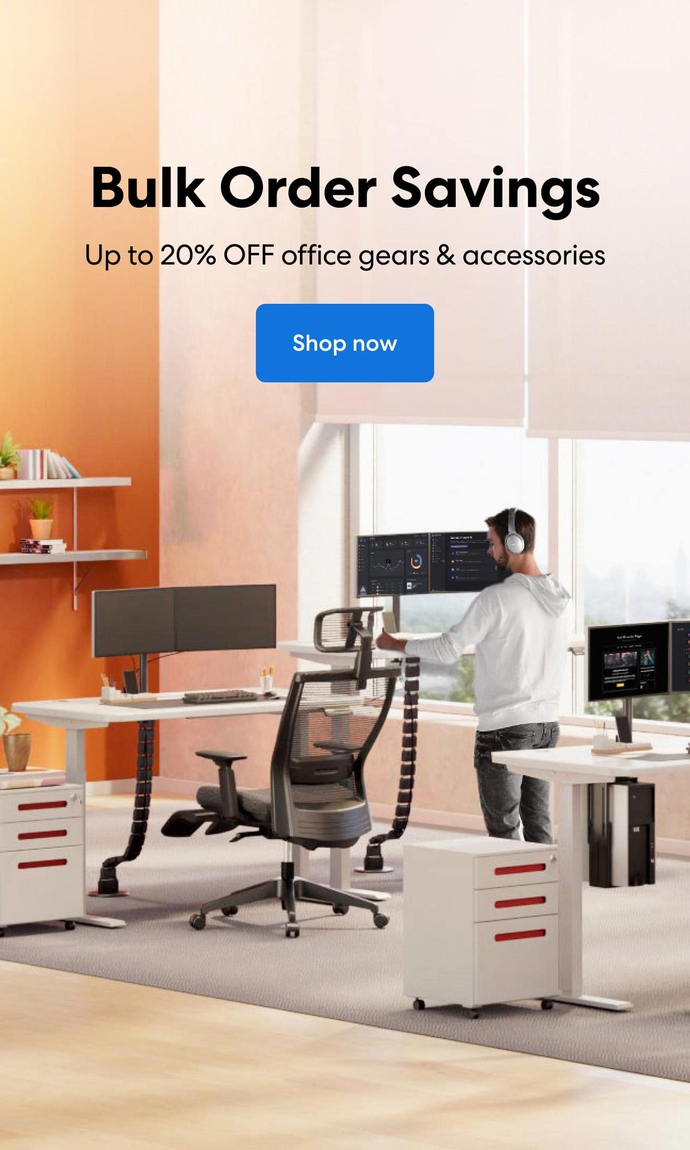 Subcribe newsletter and get $100 OFF.
Receive product updates, special offers, ergo tips, and inspiration form our team.