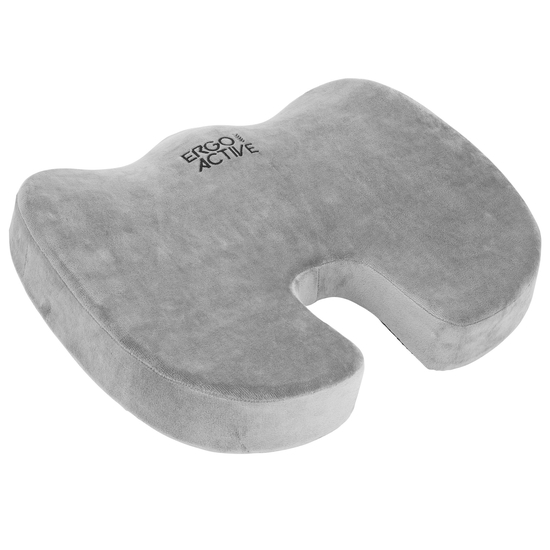 Mount-It! ErgoActive Memory Foam Seat Cushion
1 Review
Visit our store
$28
$39
(-28%)
Free shipping
For your teamSave up to 

4%
Buy now
Add to cart
FREE shipping Sep 27 - Sep 29. FREE 30-day returns.
Bought by 1+ Credible employees.
Sold and shipped by Mount-It!
• Remove pressure points in hips, low back, and coccyx • Memory foam conforms to your body • Removable, washable cover • Dimensions: 17.5" x 13.75" x 3" • Material: memory foam
• 10-year warranty
Our comfortable memory foam cushion retains its shape even after hours of sitting. It doesn't matter if you're tall or short, thick or thin, our orthopedic seat cushion will support your spine where you need it to most, at the base.
Deep dive into specs
Features
Specs
FAQs
reviews
5.0
Do you have a cushion for your workplace chair? In the vast majority of circumstances, the answer is no! Because most of you will have to work for more than 10 hours a day, not having a chair or a comfortable chair to settle on can be extremely inconvenient. Having the right cushion and an ergonomic office chair is nearly impossible if you don't have them. Back discomfort may be alleviated by using office chair cushions that are not designed with ergonomics in mind. This article will assist you in letting you know why an ErgoActive Memory Foam Seat Cushion is so crucial. What's the point of having cushions when you can just have a chair? The purpose of a chair cushion may be lost on you as you read this. With its adjustable straps, it can be used in any situation. It doesn't matter what type of chair you have at work or at home; you can use a memory foam seat pillow to ensure that your spine is properly aligned. Even after hours of sitting, this memory foam seat cushion for office chair keeps its form. No matter how tall or thin you are, this orthopedic memory foam seat cushion will provide the base-level support your spine requires, no matter what. If you are looking for chairs that are good for your back, here are ergonomic chairs for lower back pain on Autonomous.
Why Use ErgoActive Memory Foam Seat Cushion:
Many health problems and even death have been linked to prolonged sitting. But if you're using a chair, you should at least do everything you can to safeguard your body from the dangers of sitting. Using an ergonomic memory foam seat cushion is a simple and cost-effective solution. While we spend a lot of time sitting, most of the objects we use to sit on aren't really pleasant or well-designed to help us maintain good posture. If you are a laptop user and want to keep a good and healthy posture, you should definitely get a height-adjustable laptop tray. It is common for chairs to compress and misalign the pelvis and spine, forcing you into either a reclined position or a relaxed one. For people who spend extended periods of time at a desk, ergonomic office chairs may be an option. Still, they may be pricey and don't assist in other scenarios, such as sitting in a vehicle, at home, or in public. For a fraction of the price, however, a memory foam seat pillow may significantly improve the level of comfort and support in a wide range of scenarios. They provide a slew of health advantages in a convenient, portable form factor.
Benefits Of Using ErgoActive Memory Foam Seat Cushion:
Right Posture & Better View
An ErgoActive Memory Foam Seat Cushion for a chair has been found to improve posture among persons compared to those who sit in an empty chair. Your hips and pelvis will stay in the ideal alignment if you use the right cushions. Consider adding a cushion to the chair you believe is causing your back discomfort instead of switching it out. You'll be able to tell the difference. Only ergonomic office chair cushions may help you see better. Instead of slipping in, they keep your buttocks in place with powerful support.
Comfort & Circulation
People agree that chairs with ErgoActive Memory Foam Seat Cushion are much more comfortable than regular chairs. For lengthy periods of time, if your chair has the correct cushion, you won't have to fidget. Therefore, padded seats are preferable. In addition to limiting blood flow to your pelvis, legs, and back, standard chairs also compress your lumbar region. If you don't receive enough oxygen to your tissues and muscles, you'll have a difficult time getting rid of metabolic waste products.
More Energy
Your energy and focus will improve as a result of improved posture and circulation and decreased discomfort. If you utilize an orthopedic memory foam seat cushion, you'll be astonished at how much more you can do, and you'll still have energy left over for your personal life.