For the most part, a messy workstation leads to a cluttered mind. An orderly workstation will appear more welcoming, but it will also push you to start working more productively because you will not have to navigate around paper heaps and rubbish to get the task completed.
Explore the ingenious desk organizing ideas, including some wood desk accessories in this article for easy yet extremely efficient methods to freshen up your workplace. Whether in your remote home-based office, a little area transformed into a temporary workspace or a desk at your nine-to-five job.
You can give the whole of your workplace equipment, records, and organizing materials a defined location using several wood office accessories, DIY organizers, and color-coordinated separators, so you always have everything you need. You will have a tidy workplace in no time, allowing you to be productive and focused on running your business.
List of The 10 Best Work Desk Accessories and Organizers
A tidy and well-organized workstation may aid concentration and productivity. It might be tricky to sort out what has to be organized and how to organize it—whether its papers or odd office items that crowd your workspace. We've compiled a list of the top wood desk accessories and organizers on the market that will keep your workplace organized and enhance your cool factor.
1. Birchwood Monitor Stand
Do you often stress your neck and spine by constantly looking down at your computer screen? It's now time to use this ergonomic Birchwood monitor stand and revamp your wood desk set up to raise your display to a suitable line of sight, giving you a better viewing experience while decreasing neck and shoulder strain. It also has 7 different-sized storage places for your phone, pencils, sticky notes, notebooks, and other common office items, making your desktop clean and simple.
2. Birchwood Laptop Stand
This laptop stand has been crafted with solid Birchwood, suitable for any wood desk setup. It was designed specifically to avoid hunched seating positions. It relieves physical tension in the neck, shoulder, and lower spine. It is designed to increase the comfort of the neck spine posture.
3. Birchwood Clamshell Laptop Stand
With several purposes, this laptop holder is straightforward, reasonable, and stylish. It functions as a laptop raiser, perpendicular laptop stand, clamshell holder, and a bookstand. It raises your notebook by 3.5 inches and keeps you from having to bend over your computer screen, reducing neck/back strain. You may also use the stand to arrange your desktop by placing your Laptop on it. On the rack, your Laptop would also look fantastic.
4. Home Office Work Smarter Set (2-piece)
This is an ergonomic piece of furniture that increases the screen's height at perfect viewing angles and reduces physical strain on your shoulder and spine. It will aid you in achieving an improved neck as well as spinal position for immense comfort. The Work Smarter Set is designed to increase airflow to your Laptop, which means your devices will not heat up.
5. Desk Shelf
The FineCrafts desk shelf has a classic mission style with lots of contemporary conveniences to assist you in getting things done. The desk offers vertical space cabinets with a container drawer to organize your computer equipment and working utensils. In contrast, the cupboard on your desktop has plenty of free additional storage for other items such as novels, ornaments, and more.
6. Dual Computer Monitor Stand
This dual computer monitor stand can hold three monitors. This is the best option whenever you require numerous computers to operate together. It also runs on laptops or desktop computers. The 12.9-inch slide-out compartments on this desktop and laptop riser are useful for keeping post-it memos, writing tools, and portable devices. This device features an optimal ergonomic design for simpler operation, allowing you to elevate your computer monitor to a good viewing height, reducing the danger of neck or sore eyes while delivering a better spectator experience.
7. Bamboo Computer Monitor Stand
This wood desk accessory is constructed of bamboo, which is both robust and ecological and lacquered on the top. It's perfectly crafted with no sharp corners, protects you from injuring your fingers, and each piece of the wooden panel is painted with eco-friendly lacquer. It is completed with a wear-resistant and durable Eco-friendly yet robust Bamboo plank. This monitor stand is superior to plastic monitor stands and is less likely to shatter than glass monitor stands. Bamboo is completely eco-friendly.
8. Adjustable Length Monitor Stand with Drawer
For your everyday necessities, this monitor stand contains four pen slots, two compartments, and a huge section. To maximize your workspaces, tuck your keyboard or mouse securely below. A 2 distinct drawer holder adds to your storage capacity. Moreover, you may reduce neck strain by raising your display to the required ergonomic viewing elevation, which is a line of sight. Create a comfortable elevation with ease. This monitor stand has been masterfully created to help you organize your office equipment while also adding elegance to your workplace and home.
9. Floating Shelves
Small areas are overwhelmed by bulky furniture, so attach a desktop to the wall and add a monitoring system above. To appropriately store your work supplies, books, and other wood desk accessories, you can also add as many racks as you need.
10. MeRaYo Metal Mesh Organizer
Binder clips, sharpeners, pens, memoranda, pins, marker pens, tacks, keys, and other wood office desk accessories can be stored in the desk organizers storage pullout section and equipment holder. This device is excellent for making your desktop tidy to maintain your attention. This container is built of a sturdy metal that provides durability and stability. It has six sections and one tiny movable drawer for storing items like pens, pencils, staplers, erasers, and notepads, to mention a few.
Conclusion
Whenever you purchase any organizing equipment, including cool desk accessories, do not forget to check out autonomous offers, especially for the Autonomous Employee Purchase Program (EPP), which is a great discount initiative for employees who have started to work from home. Moreover, they offer EPP for everyone.
Similarly, the Autonomous employee purchase program also offers significant discounts for government officials, teachers, and students. These discounts help you purchase your favorite products without worrying about your budget. The prices of all products become reasonable.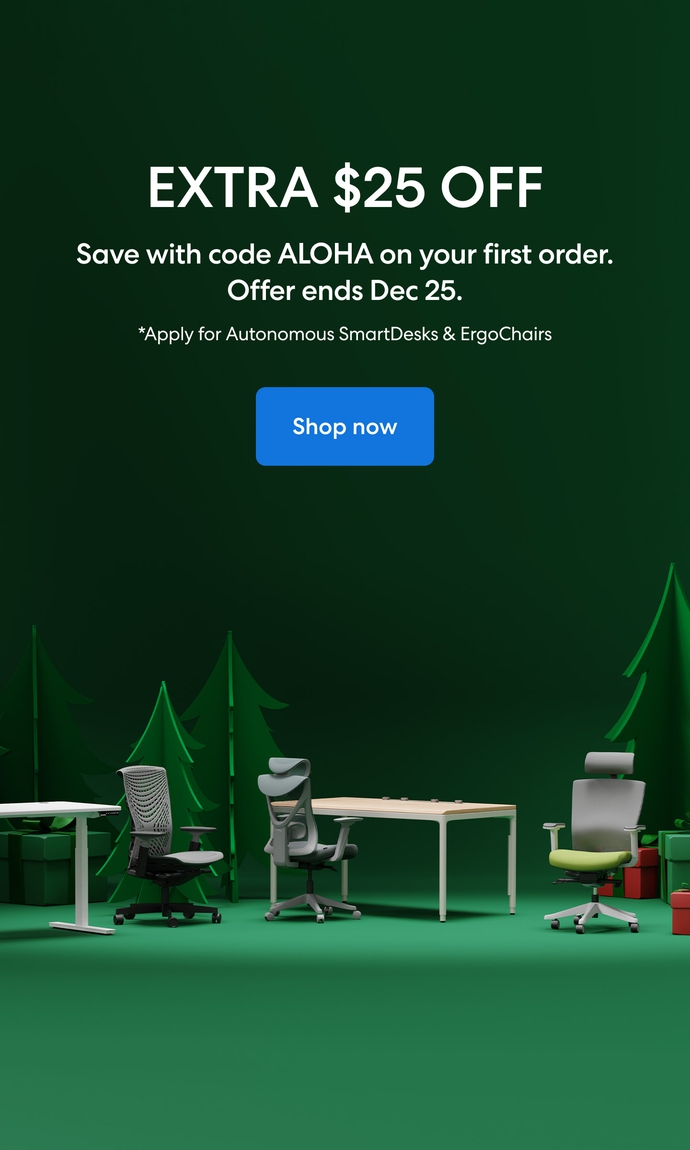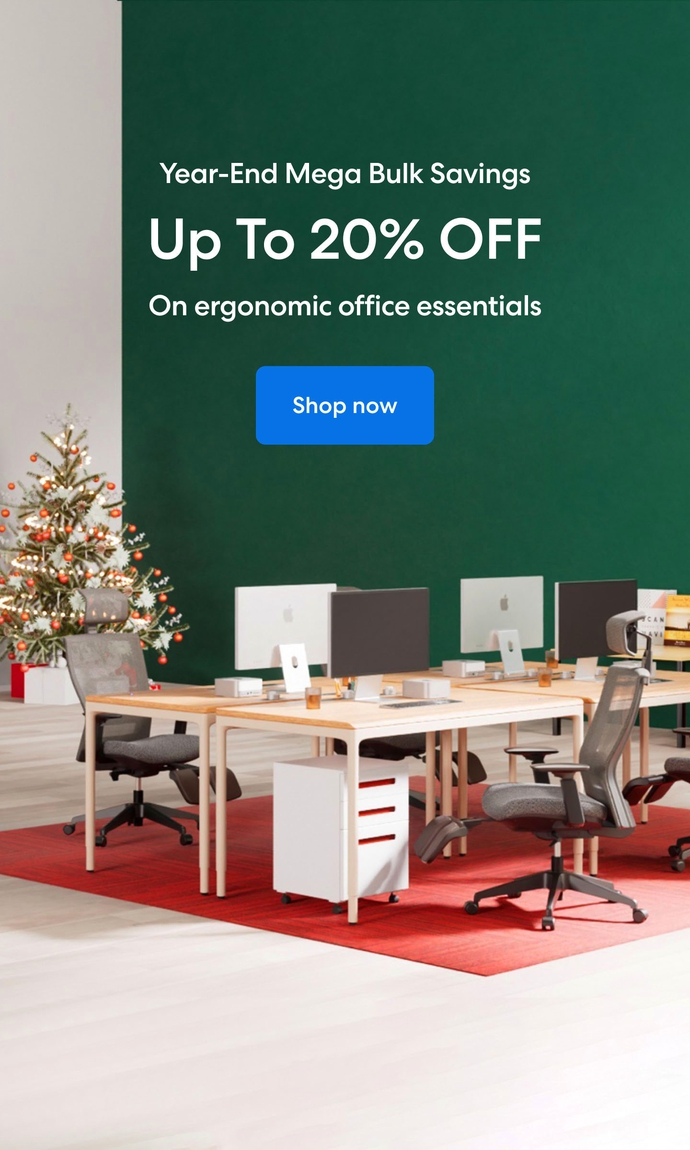 Subcribe newsletter and get $100 OFF.
Receive product updates, special offers, ergo tips, and inspiration form our team.