Workplace Inspiration
10 Interesting Ideas to Use Your Spare Room – Customize It Now!

Autonomous
|
Jun 3, 2023
345 Views
Managing the space at home is often difficult if you don't have much room for everything you need. However, something similar happens when you have too much space and don't have many spare room ideas in mind.  
You could do a wide variety of things with just one spare room, but you need to organize your ideas if you want them to come true.  
Is there something you need or always wanted to have in your house? This is the moment for that. We are here to help you make that empty room in your home the ideal space you've always wanted.  
Read this page to get 10 interesting extra room ideas for your home.  
10 Excellent Spare Room Ideas
We can recommend many things if you need ideas for a spare room. Nonetheless, you need to pick one option wisely.  
Most options require buying additional furniture or gadgets, so regretting your decision mid-way will make you lose a lot of money.  
Think about your choice carefully. Go for a room you know will bring you several benefits in the long run. You should analyze the budget you need for the room's gadgets too.  
Naturally, you could always transform the room into something else in the future, but it's better to do that in the long run.  
That being said, these are 10 excellent bonus room ideas for your house: 
1. Guest Bedroom
Guest bedrooms are a classic when it comes to spare rooms. They are ideal if you love having your family or friends over often.  
You don't want your loved ones sleeping on a couch if they can sleep in their own room.  
Preparing a guest bedroom can even give you money if you rent the room in the future. However, that would mean having a stranger live with you.  
The best thing about making your spare room a guest bedroom is that you don't need many things for it. You are good to go with a bed, a closet, and a bedside table.  
Some people even skip the closet or the bedside table and just put a bedroom in there. If you can add more furniture to decorate the place, you can do it too.  
Regardless of that, we don't recommend you do this if you only invite people to stay in your house every once in a while.  
All the empty room ideas on this page are meant to put your spare room to use, so it's useless to buy things for it and only use it once or twice monthly.
2. Home Gym
Speaking about putting your spare room to use, what about making it a home gym where you can work out daily?  
If you are looking forward to having a physical change or just doing what you can to say healthy, this is an excellent option.  
The best thing about having a home gym is that you can avoid commuting and save money from monthly gym subscriptions.  
One of the things that keep most people from working out is that they don't have the time to go to a gym. There are no excuses if you have the gym at home.  
While some people prefer having an outdoor home gym, you may not like that idea if you value your privacy and don't want others looking at you while you work out.  
The only problem with using your spare rooms for a gym is you will need to invest a lot of money into it. That, of course, is if you want the gym to have all the machines you usually need in a regular one.  
Buying all those machines is not affordable, so you may need to do it slowly and wait several months until you have the money for all of them.  
You will see the profits in that investment in the long run, as you won't have to pay monthly gym costs or gas.   
If you want to do this, you should learn how to do the proper maintenance of the gym machines to keep them from malfunctioning or going to waste in the short or mid-term.
3. Home Office
While you need a lot of space to turn your place into a home gym, home officers are ideal if you are looking for small spare room ideas.  
Remote working is trendy. During the pandemic, many companies had to switch to a remote or hybrid workforce, which forced people to learn how to work from home. 
That made them see all the benefits they could enjoy by working remotely. Reduced commuting time, more flexible working schedules, more comfortable workspaces, etc. 
If you are a freelancer with the option to work at home in your company, you could turn your bonus room into a home office.  
You would need to get office furniture and supplies, though.  
The essentials for it are an office desk, chair, office accessories, and a desktop device. We recommend you go for standing desks and ergonomic chairs. You can find many of them on the Autonomous website. 
Those products can boost your comfort and productivity, which leads to an improvement in your work performance.  
You can do additional things for the room, such as soundproofing its walls or buying office decorations.
4. Reading Room
Cinema lovers need a peaceful place to watch movies, but what about readers? 
It's a nuisance when people talk to you when you are reading a book. You need silence to let your imagination go wherever it wants while reading, so this is the perfect opportunity to make a reading room if you are looking for spare room ideas.  
You don't need many things for this room. Just buy a comfortable bed or couch for it and a bookshelf. Get additional lighting if you need it.  
Some people even soundproof the room walls to avoid exterior distractions.
5. Storage Room
You don't have to use the room to do something specific there. If you have many furniture pieces or objects you are not currently using at home, you can put them all in one room until you need them.  
Storage rooms are highly useful, as they keep you from selling or giving away things just because you don't have space for them at home.  
The best thing about making your spare room a storage one is you don't need to buy anything for it. Just make sure the room is empty and organize the things you will store in there properly.
6. Full-Room Closet
Are you a fashion enthusiast? There's no need to keep looking for extra room ideas. You can make the whole room a giant closet! 
We understand how challenging it can be to fit all your clothes into one closet. If you have a lot of clothes and need space for them, put them all in your extra room.  
If you want to do this, buy many closets and shelves for the room. You should also get a full-size mirror to try different outfits there.
7. Music Room
The last recommendation we have for people looking for ideas for a spare room is to make it a music room.  
When we say a music room, we mean two things. You can use the room for several purposes. 
If you want to make music yourself or record covers, you could turn the place into a recording studio. You would only need to get the equipment for it and prepare the walls for it.  
The best thing about doing that is that you could make extra money by offering the studio to local artists.  
If you are not interested in that, you can just make a room for listening to music comfortable.  
How can you do that? Soundproof its walls, get high-quality speakers, decorate the place, and get ready to live the most immersive music experience you've ever lived.
8. Art Studio
People with more entertainment room ideas in mind can try something more creative and make their room an art studio.  
Doing that can let you meet the artist you've always wanted to be! If you have an interest in painting but are afraid of making your house a mess, a spare room is the perfect opportunity for you.  
You can buy several canvases and some paint to start. Whether you are doing it to sell it or for yourself, take things easy.  
There's no pressure when painting, so just do what you want and see where that leads you.  
Since you are focusing the whole room on art, you don't need to worry about letting the walls or floor be full of paint. You could even paint the walls to make the place look more artistic.  
This is not only meant for painting, though. Feel free to use the room for other expressions of art.
9. Home Cinema
Gamers often need a whole room to play video games, but cinema lovers also deserve a room where they can enjoy all the movies they want in peace. 
When you watch movies at home and live with other people, they could and most likely will interrupt you while you watch them. 
However, if you prepare a home cinema, you can watch your favorite movies with the highest sound and video quality available on the market.  
Buy a good TV and speakers for the room. Get a comfortable desk or couch to sit on, and buy headphones to watch movies on them.
10. Gaming Room
Playing video games in a gaming room will make your gaming experience much more immersive and enjoyable.  
It's not the same to play a game on your couch in the middle of your living room as designing a whole room just to play there. 
The first thing you should get for this room is a PC or the gaming consoles you like best. If you have the budget for it, you can get all of them and make your gaming station the most complete one in the neighborhood. 
After that, get a desk with enough space for all of them, a comfortable gaming chair, and LED lights to make it look better.   
Is Building a Spare Room in My Backyard a Good Idea?
What if we told you that you could have a spare room even if you don't have an empty room at home?  
As weird as it may sound, it's what accessory dwelling unit kits offer.
When you get an ADU for your backyard, you are literally buying a spare room to do anything you want there. You can make any backyard cottage ideas you want come true.  
There are many options online if you are looking for an affordable backyard ADU, and many of them offer additional benefits you wouldn't have in an empty room at home.  
These are some of those products:   
Autonomous WorkPod
Apart from office furniture, Autonomous now offers work pods for home. The Autonomous WorkPod is the flagship product of this lineup. 
This is meant to be a special space where you can work comfortably without others distracting you. The pod is suitable for any terrain, so you won't have trouble installing it in your backyard.  
The WorkPod comes with a standing desk, an ergonomic chair, and other office accessories.   
Dimension
8'6''W x  11'9''L x 11'H
Ceiling height
6'10'' to 9'4''
Window material
Wooden frame, 5/16" tempered glass
Door material
Anodized aluminum frame,  5/16" tempered glass
Material
Siding: bitumen, housewrap, vinyl silding
Roof: bitumen, housewrap, shingles roof
Floor: plywood
Balcony: composite wood
Include
Optional: SmartDesk Connect, ErgoChair Pro+, Dual Monitor Arm, Cable Tray, Steel Cabinet, Anti-Fatigue Mat. Always included: Electrical Cabinet & Bookshelf
Floorspace
98 square feet
Capacity
2.9 tons
Pros

Cons

Excellent add-ons
Only useful for work purposes
Weather-resistant
Pre-wired
Suitable for any backyard
Autonomous StudioPod
If what you want is a home studio, we recommend buying the Autonomous StudioPod.  
Buying this ADU gives you a space with a multi-purpose design, so you could use it for any of the spare room ideas we mentioned on this page. 
This pod comes with a sofa, sofa table, a TV table, and other things to make the place cozier.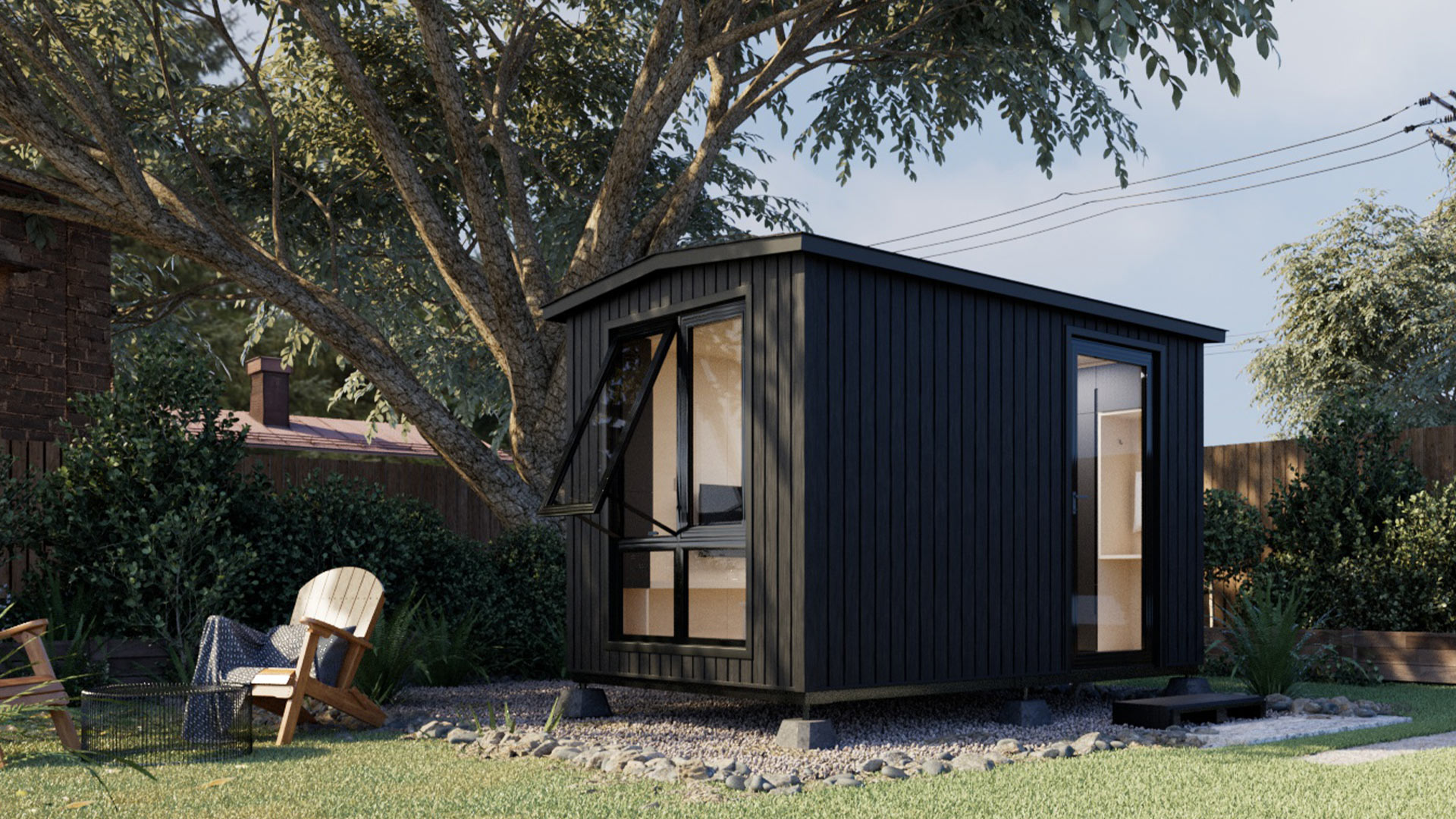 Dimension
8'4"W x 12'6"L x 9'10"H
Floorspace
105 square feet
Ceiling height
7'3"
Weight capacity
2.9 tons
Pedestal
18"W x 43"L x 7"
Window & door material
Powder-coated aluminum,  5/16" tempered glass
Material
Siding: plywood 1/2", steel frame, honeycomb paper, plywood 3/8", bitume, housewrap, vinyl siding
Roof: roof shingles
Floor: plywood
Pedestal: steel frame & wood plastic composite
Electrical devices
RCB, Wall outlet, Ceiling light switch, Ceiling light, Ventilator switch, Ventilator, Ethernet wall port, 66ft power cable with 2 connectors
Include
Optional: Cabinet, Desk, Small & Big Bookshelf, TV Shelf, Foldable Sofa Table, Convertible Sofa Bed. Always included: Electrical Cabinet
Power input
Maximum voltage : 110V AC (US standard)
Maximum current : 25A
Maximum power dissipation : 2750W
Pros

Cons

Weather-resistant
High price point
Pre-wired
Multi-purpose design
Suitable for any backyard
Autonomous WorkPod Lite
Prefab home additions are often expensive, and it's difficult to find an affordable option online. If that's what you need, we recommend the Autonomous WorkPod Lite.  
This is one of the latest Autonomous releases, and it gives you everything you would need in a spare room without throwing out your budget.  
Since the WorkPod Lite comes pre-wired and has electric outlets, you only need to install it, plug it in, and start using it. It. 
The best thing about Autonomous pods is that they all are weather-resistant.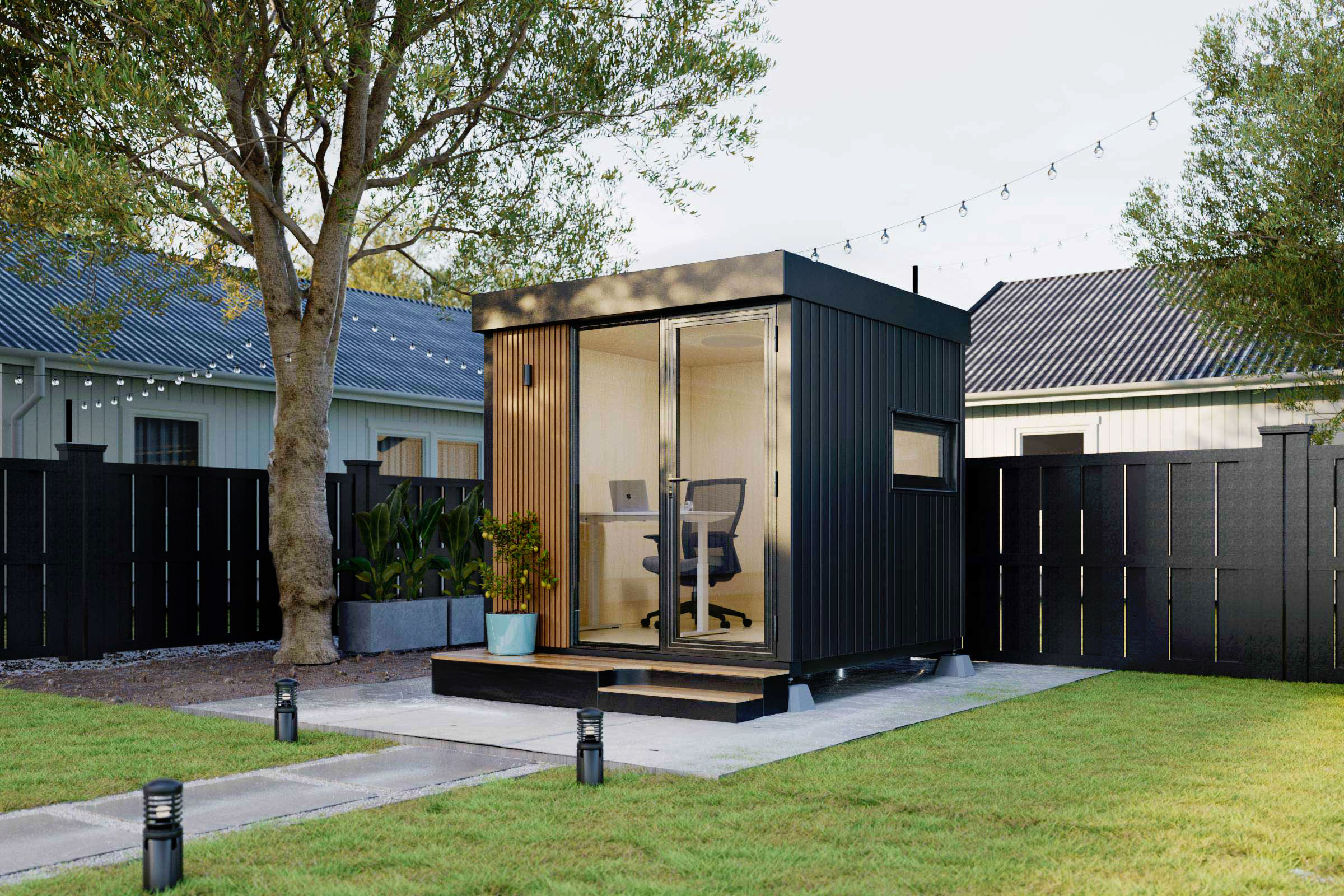 Dimension
8.7"W x 8.12"L x 9.3"H
Material
Window and door: powder-coated aluminum, 5/16-inch tempered glass
Siding: plywood 1/2-inch, steel frame, honeycomb paper, plywood 3/8-inch, bitume, housewrap, vinyl siding
Roof: metal roofing
Floor: plywood
Balcony and Pedestal: steel frame and wood plastic composite
Pedestal
24"W x 103"L x 9"H
Electrical devices
RCB, Wall outlet, Ceiling light switch, Ceiling light, Wall light, Ethernet wall port, 66ft power cable with 2 connectors
Weight capacity
2.3 tons (including Pod body)
Floorspace
80 square feet
Ceiling height
7.3-inch
Pros

Cons

Affordable
Lack of add-ons
Weather-resistant
Pre-wired
Final Thoughts
Choosing the right small spare room ideas can be a tough decision, but once you make it, you start seeing the benefits of putting your empty room to use.  
If you don't know what to do with the empty room at home, we recommend you do any of the things listed on this page.  
People who want to do those things but don't have a free room in their houses can always buy one of the Autonomous pods on its website.  
You can click here to read a few Airbnb ideas instead of spare room ones.  
The Autonomous website has more blog posts like this one, so go there and read them now if you want.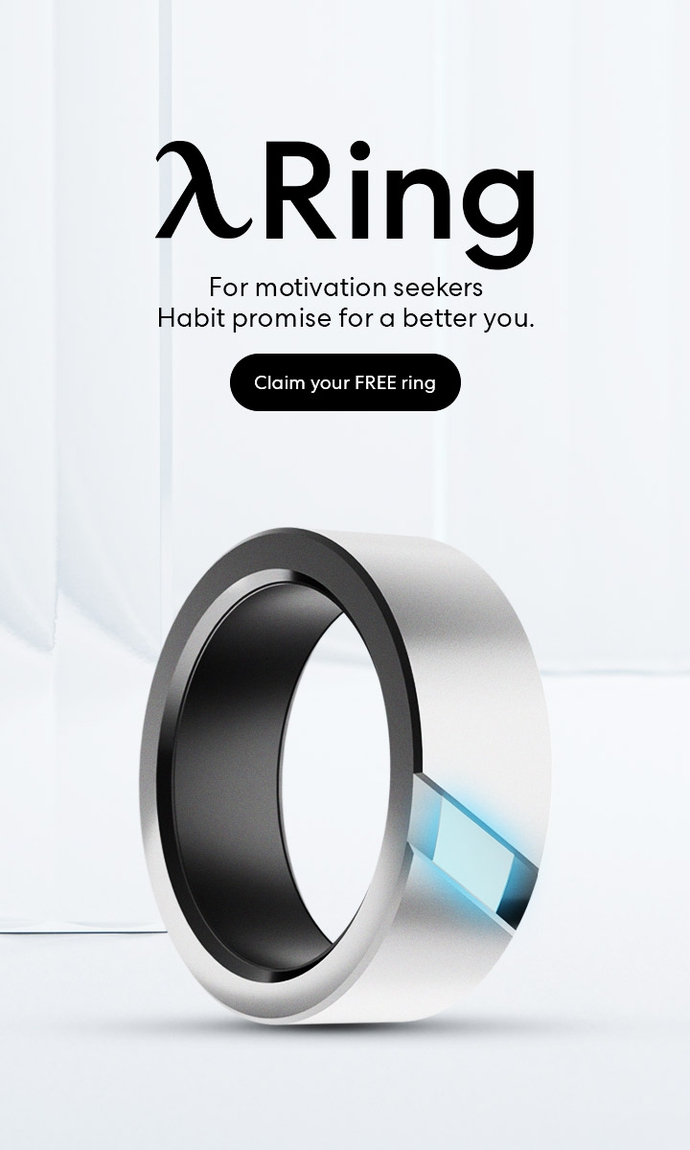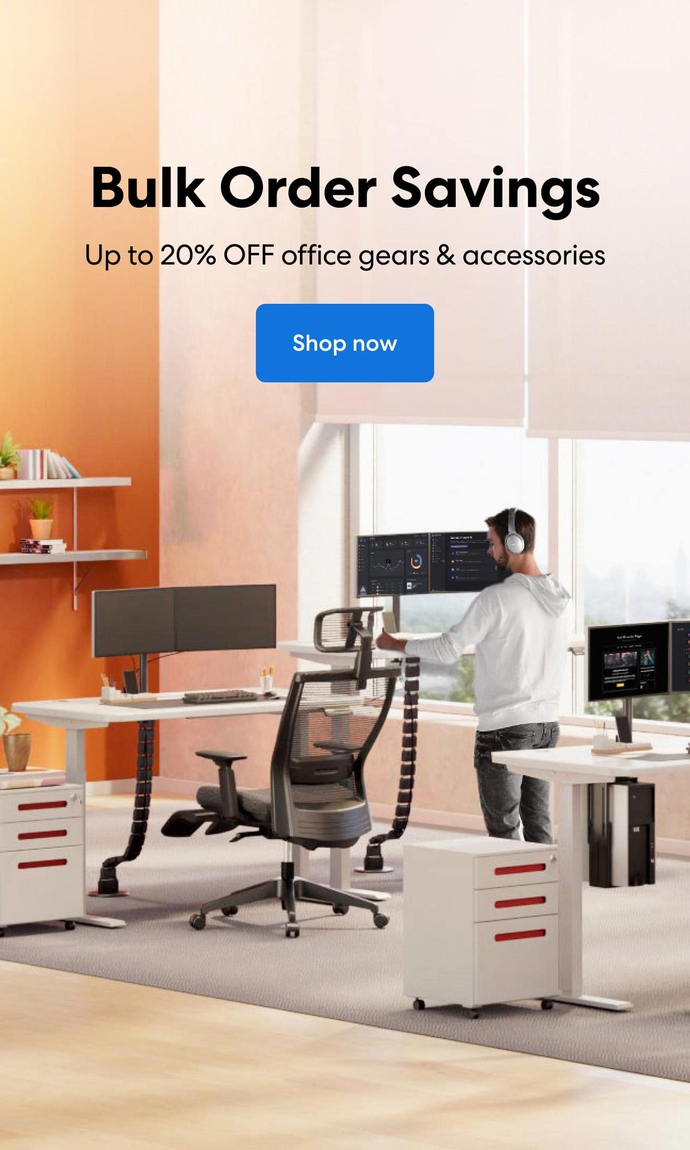 Subcribe newsletter and get $100 OFF.
Receive product updates, special offers, ergo tips, and inspiration form our team.