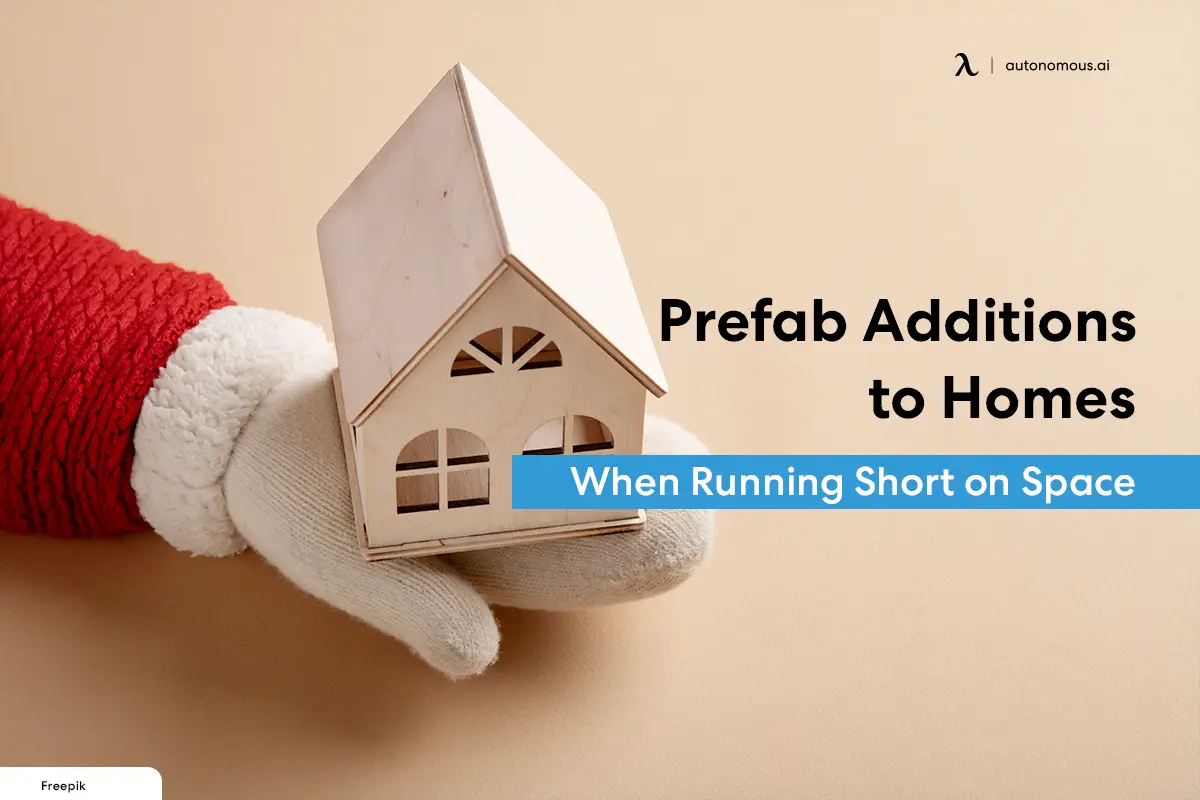 Workplace Inspiration
20 Prefab Additions to Homes When Running Short on Space

Autonomous
|
Dec 13, 2022
6,499 Views
Why stay in a crowded house when there are several prefab additions to homes to consider? Before we identify them, we should explain what prefabs are. 
A prefab or prefabricated home is a dwelling manufactured by factories rather than on the site. They send them to the homeowner in parts for them to assemble. People can set prefabs as separate units or attach them to their houses. 
After knowing what they are, we can now identify specific prefab home additions that homeowners can get. Readers should assess their needs before choosing one. Without further ado, here are 20 modular home addition ideas to choose from.
20 Ideas of Prefab Additions to Homes
1. Prefab Accessory Dwelling Unit
The prefab accessory dwelling unit is usually attached to the main home. This structure is easy to assemble, hence ideal for people with basic carpentry skills. 
Nowadays, more people are working from home. However, Flex Jobs confirms that outside noises are one of the common distractions for this arrangement. Fortunately, this unit is typically sound-insulated, which means people can even hear themselves think.
2. Home Work Pod
The home work pod is a small garden building that people use mainly to work. This is one of the most convenient prefab additions to a home since it is compatible with any terrain. That is because it can uniformly distribute weight up to 2.9 tons. 
Another notable feature of the structure is its resistance to rain, wind, and humidity. As a result, the person in the dwelling will enjoy optimum air conditions. 
Dimension
103"W x 142.5"L x 92" - 125.5"H
Material
Exterior: Composite wood
Interior: Plywood wooden frame
Frame: Steel, M300 cement
Include
SmartDesk Pro, ErgoChair Plus, Cable tray, Filing Cabinet, Dual Monitor Arm, Anti-fatigue Mat
Minimum wattage
100W
Weight capacity
2.9 tons
Color
Black, White
Warranty
1 year
3. Prefab Studio
A prefab studio is one of the best modular home addition ideas for people who want to use it for several purposes. Homeowners can use it as an office, an extra living space, or rent it out as an Airbnb. 
This dwelling structure contains enough sockets for people to charge their smartphones or watch television.
Dimension
106" W - 155"L x 106.3"H
Material
Exterior: Aluminum layer
Interior: Eco-friendly honeycomb paper
Frame: Steel
Include
A closet, desk, bookshelf, TV stand, a foldable coffee table and convertible sofa bed
Minimum wattage
150W
Lighting
3 color modes
Warranty
1 year
4. Multi-Purpose Pod
Some people want prefab room additions that allow them to exercise. In that case, they should install the multi-purpose pod. It offers enough space for users to do yoga, lift weights, and even take part in Zumba. 
Since it is spacious, children can play here. Parents can set up a room for them to play computer or video games. The unit can also be a place where the kids learn to be independent. 
Lastly, it is a place to stay when people need some "me time." Let's face it, living with other members in the same house can be stressful. A child could cry, or a sibling could bother others with endless errands. To escape such an environment, this structure gives you time to de-stress and have some peace. 
Dimension
103"W x 142.5"L x 92" - 125.5"H
Material
Exterior: Composite wood
Interior: Plywood wooden frame
Frame: Steel, M300 cement
Weight capacity
2.9 tons
Minimum wattage
100W
Color
Black, White
Warranty
1 year
5. Modern Accessory Dwelling Unit
Some homeowners think prefab additions to homes must appear ancient, but that does not have to be the case. People willing to go for a modern look should look no further than the modern accessory dwelling unit. There is a crucial benefit of the structure besides looking modern. 
The structure is strong, though it may not seem that way in the backyard. Like stick-built homes, it meets the standard building codes. That means it can withstand earthquakes and adverse weather conditions.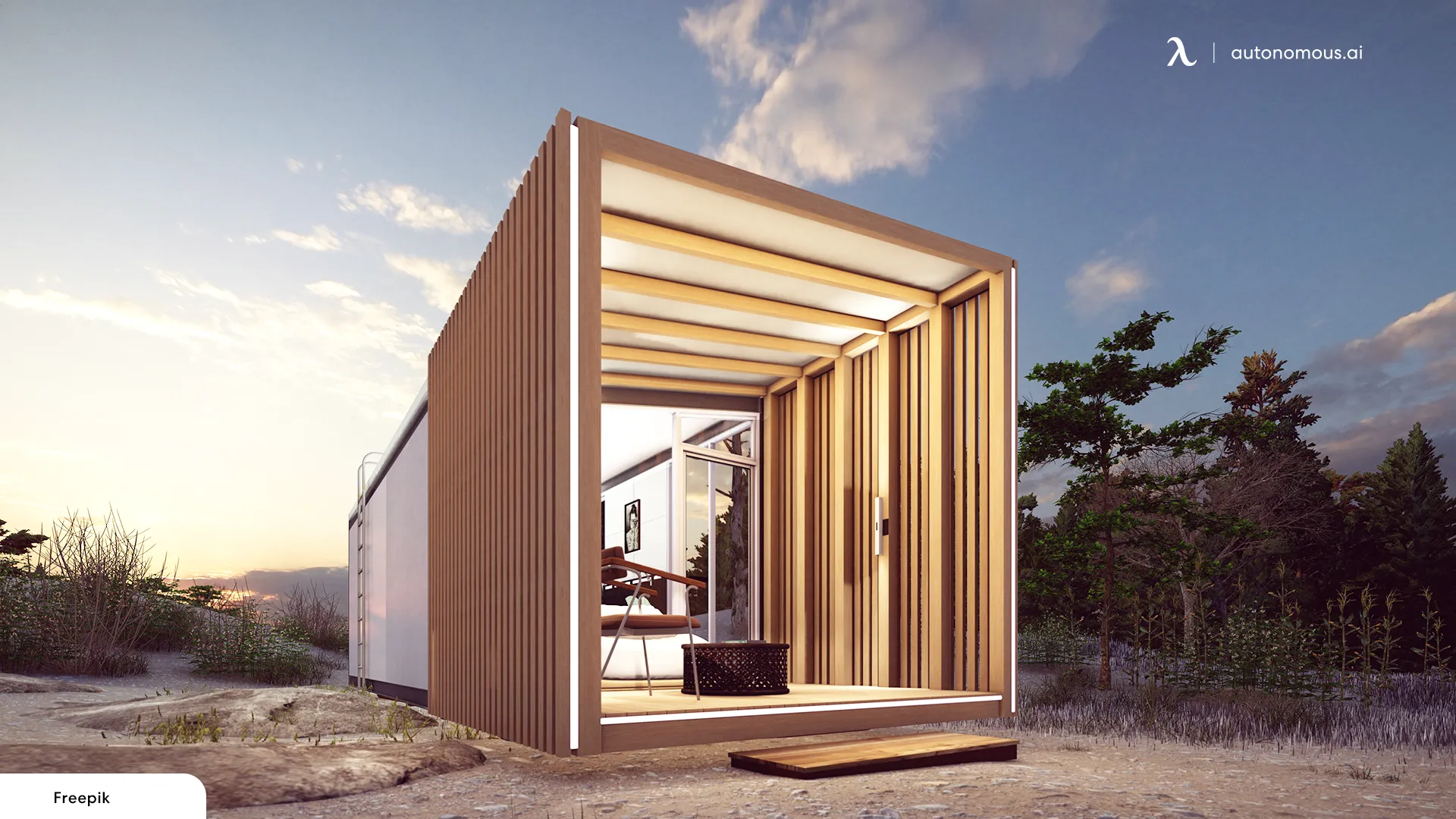 6. Insulated Backyard Shed
Gamers seeking modular home additions should consider this shed. The insulated backyard shed contains plenty of space for players to store their gaming equipment. It also has a soundproof booth to enable gamers to play without outside noise. 
Depending on the company you buy it from, you may get a free gaming chair. Amazingly, players can be lucky to receive one made with premium leather for maximum comfort. 
7. Prefab Office Backyard
This is the most minimalistic of the prefab room additions discussed so far. It only houses a chair and a desk, just like an office. Another reason is the fact that the structure has a giant glass sliding door, which means there are no windows. 
Homeowners can either get a prefab office backyard shaped like a cube or a trapezium. There are no significant merits of either shape since they are more for aesthetics.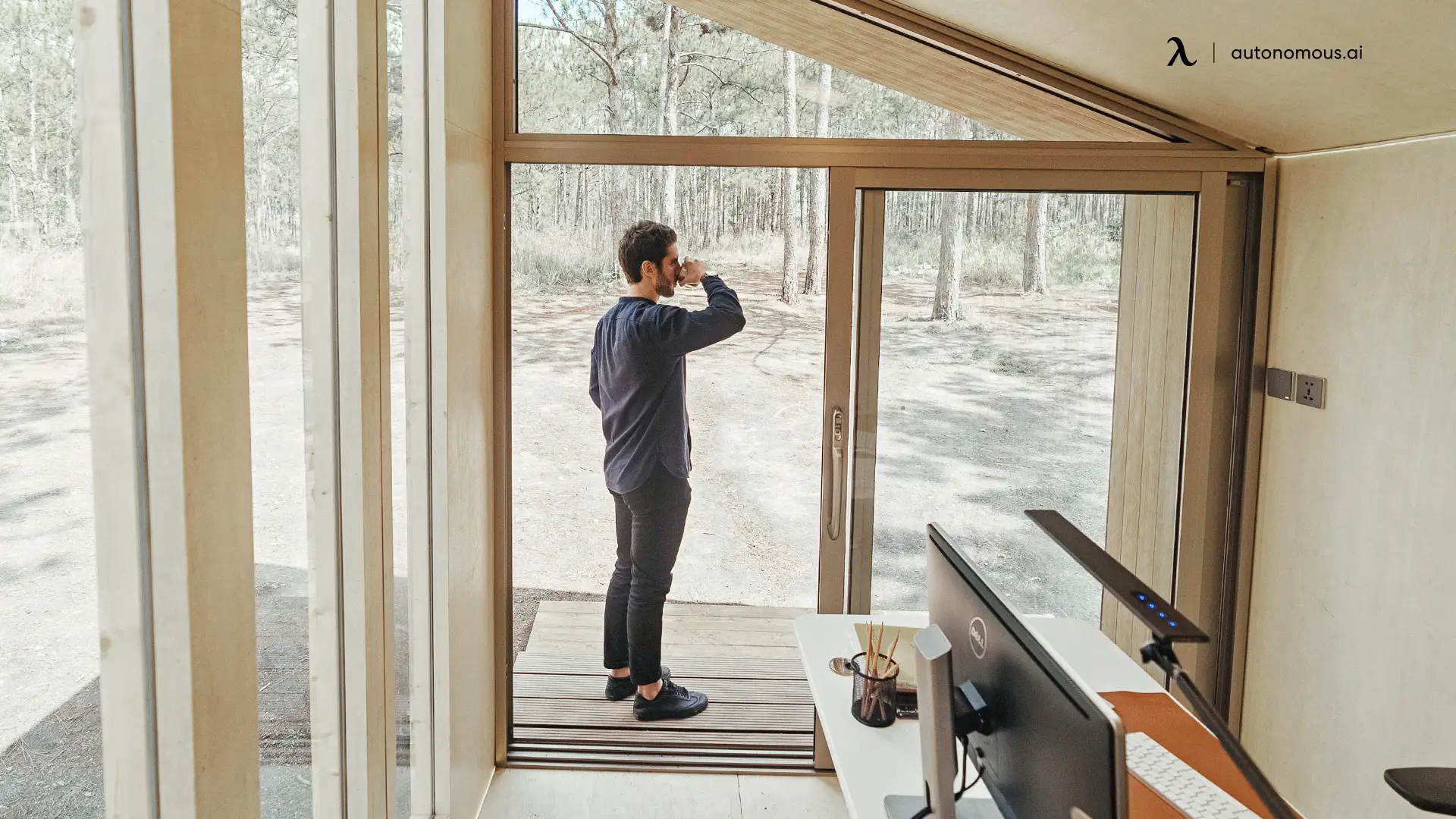 8. Backyard Office Pod
The backyard office pod has several shapes to choose from. Users who want an oval-shaped one can consider the Archipod. It is a structure built of wood that somehow manages to retain a modern and traditional look. 
Another variation of this structure for people who value aesthetics is Leggo Pods. In this brand, the pieces of timber have been arranged vertically while leaving some minor gaps between them. As for the interior, the dwelling unit has smooth laminate floors.
9. Modern Prefab Cabin
There are some stereotypes about cabins. Some people view them only for relaxation, while others think they are only separate units. However, this type of cabin can be used as an office and can count as one of the prefab additions to homes. 
The unit contains all the comfort workers would need in an office. Some benefits users will enjoy include air conditioning, electric outlets, and warm lighting. To enjoy the benefits the modern prefab cabin brings, the owner must set it near a power source.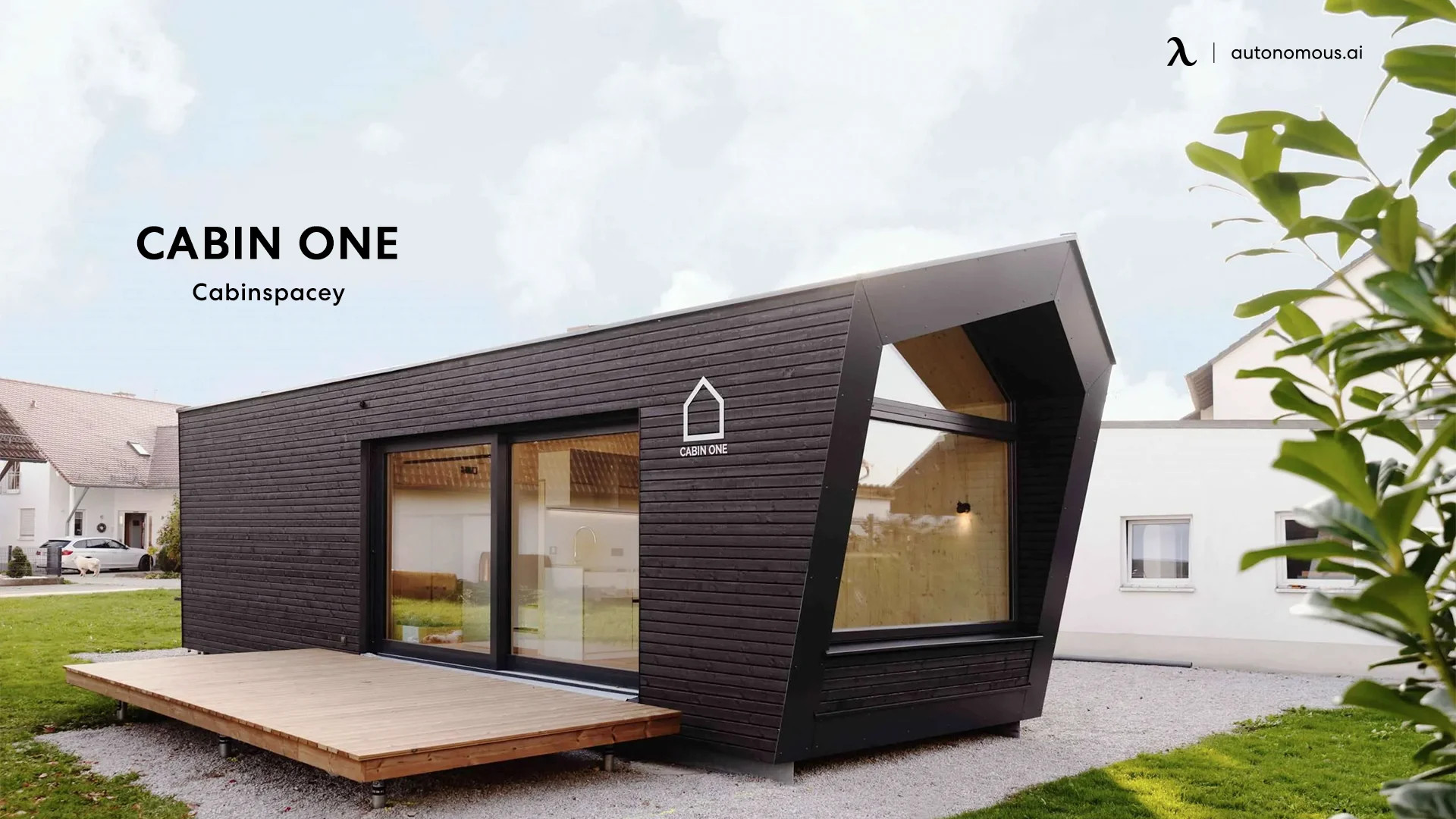 10. Prefab Master Bedroom Addition
This idea is one of the best modular home additions for big families. Also, it becomes helpful when unexpected guests show up at your place. 
Some homeowners have always wondered how to increase their home's value before selling it. They do not need to worry anymore since including this unit increases it. 
11. Lean-to Addition to a Building
No rule states that prefab additions to homes should have doors or windows. This unit lacks them and instead has rafters that lean against the house. It contains a shed with a sloping roof and three walls. 
To understand this structure better, think of it as a giant umbrella. People can shelter themselves from it in case of heavy rains or heat waves.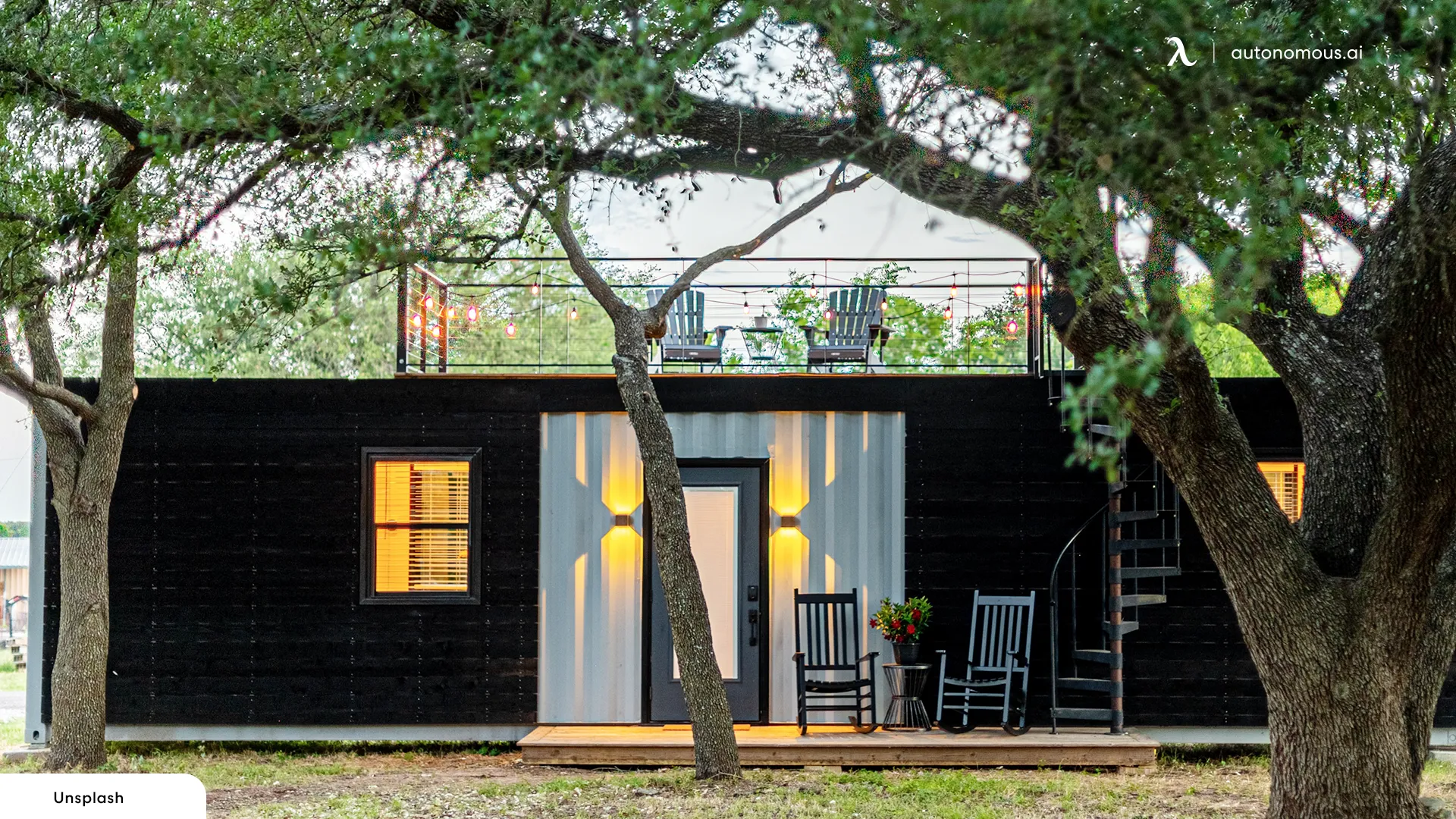 12. Prefab Garage
Residents who do not have a garage can consider prefab garages. The only drawback is that they are less durable than the traditional ones. However, they are cheap to build and spacious. There are various designs for prefab garages to select from. 
Users can opt for the double-wide garage. In some homes, families own two cars, so it makes sense to install this type of unit. Homeowners do not have to use this kind only to park vehicles. They can use it as a workshop or for organized space storage. 
Another design to consider is the wooden pole barn garage. It resembles a shed and is supported by wooden poles that go down into the foundation. As for the siding, users can choose metal or brick. 
13. Double Wide Mobile Home Additions
Homeowners who need prefab home additions that match the home's exterior should consider these. These units are best suited for houses with open and spacious floor plans. There are various mobile home additions that people can choose from. 
They could install sunrooms, which are great for increasing living space on a budget. To maximize sun exposure, people must face the southern end of the house. 
Other additions people can install are guest suites. Residents who frequently have guests over can benefit from these home additions. Occasionally, people can rent them out to recoup the space.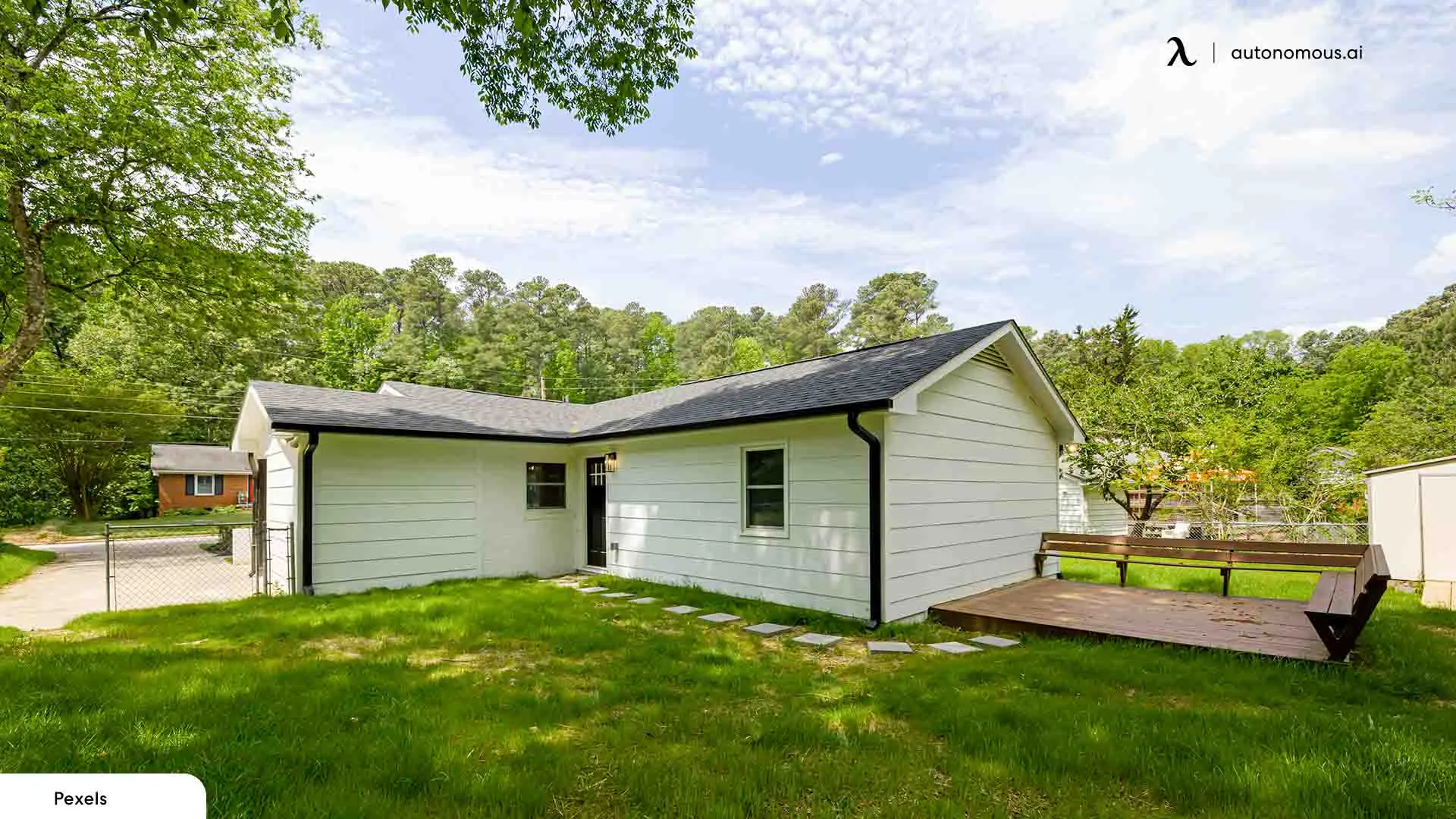 14. Prefab Mother-in-Law Suite
This modular home addition is specifically for aging family members. Also, the suite is good for multi-general household members who desire privacy from time to time. To achieve that, it should be slightly separate from the main house. The person installing the suite also needs to ensure the path is flat for seniors with mobility issues to access. 
There are other suites that are large enough to accommodate kitchens, bathrooms, and bedrooms. Homeowners must ensure they have ample space before they get them. 
15. Prefab Granny Pod
The prefab granny pod is another module home addition for senior citizens. It usually rests in the backyard, where they can admire its beauty or spot intruders. 
Generally, the unit is small since people can get one that occupies 480 sq. ft. Despite the size, it has divisions for the kitchen and sleeping area. Since they tend to be small, they mostly accommodate one bedroom and one bathroom. However, some are big enough to have room for two beds.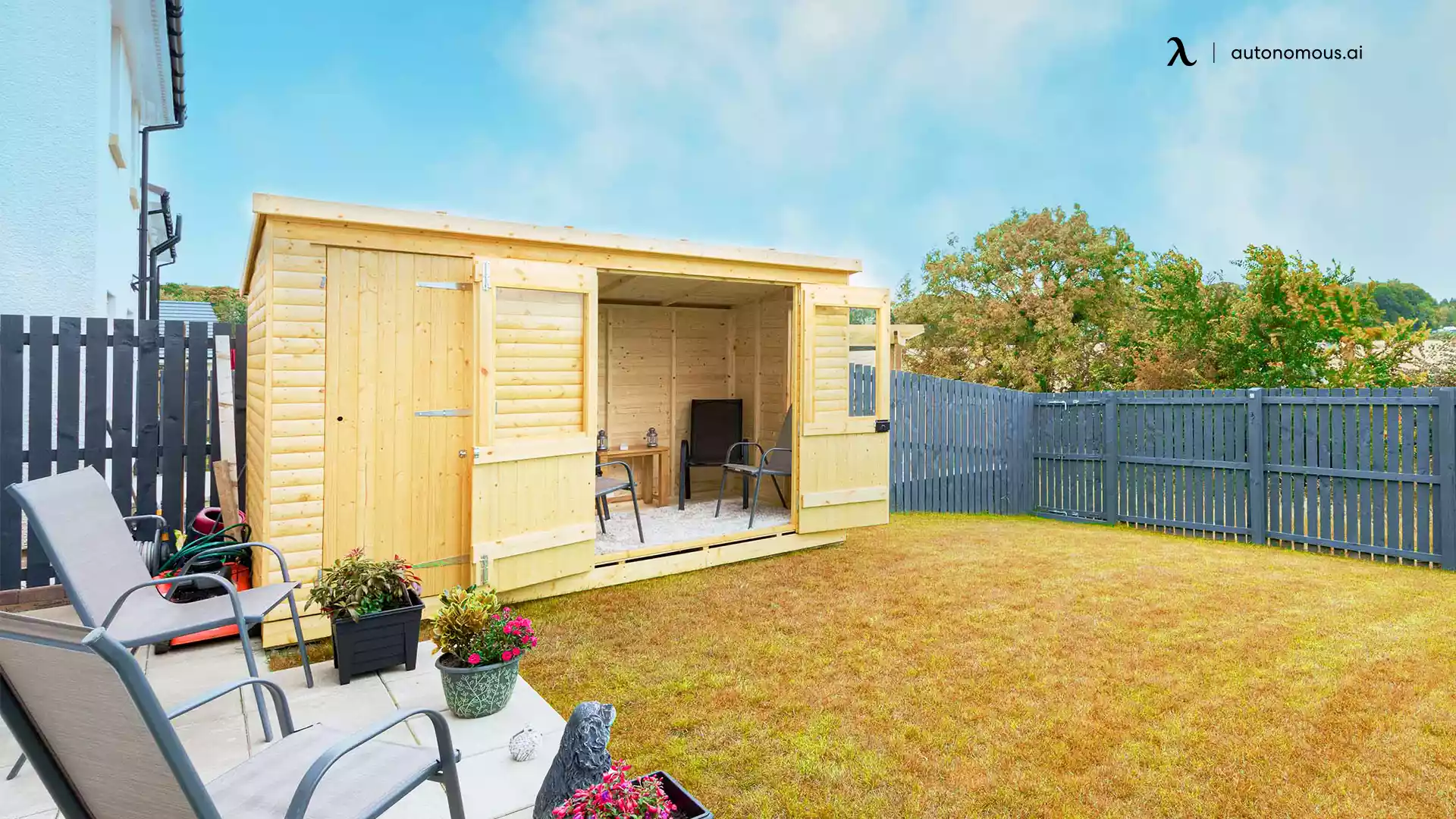 16. Modular Second Story Addition
Before installing a second level to the house, it is important to confirm if the existing foundation can support it. In case it is impossible, the homeowner needs to build up from grade and attach new walls. 
People who opt for this addition must know it is quite costly. They may spend at least $25,000. The costs cover construction, interior design, labor, materials, etc. 
17. Prefab Guest House
Here is yet another dwelling unit to install for people who always host guests. One type of prefab guest house that homeowners can consider is the container-type one. The beauty of container houses is that people can customize them in many different ways. 
Another great guest house to purchase is the portable one. Sometimes, people may be tired of constantly hosting events around their homes and want a change of environment. Fortunately, they can transport the structure to a place of their choice. 
Lastly, hosts can get a tiny house, which is usually 400 sq. ft. or less. Due to its size, it contains basic amenities like a kitchen, toilet, living room, and bathroom.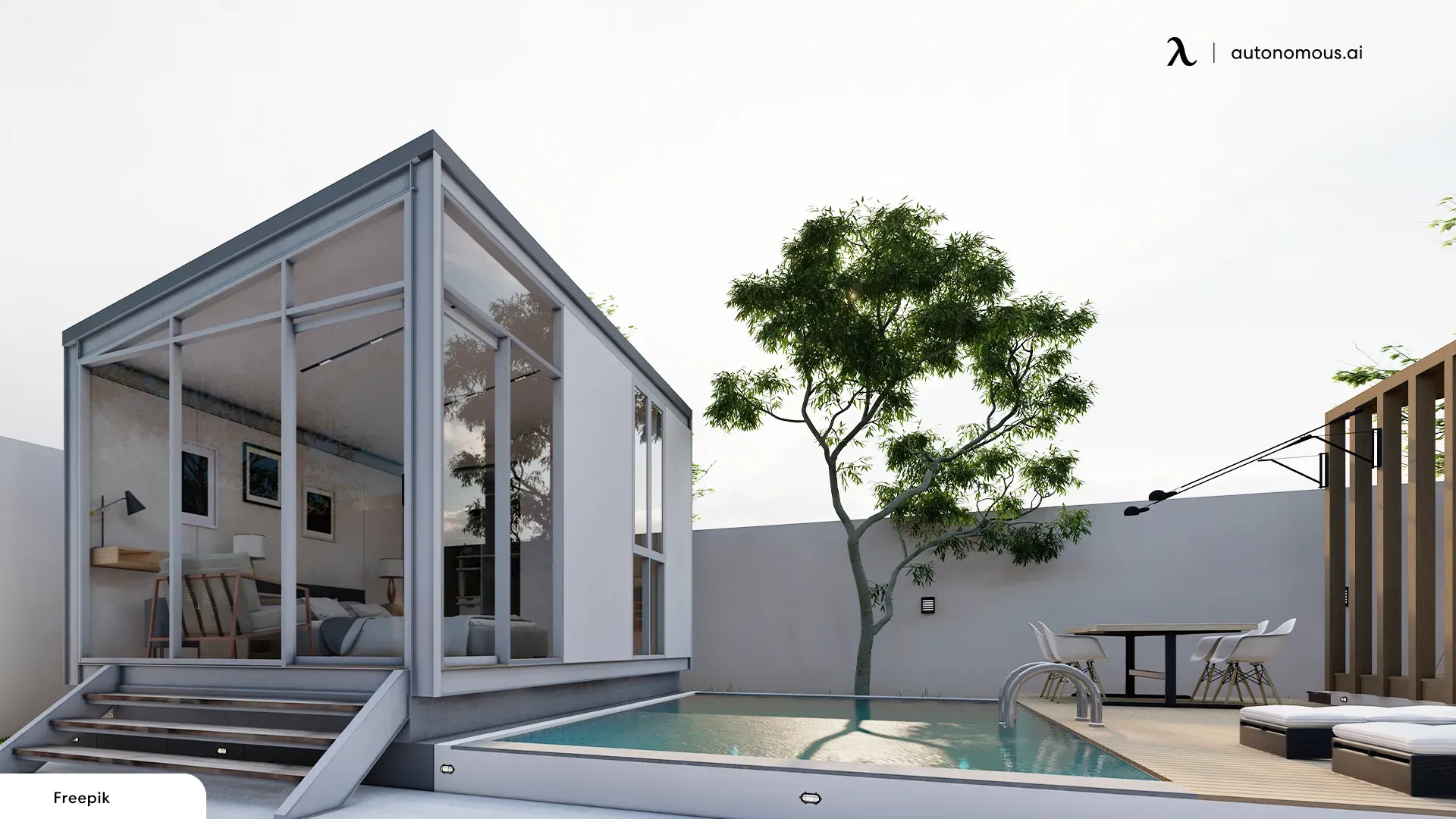 18. Room Addition Floor Plans
This is another idea of prefab additions to your homes. Suddenly, families may run out of space, and having prefab home floor plans is the answer. One plan families can consider is a prefab family room. The advantage of this plan is its privacy. Additionally, children can play in the area without irritating the adults. 
Homeowners can also opt for modular construction. In this floor plan, builders assemble small pieces to complete a structure instead of constructing each unit individually. As a result, there is faster production that does not waste materials. 
The other floor plan people can choose is the prefab loft floor plan. One way of fitting the loft in a modular home is by building the loft first and attaching it to the house. The other way is installing the roof before attaching the loft to the house. 
19. Prefab She-Shed with Bathroom
Think of the she-shed as the female version of a man cave. It is a place for the woman to relax after working hard at home or work. One design she can consider is the private hangout shed. It has large windows that enable people to see their surroundings. The best place to set it up would be near a forested area. 
Also, homeowners can set up one as a reading room. It is small since people do not need much space to read. There are other improvements in the shed women can do to make it peaceful, like having paintings or potted plants. 
People who want to go for an international style can consider the Morocco-inspired retreat. In the shed, nearly every item should be blue, such as lamps, plates, home furniture, etc. To complete the theme, the walls must be white.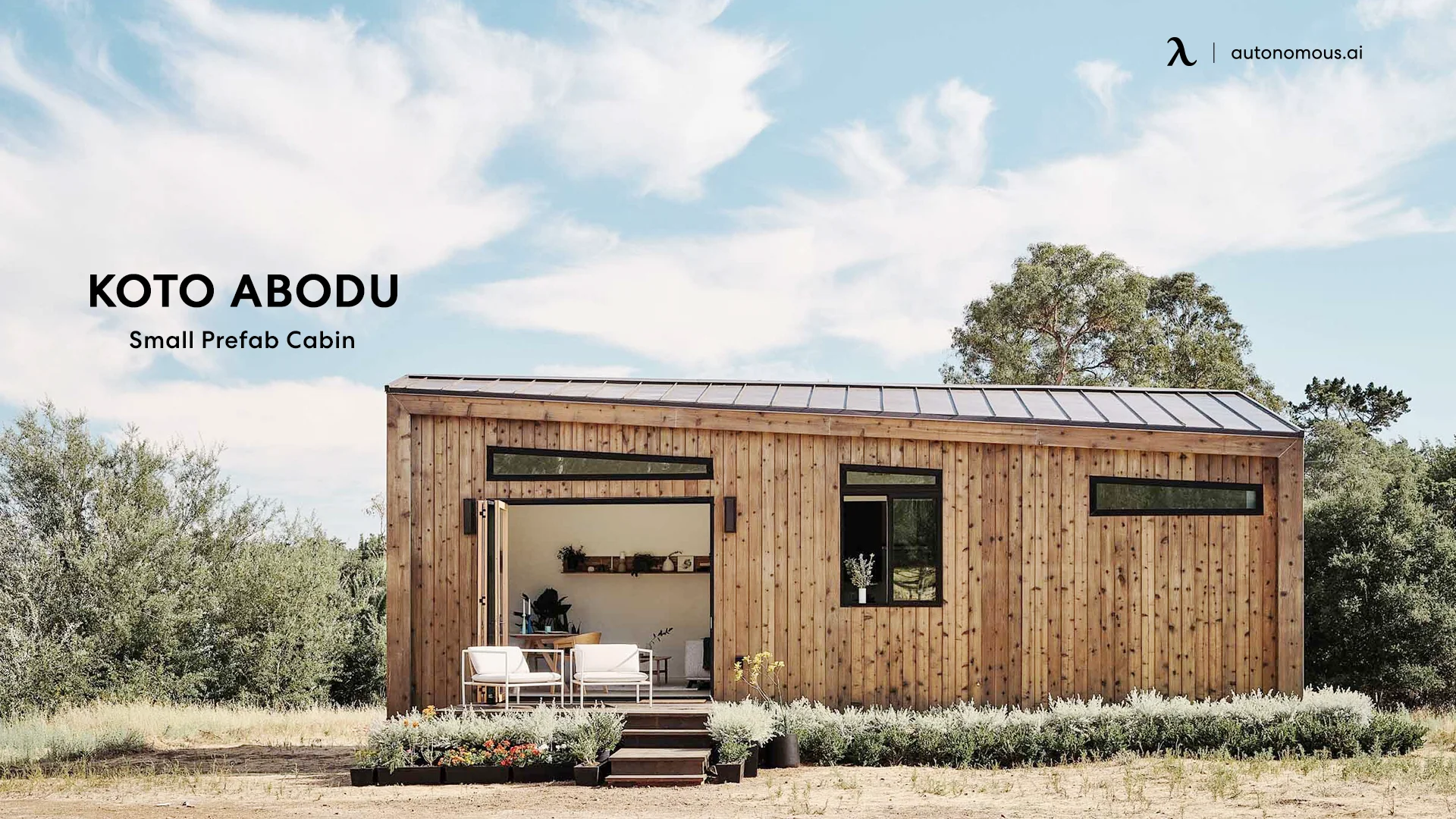 20. DIY Room Addition Kit
This prefab addition to homes is one of the cheapest ways of increasing the home's value. It entails making a DIY room in an existing space, such as a basement. There are several units people can put there. 
Homeowners can use the space for jack posts. They need to be at least 16 inches deep below grade level. Jack posts serve as temporary supports while the construction continues. 
Another modification people can use is footers. All conventional homes have footings that extend down to the bedrock. To convert such a house to a modular one, removing the footers is necessary since they do not sit on the soil directly. After that, builders can install large blocks of stone. 
Conclusion
Some homeowners move out of a house once they run out of space. Thankfully, they no longer have to do that if they choose from these modular home additions. The beauty of most of these options is how cheap they are. Additionally, these units are easy to set up, so you will not need to hire a builder.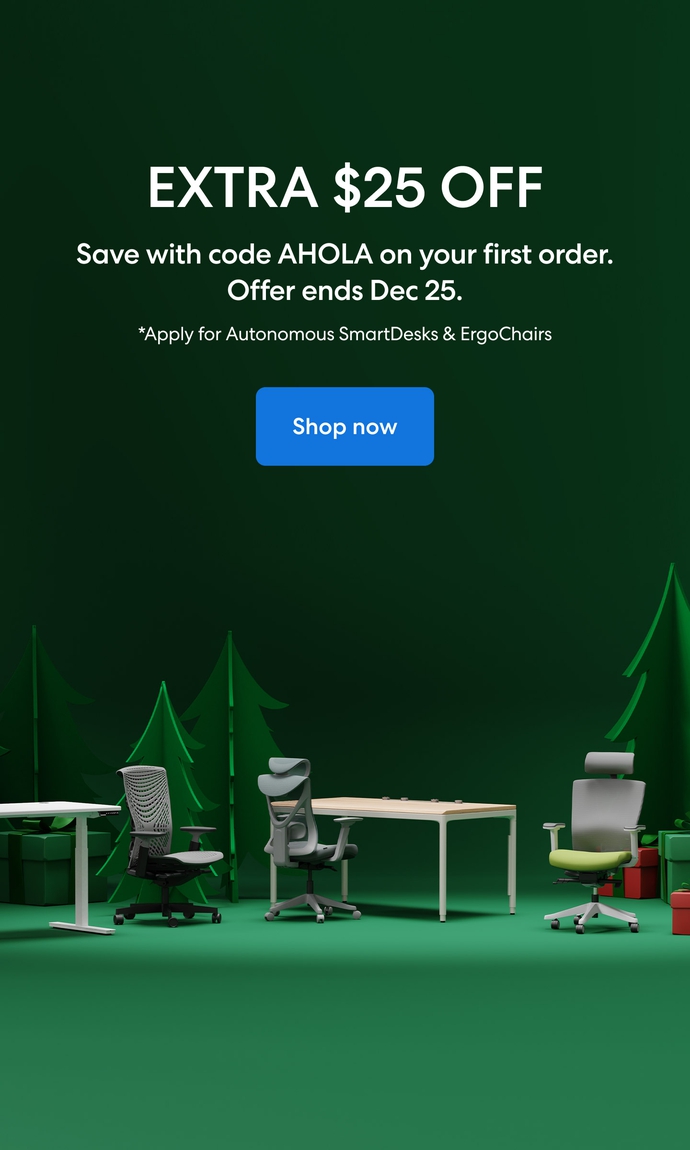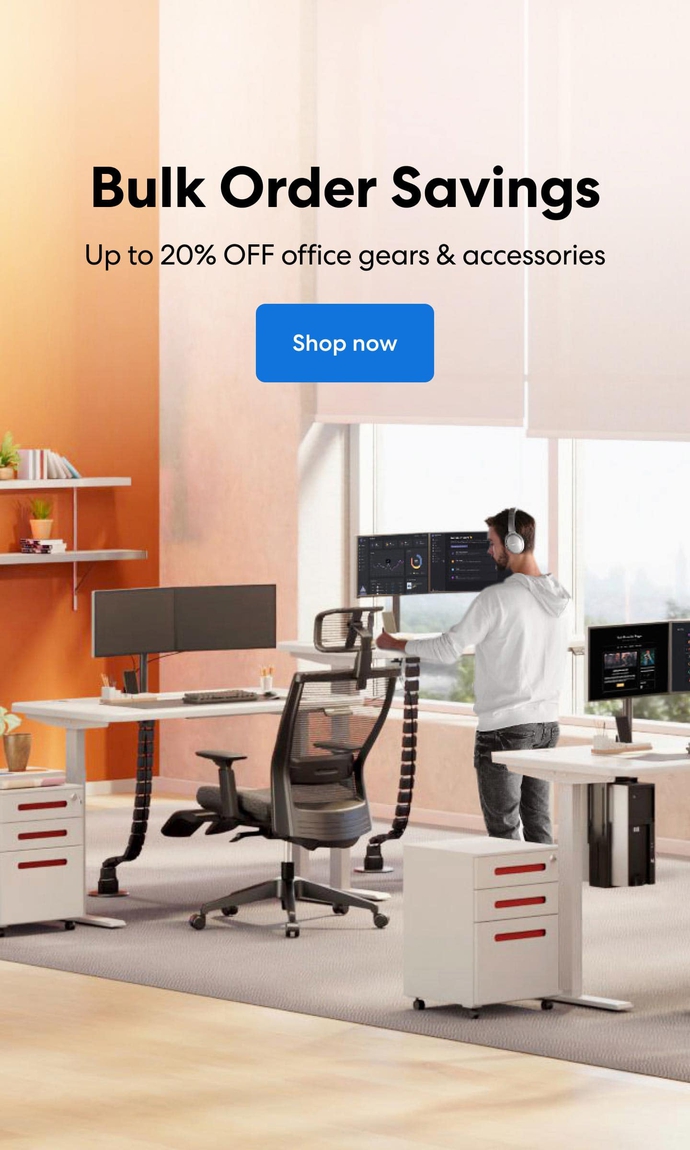 Subcribe newsletter and get $100 OFF.
Receive product updates, special offers, ergo tips, and inspiration form our team.