Workplace Inspiration
Top 10 Hurricane-Proof Modular Homes to Order Right Now
232 Views
Living in hurricane-prone areas like those in Florida or Texas can be nerve-wracking. People often become homeless if their homes are not hurricane-proof. However, those who know the proper precautions come out of this weather condition with ease. Therefore, several people rely on hurricane-proof modular homes these days.
The hurricane-proof manufactured homes are designed to withstand strong winds and rain, ensuring that you and your family stay safe during a hurricane. But the question that arises here is which modular home additions or prefab homes are ideal for a hurricane-prone state.
Finding hurricane-proof manufactured homes is challenging; that's why we have scoured the web and reviewed the best prefab hurricane-proof homes in Florida and other hurricane-prone states in this blog. 
How Much Does a Hurricane-Proof House Cost?
Understanding how much hurricane-proof homes cost in general is critical when you are planning to get one. A hurricane-proof house cost can be anywhere between $180,000 to $360,000.
However, several prefab homeowners have reported that a hurricane-proof home costs them around $270,000. These costs are only for prefab homes. The costs for stick-built homes are different because they feature concrete and steel.
Usually, hurricane-proof prefab homes in Florida prices get affected by the size of the home, floor plan, number of stories, the requirement of land preparation, foundation type, labor requirement, and the brand that you plan to choose.
Among all these aspects, the brand that you are going for defines the quality that you may expect. That's why we have discussed the modular homes from different prefab home manufacturing companies below. 
10 Hurricane-Proof Modular Homes That You Should Buy
Here are our reviews on the modular log cabins that you should buy if you live in a hurricane-prone area. 
1. Modular Homes by Deltec Homes
Deltec Homes is a reliable brand that designs some of the best hurricane-proof homes. Since the company specializes in constructing homes with cone-shaped roofs, their houses can withstand strong winds and hurricanes. You can find several prefab homes by Deltec Homes, which can cost you around $250 - $500 per sq. ft. 
Specifications
Shape: cone-shaped roof and round walls

Design: Self-supporting roof systems with net-zero efficient energy supply from solar panels

Size: 700 sq. ft – 5,756 sq. ft

Price: $250 - $500 per sq. ft

Warranty: 10-year structural warranty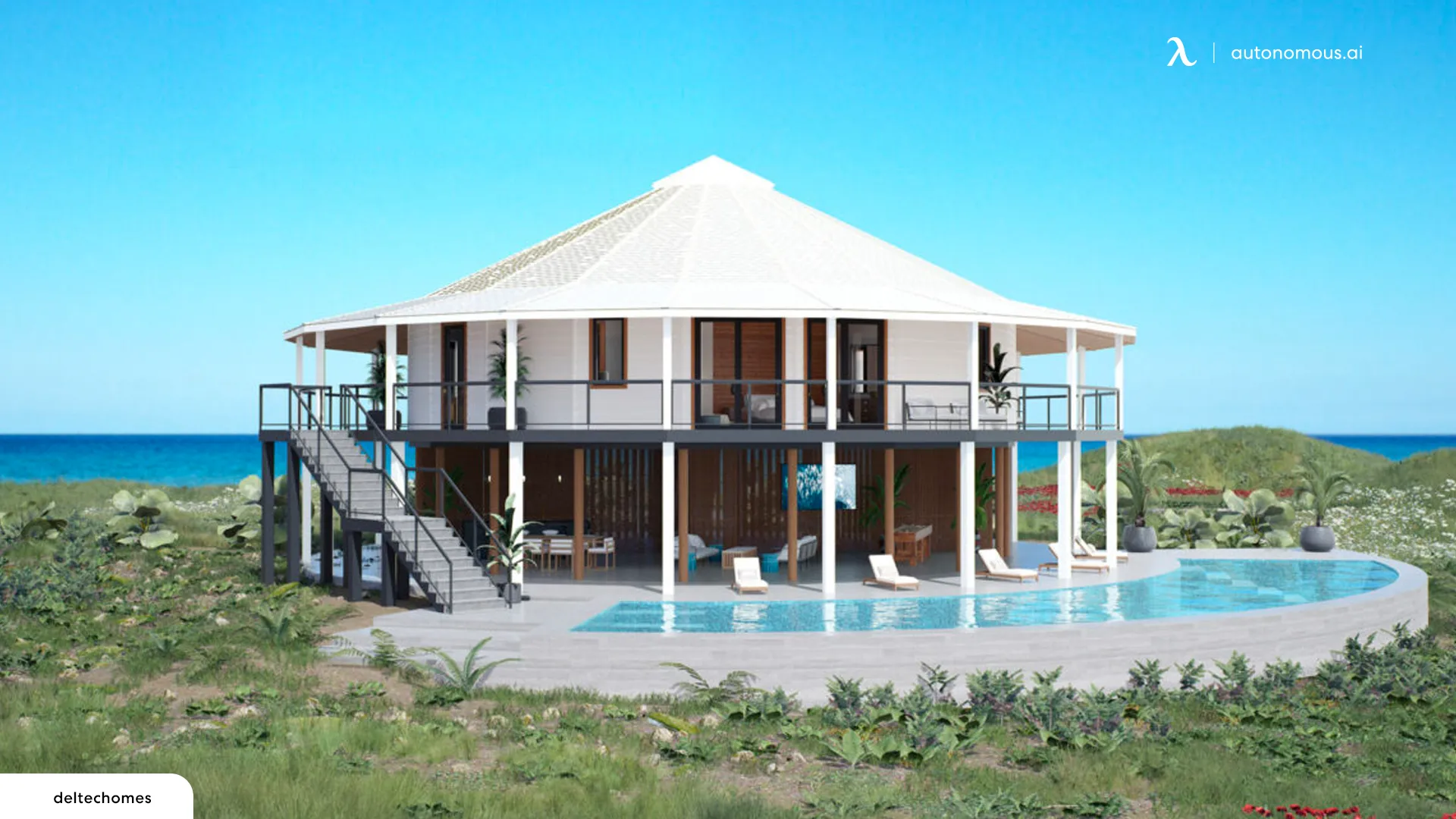 2. Modular Homes by AiDomes
AiDomes has been in the business of making hurricane-proof modular homes for over 40 years. Their modular homes are geodesic dome homes with a concrete exterior surface that helps them withstand harsh weather like tornadoes, hurricanes, and fires. 
Specifications
Shape: geodesic dome

Design: energy-efficient requiring lesser maintenance

Size: Dome homes with 27, 30, 34, 40, 45, and 48-feet diameter (550 sq. ft  - 2,649 sq. ft)

Price: around $23,000 - $50,000 base price

Insulation: expanded polystyrene insulation which can be 7 – 9 inches thick. 
3. Modular Homes by Ocala Custom Homes
Ocala is one of the most hurricane-prone areas in Florida. Therefore, Ocala Custom Homes manufacture hurricane-proof modular homes in Florida with the highest-grade resistance. Their modular homes can withstand grade-5 hurricanes and up to 200 mph wind. 
Specifications
Customization: customizable floor plans and finishes

Design: Hurricane-resistant design and impact-resistant glass

Size: 1,001 sq. ft – 2,085 sq. ft

Price: depends on the design, but the base price can be around $80 to $160 per sq. ft

Building Code: design meets local building codes and regulations.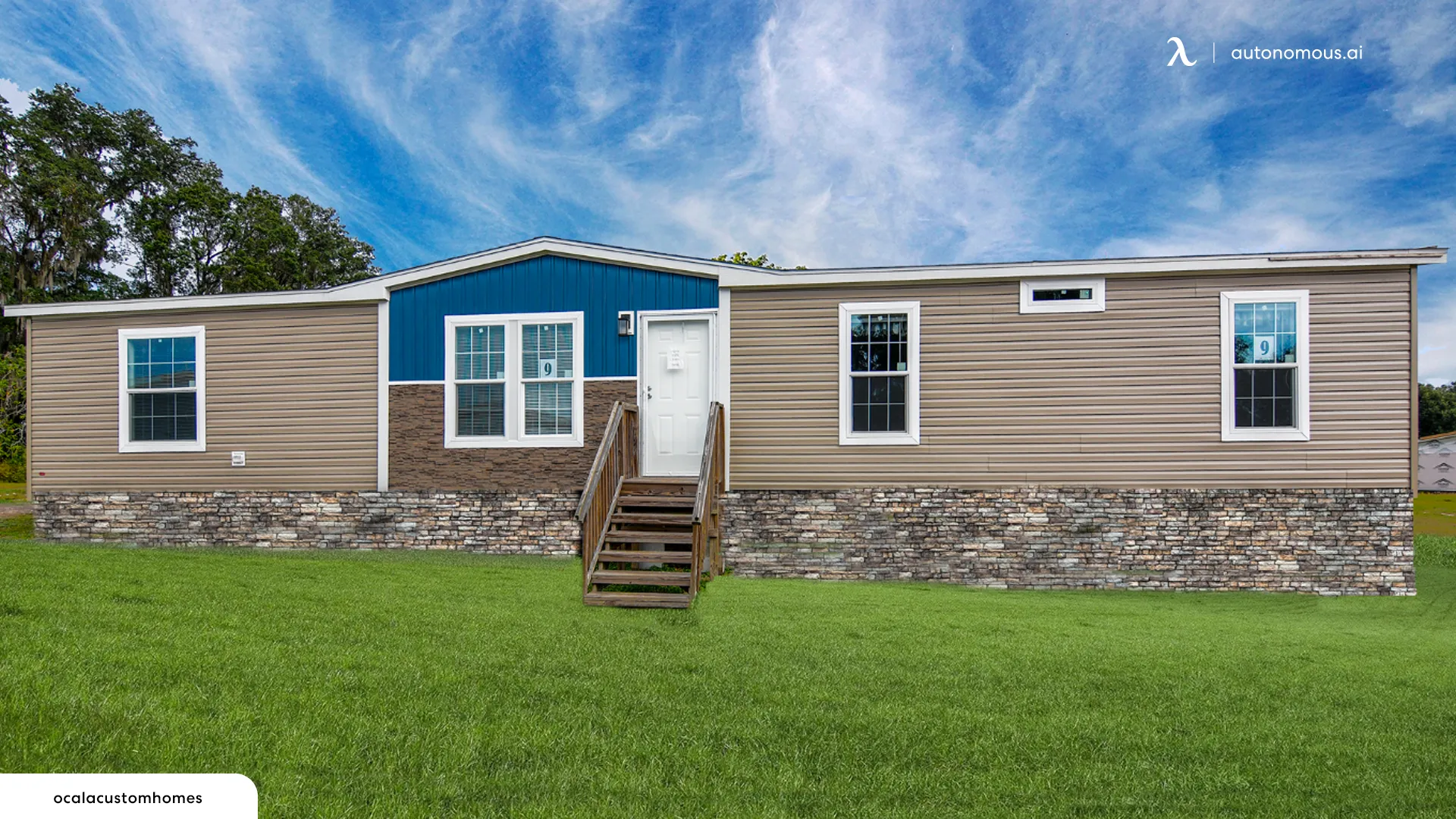 4. Prefab Houses by BAUHU
BAUHU is a hurricane-resistant prefabricated home construction company. The good thing about them is that they are a boutique provider of prefab homes, which means you can fully customize your hurricane-proof modular homes. The company ensures that the overall structure and house components are watertight and airtight. 
Specifications
Customization: Fully customizable plans are available 

Design: Airtight and watertight with impact-resistant glass on exterior doors and windows

Size: 128 sq. ft – 5,543 sq. ft

Price: $390 - $550 per sq. ft depending on location and land size

Insulation: Market-leading external wall insulation, which reduces energy costs. 
5. Prefab Homes by AbleNook
AbleNook is a modular home construction company that specializes in constructing bespoke prefab homes. You can try it if you plan to build a backyard shed house. The company designs prefab house kits that you can assemble while taking inspiration from different modular homes in California. Since AbleNook uses structural insulated panels, their prefab homes can withstand hurricanes. Some of their general specifications and pros/cons are as follows: 
Specifications
Price: Prices start at $85,000

Size: Size ranges from 216 sq. ft to 1,472 sq. ft

Insulation: Roofs, walls, and floors have structural insulated panels.

Electricity: Integrated electrical supply is present.

Warranty: 5 years warranty on materials and craftsmanship.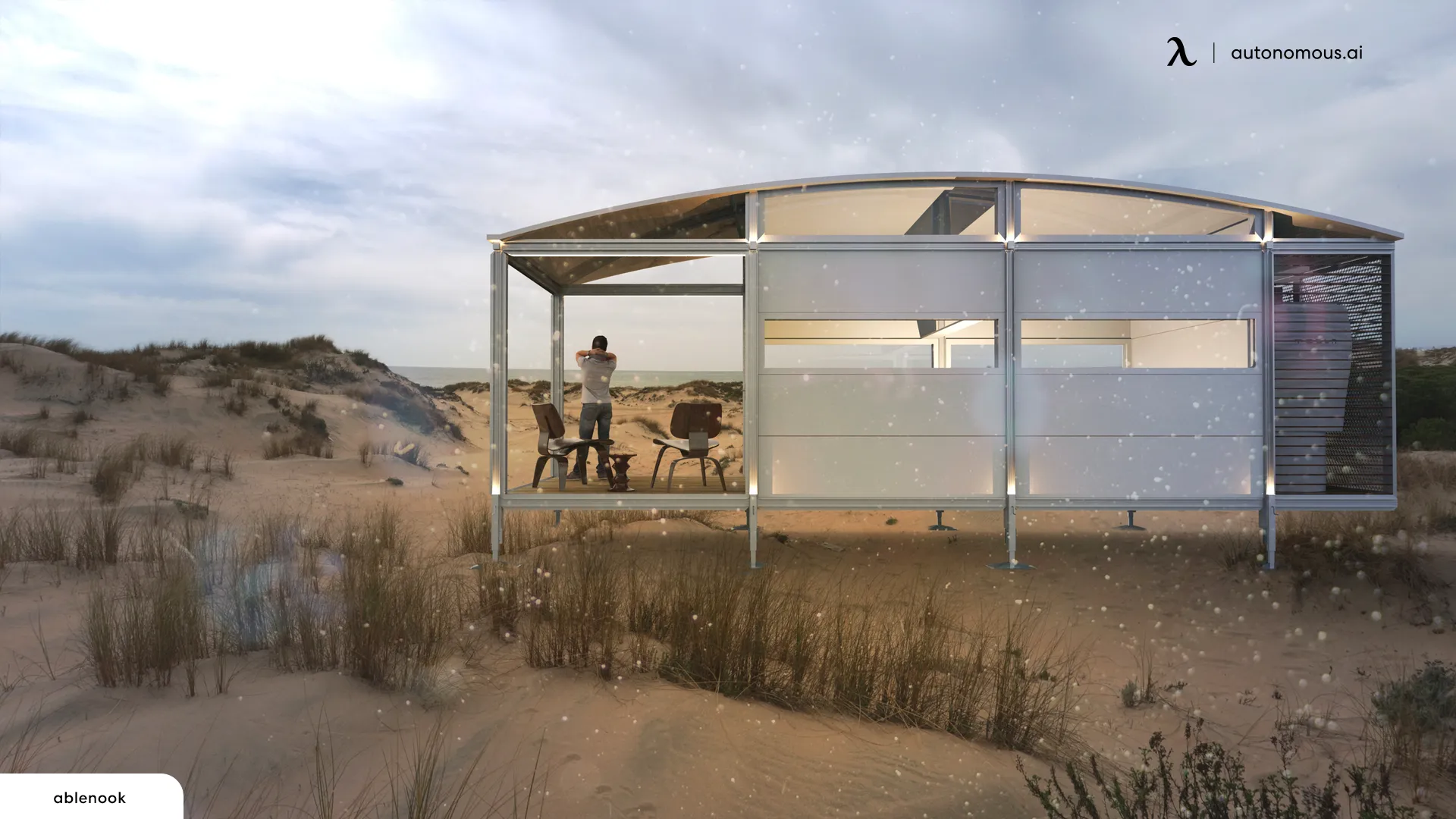 6. MicroHomes by EcoSteel
If you are looking for all-steel modular homes, try the MicroHomes by EcoSteel. These houses are hurricane-proof manufactured homes that look like modular ADU. They have an all-steel outer shell and a raised floor, which makes them withstand heavy storms and up to 140mph winds during a hurricane. Overall, these sheds are different from common modular shed options and are FEMA Flood and hurricane-rated steel homes. 
Specifications
Size: minimum 500 sq. ft while max. 1020 sq. ft living space

Price: $160,000 starting price for the primary one bedroom + bathroom ADU

Insulation: premium insulated wall and floor panels

Assembling Time: 10 – 14 days

Warranty: 20-year paint warranty 
7. Prefab Homes by Bamboo Living
Bamboo Living is a prefab houses construction company that designs hurricane-proof modular homes. The good thing is that their smallest single-room prefab home is available at quite an affordable price of $11,350 but the price increases with size. 
Specifications
Price: $11,350  - $336,550

Size: 100 sq. ft interior and 40 sq. ft porch – 2,766 sq. ft interior and 1,163 sq. ft porch

Material: Grade-A timber bamboo

Warranty: 20-year structural warranty

Floor plans: Studios, Gazebos, Resorts, Condos, Commercial, and 1 – 5-bedroom plans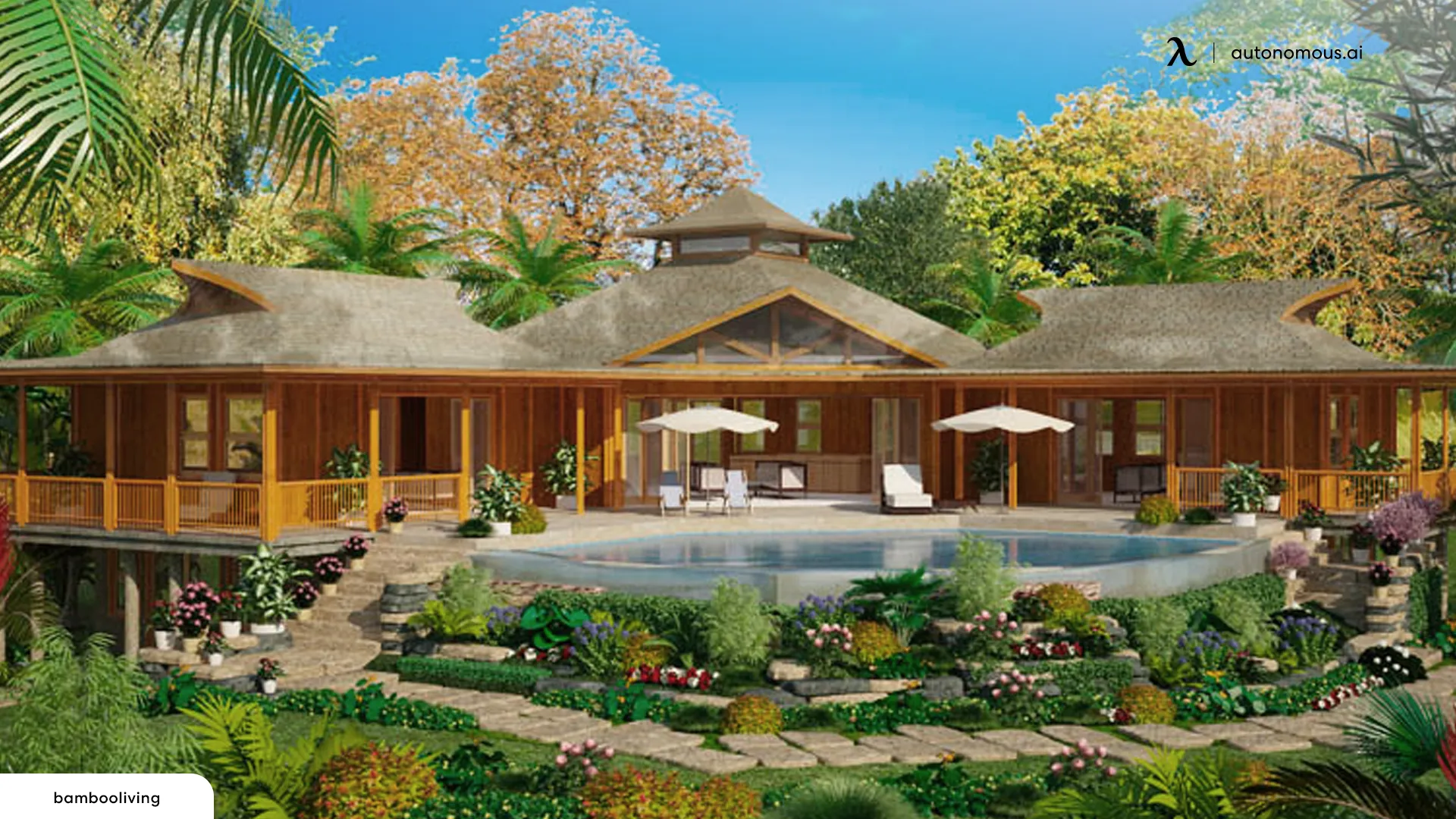 8. Topsider Homes
Topsider is one of the best prefab home builders, which builds hurricane-proof prefab houses. The company offers custom-designed homes, each with a unique design, and their houses have high resistance against earthquakes and heavy snow loads as well. 
Specifications
Price: $175 to $300 per sq. ft

Size: around 475 sq. ft to 9,000 sq. ft

Design: Contemporary, elevated & raised, luxury timber frames, octagon homes

Materials: laminated beams, solid timber, steel collars

Building Technology: Post & Beam, Panelized Construction 
9. Florida Modular Homes
Florida Modular homes are a viable option when you are searching for prefab hurricane-proof homes in Florida. The company designs some of the most durable prefab housing solutions in the market. 
Specifications
Size: 1,620 sq. ft – 2,280 sq. ft

Flooring: Waterproof laminate flooring

Construction: steel rebar reinforcement to solid concrete stem wall foundation

Insulation: Superior insulation for floor, walls, and ceilin
10. Prefab Houses by Affinity Building Systems
Lastly, you can try Affinity Building Systems as they construct hurricane-proof prefab homes. The good thing is you have a wide collection of prefab home ideas from this company, so you can pick the one you like the most. 
Specifications
Price: a base price of $148 - $202 per sq. ft

Size: 967 sq. ft and more

Building plans: One story, two-story, cape collection, Cherokee rose collection, Hurricane Ian Rebuild

Insulation: R-30 insulation in the roof and R-19 Fiberglass insulation in the floors and walls

HVAC: complete HVAC system included, with an insulated duct system, boots, and registers.
Why Don't You Buying Autonomous ADUs?
The Autonomous ADUs series - the ultimate solution for your modular living needs! These customizable living spaces are perfect for anyone seeking a flexible and modern living experience. With a range of sizes and configurations to choose from, the Autonomous ADUs, including StudioPod, WorkPod and WorkPod Lite, can be tailored to suit your unique needs and preferences.
Equipped with state-of-the-art smart home technology, eco-friendly design features, and high-quality construction, the ADUs provide a safe, comfortable, and sustainable living environment. Whether you need a guest house, home office, or personal retreat, the Autonomous ADUs series has got you covered. Invest in an Autonomous ADU today and experience the ultimate in modular living!
Subcribe newsletter and get $100 OFF.
Receive product updates, special offers, ergo tips, and inspiration form our team.
WRITTEN BYAutonomous
We build office products to help you work smarter.