Office lighting is no longer just a way to adequately furnish your workplace or lighten up the space. But the choice of office lighting has a huge relationship with productivity. Opting for the perfect office lighting will help you prevent eye strain and headaches in the workplace; they also enhance the interior and create a positive environment.
Especially when it comes to pendant lighting for offices, one must pay close attention to design and the illumination intensity since commercial office pendant lighting is a central way to illuminate the workplace and plays a huge role in the appearance of a work setting. In this article, we will cover the best office pendant lighting ideas and a buying guide to help you choose between good lighting vs. bad lighting.
The Best Home Office Pendant Lighting
Here are our top picks for pendant lighting for offices to light up your workspace gracefully.
1. Alessandro Volta Battery Pendant
An unmatchable design yet a quality that you will love, the Alessandro portable battery pendant light hangs smartly from the center of your room. The minimalist yet modern design is the talk of the town—made with one of the most unique designs ever seen. This pendant light works with a battery, so don't worry about losing it for years to come.
The USB C type charging ensures this lamp is user-friendly, and the structure is made to shine against dust and dirt. The fully dimmable light intensity makes it suitable for tough work and a little pleasant reading time at night.
2. Cielo by Pablo
This classic yet minimal pendant light enabled with Led technology is versatile and cost-effective. It will be the next defining feature in your office space, provided that you find the best central space for this lamp to hang flawlessly. Its classic shape combines with any environment, indoor or outdoor, on the patio and the Ceilo by Pablo offers a dimming range and a light efficiency of up to 50K hours.
3. Sea Gull Pendant Light
The industrial-style pendant lighting for offices is affordable and comes in various finishes, making it simple to get your desired look.
Because the lamp's shade is made up of two sections, it is extremely durable. The fixture is made entirely of steel and is available in three elegant finishes: solid brass, solid silver, or black and brass.
4. Dagny by Matthews
Office furniture and accessories have developed to a huge degree in the best few years. From best reading floor lamps to a ceiling fan with light, one doesn't find them short of ideas to make their office space productive and pretty at the same time. This ceiling fan by Dagny is a smart and gorgeous addition to your home office space, and though it is priced reasonably high, you will love the versatility it brings to your workplace.
The fan is available with black blades and wooden texture blades, both colors being suitable for modern office spaces. It rotates fast, providing a cooling action three times greater than an ordinary fan.
5. Spoke By Fluxwerx
The Spoke is a pendant lighting for offices with a minimalist design and no visible power cords. Regardless of the room type or size, it provides a luminous interior. It's also regarded for producing the most pleasant glare, which is ideal for office work or reading.
6. Buzzilight by Buzzispace
This Buzzilight reminds you of the old times when everything was classic and made with extra attention to detail. It brings a funky-vintage vibe to your home office setup, and we admire it for that, but the product offers much more. It has a classic design with red steel strips absorbing and dissipating the light most peacefully. The stylish lamp ensures maximum illumination despite its well-covered design.
7. Dagny LK Light Kit Fan
The Dagny LK light kit fan is another great ceiling fan with light with noteworthy features. You can control the fan speed up to three levels, and the product is available in more than eight variations of colors, each one equally beautiful to the other. It has a 3000 LK LED light kit to brighten up the whole room with the same pleasing intensity. The product comes with a one-year warranty though they are least likely to experience any complaints.
8. Diane by Matthews
This Diane by Matthews fan is a pendant directional ceiling fan made for large workspaces to provide a cooling effect in a few minutes. The fan is not only high in power but also has a sleek modern design to pair with the best pendant lighting for offices. You can choose from more than ten variations and combine them with any office theme. The dark bronze shades go well with RGB desk lights or an office set up in darker shades of wood or hazelnut.
9. Aspect by Soltech
The Aspect's sleek aluminum body, nylon cable with adjustable extending, and proprietary LED chip to give both natural and ambient lighting, demonstrating its longevity and inventive design. The richness of its museum-quality lighting and the vibrancy of the plant life beneath it let the Aspect's recognizable beauty and performance shine through.
10. Solar Hanging Lights
To make your home office the best workplace, these office pendant lighting fixtures from brightech are the best bet. Hung by a string, the solar lights illuminate the room well and are also pretty aesthetic to look at. A vintage design with a touch of filament bulbs, the lights give a warm glow to any outdoor or indoor space.
Another great thing about these solar hanging lights from Brightech is that the bulb's plastic is shatterproof, so you don't have to stress about the product's durability. Be it your backyard, home office, or office pod, these lights can perfectly match any setting.
Frequently Asked Questions
Do Pendant Lights Provide Enough Light?
Yes, the pendant light can provide scattered or concentrated light, depending on your design. You can hang it over your work area and enjoy a peaceful lighting effect on your work desk.
Can you have too Many Hanging Lights?
If you opt for a statement design, overdoing is possible because too many statement lights hanging from a ceiling will give a cramped-up look that doesn't look nice.
Are Pendant Lights out of Style?
Not really; pendant lights come in vintage, modern and classic finishes, so one way or another, a style for a pendant light is always in demand.
Video ads for product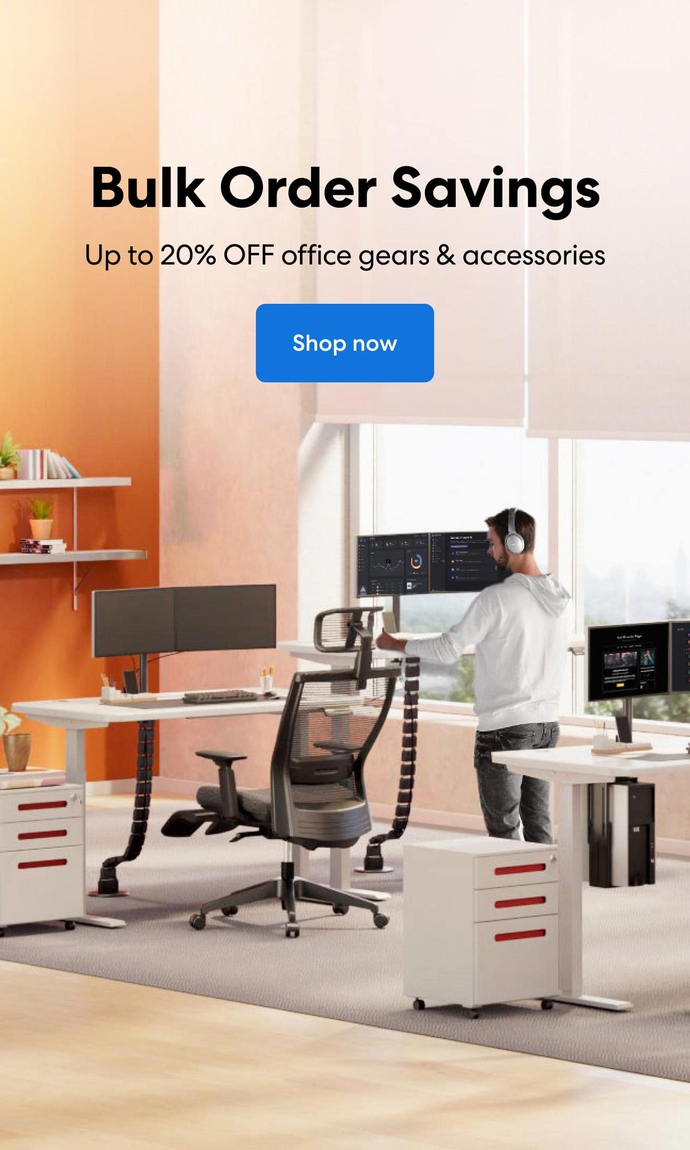 Subcribe newsletter and get $100 OFF.
Receive product updates, special offers, ergo tips, and inspiration form our team.