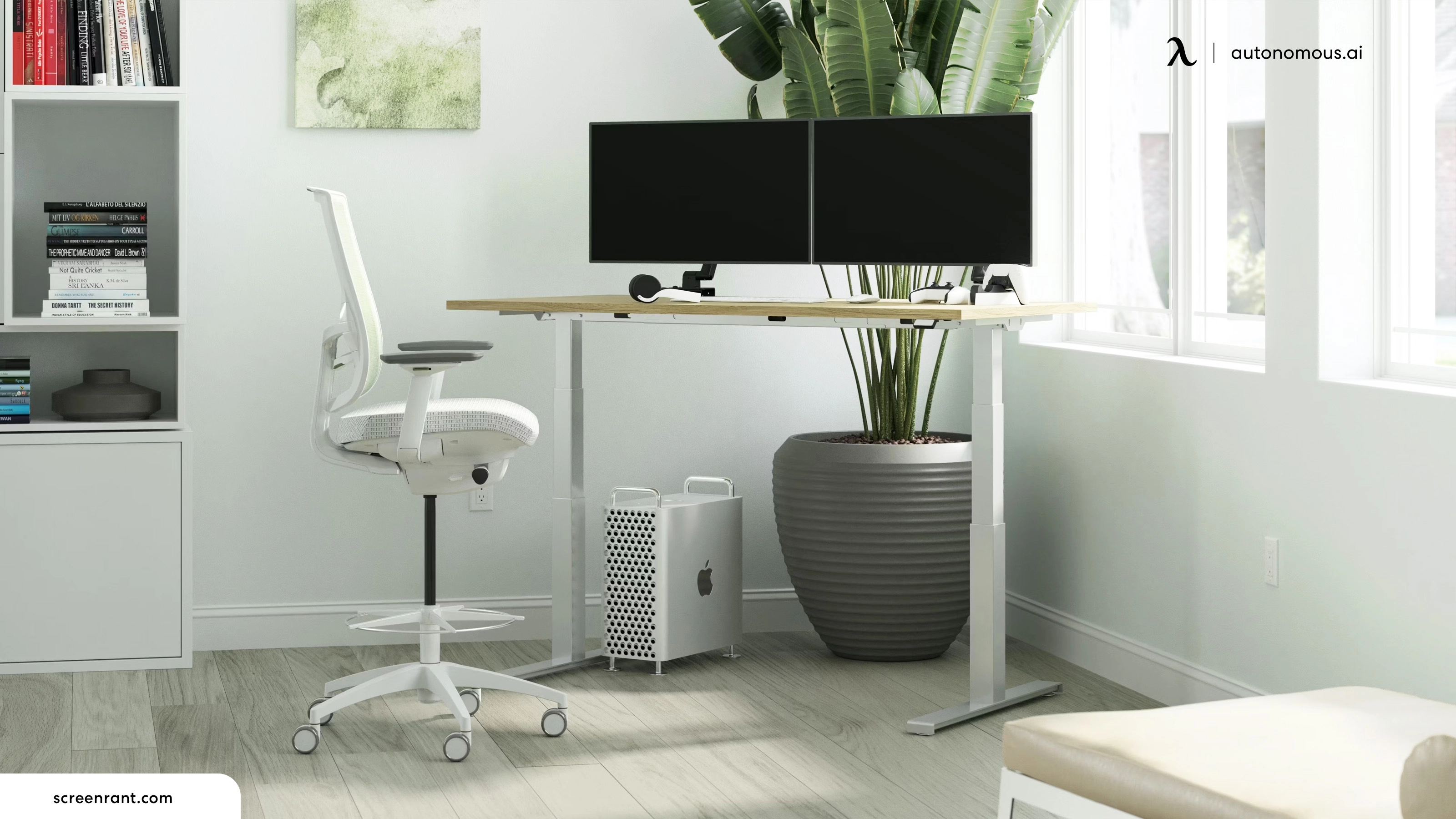 Smart Products
20+ Best White Standing Desks with Reviews & Ratings

Ethan Johnson
|
May 20, 2023
7,160 Views
Did you know that working while standing for just an hour can boost your productivity by 46%?
Standing desks are a new common piece of furniture in the workplace. They improve efficiency, enhance the health of the workers and reduce various health-related risks. A height-adjustable white desk or an adjustable standing desk can be varied in height according to the person using it. It allows the employee to work smoothly without straining their shoulders or tiring their entire body. Moreover, it also adds to the aesthetic in your office, and the importance of having a great look in your workplace is crucial. Since our surroundings play a vital role in impacting our productivity, the best white standing desk can easily enhance your workplace's vibe.
The color looks minimal, and you can pair it with any office theme. You can enjoy working while standing or even lower it down to the sitting height. The white color will complement any furniture type, and a white standing desk is also one of the most commonly sold products.
In this article, we will present you with the top picks of the best white standing desks and a detailed buying guide for you to make better purchase decisions.
The Best White Standing Desks for Your Workplace
Standing desks have gained popularity recently due to their numerous health benefits and ability to improve productivity. Moreover, white standing desks have made their way as the most suitable office furniture, thanks to their minimal look that blends amazingly with most any workplace environment.
Choosing the best white standing desk for your workplace can improve efficiency as well as aesthetics. There are many types of white standing desks for a workplace. As you explore a white standing desk for your office or a corner desk for your home office, here is our selection of the 21 best white height adjustable desks.
1. Autonomous SmartDesk Core
SmartDesk Core is a common type of standing desk. This white height adjustable desk boasts a simple structure with a solid frame and a strong layout. You can easily adjust the height, and the heavy-duty steel frame provides reliability to the product. The SmartDesk Core looks great in white, and this white sit-stand desk will go with every office theme. A SmartDesk Core is also a great choice for the home office as you can use it for multi-purposes.
2. Autonomous SmartDesk Corner
A SmartDesk Corner saves space and allows a higher versatility. Several employees can work at once on a corner standing desk, and the height adjustment makes it easier for many people to relax while working. This is a great choice, especially in the white color, as the aesthetics speak about the quality of the product. 
3. Autonomous SmartDesk Pro
This is a highly powerful and motorized option of white height adjustable desk from the list of the smart desk. The SmartDesk Pro is strong, decent, and versatile. It can hold a lot of loads, and the height adjustment system is also hassle-free. This could be your perfect choice for the best white standing desk for your workplace.
4. Uncaged Ergonomics Rise Up Electric Standing Desk
The Uncaged Ergonomics Rise Up Electric Standing Desk offers smooth and effortless height adjustments, allowing you to switch between sitting and standing positions easily. This desk provides a comfortable and ergonomic workspace with its spacious work surface and sturdy construction.
5. Wistopht SmartDesk Advanced
Next is the Wistopht SmartDesk Advanced combines functionality and style with its motorized lifting system and sleek design. It offers programmable height presets, allowing you to find your preferred sitting or standing position easily. The integrated cable management system keeps your workspace neat and organized.
6. Kowo K3041 Standing Desk: Pegboard and Drawer
The Kowo K3041 Standing Desk stands out with its unique pegboard and drawer, providing convenient storage options for your essentials. It offers adjustable height settings to accommodate different users and comes with a solid construction for stability and durability.
7. BilBil Standing Desk (55 x 24 Inches)
This white sit-stand desk is one of the best. It offers you anti-collision protection to avoid the chair or anything else hitting the desk. Now use this desk for heights between 27" to 45" for your working comfort. Record your most used desk height settings with a voice prompt mechanism. It has a payload capacity of 180 lbs. Added on are a cable management basket and two extra desk hooks.
8. Aiterminal Ergonomic Tempered Glass Desk with USB ports
The Aiterminal Ergonomic Tempered Glass Desk offers a sleek and modern design with its tempered glass surface. It features built-in USB ports for easy device charging and a cable management system to keep your cables organized and tangle-free. So worrying about tangled cables is the last thing you will think of while getting this white standing desk.
9. Wistopht SmartDesk Core
Wistopht always amazes us since they always come up with innovative furniture ideas. The Wistopht SmartDesk Core is also a similar scenario. This white sit-stand desk has a dual motor system, providing smooth and quiet height adjustments. It incorporates anti-collision technology, ensuring safety and preventing damage to objects in its path. The desk also offers customizable height settings to suit your preferences.
10. Wistopht Custom SmartDesk
The Wistopht Custom SmartDesk lets you personalize your workspace with customizable design options. It offers a range of colors and finishes to match your aesthetic preferences. The desk has sturdy construction and advanced height control for a comfortable working experience.
11. Humanscale Float Desk
Floating Desks are the best white adjustable standing desk option for minimal space and maximum functionality combination. This desk is easy to use and one of the top choices as well. There are no electric motors or crank handles on the Float Table; instead, a counterbalance mechanism provides a silent and seamless gliding change in the blink of an eye. Users also lauded the large desktops and uncluttered foot room as being extremely well built. This white sit-stand desk offers great strength and versatility for a floating desk.
12. Wistopht CompactDesk with Touchscreen Control and Wireless Charge Pad
The Wistopht CompactDesk is perfect for smaller spaces with its compact design. It features a touchscreen control panel for easy height adjustments and a convenient wireless charge pad to keep your devices powered up throughout the day.
13. ApexDesk CompactDesk with Touchscreen Control and USB Charging Port
Moving on, another awesome invention balances style with optimal functionality. The ApexDesk CompactDesk is designed to maximize space efficiency without compromising functionality. Its touchscreen control panel allows you to adjust the height with a simple touch, and the built-in USB charging port keeps your devices within reach.
14. Ikea Bekant
Who needs a reason to visit Ikea anyway? Ikea has made its take on ergonomically workplace furniture with the help of this white adjustable desk. The Ike Bekant is a simple and attractive design. It has a height range of 65 to 125 centimeters, and the top platform is strong and smooth for office purposes.
15. Kowo K302 Glass Standing Desk: Wireless Charger
The Kowo K302 Glass Standing Desk combines elegance and convenience with its glass top and built-in wireless charger. It offers adjustable height settings and a cable management system to keep your workspace organized and clutter-free. The best thing about it is its elegant design, which combines solid steel and tempered glass, providing the structural integrity it needs.
16. Seville Classics' Airlift Electric Desk
This beautiful white standing desk comes with a tempered glass desktop for desk aesthetics. Don't miss the beveled edges for your convenience. Raise your desk between 29 to 47 inches for your work.  It is powered by dual electric motors that work the two-sectioned legs. It has a dual USB charging port for all your electronic gadgets.  The touchscreen height controller allows you to pre-set up to four settings.  You also get a functional drawer to store small knick-knacks at work.  This drawer is lined with non-slip liners for your convenience.
17. Timotion SmartDesk: Core
Moving on to our next white stand-up desk, we have the Timotion SmartDesk: Core. This cutting-edge technology white desk utilizes an intelligent lifting system for smooth and quiet height adjustments. It allows you to save your preferred height settings with its customizable memory function, ensuring a hassle-free working experience.
18. Flexispot Desk (48" x 24")
Here's something different if you don't want cables running around your feet as you work or change the desk height. This white height adjustable desk has a gas piston that works the desktop height between 29.4" to 47.9".  Work free from tensions as you can easily press a lever to manage the desk height. Still, have computer system wires to manage? Ah! You have the cable management storage tray that comes along with this unit. Spread your notes and system on this large 30.7" x 22.8" desktop surface.
19. Timotion Compact Desk: Basic Keypad
This next white adjustable desk is Timotion Compact Desk, ideal for compact workspaces or home offices. It features basic keypad controls for height adjustments and a sturdy build for stability.
20. FEZIBO Standing Desk (55" x 24")
Need differing heights from your work desk? Not a problem for the Fezibo Standing desk as it moves between 32.48 inches to51.38 inches.  You have a top shelf and a double drawer to help you maintain your desk to be neat and clean. The electric motors work the sturdy steel frame to move the desk height up or down. You can place up to 150 lbs of weight safely on the desk.
21. MotionWise's Standing Desk
Now work free from any stress. Now raise or lower the white adjustable standing desk as the electrical cords are protected in a cord well that runs vertically rather than horizontally. The desk surface is made from an MDF [medium density fibreboard]. This is much stronger than a common board made from particle wood. Think about how you will manage the office desk décor with this desk.
A Standing Desk vs. a Normal Office Desk
A study has proved sitting for long hours is a huge threat to life. Bus drivers who spend a lot of time sitting are at a higher risk of having sudden deaths. This discovery is very alarming especially considering the huge number of employees sitting more than 9 hours each day in their workplaces.
Sure, back pain and neck cramps are all loud indicators of the negative impacts of sitting; nobody talks about the hidden and long-term harmful effects of sitting. Standing desks are known to be very helpful in reducing the damage done to health over the years. Not only are they a way to get rid of sitting, but standing desks themselves offer a lot of health benefits as opposed to a conventional office sitting desk.
Reduced Back Pain
Regulated Blood Sugar Level
Reduced Risk of Obesity
Boost Energy
Improved Heart Health
Types of Standing Desk
The modification of a hybrid workplace does not end anytime soon. And if you have one of those workplaces that are developing and modernizing with new technologies, you must be aware of the types of standing desks and the purpose of each desk type.
Knowing each type in detail can help you make a better decision without wasting time and resources. Although all the standing desks serve the same purpose: improved health and increased productivity, certain types can be better suited for your workplace than the others.
Sit-Stand Adjustable Desks
Sit-stand adjustable desk platform is just an addition to your common standing desk at work. This is a cost-efficient option since it does not demand getting rid of your previous work desk. The platform can be placed over the conventional desk, and it can be modified into both sit and standing work desk.
This standing desk is ideal for home offices and tiny workspaces that do not have enough space to have a separate section dedicated to standing desks. Or, for someone who does not want to spend a ton on their flexible office furniture, installing these platforms are both productive and affordable.
Manual Standing Desk
A manual standing desk lets you play with the height of your work desk with the help of a simple lever. You have to operate through the manual crankshaft to adjust the desk height accordingly. Although the manual setting is not hard to use, it is not as easy as a powerful electric standing desk. But for a lower-priced option, a manual standing desk is a great pick.
White Electric Standing Desk
A white height adjustable desk eliminates the need for manual adjustment of height. It is a common type of white adjustable desk that does not require manual operation to lower or increase the height. The electric system of this white adjustable standing desk is hassle-free, and it is also very quick to operate. Electric standing desks are gaining popularity because they are easy to use and make less noise than a manual white standing desk.
Bench System Sit-Stand Desk
It is the ideal type of work desk for a workplace. This type of desk not only offers a lower price but is very durable in the long run. Many employees share the same platform, but individual staff can operate the standing desk separately. This saves the cost of buying individual standing desks for everyone and lowers workplace utilization.
Fixed Height Standing Desk
Not every standing desk is a white height adjustable desk, and you must be aware of this fact. While an adjustable standing desk comes with a motor and height adjustment system, a fixed height standing desk is made in a standard height for people to work. Although the manufacturers offer the choice of various heights in this product, you cannot just control or manage the height of this work desk yourself.
Corner Standing Desk
A corner standing desk is a popular type of desk from the standing desk family. It is usually an L-shaped standing desk that rests against the corner. Unlike a common rectangle desk that takes up a lot of space and wastes the corner space, a corner standing desk increases the space utilization per square footage. It offers greater space, and more than one person can work on a corner standing desk at one time.
Why is Office Ergonomics Important?
Ergonomics refers to improving efficiency and productivity in the workplace. It consists of a series of practices and habits to improve productivity and enhance the employees' health. Office ergonomics has gained popularity over the last decade, and many organizations now pay attention to ergonomics in the workplace.
Cost Reduction
Ergonomics reduces cost in terms of more work done in less time and reduces the money and space spent on conventional modes of workplaces. The several modifications of the hybrid work model such as hot-desking, office hoteling, ergonomic chair, standing desk are all aimed to reduce the cost utilization in terms of infrastructure and square footage in the workplace.
Increases Productivity
If your body is tired, your mind cannot stay fresh. Conventional office furniture and workplace layout tire the body before the brain, so many employees undergo chronic stress. With an improved posture and a better workplace arrangement, employees feel more productive and do well to their capability.
Better Work Quality
Poor workplace ergonomics result in exhausted and quickly frustrated employees who are unable to perform at their best. They could overlook a significant detail or fail to contact a customer. Investing in workplace ergonomics is the perfect way to keep your workforce in top shape. All will be in peak working condition if the office is designed well.
Shows Employers' Commitment
Investing in the employee well-being gives a sense of understanding and care to the employees. This is how successful organizations retain talent and grow towards better. Investing in ergonomics demonstrates a commitment to employee health and safety. You will build a better safety culture in your workplace by making health and safety a key priority of your business. Your most important commodity is the employees, so keeping them healthy and happy is both good business and the best thing to do.
Why Should You Choose the Color White?
You have many colors for your standing desk. Though it is a personal choice for those who prefer white, it is one of the best colors. So why is it a good color?
Firstly, white is a universal color.  It blends well with all types of office and home office decors.  You can be assured that you wouldn't have to change the color scheme of your soft furnishings or the lighting in the room where you place your white standing desk.  If you don't like it for some reason, you can always add hues of a different color to your convenience.  
Secondly, with white color, you can focus much better on your screen and text.  It cuts out the clutter around visually and psychologically.  It is one of the most soothing colors that you can want. Thirdly, white color standing desks give you an appearance of large and wide-open spaces. Even the tiniest room looks and feels bigger and better with white color. And lastly, white is a simplistic color. With a white standing desk, you can easily create a minimalist room setup for your work.
Factors to Consider When Buying a White Standing Desk (2023)
When choosing a white standing desk, it's essential to consider several factors to ensure you make the right decision. Here are some key factors to keep in mind:
Height Adjustment Mechanism
Look for a desk with smooth and easy height adjustments, whether a motorized system or a manual crank. This will allow you to switch between sitting and standing positions effortlessly. Moreover, this makes sure that your body is always at the correct position and eye level, relieves the strain from your body, and makes you even more productive.
Sturdiness and Stability
Ensure the desk is sturdy and stable, especially when extended to maximum height. A wobbly desk can affect your productivity and compromise your safety.
Workspace Size
Consider the workspace's size and ensure it can accommodate your work essentials, such as monitors, keyboards, and other accessories.
Ergonomics
Look for features that promote ergonomic comfort, such as adjustable keyboard trays, monitor arms, and cable management systems. These features can enhance your overall working experience and reduce the risk of strain or injuries.
Design and Aesthetic
Consider the overall design and aesthetic of the desk, as it should blend well with your existing workspace or home office. White standing desks offer a clean and modern look that can complement various decor styles.
Video ads for product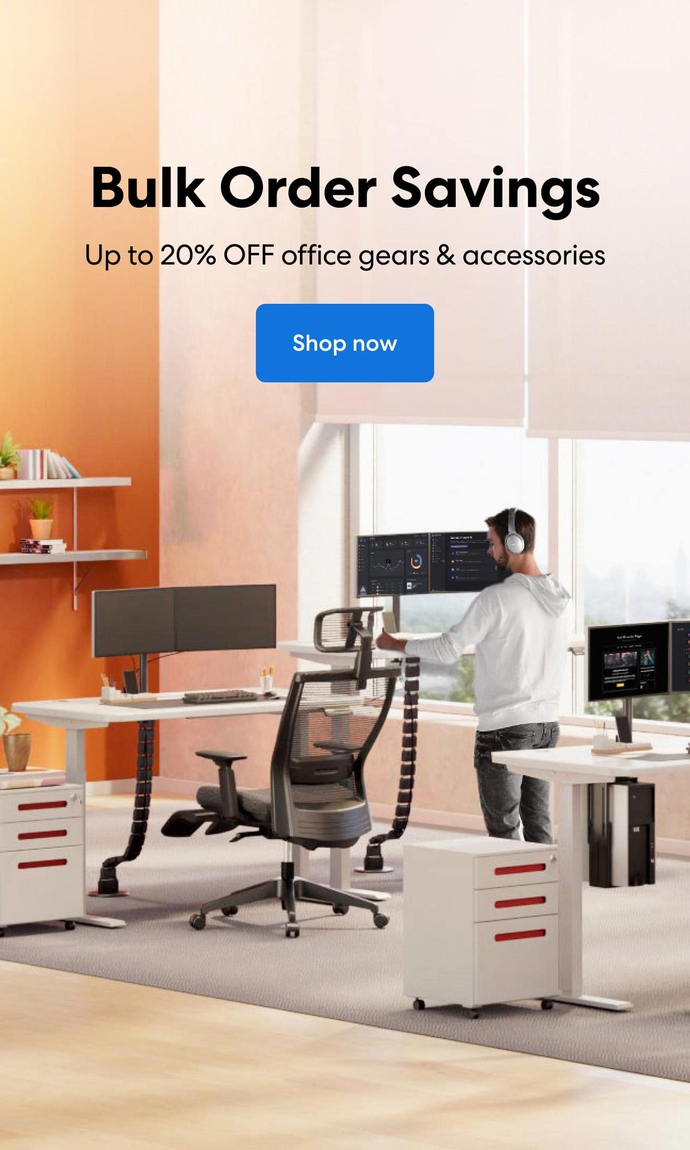 Subcribe newsletter and get $100 OFF.
Receive product updates, special offers, ergo tips, and inspiration form our team.