Every employee loves to work in a dynamic environment where they get a constant dose of wellness challenges. The places where employees' health is given importance are the ones where you find lower turnover rates and higher employee well-being. Being a concerned manager, you must think of the ideal employee wellness challenges that can help you keep your team content so that they give out their hundred percent.
Being a broad concept, employee well-being refers to the better physical and mental health of your employees. We know that identifying, classifying, and planning the best wellness challenge ideas would be a stressful task for you.
Therefore, we have done the tough part and shared some of the most targeted workplace wellness challenges that you can introduce to your team to ensure they have quality time at work, and each one of them stays on track making your team progress eventually. Are you interested to know their details? If so, read ahead and explore the world of wellness challenges ideas.
11 Employee Wellness Challenges Ideas for Every Team
1. Introduce a Sit-Stand Workstation
Introducing a sit-stand workstation is probably the best fitness challenge idea for work that will keep your team active and productive. Office workers often spend long hours sitting in their workstations and have very less movement throughout the day; having a sit-stand workstation will help them have a more dynamic routine.
You can make this challenge worthwhile by informing your team about some office chair workouts that they can add to their routine to stay more active. All in all, never forget to add the right office furniture that helps your team stick with workplace ergonomics. In this regard, you may encourage your employees to use the Autonomous employee purchase program to help them get office furniture like standing desks and chairs at discounted rates. 
2. Walking Challenge
Introducing a physical fitness challenge is a very common practice in successful organizations. You can introduce such a challenge too. A walking challenge is the most common one that you can add.
You may set up a 10000 steps challenge or promote your employees to walk to their office and praise them upon fulfilling this challenge. This will not just boost your team's morale but will also ensure that everyone stays active. 

3. Take The Stairs!
Say, if your office is on the 3rd or 4th floor, you may have a little activity where your employees are supposed to take the stairs rather than the escalator. You should not go for this challenge if your office is somewhere on the 20th or 30th floor, as no one would be willing for such a sport. 
4. Daily Meditation Challenge
Meditation is great for physical and mental health, so introducing it to your team can be a great way of adding health challenges for work. This will give your team some time to relax and enjoy their peace of mind. In such a way, they will become more productive and active in their work hours. 
5. Join a Sport Challenge
Joining a random sport can be a great way of increasing inter-departmental communication and building better relationships. Think of some sporting challenges that you can introduce to promote employee well-being.
These ideas are apart from the fitness challenges for work; however, they increase physical activity and keep your employees happy and engaged in their workplace. 
6. Sleep Challenge
Commonly, employees take a poor check on their sleeping routine. As a result, they tend to stay less active at work. If you don't want that to happen to your team, promote your employees to take at least 6-7 hours of sleep and reward them for fulfilling such a sleep challenge. This employee wellness challenge will help you keep your employees more content. 
7. Nutrition Challenge
 Keeping a keen check on your team's diet is significant in building a healthy team. You may call this a nutrition challenge where you promote your team to plan a healthy diet and eliminate junk food from their daily meals. This will help them stay active at work and boost productivity. 
8. Building a Habit Challenge
Building a habit is the toughest task for anyone, as this requires a lot of effort. These habits can be staying hydrated, working out, etc. Therefore, try to promote this workplace wellness challenge to your team where they have to adopt a good habit and then stick with it.
The concept of the 21-day challenge might not be new for you, where one has to do a certain activity for 21 days to make it a habit; you may take help from that. 
9. Financial Wellness Challenge
Employees often suffer from financial challenges, which later become a reason for their decreased productivity and depression. If you don't want that to happen to your team, try introducing some financial well-being challenges.
What we mean by that is to promote them to save. This may mean that they have to create a piggy bank where they can save a portion of their salary for a rainy day. Giving your team pep talks on financial intelligence can also help in this regard. 
10. Charity Challenges
A charity challenge is among those employee wellness challenges that go both ways, as a win-win situation. This challenge involves your team in different charity activities.
Having such activities will make your employees feel better and manage their finances in a way that helps the poor. The sense of satisfaction that one achieves from doing such a kind act is priceless. 
11. Social Challenge
Promote your team to go on some social trips and introduce social challenges. Since social isolation is the common outcome of the current lockdowns, promoting your team to go for social trips can help them build better relationships with their teammates and stay happier and engaged at the workplace. 
Wrapping It Up
All these employee wellness challenges will help your team adopt a healthier lifestyle and eventually become a healthier team that will be ever-ready to take challenges and work big tasks. You can use whichever challenge you think would go well with your specific workplace culture, as they all tend to build a better team. We hope that these ideas will help you create an energetic and productive team in the future.
Video ads for product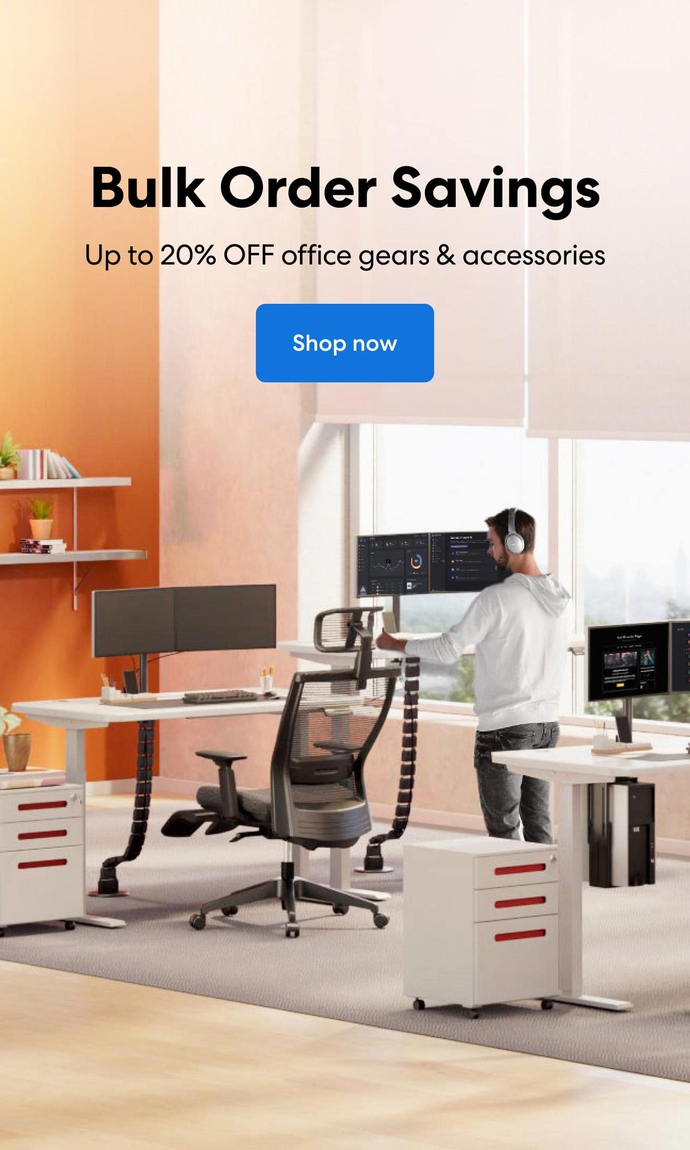 Subcribe newsletter and get $100 OFF.
Receive product updates, special offers, ergo tips, and inspiration form our team.