Workplace Inspiration
13 Ultrawide Desk Setup Ideas for Maximum Productivity

Autonomous
|
May 17, 2021
7,543 Views
Gamers and streamers are always looking for new ways to become more productive in their gaming sessions. Well, why shouldn't they be if playing professionally can earn them bucks? You can make handsome earnings if you stream online, make gaming vlogs, or even play online. But what you will need to make the most out of it is an ultimate ultrawide desk setup.
Why do we think like that? Irrespective of the task you choose or the job you do, one thing that plays a major role in you earning more is your productivity. You can say that the only barrier standing in your way to having the time of your life with your gaming console is the lack of an ultrawide gaming setup.
As a gamer, you may opt for a simpler gaming setup and install multiple monitors to get that next-level gaming experience. But you can get an even better, more immersive gaming experience if you opt for an ultrawide monitor setup. More and more gamers are shifting towards ultrawide monitor setup these days, so your interest in developing towards that side is not unreal.
We know that you are always looking for better ideas that could help you have the best gaming experience, where you stay more productive and eventually earn more. That's why we have shared the ideas that can help you get the best desk setup for an ultrawide monitor here. Interested in learning more? Well, let's read ahead and explore.
1. Buy the right ergonomic gaming desk
Your gaming desk is the soul of your gaming desk setup. Since you are planning to have an ultrawide gaming setup, it is vital that you buy a desk that is suitable enough to lift an ultrawide monitor along with other accessories such as the computer, speakers, etc. The Autonomous' SmartDesk is by far the best adjustable gaming desk. We know you must be wondering why. Well, the flexibility in the height adjustment offered by this desk at such affordable rates is all a gamer, or a streamer would need.
You know how bad and boring it could be for you to play while sitting for hours. If you wish to boost your adrenalin, you will have to play while standing for some time. This desk takes good care of such requirements; hence it offers you an adjustable height. Another plus point for getting such a desk would be that your monitor screen will always remain at your eye level as you can swiftly shift your gaming desk's height to align your monitor.
2. Get hands-on with the best ergonomic chair
Your gaming chair is your throne, your sanctuary, where you would wish to run everything so smoothly that you enjoy spending time at your gaming station to the fullest. So, invest wisely when you are planning to get a gaming chair. You know that a gaming station would be incomplete without a comfortable chair, and getting the right gaming chair can help you become more productive, so look for the right features in a gaming chair to ensure it is the ideal one.
Ideally, you should check for features such as height adjustment, angle of tilt, lumbar support, the breathability of the fabric used to make the chair, and armrest adjustments. In short, you will need an ergonomic chair to get your job done. The good news is, the Autonomous ErgoChair is an affordable option available at your disposal and could be a suitable choice.
3. Install a suitable ultrawide monitor and accessorize aptly
The market has many brands promising to deliver the best ultrawide monitors for your ultrawide desk setup, but the choice is tough. As you know that getting an ultrawide gaming monitor will not only help you have the best gaming experience and follow the latest fad, but it will also help you become more productive. So, the idea of getting an ultrawide gaming monitor is always better.
If you judge the monitor by its resolution, size, aspect ratio, and refresh rate, the LG 34GN850-B, with its IPS LCD, will be the best one. However, getting the right monitor alone will not guarantee you the ultimate gaming setup, and you will have to plan your accessories to get the best desk setup for an ultrawide monitor.
These accessories include the basic ones that are the ideal mouse and a keyboard. Getting speakers is optional if your monitor has built-in speakers. It is significant that you buy the gaming mouse as it has the precision required for gaming.
With a gaming mouse, you have the choice to choose either a wireless or a wired variant. The same goes for keyboards that are available in wireless, Bluetooth, and wired variants. You can find USB, Bluetooth, or wired mouse. The selection is completely based upon your taste and CPI. Ideally, a mouse with 10000CPI would be the best for your ultrawide gaming setup.
In contrast to this, if you are a dedicated streamer, your setup will be slightly different, and you will have to set up your streaming rig. You will have to place a camera at your eye level and look for a dedicated light source. One such source can be the lumen 3600 ring light that needs to be placed right in front of you. You should also install some good-quality mic, mixers, and condensers as a part of your desk setup.
4. Get a few artificial succulents for your ultrawide desk setup
This may sound unique but having a little element of green is always better for your ultrawide desk setup. Plants are not just aesthetically pleasing, but they can also make any environment refreshing, even if it is your gaming station.
Research has shown that indoor plants can boost your productivity by around 15%, so it can be fruitful for your gaming sessions as well. We know that you play games in a dim-lit room usually, so such an environment will not be suitable for natural plants. Therefore, you can place a few artificial succulents on a corner of your desk.
5. Minimize glare on your monitor
One of the significant aspects that can affect your ultrawide desk setup is the placement of your desk. So, a good way to place your desk would be in a way that natural light does not put any glare on your screen. Your monitor screen should never be placed against any window as that can affect your gaming experience. To improve your gaming experience further, you can also add blackout curtains to minimize the glare.
6. Organize, organize, organize!
No one likes clutter on their gaming desk, as that is not only frustrating but can also impact your productivity as a gamer. It is always better to keep minimal gaming accessories on your desk and avoid any extras. The cleaner your ultrawide gaming setup is, the better it is for you as a gamer. Obviously, no one likes game DVDs, collectibles, or any other random stuff lying on their desk.
So, the key here is to either use any cabinets or shelves but avoid keeping your extra stuff on your gaming desk. One innovative way to do that would be to use floating shelves to place your collectibles and game collections. You can place the shelves on the front wall of your ultrawide monitor setup, as having your collectibles in your sight will keep you motivated and help you perform better.
7. Personalize your gaming station
Your gaming station, your sanctuary, is the place where you spend most time of your day trying to get utmost satisfaction and make some bucks if you play professionally. So, if you want to get more from this space, make it more personalized.
Avoiding clutter by removing useless items from your desk can indeed make you more productive, but personalizing your space will help you cope with stress and distractions even better. You will have a more positive attitude towards your work and will stay more focused. You can think of putting your favorite superhero's posters in front of your desk to give a more personal touch to your desk setup to stay pumped up and give your best shot.
8. Innovate with RGB and Neon
It is always better to innovate with LED and RGB lights. Your gaming desk setup can look way better if you decorate it with different colored light strips. These strips are easily available in the market. You can think of adding them at the periphery of your ultrawide desk setup, around your shelves, or on top of your desk.
Such lighting can have a great impact on your mood and can also play a major role in elevating your gaming experience and lightening your RGB gaming setup. As a result, you can expect yourself to be more productive during your gaming sessions and give your best shot.
Another innovation that you can make here is hanging different encouraging neon symbols or any inspirational phrase you like. Imagine how cool it would look to have a neon writing that says "Sic Parvis Magna" hanging on your wall while you are in full action during a big mission. Such writings and symbols are not only aesthetically pleasing but can pump you up and improve your overall performance.
9. Give a try to the Nanoleaf Aurora Lights
Nanoleaf Aurora lights have the potential to lift your game. You can create a unique game desk setup by mixing different lights intelligently. The distinctive quality of a Nanoleaf Aurora light is that you can customize its shape as per your desire. You can observe your gaming station's wall and then choose a specific Nanoleaf light.
In addition to the flexibility in shape, these lights also are combined with a rhythm module to sync with the sound effects of your games. Such an effect could make your gaming sessions even more immersive.
10. Install acoustic foam panels
No one would like to have a poor sound quality if their game's audio tends to echo while they play, especially when they are using the live chat feature or are streaming. So, in such a condition, it is always better to install acoustic sound panels. You can think of adding two-toned acoustic panels that will not just look aesthetic but will also do their job well.
11. Get the right headphones
What could be better than getting the headphones which take you to a different world with them and let you have the best experience? Usually, you do not require headphones if your monitor has them already. However, getting one is not a bad idea. Headphones can help you have a more immersive and engaging experience and keep you more focused on your game. As a result, you can expect that you will stay more productive in such a gaming session.
12. Keep a check of the color coordination
Color coordination matters a lot. In fact, it is one of those aspects that matter the most when you are planning your ultrawide monitor setup. Choosing the right theme for your gaming station can help you create the ideal desk setup for productivity. Choosing multiple-colored themes is never a good idea, as that looks confusing and tends to affect your focus.
So, our suggestion, and most of the gamers' choice, is a monochromatic ultrawide desk setup. Gamers usually like going for an all-white or an all-black aesthetic theme for their gaming station. Such colors are unique and help you have a clear mind while you play your favorite game.
13. Stay Minimalistic!
Going for a minimalist desk setup is never a bad idea. In this way, you are more likely to avoid any clutter and have a cutting-edge ultrawide gaming setup. Therefore, you will stay more focused and will perform better in your game.
Gear Up to Plan the Best Ultrawide Desk Setup!
We shared some unique desk setup ideas with you here to give you a better idea of how you can arrange the best desk setup for an ultrawide monitor. Ultrawide monitors have become the latest fad for gamers, so it will be a great idea that you get a hands-on one. If you use our tips effectively, you will have an immersive gaming experience and will also make you more productive as a gamer or streamer.
Video ads for product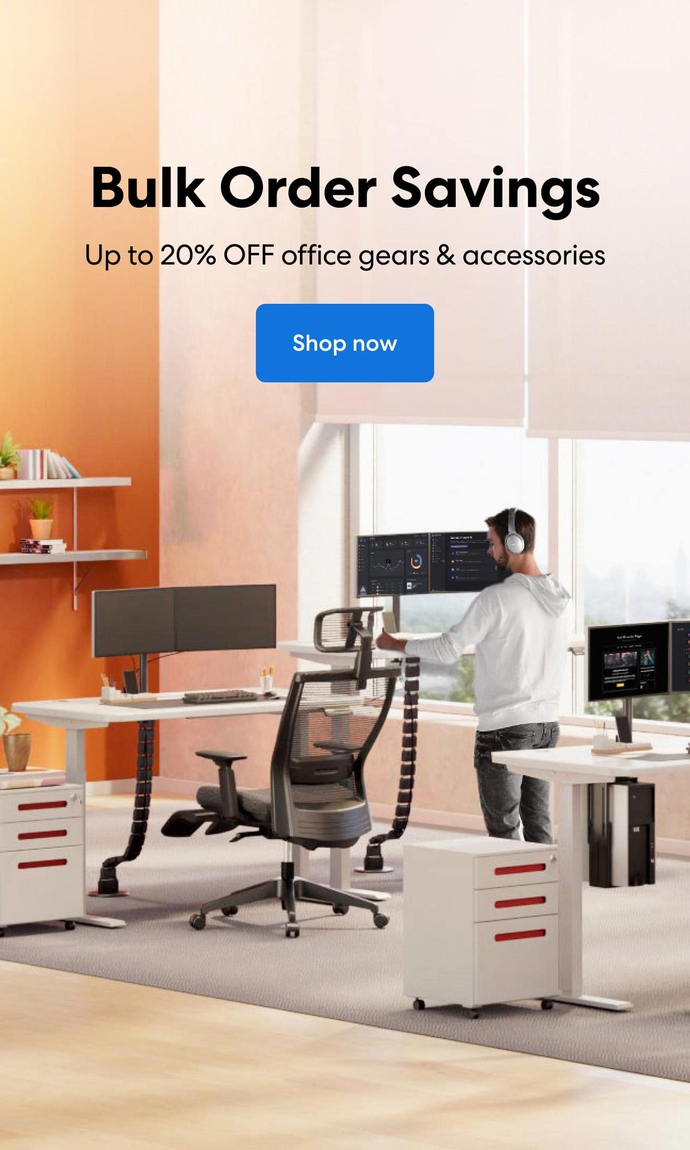 Subcribe newsletter and get $100 OFF.
Receive product updates, special offers, ergo tips, and inspiration form our team.