Smart Products
14 Adjustable Computer Desks for Sit-Stand Workstation

Autonomous
|
Jul 4, 2022
1,083 Views
Adjustable computer desks have gained popularity over the years due to their numerous health benefits and research proving sit-stand is the only ideal way to work. While the benefits outweigh the cost and other limitations, a sit-stand desk is a tough choice as you can find hundreds of options in the market. This article will enlist some of the top picks for a height-adjustable computer desk with ergonomic features.
1. Sit-Stand Desk Converter
A sit-stand desk that doesn't take up a lot of space is a dream come true. Get this sit-stand desk converter by Mount-It! and make your life ergonomic. You can place it on your bed, kitchen counter, desk, or any sturdy surface. The desk is height adjustable and comes with a multi-monitor mount. It moves with a z-shaped leg design which is easy to control and reliable. The desk has a weight capacity of 33 pounds for your small to medium-sized work setup.
2. SmartDesk Connect
A modern home office desk with a versatile look and modern features? Get this SmartDesk Connect to make your workplace feel like the next century's revolution. The desk connects to your smartphone, thus making it adjustable from afar. You can control the desk height to the last centimeter due to electrically controlled motors, which are programmed through the application.
The desk is one of our favorites due to its durable frame, quiet motors and a versatile look. It works with an upgraded dual-motor setting and has a load capacity of around 300 pounds.
3. Rolling Computer Workstation
Some people prefer looks when it comes to an adjustable computer desk, while some might prefer functionality a bit more. This rolling computer workstation by Mount-It! is a functional pick with reasonable looks because its compact design makes it one of the easiest and most portable desks on our list. It is a workstation on its own with multiple platforms, with each one being height adjustable. The desk has wheels that can be locked in the same position and multiple shelves you can use for storage or work purposes.
4. SmartDesk Pro
One of the pioneers for modern height-adjustable desks, the SmartDesk Pro is an ultimate choice. It is reasonably priced, versatile and available in different sizes. It is powered by dual electric motors and offers touch-button height control. The desk also has a matte finish for a shiny, wonderful look.
5. SmartDesk Corner
Electric adjustable computer desks are usually smaller in dimension because the motor must bear the load. This L-shaped, height adjustable computer desk is a large home office desk suitable for multi-monitor setups. The SmartDesk Corner is one of the spacious and best adjustable computer desks with multiple features. Due to its larger size and surface, it is powered by three ultra-quiet electric motors.
The desk offers a weight capacity of 400 pounds and a 5-year warranty. Though it is priced slightly higher than other height adjustable computer desks, you can get a great discount through the employee purchase program.
6. SmartDesk Chunky Oak
There is something fine about an oak desk, and this SmartDesk chunky oak desktop is a similar purchase. The desk is easy to use, compatible with core and pro frames from autonomous, and you can find the desktop in two sizes. The desk has a 1.6 inches thick surface that guarantees strength, load endurance and durability for years to come.
7. Wistopht SmartDesk Frame
If you need to get your hands on a little DIY project, then the SmartDesk Wistopht frame is the best choice. The desk has a height range of around 15 inches and accompanies a gloss finish. The frame is compatible with wooden desk tops, MDF tops and other kinds of desktops for a versatile look. The frame has a weight capacity of 950 pounds.
8. Height Adjustable Laptop Tray
People who work with laptops are skeptical about investing in many desks since they need a little surface to work on. This height-adjustable laptop tray by Mount-It! is your constant companion when you are on the go but wish to remain ergonomic. The desk has adjustable legs, and you can place it on the bed, kitchen counter, desk, car or anywhere you need it. The desk offers a 360 degrees swivel and has a weight capacity of 22 pounds.
9. Standing Desk by Mount-It!
This is another best adjustable computer desk you should consider. Ideal for gamers or multi-monitor setups, the standing desk by Mount-It! is a dark-coloured desk surface with black steel legs. The desk is made of melamine which withstands load and offers a versatile surface. It is controlled by electric motors and also has touch control keypads.
10. SmartDesk Core
A small standing desk has many advantages over a large standing desk, especially if you don't have free corner space to keep your L-shaped desk. This Autonomous standing desk is named SmartDesk Core due to its smart features and strong core. The desk is height-adjustable, powered by dual electric motors and is available in more than three different frame options and eight table top options. The desk is operated through quiet motors and has easy-to-use modern programmable settings to achieve accurate height with just a single push of a button.
11. Standing Desk Converter by Mount-It!
A simple and reasonable investment to get ergonomics in the workplace. The standing desk converter by Mount-It! is a reasonable pick for those who already have a functional work surface. The desk offers a height range of 20 inches and is wide enough to fit around two monitor screens.
12. Jarvis Bamboo Desk
The Jarvis bamboo desk is sophisticated and user-friendly. It is height adjustable and has a height range of 25 inches. The desk is available in two different designs, and you can choose among the sizes. It is quiet, easy to control and an ideal ergonomic addition to the workplace.
13. Uplift V2 Desk
The Uplift V2 Standing Desk provides the ideal balance of features and performance. Even at great heights, it exhibits little wobbling and reacts swiftly to input. The Uplift's walnut laminate is appealing and authentic. But Uplift offers more than 20 desktop alternatives if you'd want a different look.
14. Vari Electric Desk
The stunning work surface on the Vari Electric Standing Desk is thicker and looks better. You may hang your purse or a pair of headphones from the two hooks on this clever item. To properly outfit your workstation, the company also sells various accessories, including power strips, cable management trays, and monitor arms.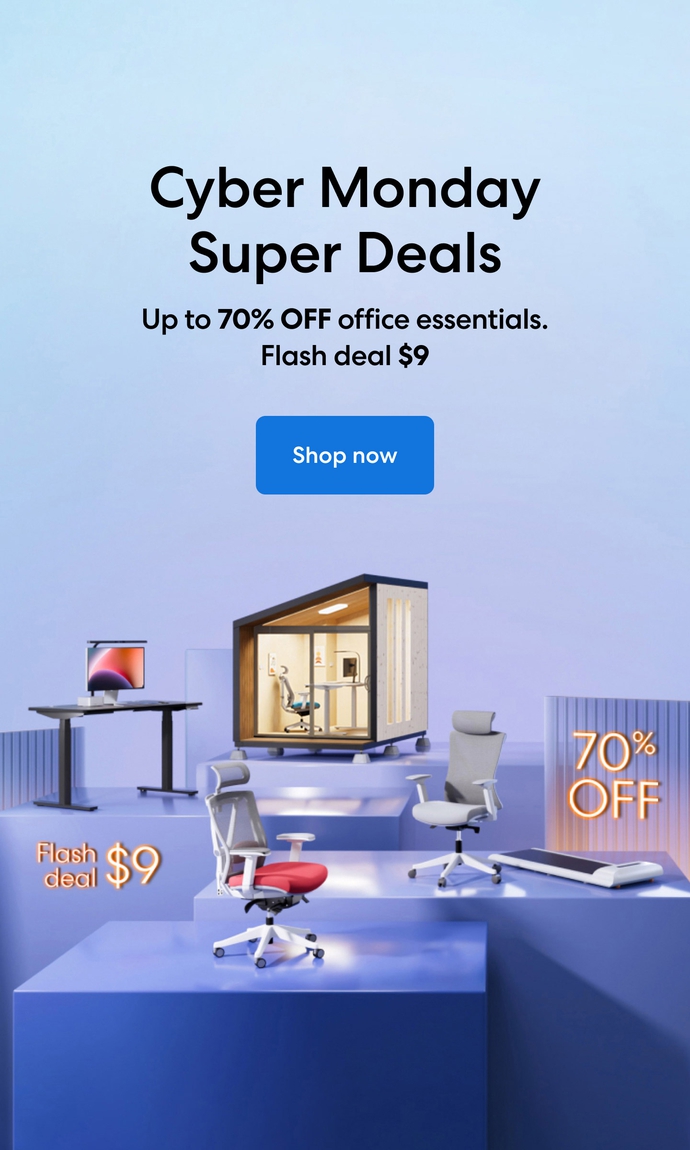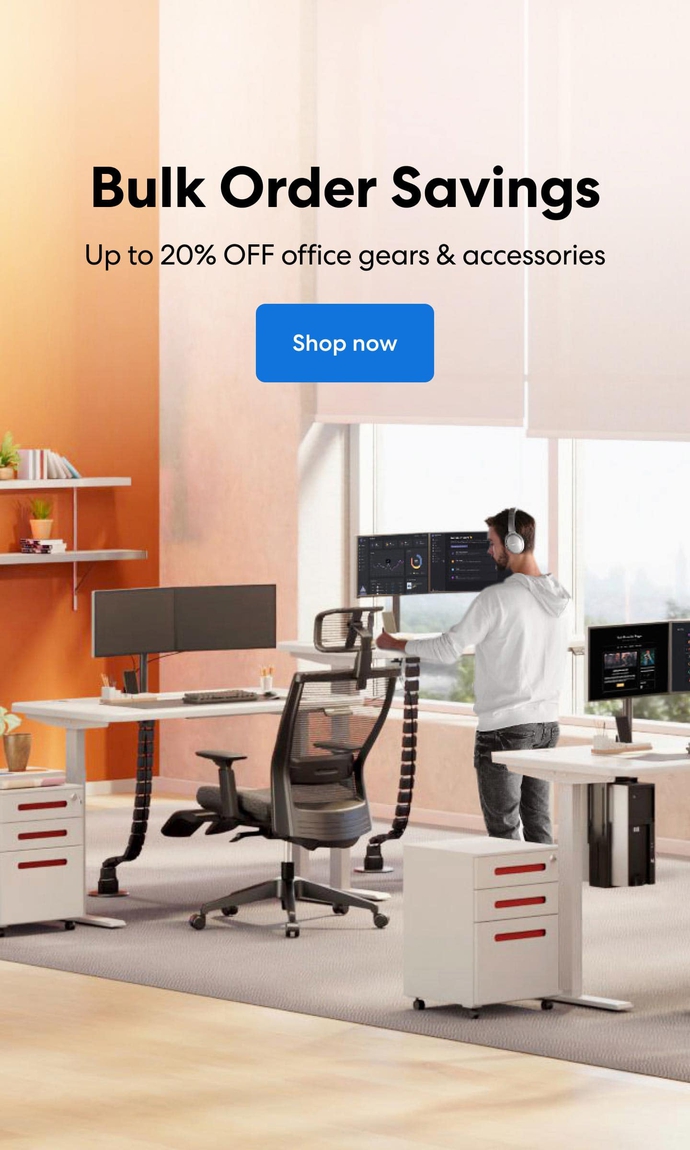 Subcribe newsletter and get $100 OFF.
Receive product updates, special offers, ergo tips, and inspiration form our team.