Smart Products
14 Inspiring Home Office Desks for Designers Workstation Home Office

Autonomous
|
Oct 27, 2020
3,005 Views
If you're a designer, you know that the right tools are essential. Working from home gives you plenty of options for creativity. Still, you need the most suitable home office desk for designers, and we are going to talk about 14 different options. That way, you don't have to sit and slouch all day or stand and lean over your work all the time.
List of 14 Home Office Desk for Designers
1. SmartDesk Core
If you need a home office desk for designers, the SmartDesk Core from Autonomous might be ideal. Work while standing or sitting. Plus, you can have different height adjustments for when you need to work over the desk without straining your neck.
2. SmartDesk Pro
What makes the best desk for designers? The ability to stand up and continue working allows you to reduce back and neck strain. With the SmartDesk Pro, you get a three-segment frame, and it rises higher. Those who have to draw things all the time are sure to appreciate the taller height.
3. SmartDesk Corner from Autonomous
The best desk for designers could be the L-Shaped SmartDesk. You can adjust it easily so that you can stand or sit. Since designers often have to bend their necks to draw and make markings, you can raise the desk a little more to reduce neck strain. Of course, the l-shaped standing desk gives you more room to use, which helps if you want a computer, drawing utensils, and other items. This desk holds up to 330 pounds and can go up and down in silence. Plus, it can go in a corner to free up space in the rest of the room.
4. SmartDesk Core Duo from Autonomous
The best desk for designers could be the SmartDesk Core Duo from Autonomous. Each piece is connected, and they raise and lower separately. If you're working on more than one project, it's easy to shift back and forth between them. Use one side for the computer and keyboard to digitally design something and the other side for drawing and making notes. It's the perfect blend for productivity and high-quality workmanship!
5. SmartDesk Art Desk from Autonomous
Most designers want a curved desk because it's easier to lean over and get close to the work you're doing. Plus, the SmartDesk Art Desk from Autonomous automatically adjusts to standing and seated positions. You can set everything up and then press the button to stand, reducing the stiffness and pain in your neck and back. There's also a sturdy base, and it's made of high-quality MDF, so this home office desk for designers can last a long time.
6. Cabin Desk from Cooper Furniture
Those who want a designer's office desk are sure to like the slim lines and tabletop of this desk. It's got a small footprint and can go anywhere, but it doesn't offer a lot in terms of space for things. Pair it with a bookcase or shelves to have storage.
7. Acrylic Desk from Consort
If you like slim lines and intricate designs, the Acrylic Desk by Consort is the best option. The metal legs are sturdy, and the geometric shape is impressive. As a home office desk for designers, you can pick the tabletop's length to meet your specific needs.
8. Midcentury Modern Writing Desk from Chelsea Textiles
At 39 inches wide, this product is an excellent choice for a designer's office desk. It has plenty of storage features. Two drawers go the length of the piece, both of which open. You can store pens and other essentials there. Then, you've got a small drawer and an open space with a top portion. Keep a few light books up there, or add a bright light so that you can easily see what you're doing.
9. Pom's Desk from Julie Pfligersdorffer
Those who don't have a lot of space might prefer the Pom's desk. It's quite small at only 23 inches wide and 29 inches high, so it can go almost anywhere. However, it's got open sides for storage and works well as a playful spin on the traditional flip-top desk.
10. Chiba Study Desk
If you're a shorter person, the Chiba Study desk might be ideal. It stands 30 inches high, so you can sit down and work. However, it's 55 inches long, giving you plenty of room to work. The legs look like sawhorses, which adds stability and an intricate appearance. When clients come over, they're going to be impressed. Plus, you can set it up to meet all of your needs.
11. Recipio Desk by Antonio Citterio
When you are constantly pouring over the desk, you want rounded edges. This desk has a curved edge all around the top so that papers and books don't fall off. There's also a metal bar at the bottom to rest your feet.
12. Ligne Roset Desk
Those who want something a little taller yet stationary may prefer the Ligne Roset Desk. It stands 36 inches high and looks petite. However, it's quite sturdy and features curved sides to naturally conceal what's there (for those who are sitting down). If you're planning a big reveal to a client, this can be helpful. Of course, there is storage space at the back to keep your things organized.
13. Ligne Roset Designer Office Desk
A home office desk for designers should look different and exotic, and this one surely fits the bill. Though it might not be completely practical, it does give the illusion of fun and functionality. There are two drawers to the right with an elongated tabletop so that you can work hard. We do wonder about stability; if you put too much in the drawers, it could tip to the side.
14. Industrial Storage Modular Desk
Where corner desks are concerned, this one is rustic and offers plenty of storage. You need a designer's office desk to do your job effectively. Often, you have many reference books, pens, pencils, and the requirement of enough lighting. Fit everything you need on or at the desk.
FAQs
1. Why should you get a standing desk?
A home office desk for designers is something that you shouldn't skimp on. You spend countless hours drawing, making notes, changing tasks, and working on the next big thing. Being creative often means that you forget about time and end up with a kink in your neck. With a standing desk, you can shift between sitting and standing to be more productive and feel better when the workday is over.
2. Does it matter what chair you use?
It's best to utilize an ergonomic chair with neck support when sitting at your workstation. That way, you can lean back to reflect without changing your posture. You can also adjust the chair to meet your specific needs so that it's like you're sitting perfectly for your body composition.
3. What are the pros and cons of standing while working?
Standing while working
Having more energy throughout the day
Boost core strength
Have proper posture
Be ready for anything
Tired legs and feet
Have to remind yourself to stay in good posture
Some things might be hard to achieve while standing
Video ads for product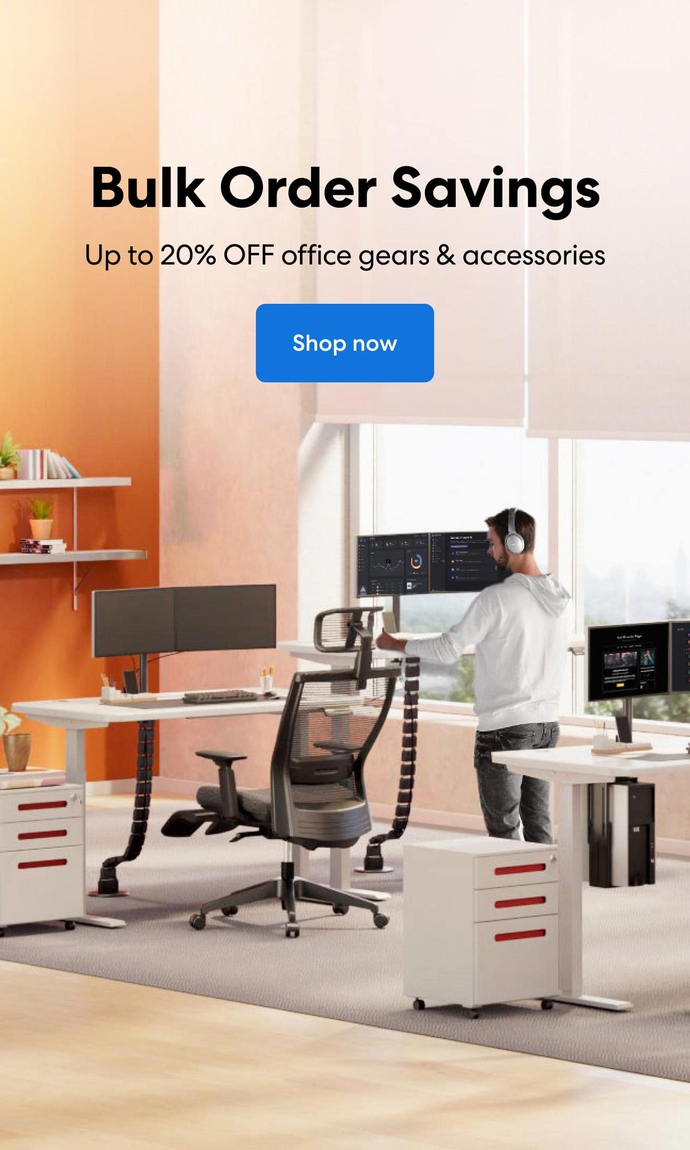 Subcribe newsletter and get $100 OFF.
Receive product updates, special offers, ergo tips, and inspiration form our team.