Smart Products
15 Best Sellers Computer Desk & Chair Sets in 2023
1,249 Views
Is your office set becoming uncomfortable to sit on all day? This is something that tends to happen with old furniture. In the past years, we've begun to pay more attention to our well-being, and ergonomic furniture has become one of the top priorities for office workers worldwide. 
Thousands of computer standing desk and chair sets are being sold every day in order to satisfy this need, but we face so many options that sometimes it's hard to know how to pick the right set for us. Stop worrying about it and look at this handy list with the best-sold computer desk and chairs of 2022. 
However, before doing that, we want you to be aware of what makes a set a good fit for you ergonomically speaking. Let's find some computer desk and chair bundles for your consideration.
What to Look for in a Computer Desk and Chair Set
We have to think about what makes ergonomic furniture the best for your health and well-being. They're usually made to fit the natural line of your body better and prevent any unnecessary strains; this makes them a lot more comfortable for long hours of work or gaming sessions and helps to avoid damaging our joints prematurely. 
Hence, some of the essential aspects you should notice when getting your ergonomic desk and chair combo are listed down below: 
Adjustable height. This is a wanted feature whether you're shopping for a chair or a desk. Simply because people come in different sizes and the optimal position of furniture for you might not be the same for other people. Being able to customize the height allows you to rest your arms on top of your table and your feet to touch the ground without problem.
Width and depth. Your furniture should be spacious enough to comfortably fit any person and still allow them to move around without feeling stuck.
Support. This aspect takes more relevance if you want to buy an ergonomic chair, as the support they provide is a huge deal. The backrest should bring lumbar support since spinal cords naturally bend in a way most chairs don't. You also want to check that the armrests are adjustable and feel good when typing.
Material and shape. Real ergonomic desks are shaped so that the material doesn't cause bumps or burns if you accidentally hit them. On the other hand, chairs should always be made of breathable fabric; this way, they are more comfortable to sit on during long periods. 
Top 15 Best Sellers Computer Desk & Chair Set in 2022
1. Autonomous SmartDesk Core and ErgoChair Pro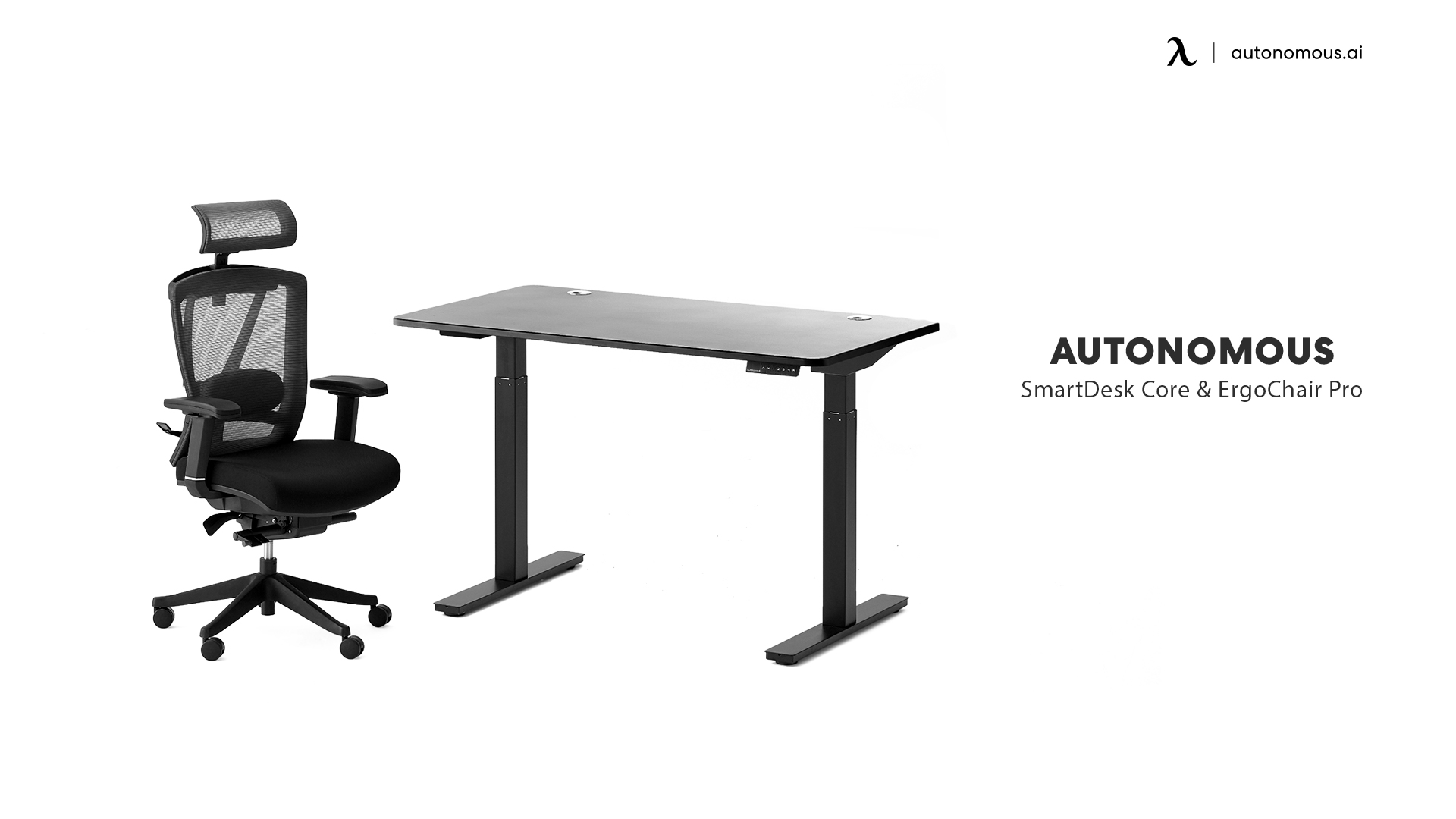 Autonomous' products never disappoint, and this computer desk and chair set isn't the exception. This is one of our most popular products because they're made to appeal to your needs and take care of your general well-being. 
They are entirely customizable. You can easily switch the height of the home office standing desk by just pressing a button, and you can personalize the position of our ErgoChair to fit your body and allow you to rest comfortably throughout your working journey. 
Additionally, you can get this computer desk and chair combo with a five-year warranty for the desk and one year for the chair. They can be yours by just checking out our website. 
2. Autonomous SmartDesk Pro and ErgoChair Plus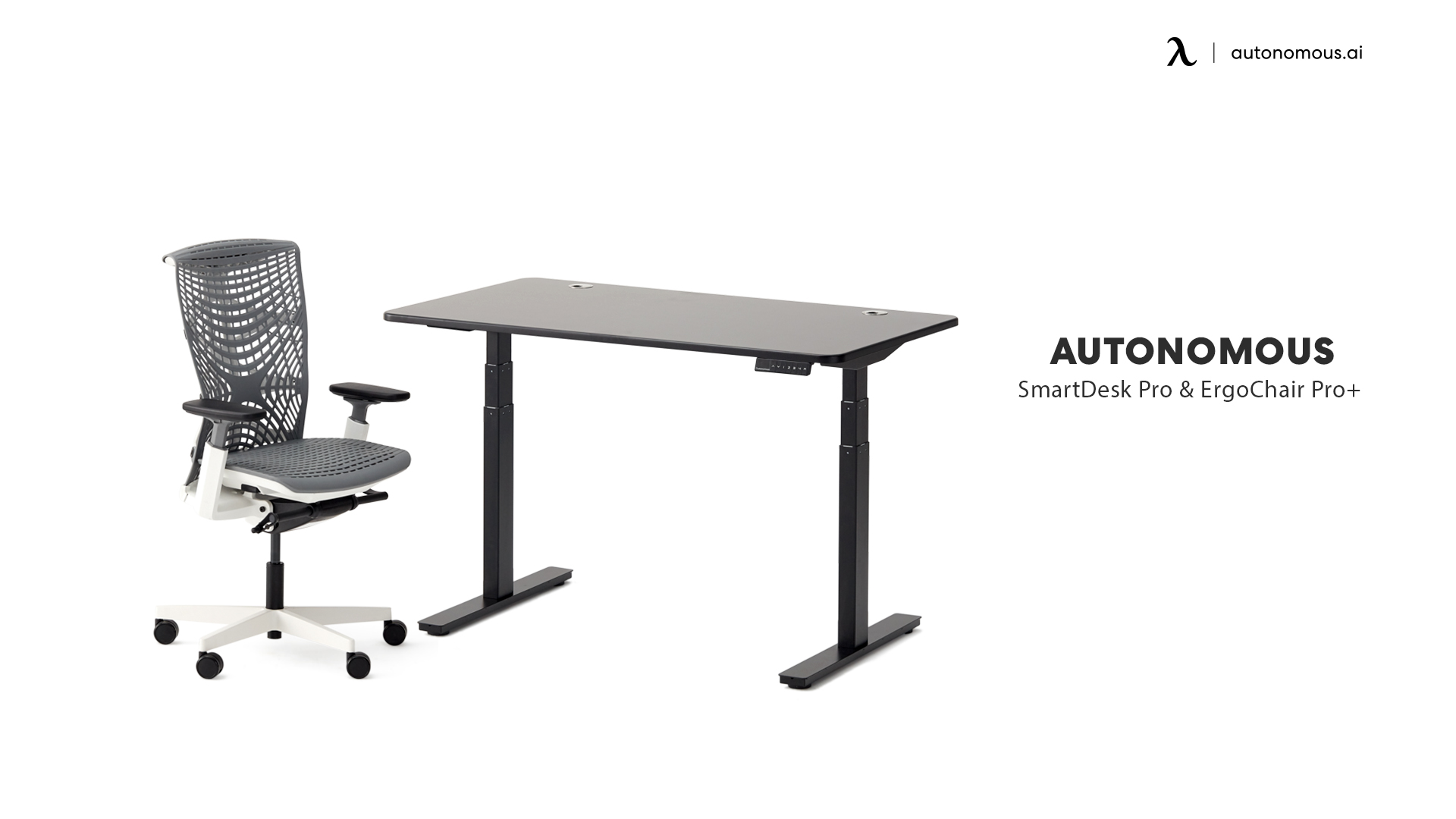 This Autonomous high-end line is a computer desk and chair set that you cannot miss. If you're a tech enthusiast who loves spending hours on end on your computer, this set is going to make your long sessions a lot more enjoyable. 
The SmartDesk Pro and ErgoChair Plus aren't only extremely comfortable to work on, but their aesthetic appeal is out of this world. Their technology makes for the best ergonomic duo for taking care of your body and lasting for years after you buy them. 
In addition, they're globally verified by several companies for being made with long-lasting and robust materials that create the best environment for your home office. 
3. Acme Furniture 2pc Home Office Writing Desk & Side Chair Set
If you're looking for a more classical and elegant look for your home, you're probably going to feel more appeal towards the Acme Furniture Set. It is made out of sturdy dark brown cherry wood and features two handy drawers for storing any of your office items. 
It is a fantastic rectangular sitting table, perfect for home office employees who desire a neat space to focus and get everything done, but that can also be part of the room's aesthetic. This desk's polished finish brings out that warm and cozy look, suitable for the living room of your dreams. 
Keep in mind that you may have to assemble this office writing desk, so it's best if you already have some materials to work with once it arrives. This computer desk and chair set is such a perfect option for you.
4. Bush Business Furniture Series C L-Shaped Desk
On the other hand, if you prefer a more spacious alternative, the Bush Business office desk and chair set is a fantastic option for you. This ample set gives you a lot of space to move and work with, and wide cabinets for all the storing you may need. Don't worry anymore about lacking space or your knees hurting because you are going to have more than enough space beneath the desk for stretching whenever you need it. 
The chair also features wheels on its feet for more agility when switching from one side of the table to the other and a versatile tilt mechanism for giving entire positioning control to the user. 
It's an amazing computer table and chair set for regular use that's made to last you for years without peeling or getting damaged. 
5. Coaster Home Furnishings Office Desk and Lattice-Back Chair Set
This computer desk and chair set gives you a unique combination of style and functionality. It has the perfect dark and solid wood mix with a soft and fuzzy place to sit on. The Coaster Home Furnishing Set was made to fit any room you place it in and immediately give a neat and put-together look to it. 
Its classical and refined aesthetic is suitable for the biggest of rooms and the smallest of corners. This desk also pairs well with all of your desired decorations to finish up the glamorous aesthetic we're looking for. 
Reconnect with your passion for writing in this two-piece desk, enhanced to make your day-to-day working experience one to remember. 
6. OQQOEE Table and Chair Set
OQQOEE's computer desk and chair set gives the word futuristic a whole new meaning. Its unique design offers a shiny finished look and a modern and stable structure to work on, as it features an X-shaped carbon-steel frame that's more durable and lighter than its usual counterparts. This home office standing desk also offers a reinforced beam design that keeps the desk stable and able to endure weights up to 660 lbs. 
The tempered glass that creates its tabletop makes sure that even if it somehow gets damaged, it can't hurt anyone. This is because this kind of glass breaks into tiny and even pieces that get rid of the damage that comes with sharp edges. 
This is the best office chair for you since it also has an entirely adjustable armrest and backrest for better ergonomics and more comfort, which allows you to get the best position for your body by just pushing some buttons. 
7. Vitesse Gaming Chair and Desk Combo
Now here's a computer desk and chair bundle for the gamers that are reading this. It's a professional gaming set with extra desktop space for all your desired gear and an extended mouse-pad that covers the entire surface of the table. The Vitesse Gaming Combo features a cup holder, a headphone hook, and a handy rack for controllers and cable management. 
Its multifunctional gaming chair has a 360° swivel, adjustable backrest, and class-3 explosion-proof gas lift, with premium rollers made to prevent your floor from getting scratched. 
8. New Dirty Oak Finish Secretary Writing Desk with Chair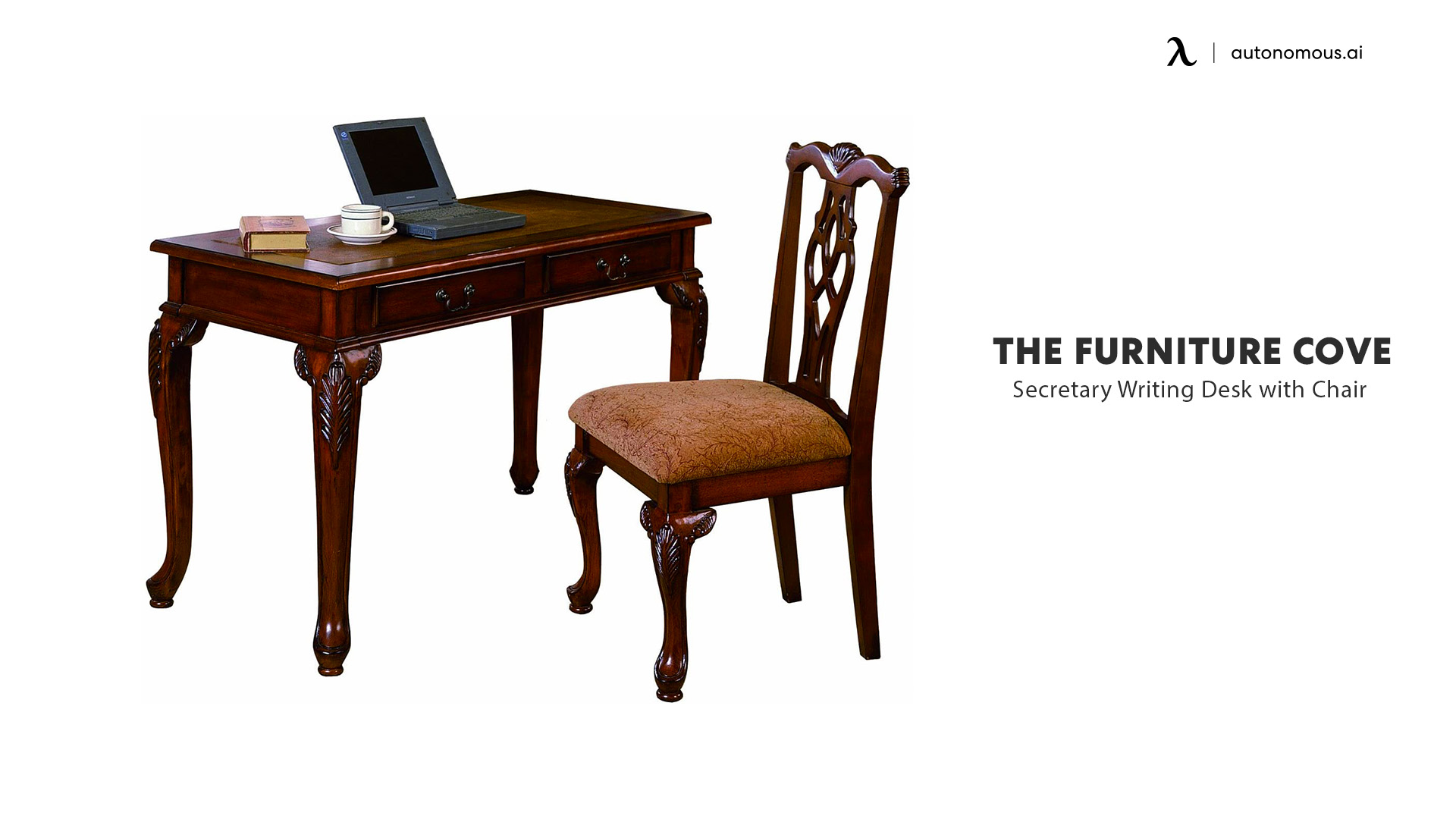 Say hi to a fantastic computer table and chair set from The Furniture Cove. The desk is a rectangular oak wood desk with a polished finished look that complements any space you place it in. It's perfect for more refined and old-fashioned rooms that want to remain as elegant as possible without losing any comfort or practicality. 
Additionally, it features two shelves that provide extra storage for all of your office items or miscellaneous items. 
9. Guidecraft Jr. Roll-Top Study Desk and Chair Set Espresso
This is a small study desk, perfect for all kinds of creative activities such as writing or reading. It features a handy roll-top that can be used to hide any materials you want to keep inside, as well as a pull-out writing board, a lap drawer, and two file drawers. 
Guidecraft's set is made of sturdy pinewood with forged steel hardware, making it a solid five-legged option for the smallest of rooms. It fits nicely into any corner and turns it into a magical study space for people of all ages. 
10. MAISON ARTS Black Computer Office Desk and Chair Set
MAISON ARTS' computer table and chair set is exceptional since it features a multi-level desk. You can use its lower section as a keyboard tray, the middle one for resting your arms and any elements you want, and the higher one as a monitor stand. 
It is made out of black metal and wood, giving it a minimalist finish that blends in perfectly with any modern aesthetic you might want to pull off. The MAISON ARTS' chair is also a wonderful option because of its multifunctional and ergonomic settings, making it wholly personalizable and more stable than any other in the market. 
11. ORE International Fairfax Home Office Desk & Chair Set
This classical home office set can bring light to any room with its composite wood and dark walnut finish. It may look like a regular rectangular desk and a chair, but it's carved-in designs and polished wood scream sophistication and style. 
ORE International Fairfax Set is perfect for smaller setups since it can only hold up to 96 pounds, but on the bright side, the assembly is extremely easy and can be done in less than an hour. 
12. Oxford Baby London Lane Desk and Chair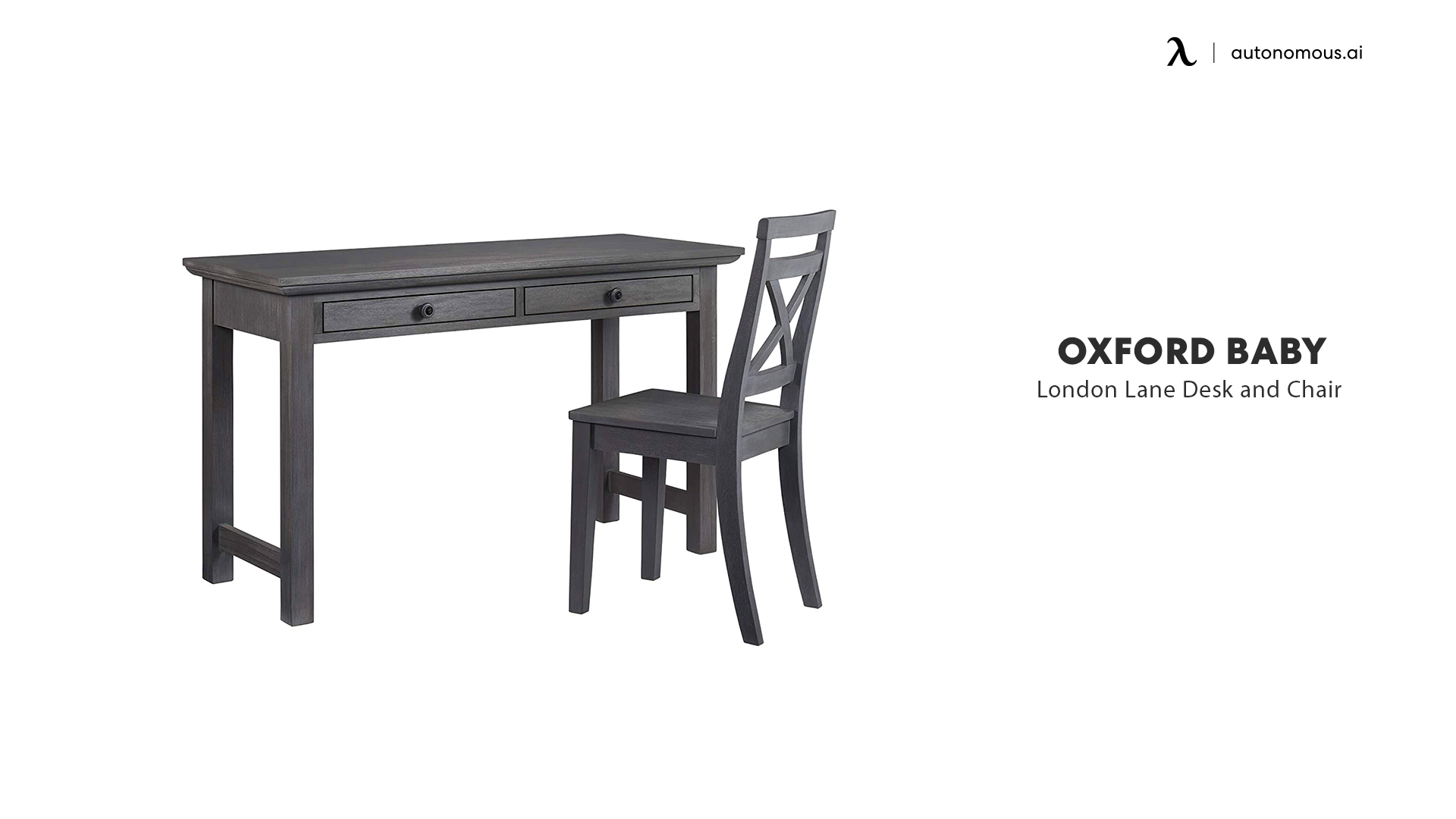 Oxford Baby London Lane's office desk and chair set is an arctic gray set created from the finest hardwoods and veneers, being also incredibly simple to assemble and clean. 
This desk features two drawers for any homework or office supplies you may need to store, but it is not the sturdiest of options if your setup is really heavy. 
13. Discovery World Furniture Charcoal Desk, Hutch & Chair
The Discovery World Furniture Set is a wonderful pine option with two drawers, a hutch for ample storage space, and an elegant yet functional desk and chair combination. 
It features a computer tower platform at the bottom of the desk, which is useful to keep your devices safe and off the ground. 
14. Benzara BM179946 Faux Marble Desk with Upholstered Chair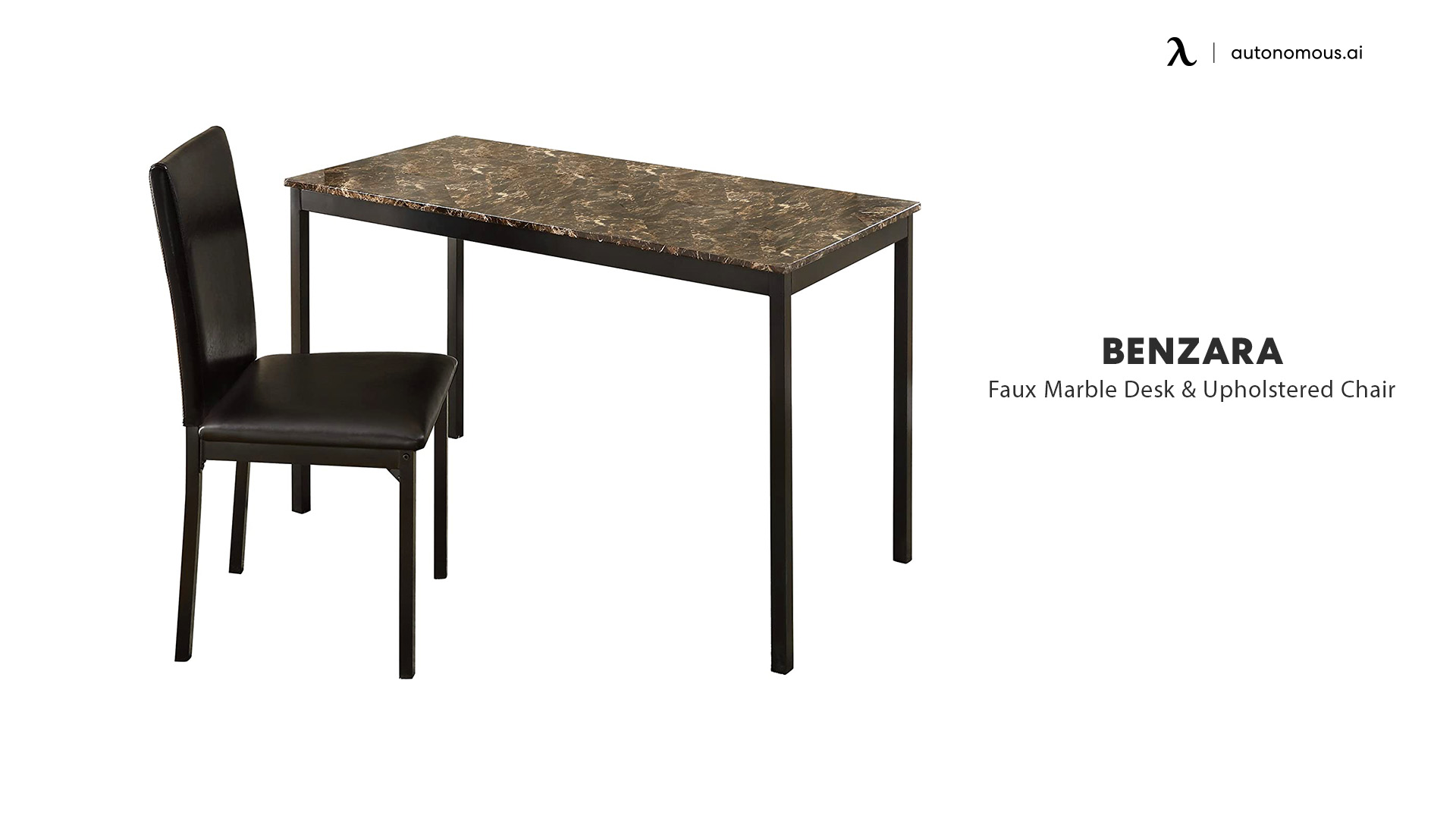 Benzara's computer desk and chair set is committed to high standards of quality. Its substantial and sleek design is suitable for any small work or study station, as it brings out the best side of any room with its elegant brown marble top and metallic black frame. 
15. JJS Gaming Desk with Monitor Stand & Computer Chair
JJS gaming desk is ideal for the most intense gaming sessions. It has enough space for storing all of your gear since it features a removable monitor stand, a cup holder, a headphone hook, and an extended mouse-pad. The desk in this computer desk and chair combo is going to become your best friend for your gaming needs. 
Its simple assembly is the cherry on the top since it shouldn't take you too long to get all ready to start playing with it. 
Bottom Line
After reviewing all of these computer desk and chair combo setups, you're 100% ready to choose the best one for you and your home office needs. If you're still not convinced about these options, you can check out the rest of our ergonomic alternatives in our catalog, or these small bedroom office combo ideas we collected for you.
Keep up with Autonomous news
Stay informed, stay inspired with our new blogs.
WRITTEN BYAutonomous
We build office products to help you work smarter.