Is your office set becoming uncomfortable to sit on all day? This is something that tends to happen with old furniture. In the past years, we've begun to pay more attention to our well-being, and ergonomic furniture has become one of the top priorities for office workers worldwide. Thousands of computer standing desk and chair sets are being sold every day in order to satisfy this need, but we face so many options that sometimes it's hard to know how to pick the right set for us.
Stop worrying about it and look at this handy list with the best-sold computer desk and chairs of 2023. However, before doing that, we want you to be aware of what makes a set a good fit for you ergonomically speaking. Let's find some computer desk and chair bundles for your consideration.
What to Look for in a Computer Desk and Chair Set
We have to think about what makes ergonomic furniture the best for your health and well-being. They're usually made to fit the natural line of your body better and prevent any unnecessary strains; this makes them a lot more comfortable for long hours of work or gaming sessions and helps to avoid damaging our joints prematurely. 
Hence, some of the essential aspects you should notice when getting your ergonomic desk and chair combo are listed down below: 
Adjustable height. This is a wanted feature whether you're shopping for a chair or a desk. Simply because people come in different sizes and the optimal position of furniture for you might not be the same for other people. Being able to customize the height allows you to rest your arms on top of your table and your feet to touch the ground without problem.
Width and depth. Your furniture should be spacious enough to comfortably fit any person and still allow them to move around without feeling stuck.
Support. This aspect takes more relevance if you want to buy an ergonomic chair, as the support they provide is a huge deal. The backrest should bring lumbar support since spinal cords naturally bend in a way most chairs don't. You also want to check that the armrests are adjustable and feel good when typing.
Material and shape. Real ergonomic desks are shaped so that the material doesn't cause bumps or burns if you accidentally hit them. On the other hand, chairs should always be made of breathable fabric; this way, they are more comfortable to sit on during long periods. 
Best Sellers of Computer Desk and Chair Set in 2023
1. Autonomous SmartDesk Core and ErgoChair Pro
Autonomous' products never disappoint, and this computer desk and chair set isn't the exception. This is one of our most popular products because they're made to appeal to your needs and take care of your general well-being. 
They are entirely customizable. You can easily switch the height of the home office standing desk by just pressing a button, and you can personalize the position of our ErgoChair to fit your body and allow you to rest comfortably throughout your working journey. 
Additionally, you can get this computer desk and chair combo with a five-year warranty for the desk and one year for the chair. They can be yours by just checking out our website. 
2. Autonomous SmartDesk Pro and ErgoChair Plus
This Autonomous high-end line is a computer desk and chair set that you cannot miss. If you're a tech enthusiast who loves spending hours on end on your computer, this set is going to make your long sessions a lot more enjoyable. 
The SmartDesk Pro and ErgoChair Plus aren't only extremely comfortable to work on, but their aesthetic appeal is out of this world. Their technology makes for the best ergonomic duo for taking care of your body and lasting for years after you buy them. 
In addition, they're globally verified by several companies for being made with long-lasting and robust materials that create the best environment for your home office.
3. Bush Business Furniture Series C L-Shaped Desk
On the other hand, if you prefer a more spacious alternative, the Bush Business office desk and chair set is a fantastic option for you. This ample set gives you a lot of space to move and work with, and wide cabinets for all the storing you may need. Don't worry anymore about lacking space or your knees hurting because you are going to have more than enough space beneath the desk for stretching whenever you need it. 
The chair also features wheels on its feet for more agility when switching from one side of the table to the other and a versatile tilt mechanism for giving entire positioning control to the user. 
It's an amazing computer table and chair set for regular use that's made to last you for years without peeling or getting damaged. 
4. OQQOEE Table and Chair Set
OQQOEE's computer desk and chair set gives the word futuristic a whole new meaning. Its unique design offers a shiny finished look and a modern and stable structure to work on, as it features an X-shaped carbon-steel frame that's more durable and lighter than its usual counterparts. This home office standing desk also offers a reinforced beam design that keeps the desk stable and able to endure weights up to 660 lbs. 
The tempered glass that creates its tabletop makes sure that even if it somehow gets damaged, it can't hurt anyone. This is because this kind of glass breaks into tiny and even pieces that get rid of the damage that comes with sharp edges. 
This is the best office chair for you since it also has an entirely adjustable armrest and backrest for better ergonomics and more comfort, which allows you to get the best position for your body by just pushing some buttons. 
5. New Dirty Oak Finish Secretary Writing Desk with Chair
Say hi to a fantastic computer table and chair set from The Furniture Cove. The desk is a rectangular oak wood desk with a polished finished look that complements any space you place it in. It's perfect for more refined and old-fashioned rooms that want to remain as elegant as possible without losing any comfort or practicality. 
Additionally, it features two shelves that provide extra storage for all of your office items or miscellaneous items. 
6. MAISON ARTS Black Computer Office Desk and Chair Set
MAISON ARTS' computer table and chair set is exceptional since it features a multi-level desk. You can use its lower section as a keyboard tray, the middle one for resting your arms and any elements you want, and the higher one as a monitor stand. 
It is made out of black metal and wood, giving it a minimalist finish that blends in perfectly with any modern aesthetic you might want to pull off. The MAISON ARTS' chair is also a wonderful option because of its multifunctional and ergonomic settings, making it wholly personalizable and more stable than any other in the market. 
7. Oxford Baby London Lane Desk and Chair
Oxford Baby London Lane's office desk and chair set is an arctic gray set created from the finest hardwoods and veneers, being also incredibly simple to assemble and clean. 
This desk features two drawers for any homework or office supplies you may need to store, but it is not the sturdiest of options if your setup is really heavy. 
8. Benzara BM179946 Faux Marble Desk with Upholstered Chair
Benzara's computer desk and chair set is committed to high standards of quality. Its substantial and sleek design is suitable for any small work or study station, as it brings out the best side of any room with its elegant brown marble top and metallic black frame. 
9. JJS Gaming Desk with Monitor Stand & Computer Chair
JJS gaming desk is ideal for the most intense gaming sessions. It has enough space for storing all of your gear since it features a removable monitor stand, a cup holder, a headphone hook, and an extended mouse-pad. The desk in this computer desk and chair combo is going to become your best friend for your gaming needs. 
Its simple assembly is the cherry on the top since it shouldn't take you too long to get all ready to start playing with it.
Setting Up the Perfect Desk and Chair Set for Comfort and Productivity
Creating an ergonomic workspace is essential for anyone who spends long hours working at a desk. The right desk and chair set can make a world of difference in terms of comfort and productivity. In this blog, we'll guide you through the process of setting up the perfect desk and chair combination to suit your needs.
Assess Your Workspace
Before you begin assembling your desk and chair, assess your workspace. Consider the room's dimensions, lighting, and the available electrical outlets. Choose a location that minimizes distractions and provides a pleasant working environment.
Choose the Right Desk
The first step is selecting the perfect desk. Factors to consider include size, shape, and material. Ensure the desk is large enough to accommodate your work essentials, such as a computer, monitor, and workspace for writing or drawing. Opt for a sturdy material like wood or metal, and choose a shape that suits your needs, whether it's a traditional rectangular desk, an L-shaped desk for more space, or a standing desk for a healthier alternative. Once you have your desk and chair in place, it's crucial to set the correct desk height. The ideal desk height allows your arms to rest comfortably at a 90-degree angle while typing. You should also be able to place your feet flat on the ground. If your desk lacks adjustable height, you may need to consider a footrest or chair height adjustments.
Select the Ideal Chair
Your chair is equally important. A comfortable, ergonomically designed chair can prevent back pain and discomfort. Look for a chair with lumbar support, adjustable height, and adequate padding. Test the chair for comfort before purchasing to make sure it suits your body type.
Arrange Your Equipment
Organize your desk and chair set for efficiency and comfort. Place your computer monitor at eye level, around 20 inches from your face. Keep your keyboard and mouse within easy reach, and utilize cable management to prevent clutter.
Personalize Your Workspace
Make your workspace an enjoyable place to be. Decorate it with items that inspire you, such as pictures, plants, or motivational quotes. A personalized workspace can boost your mood and productivity. Good lighting is essential for a comfortable workspace. Natural light is ideal, but if that's not possible, invest in quality desk lighting with adjustable brightness levels to prevent eye strain. Keep your workspace tidy by organizing cables. Use cable clips or a cable management box to prevent a tangled mess. This not only looks neater but also ensures safety and prevents accidents.
Regular Maintenance
Maintain your desk and chair set regularly. Inspect for loose screws or wobbly parts and address them promptly. Periodically clean and dust your workspace to keep it fresh and inviting. No matter how perfectly you set up your desk and chair, it's essential to take regular breaks. Stand up, stretch, and walk around to prevent stiffness and improve your circulation.
Bottom Line
After reviewing all of these computer desk and chair combo setups, you're 100% ready to choose the best one for you and your home office needs. If you're still not convinced about these options, you can check out the rest of our ergonomic alternatives in our catalog, or these small bedroom office combo ideas we collected for you.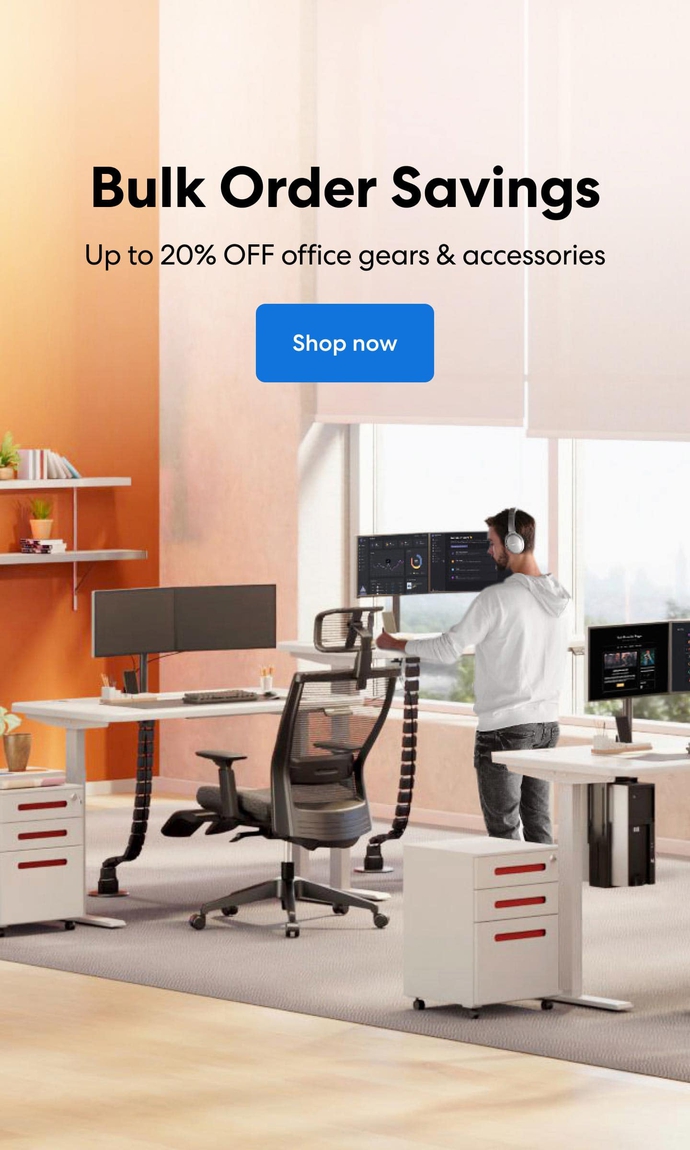 Subcribe newsletter and get $100 OFF.
Receive product updates, special offers, ergo tips, and inspiration form our team.