2022 is here, and the best way to start it is with the best office equipment you can have for your office. Working comfortably is one of the most important things for your overall health, productivity, and work performance. Unfortunately, many people don't see the importance of these things and get the most inexpensive products they can find.  
Doing that brings several health issues, such as back and neck pain. You don't have to go through that, so you should take some time to find office products of decent quality. All workers need to start somewhere, though, and why not do it with office desks? 
People often take for granted how different office desks are from regular or standard office products. The former has tons of benefits that ensure your wellbeing and help you work under the best conditions possible, and the latter only gives you basic functions every desk should have. 
Finding the best desk for work from home workers is no easy task. There are tons of options on the market, and analyzing each of them is a nuisance for many people. We are here to help you with that! Dive into this page to know the 15 best desks for remote workers in 2022! 
Why Are Work-from-Home Office Desks Important?
While many office workers save money for standing desks and ergonomic products, others don't understand the perks those items give them and stick with normal products. Although that's not a bad thing, you must know how beneficial work from home desks can be for you. 
Let's start with the fact that those desks are specifically made for remote workers, so they address the needs that people would have while working from a home office. Therefore, things such as height adjustability, control pads, and shelves are often built-in features in work at home office desks.  
Sitting on a chair and working on a regular desk all day long causes several problems such as back pain, mental exhaustion, and bad posture issues. However, since many people can't just stop working and get those concerns solved by a doctor, they ignore them and let them worsen over time. 
Remote office desk developers know that, so they focus on offering you desks that allow you to work all day without suffering from those problems. Apart from that, these desks are often more comfortable than average desks for work from home office, which helps you feel more active while working.
What Are the 15 Best Desks for Work from Home Workspace?
Without further ado, it's time to tell you what the best work from home desks of 2022 are. Here, you can find a brief overview of what each of these desks gives you, but remember you can look for more information about these desks for work from home office on their companies' websites.  
1. Autonomous SmartDesk Pro
This is one of Autonomous' best products, and some people even consider it one of the best home office desk on the market. The reason for that is its minimalist design and how its features help remote workers and office workers alike. Apart from that, it offers you tons of tabletops for you to choose which one suits your office best.  
Like other Autonomous desks, the Autonomous SmartDesk Pro is height-adjustable, and you can make all the changes you want in a few seconds due to its upgraded electric dual motor.  
Therefore, this adjustable standing desk has a control pad with four programmable settings that make sure everything you do is automated and doesn't take any time from you. 
2. Autonomous SmartDesk Corner
One of the best things about Autonomous is that it has something for everyone. If you want an eco-friendly ergo chair or a white standing desk, you can easily find it there! 
This corner standing desk is perfect for people in need of a lot of space for their work equipment. You could even use it as an L-shaped standing desk! Therefore, it offers a weight capacity of 400lbs, which is one of the greatest on the entire list.  
3. Kaelin Desk
Wayfair shows you a wide catalog of products to choose from, and the first one we are going to see from it is the Kaelin desk. People working on a budget can find a cost-effective alternative to this work from home table, so go for it if you don't have that much money to spend on office equipment.  
Being affordable doesn't mean the desk doesn't offer excellent features since it has a handful of them. Its most important function is its folding and portability one, so you can fold it in a corner to save space. Don't worry about the desk losing its brightness after a time since it includes a sturdy metal frame too. 
4. MICKE Desk
The MICKE desk for work from home workspace comes from IKEA, which is popular for offering office furniture that focuses on features and comfort. You can fit this minimalist desk anywhere you want due to its white design that works with almost every standard office out there.  
If you worry about not having a place to store your cables and office equipment, this is the best home office desk for you. It's not difficult to mount the desk's storage unit to the right or left of it to keep your tools and gadgets organized.  
5. Studio 48 Walnut Desk
People looking for minimalist desks for their office often turn their eyes to the Studio 48 Walnut Desk due to how easy to manage and comfortable it is. Whether it's good ergonomics, high-quality materials, or sophisticated designs, this product has it for you, so it's a bold option for all remote workers.  
Although many people work with laptops and personal computers, many others rather go for written documents and notes. Nonetheless, it's difficult to write anything on a work from home table that doesn't have a stable writing surface. The Studio 48 addresses that issue by giving you a smooth and stable tabletop with a sleek and minimalist design. 
6. Mid-Century Fold Out Desk
Looking for a vintage-looking desk? The Mid-Century Fold Out Desk is a wonderful option for you! This work from home table's design works its best with a brown computer desk setup, so consider buying other brown and vintage-looking products to fit with this desk.  
As its name suggests, you can fold this desk into itself if you are not using it or want to take it somewhere else. That makes it perfect for digital nomads or people planning on moving out. 
The desk's top is enough for your laptop or documents, but it also gives you storage compartments for little things such as pens and other office items.  
7. Volga Desk
We know there are many minimalist options on this list, and the reason for that is that minimalist designs, in general, are now trending. Nothing in this list is more minimalist than the Volga work at home office desk.  
Regardless of that, the Volga desk is also modern and sophisticated. The main perk of this product is you could use it in a home office, office building, or even as a nightstand due to how small it is. Don't let its size deceive you, though. You can use this desk to work with no trouble.   
8. Kana Bamboo Standing Desk
FlexiSpot is one of the most popular office item developers on the market, and that's due to how sturdy and useful its products are. Wooden-made products are always a good and sturdy option for you. If you are looking for one, you are going to love the Kana Bamboo Standing Desk.  
The reason many office workers spend hours looking for desks is they look for specific features on those products, and one of the most demanded things in ergonomic desks is eco-friendly materials.  
Apart from being sturdy, the Kana desk is an eco-friendly desk, so you are good to go with it if that's what you want. 
9. Jarvis Bamboo Standing Desk
Like it happens with Autonomous and its SmartDesk products, many ergonomic items developers release their products as part of a lineup. Fully does that a lot, and one of its best lineups is Jarvis. 
The Jarvis Lineup includes desks, chairs, and office equipment, but this time, we are talking about the Jarvis Bamboo Standing Desk. Apart from giving you the essential height adjustability features for every home office standing desk on the market, this eco-friendly bamboo desk uses an upgraded OLED touch-programmable handset for you to make all the adjustments you want.  
10. Jorn Media Desk
We also have room for DIYers here, so they can spend all the time they want assembling the Jorn Media Desk. When we say all the time you want, we mean it since it could take a lot of time or only a few minutes to assemble depending on what you want for the desk for work from home office.  
Study your space and pick where you want the desk's shelves and pedestals to be. Apart from that, you can choose the color you want for its shelf surfaces. The Jorn Media Desk developers understand that workers use many gadgets, so they added a hole to keep your cables organized.  
11. Sullivan Writing Desk
Although the Sullivan Writing desk is one of the most stylish and sophisticated products on the list, it's also one of the most expensive ones, so we only recommend you get it if you have the budget for it.  
As its name suggests, this desk is meant for writers or office workers who need a smooth and stable surface to write on. However, it's still useful for people using laptops and personal computers. 
12. Live Edge Waterfall Desk
Speaking about expensive desks for work from home office, the Live Edge Waterfall Desk is one of them. What makes this desk that expensive is its hand-made design that boosts the aesthetics of any place you put it in. Don't worry about the desk deteriorating or losing its brightness after a few months of use. 
This desk for work from home office is so appealing that some people have even used it as decoration for their living rooms and offices, so don't doubt how good this product can look on your home office. The only problem with it is that it, naturally, doesn't offer any height-adjustability features.  
13. ARTIFOX Desk
Some office item developers like to approach things differently from their competitors, so they give you different features than the ones you would expect to have on your office desk. The ARTIFOX desk does that by not offering you height-adjustability features but two different presentations of the same product.  
What we mean by that is you can order the sitting option for this desk or the standing one. While many people would see this as a disadvantage, it's perfect for workers that want to stop sitting while working altogether and can't. 
This desk is compatible with almost all desk accessories on the market, so use the ones you like best.  
14. FRAMA Shelf Library Natural Desk
While many people have a lot of space for their office items, others don't have any floor space for them, so they can only get small desks and chairs. The FRAMA Shelf Desk solves that by giving you a work at home office desk you can attach and unfold from your wall. 
15. ENGRIY Writing Computer Desk
The last product on this list is the ENGRIY Writing Computer Desk, and you can get it from Amazon. This product's shelves and hooks allow you to place your headphones, documents, and any office equipment you need to use while working. 
Conclusion
A new year represents a new way of working and improving things at your office. Start with any of the desks we mentioned before and see the benefits in the long run! However, we recommend you first try the Autonomous ones if you want to go for the best experience possible.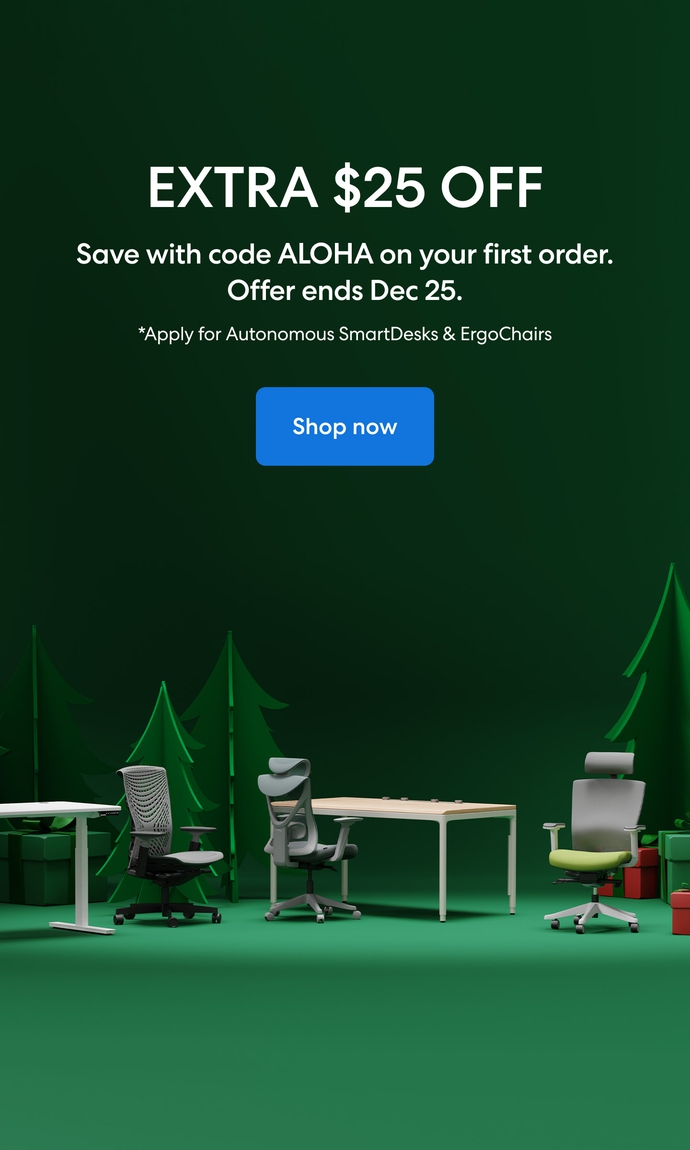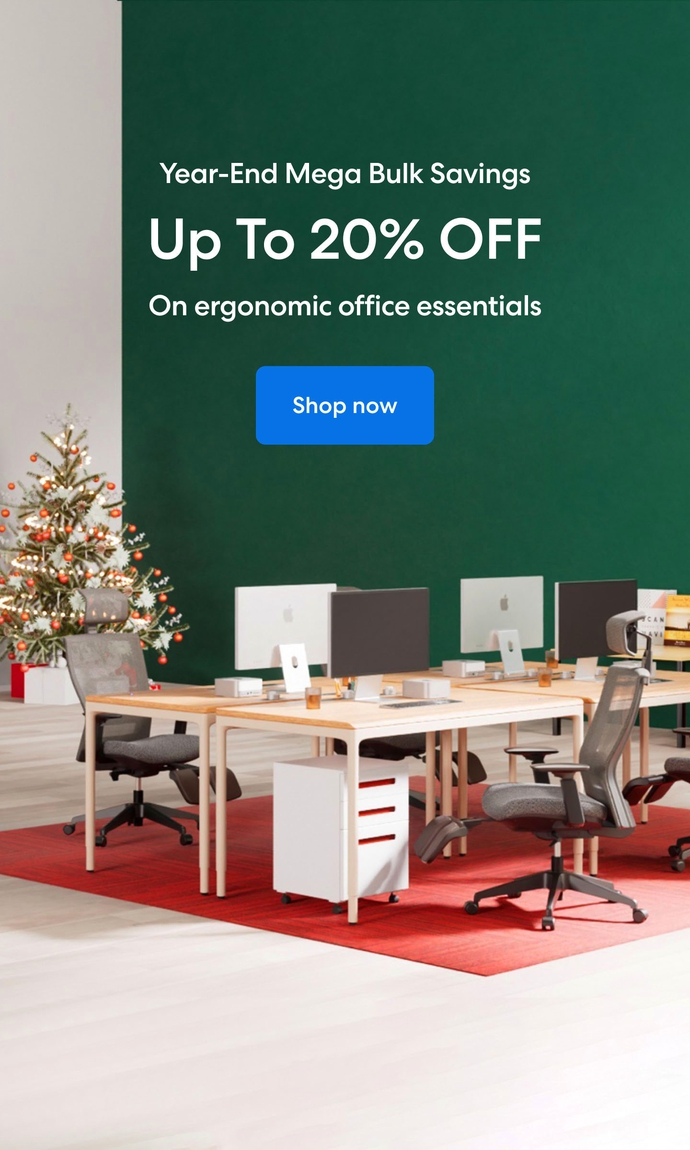 Subcribe newsletter and get $100 OFF.
Receive product updates, special offers, ergo tips, and inspiration form our team.