Smart Products
15 Best Height Adjustable Laptop Stands for Ergonomics

Autonomous
|
Jul 31, 2022
1,484 Views
Millions of people worldwide have switched from a desktop configuration in the office to something more improvised at home since the pandemic started. And they end up in search of various cost-friendly options to build a work-from-home setup. Adjustable Laptop stands are considered a cheaper solution to attain the health benefits of working while standing with numerous other benefits. From lightweight monitor stands to heavy-duty double screen stands, there are a plethora of products you can find online. Though the mechanism remains the same, a good choice can help your transition to a sit-stand or ergonomic work setup much easier and more pleasant.
1. Mount-It! Laptop and Monitor Stand
A compact standing desk converter is all you need, especially when you are limited on space and have a compact desk setup to maintain. This laptop desk stand by Mount-It! is one of our favorites because it effortlessly steals the game with most features and minimum design. The height adjustable laptop stand has both the features to elevate your screen to an ergonomic level as well as a separate tray that can proudly hold your laptop even at XL size. This stand has a load capacity of 22 pounds per arm which is sufficient for a regular-sized work or gaming monitor.
2. Mount-It! Laptop Tray
Sure we all love an ergonomic desk setup with the best ergonomic chair, but what about the days when you are too sick to get out of bed but need some work done? We think this bamboo laptop tray bed stand would suffice. Not the exact best ergonomic solution we recommend, but it is much better than slouching your back or hurting your thighs in an uncomfortable posture all day. The bamboo design speaks for itself, and the tray also has a simple mechanical height adjustable system.
3. The Office Oasis Monitor Stand
Not your typical adjustable laptop stand for desk but a great solution when you need portability and lightweight design on the go. This bamboo computer monitor stand can exist on the top of your desk, but it will not provide the adjustable height feature. And that's okay because this one works in combination with an ergonomic desk when you need a little push of the screen to maintain a safe eye level.
4. Notebook Desk Stand
Time accessories like notebooks are often ignored. But when it comes to professions like nursing or teaching, notebooks are widely used, and hence the proper solution to reach a suitable height is lacking. The Notebook desk stand by Mount-It! can deliver a wonderful ergonomic and productive desk setup solution for all your needs. You can teach while standing or sitting, and the stand is simply height adjustable.
5. Elfant Laptop Stand
When expanded, the Elfant Laptop Stand can accommodate computers up to 17 inches broad while folding up to just 11 x 4.33 inches. Even while most modern computers weigh less than 15 pounds, the aluminum frame can support up to that weight.
6. Urmust Laptop Stand
This 28.5 inches adjustable laptop stand is as compact as you could find but is also adorably strong. Additionally, it may be rotated between 0 and 90 degrees to accommodate your workflow. Even though it is made of a thin aluminum alloy, it can handle up to 4 kg of weight, and the durable rubber keeps your gadget in place.
7. Roost Laptop Stand
The Roost's 6.3-ounce adjustable laptop stand, which is a genuinely lightweight and compact choice, includes seven height options that will help you find the ideal alignment. Its front-clamp design, which keeps laptops from slipping even as you tilt and adjust, is also highly praised by reviewers.
8. Raindesign iLevel
Raindesign iLevel laptop stands are worth paying for because they are as stylish as your expensive apple devices. They can hold the laptop in place with a sturdy grip and also keep your screen in an ergonomic position. Also, these portable adjustable laptop stands are easier to adjust where you need to operate a knob on the side.
9. Satechi Aluminum Laptop Stand
Given that it weighs less than half a kg and is simple to store when not in use, it makes a terrific solution for any laptop user. Additionally, rubberized grips are present to safeguard the laptop while it is mounted.
10. PWR Laptop Riser
If you need a laptop stand that doesn't come as a separate table to increase the occupied space on your desk, then look here. One of the modern and best adjustable laptop stands, you can easily work from home with this tiny portable piece of wonder. It can adjust up to 17 inches and is just a simple zig-zag machine that moves up and down. It also has a separate stand for your mouse and built-in cooling fans.
11. Varidesk Pro
You may try out a range of positions with the VariDesk's 11 different height settings. It also has a bottom shelf for an external keyboard and mouse and is large enough to handle a monitor if you like to work with two screens.
12. Avantree Laptop Table
Solving the work-in-bed issue once and for all, this one is for those who are just too hesitant to buy a work desk. After all, something is better than nothing, and this adjustable laptop table is a good pick for bed people. It is spacious enough for your laptop and a mouse as well as a bowl of some chips, and who can even do without coffee? It offers a height range of 4 inches which is sufficient when you are working in bed.
13. Vivo Laptop Stand
Vivo single-screen adjustable laptop stand is for simple users. This one does the job of keeping your workstation stress and clutter-free in a very effective manner. The massive tray, though, is enough to hold even an XL screen size, and it also has a ventilated channel for maximum airflow.
14. Griffin Laptop Stand
Improve your work-from-home ergonomics with this simple stand that offers height adjustability of 5.5 inches. The desk stand prevents you from hunching down or tilting up means it has found the perfect healthy height for you. The slight tilt is for the ergonomic placement of your shoulders, and you will not feel a hint of pain when working with this beauty.
15. Ergotron Workstation
With a two-tier design that enables you to fit a full-size keyboard and mouse underneath, this laptop stand can handle a laptop and a second display. It lifts quickly when you're ready to work standing up; it's spring-loaded and manageable by one person.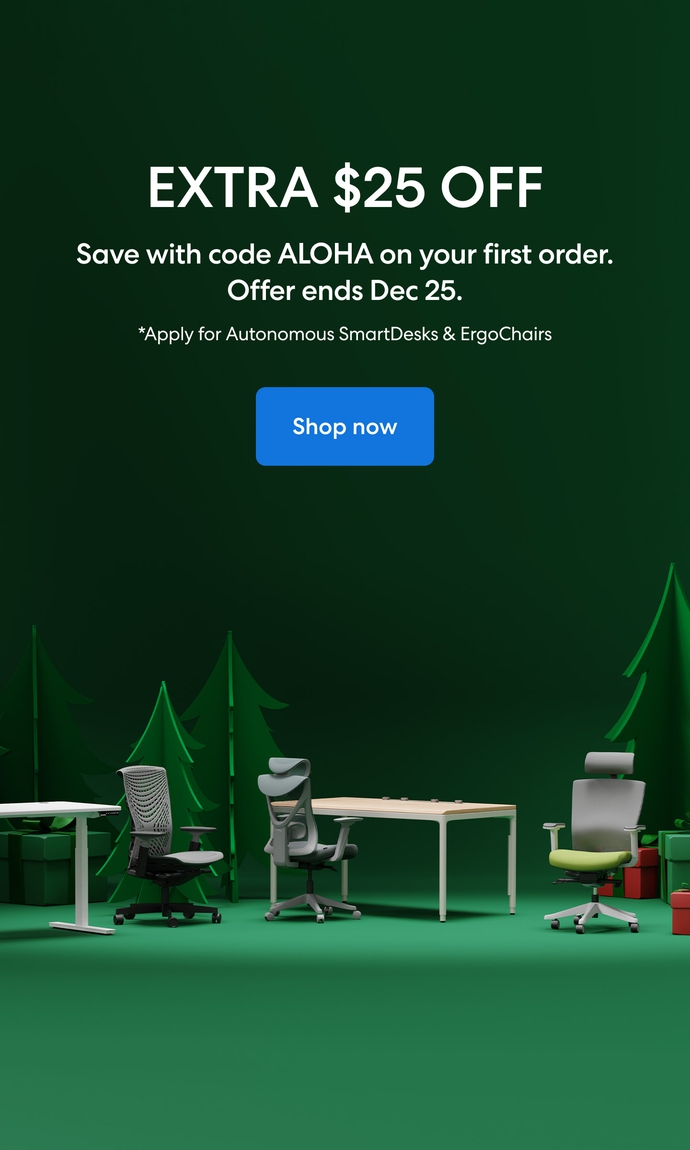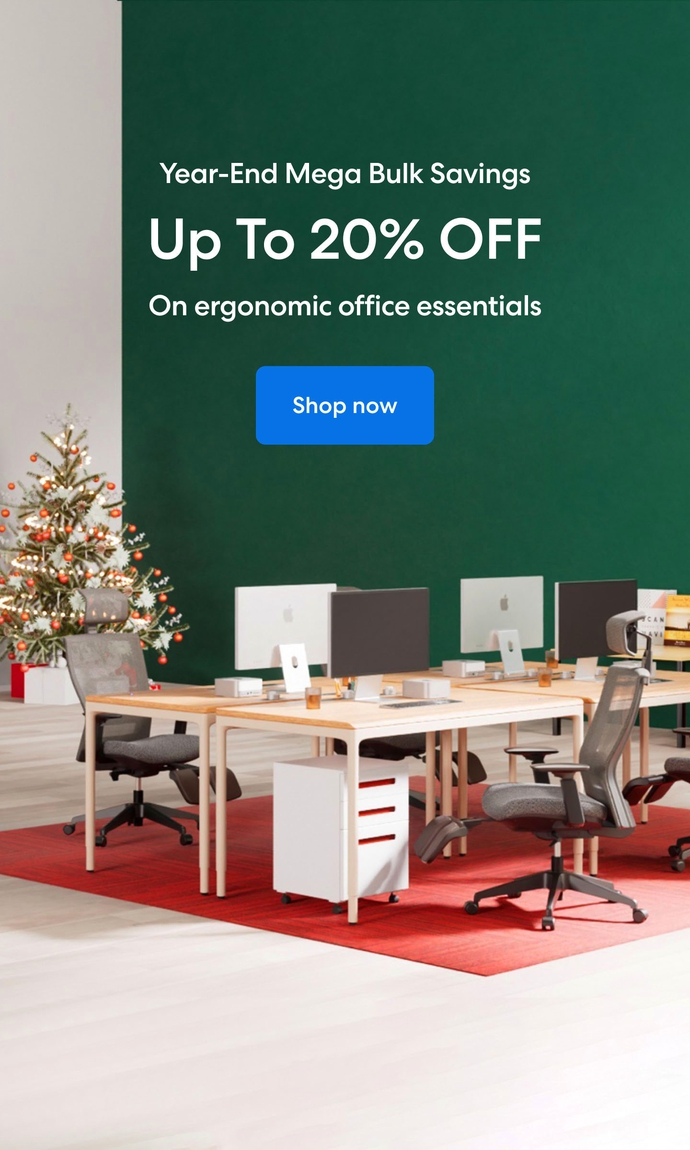 Subcribe newsletter and get $100 OFF.
Receive product updates, special offers, ergo tips, and inspiration form our team.