Have you ever cringed looking at a chair with no arms? Chairs that are straight seats adjoined to legs scare not only us but also bring discomfort and anxiety. Armrests make a chair look complete, and not only from an aesthetic point of view but armrests have many benefits for the human body ergonomics. But it is also true that a home office chair with arms must be adjustable; otherwise, these armrests are nothing but a waste of material.
So the next time you are excited about a ergonomic chair with armrests and out to shop for home office essentials, make sure to look for the best ergonomic chair. To buy an ergonomic chair might demand a little looseness on your budget, but the benefits of an adjustable armrest office chair are all worth it.
This article will cover the best home desk chair with armrests as well as some amazing gaming chairs with armrests for your homework and play adventures.
20 Best Home office chair with arms for Your Workstation
For years, it has been hotly debated whether office chairs should have armrests, and there are essentially two opinions on the home office chair with arms. It is important to use a desk chair with armrests to allow our arms to rest while seated, thus reducing the amount of strain on our lower back.
We should avoid using armrests since they contribute to shoulder shrugging, forearm friction, and leaning postures. In short, both sides have a valid point of view on whether ergonomic chair armrests are needed on our office chairs. You could, however, get started with our ideas here.
1. ErgoChair Recline
ErgoChair Recline is simply the best home office chair with adjustable arms, but that's not the only benefit this product offers. ErgoChair Recline offers height adjustability, adjustable armrests, lumbar support for the spine, and a smooth recline to work in various comfortable positions. The comfortable foam seat makes the chair durable and allows the user to work for hours without tiring.
2. ErgoChair Pro
Armrest adjustability with armrest height, depth, and angle are note-worthy features of this product, but ErgoChair Pro is much more than a comfortable wizard with flexible arms. This chair is modern and has a strongly supported meshed back. The seat depth and curve with ample cushioning make this product a must-have in your home office.
3. ErgoChair Plus
ErgoChair Plus is made with a solid steel frame and a seamless design for maximum free movement. The chair encourages natural mobility for the user, and the adaptive spinal support makes the most of long hours of work or gaming. This computer chair with adjustable arms has a high weight capacity, ideal for people belonging to a diverse crowd.
4. Autonomous ErgoChair Core
People looking for a reclining, ergonomic office chair at an affordable price should consider the ErgoChair Core. It would be more comfortable if the armrests were flat or slightly raised.  
The adjustments can be made in three different ways. There are up and down adjustments, side to side, and slight inward adjustments. A lever is located outside the armrest to adjust the height. For other adjustments, the armrest can be pushed into place.
5. AvoChair
The AvoChair review is for you searching for an ergonomic office chair that transforms the office. The eco-friendly office chair features good back support as one of its features. Elastomeric mesh and nicely padded armrests make this an incredibly comfortable chair. With AvoChair, your office will have an environmentally friendly touch without breaking the bank.
With its subtle edges and lines, this home office chair with arms is eco-friendly. These armrests are stylishly designed and made of recyclable materials. The chair is made of many recyclable materials. There are small pads that can be adjusted in numerous ways. The armrests can also be adjusted in width and slid forward or backward. As the armrests can be adjusted, you can adopt the most comfortable posture for you.
6. Twist Work Chair
A little simplicity and glamor through this unique mustard work chair from wood furniture. Though the armrests are fixed, they are made at a comfortable angle. The chair can be your reading buddy or work time partner, depending on when you need the most comfort. The cushioned seat and back also make this product a perfect pick.
7. Comhoma Desk Chair
This home ergonomic office chair is extremely reasonably priced, so if you want the benefits of a really supportive desk chair without spending a fortune, this Comhoma desk chair is a great option. It has a curved backrest, a height-adjustable mechanism, and a mesh back, allowing you to find the ideal position for your body size, height, and desk height.
8. Amazon Umi Ergonomic Chair
The Amazon Umi ergonomic chair comes in two unique colors, and you will love them both equally. A meshed back, tall back support, and adjustable armrests are all features of this product. The personalized seating position also makes this home office chair with arms super comfortable and easy to manage work with.
9. Herman Miller Aeron Office Chair
Another great product from Herman Miller, the Aeron office chair, is one of the best ergonomic products in the market. The chair gives your body a natural seated position, so you won't experience a hint of strain in any part of the body. This product also has a meshed back to make working in summers much easier.
10. Dada Office Chair
This simple yet high-quality home office chair with arms will keep you comfy for extended periods of time, making it a worthy improvement over your kitchen chair. The backrest bends to accommodate your natural bone structure, and the seat height and angle may both be changed to fit your height, weight, and body shape. The computer chair with adjustable arms is made of breathable mesh, which is a plus because it keeps you from becoming too hot.
11. Star Space High Back Chair
For people who love to set up their home office with a rather large chair, the star space high back chair is all you need. With an ample amount of cushioning on the seat and at the back, this chair is worth a purchase. The adjustable armrests also make the most of the comfort level.
12. Nouhaus Ergonomic Chair
The Nouhaus is one of the best options from an ergonomic and financial viewpoint for individuals who like a higher back and a more breathable mesh covering on their office chair. Unlike many other high back chairs, the Nouhaus has a built-in headrest that can be adjusted in angle.
13. Berlman Ergonomic Chair
An integrated framework to support the back with curved, breathable, ergonomic mesh and a built-in headrest work with lumbar support to safeguard your neck and posture during long hours at the workplace. Despite the fact that the lumbar support isn't adjustable, most users found it to be supportive and pleasant. The flip-up arms with all-over adjustability are one of the most helpful features of this high-back chair.
14. Neo Executive Computer Chair
The Neo executive computer chair is available in six different colors and designs making it an all-rounder pick for your work adventures. This adjustable armrest office chair is completely adjustable and also has the best adjustable arms for maximum user-friendliness. The leather armrests also provide all the cushioning your upper body needs.
15. HON Gaming Adjustable Chair
The Sadie Gaming Chair is the epitome of quality and affordability. This is a wonderful gaming chairs with armrests for tiny spaces, with strong ergonomic support, flip-up arms, and a choice of four interesting colors. The adjustable seat height and back recline to accommodate a range of gaming postures, while the flip-up arms provide support when needed and disappear when not.
16. Herman Miller Ergonomic Chair
Herman Miller is a popular name in designing the best ergonomic chairs. They make the products with the greatest care and attention to comfort. This cosm high back home office chair with arms covers the entire back for maximum support. The unique design of the armrest makes the most of sitting time, and you will feel all the stress draining away from the shoulders.
17. Humanscale Task Chair
Another modern product from the future, the Humanscale Diffrient chair, is out of this world with its one-of-a-kind design. Created with years of engineered technology, this chair is known for its armrests and a wide oval-shaped back which keeps your spine straight and active for hours to come.
18. Steelcase Leap Chair
Our first choice is the Leap chair by Steelcase. In part, because it scored well in our comfort tests, the Leap was our top choice for an office chair with adjustable arms in 2022. Considering only the three comfort tests, the Leap has the highest average score. Our only chair that received at least 80 out of 100 across every comfort category is this one.
However, the seat is not very warm compared to thicker padding. The seat is soft, supportive, and it is comfortable. No edges restrict the seat's movement, and the plastic seat pan is flexible. The Leap computer chair with adjustable arms has the option to have four-way armrests, which makes it a very comfortable chair.
Among the best we've tested, the arms are very comfortable. They have a squishy feel and are soft. Their size provides a lot of room to move around. Their adjustability is their greatest strength. All four dimensions and the pivot can be adjusted. Both of those positions are fully articulated.  
19. Vera Chair from Eurotech
The chair's back is made of flexible mesh, which conforms to the person's shape seated in it. Besides allowing you to sink into it, it provides good mid-upper back support. There is a pronounced curve in the backrest, which provides excellent lumbar support, even without back height or lumbar adjustments.
Height, width, depth, and pivoting capability are available for the armrests. Unique arm caps are also available. The sides of the bags are rounded, but the front and back are not. This eliminates the most common edges. Comfortable but firm armrests complete the package.
20. Humanscale Diffrient Smart Chair
Similar to the Leap, the seat is very comfortable. Flexible injection-molded plastic makes up the seat pan. The plastic is flexible and does not have a frame around the edge. As you bend it, it moves along with you.
The arms are also among the six most comfortable parts of the chair. All three dimensions are adjustable. Steelcase home office chairs with arms on this list offer a wider range of options, but they still provide a decent number of positions. Furthermore, they have comfortable pads. The material is soft and squishy and is made of urethane.
Home Office Chair With Arms vs. Without Arm
Should an office chair have arms?
You can rest your forearms on the office chair armrests, thereby reducing strain on your arms and shoulders. The more significant aspect might be what armrests are not intended to do. When working or typing, you should adjust your computer ergonomic chair so that your elbows are not resting on the armrests.
Does it make a difference whether an office chair has arms or not?
Our first recommendation would be to use armrests since they support our upper limbs and reduce the load we put on our back when seated. We really should be limiting the use of office chairs without arms as they could lead to issues such as shoulder shrugging, contact stress on the forearms and leaning postures.
Consider the following scenario.
You are actually at the proper height, and your elbows are at the same height as the desktop. You are relaxing your shoulders and keeping your elbows close to your sides. Still, you wish that armrests provided some additional support.
People often do not know at what height their armrests should be positioned.
Their typical placement results in their shoulders being shrugged, again due to placing them too high. You might have another issue with your armrests being set at different heights, which causes you to lean to one side as you sit. As a result, your forearms tend to get stressed because you are putting a lot of weight on one side, causing your spine and pelvis to misalign, resulting in lower back pains. 
Features to Check When Buying an Office Chair with Armrests
Height Adjustable
This refers to the chair's overall height from the base to the headrest. When adjusted, you will be able to sit at your desk without overstressing your neck or back.
Width Adjustable
The width of the armrests concerning the seat pan can be broadened so that you don't feel squished in one position and can move about freely.
Pivoting Armrests
As mentioned, armrests that can pivot inward or outward, offer greater stability when you're seated.   
Length Adjustable
Some armrests can be lower or raised up or down based on your preferences and the user's height and desktop. The aim is to ensure that arms bend at a comfortable 90° angle.
Flip-Up Armrests
The entire armrest moves up so that it is out of your way. This comes in handy in certain scenarios – for example, if your arm is in a caster, or if you've attached an extended armrest device to your desk or if your desk space is limited and the armrests jut out too much.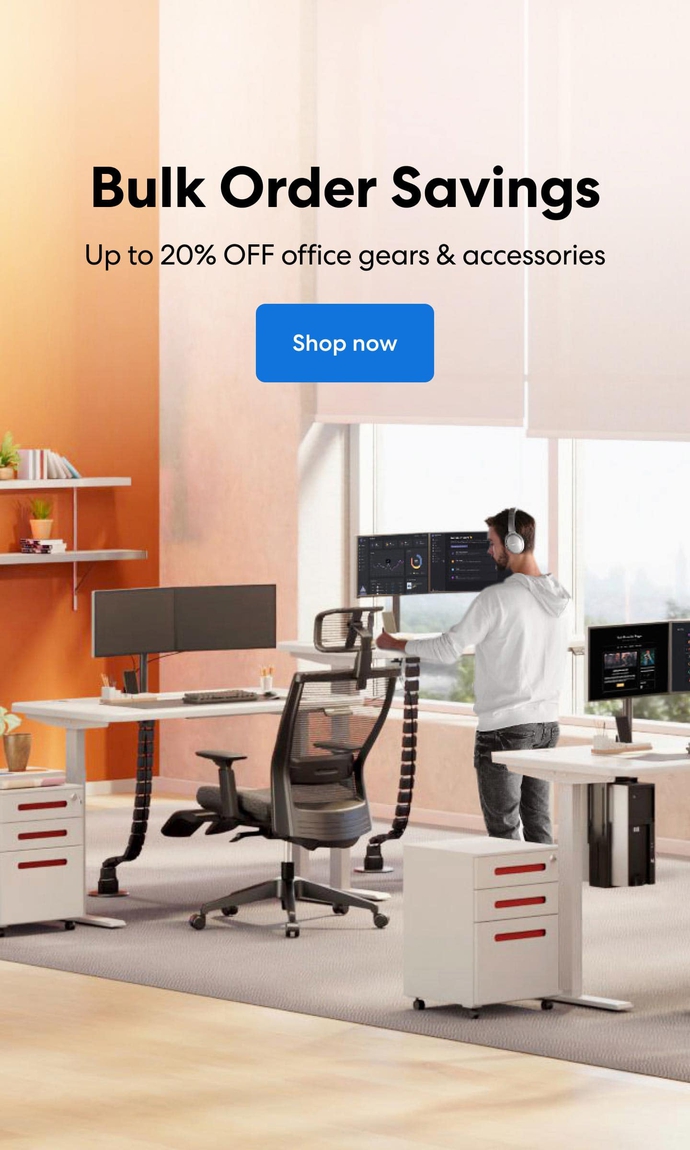 Subcribe newsletter and get $100 OFF.
Receive product updates, special offers, ergo tips, and inspiration form our team.