Having a spacious, comfortable, and ergonomic chair or desk helps in jazzing up your office. Are you aware that a few handy smart office accessories exist that you should consider as well? Perhaps you should take nothing for granted more than lighting. Consider having some office desk lights for your workspace. 
According to Harvard Health research, staring at a computer screen for a long time with limited light is likely to strain your eyes. They are bound to get tired easily.Luckily, if you are looking for the best office lights on the market, you are in the right place. Make your money work for you by properly lighting your office space. Read on to find out the best desk lamp for your space. 
List of Office Desk Lamps for Your Workstation
Unsuitable lighting for computer use can lead to eye strain, burning or itchy eyes, headaches, double vision, and other visual discomforts. An ergonomic desk light should be adequate so that you can see the screen and the text, but not so bright as to cause discomfort or glare. You should take into account the following elements for optimum comfort and performance from the best desk lamps:
Quantity of light

Environment and Light in Contrast
1. Autonomous Ultra-Wide LED Desk Lamp
This, perhaps, is the most common lamp among the standing desk accessories. The lamp has a design for the greatest flexibility, adaptability, and usability. What does that mean? It means the lamp is an ultimate excellent tool for office use. 
With an ultra wide LED lamp of 31.5 inches, this lamp is sleek and modest. Its ergonomic desk light covers the entire desk. You can perfectly spotlight your work at a perfect angle using its rotating and bending neck. Better still, the lamp has five brightness levels and four temperature modes. What more can you ask for in a computer desk lamp?
2. LED Lamp with Wireless Charger by Lumicharge
Wireless charging office table lamp supports fast charging for iPhone and Android devices. Play your favorite music while it charges! In addition to lighting up your space, this wireless charging lamp also features an integrated 10W universal charger capable of charging your iPhone and Android devices. If you need to charge another device simultaneously, you can connect it to the USB port.
3. LED Lamp with Wireless Charger & Speaker by Lumicharge
Introducing the LumiCharge II, wireless LED lamp with speakers. Light up and charge your smartphone wherever you are. This wireless soft light desk lamp offers wireless charging in the front, a docked charger in the back, and a built-in USB port on the back, allowing for a highly functional and versatile charger. Its 10 levels of brightness and three adjustable hues make it the best office light for any room at home or in the office. It remembers the last setting you made.         
4. Mina M Wireless LED Lamp by Lexon
Lexon Mina M portable led lamp is a perfect choice to inspire any space. Several light color options are available, including warm white, cool white, blue, yellow, green, red, purple, light pink, and light blue.  
5. Wireless LED Task Lamp by Stella Lighting
Powerful Stella Go portable led lamp with a single charge lasting 11 hours. The 10 brightness levels allow you to choose between warm, natural, and cool light. Wireless lamps are convenient for kitchens, home offices, and bedrooms. The just over 5 lb weight is easy to transport, with a strong weighted base.
6. LED Desk Lamp
LED Desk Lamps come in a variety of brightness levels and color modes. The flexible design allows you to adjust the angle of this elegant LED desk lamp to meet the needs of your project. Light up your workspace with this compact computer desk lamp that creates a well-lit personal ambiance.
7. TaoTronics TT-DL16 Metal LED Desk Lamp
Are you looking for a flexible and full desk coverage lamp? Look no more, TaoTronics TT-DL16 Metal LED desk lamp offers the amount of light you need. The computer desk lamp has a variety of colors and brightness levels. This lamp has several features such as a functional memory, USB port, and 60 minutes timer. 
8. TaoTronics TT-DL13 LED Desk Lamp
Many offices commonly use this ergonomic desk light. The office table lamp provides good quality light and has a presentable design. It has 11 adjustable brightness, five color options, and a temperature regulator. 
9. Tomons Swing Arm Desk Lamp
This type of computer desk lamp has appealing features and adjustments. Tomons Swing Arm desk lamp is easily recognizable due to its shape and wooden crafting. The desk lamp is straightforward in providing minimal and classic lighting. 
10.  Tomons Wood Swing Arm Architect Desk Lamp
The Tomons Wood Swing Arm Architect desk lamp is a modern crafted lamp with a wooden and metal design. This office table lamp stands out due to its Scandinavian designs and features. Though it doesn't have adjustable temperature and light, it brings style to your desk.
11.  Light Society Hylight Retro Desk Lamp
This office table lamp is a perfect representation of old-time desk lamps. Considered among the best office table lamps, Retro has seen better times in many offices. It is among the common standing desk accessories worldwide. This best desk lamp describes simplicity at its best. It gets the job done and is very affordable. It is made of iron, has an angled arm, flared shade, and a swiveling. 
12.  ECOLAND LED Desk Lamp
Ecoland is, arguably, the best desk lamp with practical features. This LED desk lamp has five color and seven brightness modes and a USB charging port at its base. Interestingly, the lamp has a timer that can shut it off after some time. If you are crazy about reading, art, crafts, or working on the computer, then this is your ergonomic desk light. 
You can use the touch controls to get your desired lamp angle. The light has a 360-degrees swivel swing arm for right placing. If you forgot your earlier settings, then don't worry. You can retrieve all your prior light modes using the lamp's memory function. 
13.  Ikea Forsa
This is a much cheaper computer desk lamp and one of the best desk lamps in the market. Ikea Forsa is an office standing desk lamp recommended by many people. It is a darling of many of its users due to its affordability and practicality. 
Studio owners find it ideal for their needs. The lamp has an LED desk light on its head. The adjustable arm permits directing the glow where you please. It sits on the desk without fastening. Buying the lamp guarantees longevity due to its acrylic-coated nickel-plated steel body. 
14.  Glass Banker's Desk Lamp
This best office light has a good modern vintage. The Glass Banker's Lamp produces a natural and cozy ambiance for illumination. Its notable features enhance its brightness and operations. 
15.  HAITRAL Vintage Table Lamp
This vintage computer desk lamp is known for its unique aesthetic features. This best desk lamp offers brightness and brings ambiance to a room. For people with a small working desk, this lamp is ideal for use. It occupies less space and is easy to use.
16. Brightech – Circle LED Desk Lamp
The secret is in the name. The Brightech Circle LED desk lamp is ideal for work. It offers an illuminating and energy-sipping solution for people in need of a bright desk. The lamp's design is eye-catching for any office. What is more impressive about this office table lamp is its compact base. The base allows it to fit in any space. You can use this soft light desk lamp at the bedside table or for your bookshelves. 
17. Lightblade 1500S Desk Lamp
This best desk lamp is all about brightness and power. It is so powerful with up to 1500 brightness lux. It brings added illumination even on bright sunny days. The lamp simulates sunlight for a natural feel. You can comfortably use it on your office standing desk. 
18. JUKSTG LED Desk Lamp
The lamp has a more polished chrome feel granted by its simplicity. It has touch controls and a 180-degree rotating arm. The soft light desk lamp components include seven brightness settings and four lighting modes. 
You can charge any gadget with a USB port charging system on this lamp. This well-rounded lamp has an automatic energy-saving shut-off system.
19. Phive Dimmable LED Desk Lamp
The lamp's striking modern and clean design makes it stand out. It not only has a USB charging port, but the port is fast-charging. The charging system works well with larger electronics. What is more impressive is that Phive can be adjusted for brightness and temperature. It is eye-friendly with up to eight levels of brightness adjustments. You can sit at your desk and work from many angles as the light covers it entirely. 
20. Luxe Cordless LED Desk Lamp
How refreshing it is to have a clutter-less lamp. Just as the name suggests, this computer desk lamp is wireless. It is one of the office table lamps that are rechargeable and long-lasting. It has efficient energy LED desk lighting. In fact, you are sure to have your office standing desk lit up for up to 40 hours non-stop on a single charge. 
This soft light desk lamp is sleek, modern, and stylish, made of high-quality materials. Though it lacks adjustability, its freedom from wires makes it ideal for the modern office design. Moreover, you can adjust its color temperature and brightness. 
How to Setup Ergonomic Light for Office
The ergonomics principle applies to many office areas. Ideally, most people focus on office chairs, desks, standing mats, and other accessories. All these items offer body support and posture. Unknown to many, ergonomic lighting for offices often slips under the radar. 
Are you aware that having top-notch chairs and desks is not enough? Yes, it is not enough, especially when your lighting is poor. With improper lighting, you may hamper your productivity. You become prone to making errors, negatively affecting your mental alertness. Neglecting ergonomic lighting for the office can damage your vision and cause headaches. You start to experience blurry vision. At worst, you may develop Computer Vision Syndrome (CVS). Look at the below overviews to get the best best desk lamp. The provided steps help preserve your visual health.
1. Have Your Monitors Away from the Window
Think of glare as your number one public enemy. When deciding on how to light your office, think of reducing glare. Your computer screens emit light by themselves. You need to play smart to strike a balance between the screens and natural light. 
Avoid placing your computer monitors near windows. The high screen and window brightness contrast can be problematic. It may become hard for you to see things clearly. You may develop eye pain and soreness by squinting to see things on the screen.
2. Consider Your Lighting Placement
The focus here is on eliminating glare. Do you know how to place your best desk lamps to avoid unwanted eye blasts? The direction of the illumination helps in answering this question. Get to understand how to use direct and indirect lights. 
Direct light sources create darkness like shadows. The shadows lead to an unhealthy focus on lit areas. Seek to have upwards light distribution given by sources of indirect light. This light distribution creates an illuminated even layer. Eventually, you reduce the present glare level for outstanding ergonomic office lighting. 
3. Embrace a Soft Yellow Tone
Do you know your best color tone? You should know it to make it easy for your eyes. Based on your light perception, yellow is always manageable. The tone is less likely to cause eye damage. Yellow tones are also known to promote better sleep patterns. 
Strive to create a productive office environment that has non-oppressive tones. Naturally, fluorescent lights save significant energy, with a beating to the eyes. Decide what is important to you when lighting your office. Is it your health or your eyes? 
4. Consider Time of the Day with Your Lighting
Since you cannot adjust natural light, play around with your computer screen lighting. Become aware of your surroundings to adjust light when needed. The outside natural light keeps changing color temperature. The changes make the ergonomic desk light dimmer or brighter. Keep tracking the changes to allow you to appropriately adjust your computer screens. 
Take care of your circadian rhythms to avoid the effects of excess light. Leaving your screen too bright the entire time you are working can lead to this effect. Luckily, you don't have to make these changes manually. Some third-party applications do this job well. Alternatively, use the in-built night light feature that comes with Windows 10.
5. Go for Large Base Lights
You may ask, what does a large base light have to do with office lighting? Well, it enhances changes when necessary. A good desk light with a large base permits making changes as the day progresses. 
The light sources should be conducive to changes. Some of these lights get to stand only on their bases. Make it your responsibility to verify that the lamp's base is sufficiently large enough to permit adjusting positions. These best desk lamps can be used on top of the home office standing desk or any other preferred desk or platform. 
6. Balance Between Bright and Dim
Balance your choice for office ergonomic lighting. Don't follow the trend adopted by many people of having extremely dim or bright lights. Be your own person. You don't want to keep confusing your eyes, do you? The results may negatively affect your vision. 
Lights that are too dim make you focus on the computer intensely. Unfortunately, the pressure on the eye causes unwanted levels of strain. Your vision is likely to deteriorate with time. Conversely, too bright lights wash out the images. Your eye optical components get damaged with time. 
The decision to use dim or bright light depends on the room you are using. Take this, for example, use tables and overhead ergonomic desk lights in a dim room for brightness. On the other hand, get rid of them when the room is too bright. 
7. Try Using Light Diffusers
At times, the soft light desk lamp may be too much for your liking and comfort. This is the time to engage light diffusers to block off some light with proper LED desk light. Be flexible with lights to avoid a catastrophe. As the natural lighting changes, so does the artificial brightness. Control the intensity of the light you take in by using light diffusers. 
Importance of Lighting on Workstation
Proper lighting facilitates all work tasks, whether in industrial or office settings. The sense of sight accounts for 85 percent of people's information. It can prevent workplace incidents by increasing the visibility of machinery and other safety hazards. Without glare or shadows, appropriate lighting can reduce eye fatigue and headaches. In addition, good lighting helps reduce the risk of injuries and incidents resulting from "momentary blindness," caused when the eyes adjust from bright to dark surroundings and vice versa. It is not only lighting that affects how you can see at work; it is also:
A period of time during which you should focus on an object.

It isn't easy to see fast-moving objects.

It's tougher to see smaller objects that may be lying around

Objects are hard to see when the reflected light is too much or too little.

Objects and their immediate surroundings contrast.

An object becomes difficult to distinguish from its background if there is too little contrast.
FAQs
What is the maximum time a desk lamp can be left on?
Brightness levels can be adjusted on LED desk lamps so that users can choose dim or bright light. Furthermore, the bulbs are automatically shut off when left on for too long, so you don't burn out bulbs.
Desk lamps with adjustable necks are hard to find. People who work or read at night need to have these devices. The height of a desk lamp with an adjustable neck makes it possible to read or write clearly while using it.
Depending on your needs, you can adjust the amount of adjustability. For example, some desk lamps can only be adjusted up or down. Others allow you to rotate the entire unit forwards or backward. There are even models that have three positions! 
When a desk lamp is on all night, is it bad?
You may be wondering whether it is okay to leave your desk lamp on overnight if you have one in your office. Yes, you can. You can leave your desk lamp on all night long if you want. Be sure to buy a bulb that can run continuously.
It is, however, risky to leave a desk lamp on all night. If a desk lamp is left on all night, you will shorten its life expectancy to a great extent. LED bulbs emit less heat than incandescent bulbs, making them safer. Leaving them on overnight will not cause your house to burn down.
Risks remain, however. An unattended bulb can cause a fire if left on for too long. Therefore, consider this before leaving your desk lamp on overnight. If you are not using it, you might also want to use motion sensors or timers that will turn it off automatically when it is not in use.
Are desk lamps capable of overheating?
Desk lamps save energy while providing light. However, they can also cause fires. Because of this, desk lamps must have a switch that allows the bulb to be turned off when they are not in use. It may be difficult to imagine waking up to a dark room if you have a desk lamp in your office.
If you wish, you can leave your desk lamp on for an entire day. But make sure that it doesn't burn out. You wouldn't want a fire hazard. Halogen bulbs can be left on for days without causing a fire.
Changing them every few years is necessary, however. Inverted shades will not damage halogen bulbs, but they may burn. You should turn the dimmer switch down instead of leaving them at the higher setting.
You won't be damaging the bulb or fixture by adjusting the brightness. Motion sensors can also automatically turn off your lights when no one is around. Many hardware stores carry these. You can easily install them.
Conclusion
Don't concentrate so much on having state-of-the-art desks and chairs for your office. In any case, you are only taking care of your body support and good posture. What, then, happens to your eyes? Don't they need protection as well? Get it right with your ergonomic office lighting. Consider owning some of the above-discussed best desk lamps. Play around with your lighting to protect your eyes.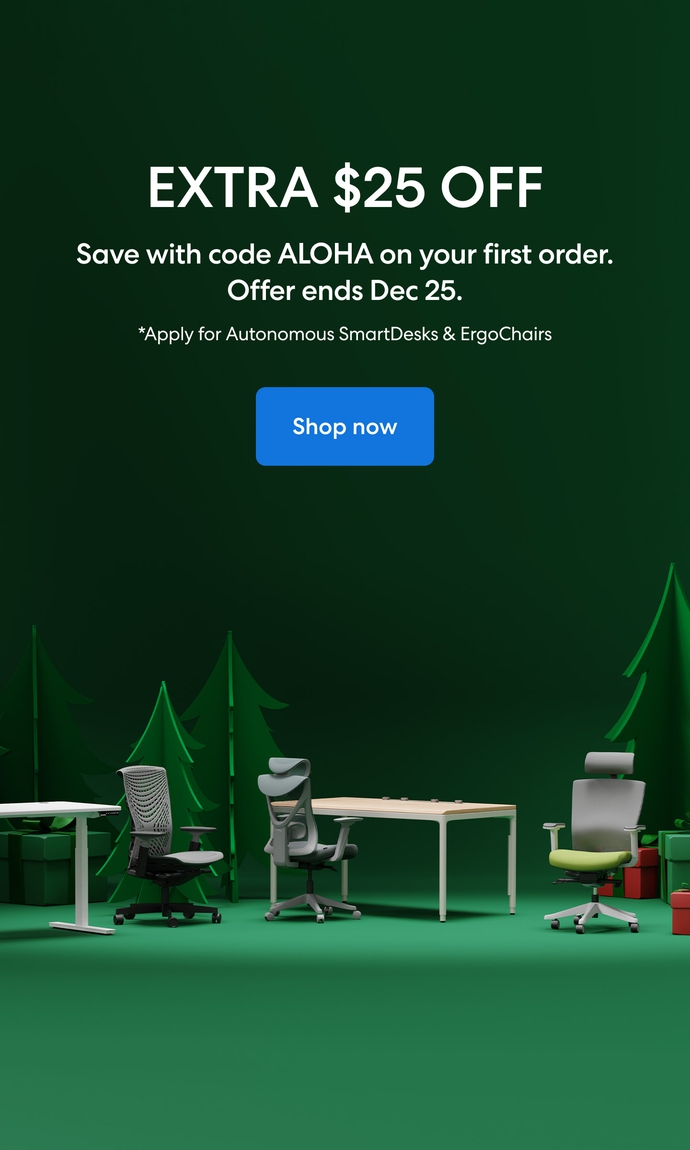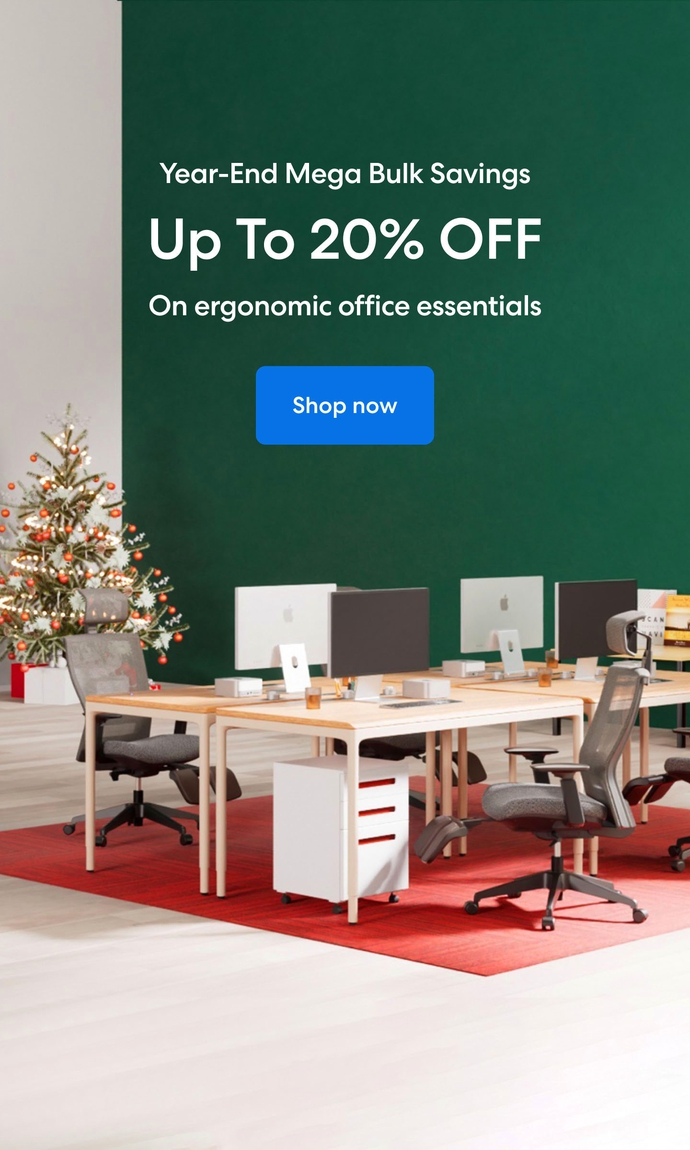 Subcribe newsletter and get $100 OFF.
Receive product updates, special offers, ergo tips, and inspiration form our team.