Having sufficient light is important when reading, working, and studying. A portable desk lamp is a great investment because no matter where you are in your home, you can bring it with you. They're easier to carry around than regular lamps, and they're great if you want to have some light while you're lying in bed but don't want to get up to switch on the main light.  
If you want to buy a new portable desk lamp, but you're unsure of which one to choose, keep reading on to get more information. 
Desk Lamps as Accessories
A movable desk lamp doesn't just have to be functional. It can also act as a desk decoration or be used as a standing desk accessory, rather than just being an object that emits light. For many people, lamps are seen as must-have office accessories, as there are many different stylish and sleek ones on the market.  
Having a nicely decorated office gives many people motivation. A nice lamp can not only brighten up a home office, but it can also make it look more homely and stylish. There are many different styles to choose from, so you just need to look and find which one suits your home office the best. 
Why Should I Buy a Portable Desk Lamp?
Portable desk lamps are just that. Portable. You can pick them up and put them wherever you want. They're lighter than regular lamps, so they're all around more convenient. Not only that, but it has been proven time and time again that having proper lighting while working at your desk is better for your eyes and improves productivity. While trying to read in dim lighting doesn't have any long-term effects on your eyesight, it does decrease your productivity. 
We spend so much time nowadays staring at screens and reading text, so realistically everyone should invest in a decent portable desk lamp. If you really want to have the best light experience, it is recommended to purchase an LED desk lamp. They are more cost and energy-efficient, and they tend to be more customizable. 
LED Lamp vs. Traditional Lamp: What's the Difference?
If you're considering buying a portable desk lamp, you may be wondering whether to buy an LED lamp or a traditional lamp. There are many different lightbulbs to choose from, the most popular being incandescent bulbs and LED bulbs. 
Incandescent bulbs are the traditional bulbs that you most likely grew up with. They're not energy efficient and they don't last very long. LED bulbs are much more energy-efficient than incandescent bulbs, but it's hard to tell the difference between the two just by looking at them. LEDs also last longer, so not only are they energy-efficient, but they're cost-efficient as well. 
Although LEDs are more expensive than traditional bulbs, you end up saving money because they last longer. In fact, traditional lightbulbs are becoming rarer nowadays, because LEDs are so much more efficient.
More Personalized Than Ever
Up until a few years ago, most desk lamps only had two settings: on or off. Today, portable reading lamps have different brightness settings, different tones (for example, warm, neutral, or cool), and some even have sensors. Portable lamp technology is constantly evolving, and investing in a new lamp can increase productivity while working or studying. 
Most of these personalized features are thanks to LEDs. LED bulbs make it easier to change brightness levels and create different tones. Having the ability to adjust the lighting in a room is quite normal now, but 20 years ago, it wasn't nearly as common.  
Now that you know a bit more about the difference between LED and incandescent bulbs, let's look at the 15 best portable desk lamps. 
15 Best Portable Desk Lamps for your Home Office 2022
1. Wireless LED Task Lamp by Stella Lighting
The best portable LED desk lamp has to be the Stella wireless LED lamp. This portable desk light lasts for 11 hours on a single charge. You can choose warm, natural, or cool light and it has 10 brightness levels. You can personalize this lamp to what you want, so it's perfect for anyone. 
Another benefit is the two-year warranty, which can give you peace of mind if you decide to purchase this LED portable lamp. It comes with a charging pod, which makes it easy to charge. The lamp is fully portable and flexible; you can direct the light wherever you need. 
Overall, this lamp is the best choice if you want a flexible, functional, portable, and sleek desk lamp. 
2. TOPJESS Desk Lamp, USB Portable LED Desk Lamp
The TOPJESS desk lamp features a foldable, portable design. You can charge it with a power bank or a laptop via a USB port, so you can bring it with you on the go. It has three levels of brightness; all you have to do is touch it for the different brightness settings. This portable reading lamp also comes with a 12-month warranty and a 30-day money-back guarantee, which is great for peace of mind. 
3. Garden Mile 12 LED Portable Desk Lamp
This moveable desk lamp is flexible and robust. It features a tilting head that bends 180-degrees up or down. If you're energy-conscious, this lamp is a good choice because it's powered by batteries. If you don't like the idea of a battery-powered lamp, it's best not to go with this one. It's also made from durable hard plastic, so you can expect this lamp to work for years! 
4. Elzo LED Foldable Desk Lamp
This foldable desk lamp is perfect if you like to save space. It can be folded as small as an iPhone 6s Plus, which means you can easily carry it around with you. The lamp arm is adjustable, so you can direct the light exactly where you need it. Not only can you stand this lamp on your desk, but you can also hang it on your wall. 
It's energy-efficient and has three dimmer settings. The LED bulbs give thousands of hours of light, but if you're not satisfied, you can make use of the 18-month warranty and 24-hour customer service. 
5. HeQiao Portable Desk Lamp
The HeQiao portable lamp features a foldable design, so you can carry it anywhere. It has different brightness settings and a touch control design. If you're worried about straining your eyes, this lamp won't disappoint. With great technology, this desk light has no glare and no flash.  
It's yet another energy-efficient lamp. It can last at least 40 hours after being charged! 
6. Auraglow Wireless Rechargeable LED Desk Lamp
This portable reading lamp features a flexible gooseneck, so you can adjust it to any direction you need. It's completely wireless and rechargeable and fully charges within four hours. Once fully charged, you can enjoy 10 hours of light from this portable desk lamp. 
The light turns on with just a simple touch, and touching it again will change the brightness. Just like many other lamps on this list, this lamp is also compact and lightweight; you can bring it anywhere. 
7. IVATECH LED Desk Lamp
The IVATECH desk lamp is an 'eye-friendly' lamp. It's equipped with an eye-caring diffuser and features a flicker-free and non-glare light, so you can use it for hours without worrying about your eyes. It also features a flexible gooseneck with 360-degree bendable silicone. 
If you care about saving energy, this moveable desk lamp is a great choice. It can support up to 25 hours of working time when fully charged, so you don't have to worry about the battery running out too quickly. 
8. Trswyop LED Desk Lamp
If you need to use a lamp for many hours of the day, the Trswyop LED desk lamp may be a good option. It features radiation-free LED lamp beads and has a service life of 50,000 hours.  
This LED lamp has 10 brightness levels and five lighting modes to choose from, so you can customize it to whatever you need. With no glare or harsh light, this portable reading lamp is perfect for long hours of working or studying. 
9. AmazonBasics Dual Head LED Desk Lamp
As you may have guessed, this AmazonBasics lamp is quite basic, but it's a great lamp for such a low price. It features a flexible gooseneck and three light modes. However, it is tricky to adjust the brightness. It's not the best lamp, but overall, it's a good choice if you're on a budget and want a decent portable LED desk lamp. 
10. TaoTronics LED Desk Lamp
The TaoTronics LED desk lamp has easy-to-use controls, unlike some of the other desk lamps on this list. It's lightweight and features wireless charging. On the downside, this foldable desk lamp has a limited range of motion and is quite stiff, so you can't direct it anywhere you want. 
Despite this, it's still an effective lamp and a good choice if you're on a tight budget. 
11. LumiCharge LED Smart Adjustable Desk Lamp
This portable desk light is very useful because it can also charge your smartphone. It features different charging methods, including a phone dock and USB port. The arm is highly adjustable, so you can direct the light wherever you need. To reduce eye strain, you can adjust the brightness to your desired setting. The Lumicharge LED lamp also has a built-in digital display, and the controls are easy to use. 
On the downside, some people may find the night light to be too bright. 
12. Dyson Lightcycle Morph
To lessen the chances of eye strain, this LED lamp automatically adjusts its brightness, depending on where you are and how bright or dark it is. The lamp has a wide range of motion, so you can be sure to have sufficient light no matter where you need it. Another great advantage of this portable reading lamp is that it turns off when you leave the room and turns on when you enter a room. This is a good way to save energy.  
Although you can adjust the warmth and brightness of the light, it's quite tricky to change the settings. For such a high price, it's a little disappointing in that regard. 
13. Flos Ventosa LED Portable Lamp
This portable desk light is easy to place anywhere in your home. It has a thick base that attaches easily to any flat surface through a suction cup. If you want, you can even attach it to a wall mirror. Some people may not like the idea of a suction cup, but others may find it a handy feature. 
Although this lamp has a very timeless appearance and looks quite sleek, there aren't many adjustable features. It's not flexible either, so you can't direct the light in a specific spot. Because of this, it may be slightly over-priced. 
14. Soho Home Silas
This Soho moveable desk lamp is great if you want a functional lamp that's also stylish. It has a beautiful marble base and features a dimmer switch. Although this desk lamp is esthetically pleasing, it's not the most useful for studying or working; it doesn't have flexibility, so you can't direct the light anywhere. Even still, it does the job by providing bright light to your workspace. 
15. LUMIE Sad Lamp
This LUMIE lamp is great for office use, but it's also useful if you suffer from SAD (Seasonal Affective Disorder). How it works is it tricks your brain into thinking it's real sunlight, which can help you feel better if you have the winter blues. This means that this lamp will light up your room, while also making you feel more uplifted 
Final thoughts
There are many different portable desk lamps on the market, and it can be difficult to choose which one to buy. Hopefully, you now know what to look for in a desk lamp, and you have an idea of what is best for your needs. 
Additionally, you know the difference between an LED light and an incandescent light, so you can make the decision on which bulb you want to choose.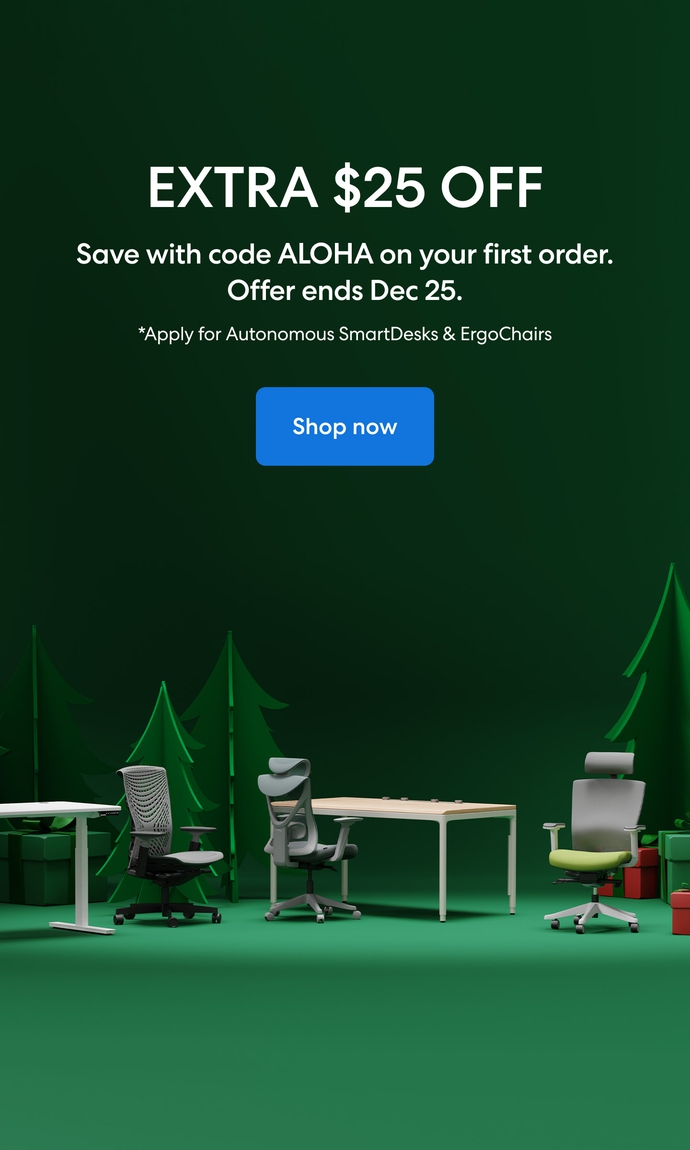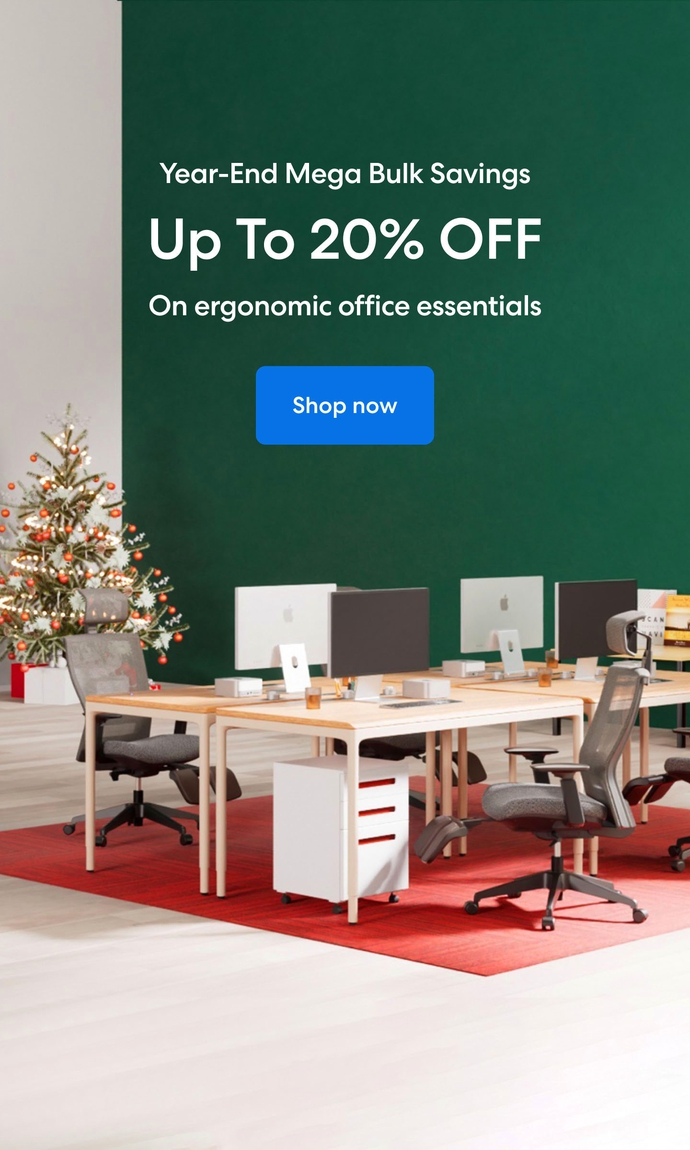 Subcribe newsletter and get $100 OFF.
Receive product updates, special offers, ergo tips, and inspiration form our team.