Smart Products
Top 15 Ergonomic Keyboard Trays for Standing Desk (With Review)

Autonomous
|
Apr 29, 2022
2,876 Views
A good standing desk is a must-have in this heavily digitalized world where most people spend a considerable amount of time stuck on computers. Many people are considering changing from standard desks to standing desks. This would facilitate a balanced movement, improve productivity, and maintain a healthy straight posture as well as help get rid of the strain of working for long hours. 
To utilize the above benefits, a few accessories are crucial. One such accessory is a keyboard tray for a standing desk. This is often one of the most forgotten accessories in the ergonomic accessories market. These are space-saving devices that make your wrist rest comfortably as you use your computer. 
In the market, there are many ergonomic keyboard trays to choose from. This review of the best 15 ergonomic keyboard trays for standing desks can assist you in making a choice on which one is right for you. 
Why and When You Need a Keyboard Tray for Standing Desk
Many times, computer users and gamers suffer from aches in the wrists, repetitive strain, and carpal tunnel. This is because they spend a lot of their time in one posture hence they end up feeling discomfort. The use of stand-up desk keyboard trays reduces these limitations. They are also adjustable meaning the keyboard can be put in a position that best fits the body and posture of the user.
Without further ado, let's take a look at the top 15 keyboard trays for standing desks for 2022 
1. Mount-It! Keyboard and Mouse Platform
The Mount-It! The keyboard and mouse platform is not surprisingly the first ergonomic keyboard tray for desks that comes to your mind when thinking of getting one for your standing desk. This ergonomic keyboard is perfect for someone in need of a neat-looking and minimalist desk setup. 
Furthermore, this one is space-saving that can be slid underneath the desk when you are not using it. It is wide and can accommodate all keyboards, whether standard or short as well as your mouse. Additionally, it allows you to attain optimal positioning as you can up and down tilt the keyboard tray for a standing desk as well as left or right swivel to your desired position. 
The keyboard and mouse platform is from a reputable brand "Mount-It!" and carries a 10-year warranty, highlighting that this will be a durable product and shown by the confidence of the manufacturer. It has a gel support wrist pad to support your wrists as you will be working to cushion yourself from ergonomic office injuries. 
2. Mount-It! Adjustable Angle Keyboard and Mouse Platform
This is yet another appealing design by Mount-It! The adjustable angle standing keyboard and mouse tray takes pride in its easy keyboard positioning. It is height adjustable and you can also tilt the keyboard to another angle. After adjusting the height and angle, this platform has a knob you can easily tighten to stabilize the platform so that it does not move. 
Just like the Mount-It model above, this adjustable angle standing keyboard and mouse tray has a gel wrist rest to help reduce the amount of soreness and strain you must be exposed to as well as reduce the risk of getting conditions with far-reaching implications. 
This also carries a 10-year warranty from Mount-It! 
3. Mount-It! Clamp-on Adjustable Keyboard and Mouse Tray
There is another Mount-It! final mounted model called the clamp-on adjustable keyboard and mouse tray. This keyboard tray for a standing desk is remarkably large thereby making it compatible with most keyboards. It helps in maintaining a neutral posture as you work by allowing you to position your keyboard and mouse closer to your body. 
The clamp-on is not static and can be pulled or pushed to suit your needs. You wouldn't need to drill into your sit-stand desk when mounting the stand-up desk keyboard tray but rather use the C-clamps on both sides of the desk to secure it to your desk. These C-clamps have a non-slip rip hence you will not need to worry about damaging your table. 
This amazing under-desk keyboard tray has an elevated rail to prevent your keyboard from falling as well as a space between the rail to organize your cables. 
4. HUANUO Under Desk Keyboard Tray
The HUANUO under desk keyboard design offers great adjustability to its users through its full-motion design. This means that the keyboard allows you to up and down tilt as well as left and right swivel the unit. 
Using this under the desk keyboard tray, you can take advantage of neutral posture while you work as you can easily adjust the height of the keyboard tray. The dark wooden finish will give you the elegant feel your office requires. 
Unlike other desk models, this model is static. However, it also comes with a gel wrist pad to prevent chronic challenges, pains, and soreness while using your under-the-desk keyboard tray. 
5. FERSGO Keyboard Tray
FERSGO, although not very popular when it comes to ergonomic office equipment deserves credit for its ergonomic under desk tray. This keyboard is right for you if you are looking for space-saving and minimalist designs. 
The desk can be height adjusted and tilted for neutral posture while working. It has stunning 360-degree functionality at your disposal. This under desk is large and compatible with all keyboard sizes. It also has a remarkable anti-kid mouse pad and an anti-fall mouse guard. 
Additionally, the FERGSO keyboard tray has an ergonomic wrist rest aimed at reducing the pressure exerted on your wrists while getting your work done. 
6. 3M Under Desk Keyboard Tray
This is a very useful and extremely popular office accessory in the under the desk keyboard tray market. It is the second design in this review that has a knob design. You can unlock the tray, adjust it to your desired position and tighten the knob to lock it. 
It can slightly tilt and swivel 360-degrees. When you are not using the stand-up desk keyboard tray, you can tuck it in under your desk. The 3M keyboard tray for a standing desk features a battery-saving design as well as gel support for your wrists. 
7. Vivo Keyboard Tray
Vivo is a popular brand in the office accessory and furniture market. Its ergonomic under-desk keyboard tray is quite wonderful. The desk has a large mounting bracket and an impressive smart keyboard surface. Moreoever, the Vivo keyboard tray can be operated by either left or right-handed users as it has pads on both sides. 
This sturdily built keyboard tray has a wrist rest to relieve tension in your wrists as you work. It has impressive height adjustment, tilt, and swivel functions for your convenience.
8. Startech Under Desk
This is another best standing desk keyboard tray for you. This spacious and lightweight under desk keyboard tray would be more than enough to hold your gaming keyboard depending on the size of your rig. The keyboard tray mimics a TV mount in its movement since it is hooked onto your desk. This Startech Under Desk tray is foldable to save space when you are not using it. 
The Under Desk has a wrist rest which assists in avoiding arthritis and other symptoms that occur when you strain your wrists for long periods. This board can withstand pressure and it is durable. With this comfortable keyboard tray, you will experience value for money as it is cheaper to buy one. This keyboard tray is best suited for MMO players and less intense gamers. 
9. Yescom Under Desk
This Yescom Under Desk tray allows you to free up a lot of space on top of your desk as required. The under-desk can comfortably hold your keyboard and mouse. This tray can tilt to extreme levels and also features a 360-degree swivel to move it to any position you want it to be. 
The height of this under desk tray is adjustable and it can slide from side to side to give you a comfortable natural posture. Wrist padding is found on the base of the tray to cushion your wrist from the stress exposed to it. The keyboard tray for a standing desk is strong and there is a lower risk of your keyboard falling to the ground. This tray is multipurpose hence it can be used by gamers, in workspaces, and offices. 
10. Vivo Adjustable
This under the desk keyboard tray saves you all the space you need. The surface of the keyboard tray allows you to fit quite a bit on this tray. It has plush padding to avoid straining of wrists and hands due to spending more time gaming. 
The tray features a 5" range of motion therefore you can place your keyboard wherever you want it to be. You can adjust the tray daily or even during gaming. Although it is expensive, you enjoy comfortable plush padding, a huge surface, and a durable design. 
11. KT1 Tray With Negative Tilt
The KT1 tray stands above the rest as it has all the great features found on the other gaming trays mentioned above. You can raise, tilt, swivel, and slide the tray to a perfect position. It is very flexible such that every movement required is available. The keyboard tray can be tilted in the negative direction which is a bonus. 
Negative tilt implies that you can face the keyboard towards the monitor or upside down. This makes the keys feel more natural to your hands. You can simply adjust the keyboard tray at any desired time. It features a single locking lever to hold the keyboard tray together no matter the angle you would have chosen. 
The KT1 tray with a negative tilt is a unique design that offers you services that are not supported by other keyboard trays. 
12. Fellowes Executive
This is one of the best standing desk keyboard trays in this year. Fellowes Executive is an expensive under-desk keyboard tray which most choose for its remarkable size. It can easily be assembled on any desk and it can also be installed under a desk leaving you with maximum desk space. It can accommodate a full-sized keyboard and offers a separate space for your mouse. 
Much to the rejoice of gamers, there are many options for wrist cushions. It comes with four micro-fiber separate cushions which you can place on the keyboard tray for maximum comfort as you will be gaming. 
13. iMovr Slide-out Tray
This is a full plastic tray that is fitted with a round mouse holder that can be slid under the keyboard tray. It also has an arm, unlike the usual standing desk accessories with tracks for sliding. It is adjustable and best suited for use on desks whose height can be adjusted. The tray also tilts up to 10-degrees which makes it more convenient. 
14. ErGear Keyboard Tray
The ErGear keyboard tray is a version that has clamps. It helps to safeguard the lifespan of the desk since it does not have sliders and arms. When it comes to the protection of the desk from damage when clamping, the tray has a foam layer between the desk and the clamp. It also adds more stability to the desk. This keyboard tray for a standing desk supports a good and reasonable weight such that a keyboard and a mouse are safe when placed on them. 
15. Human Float Tray
This keyboard tray for a standing desk is considerably one of the neatest designs made. It retracts below the desk and fits almost on any standing desk. It is very flexible because it can be used both when sitting and when standing. It has minimal height adjustments therefore it does not hit your knees. 
Conclusion
As you might have found out from the review, keyboard trays are very important accessories to use alongside your standing desk. They bring a lot of convenience to homes and office spaces. To know which one is right for you, you would need to consider the features they have as shown above.
Video ads for product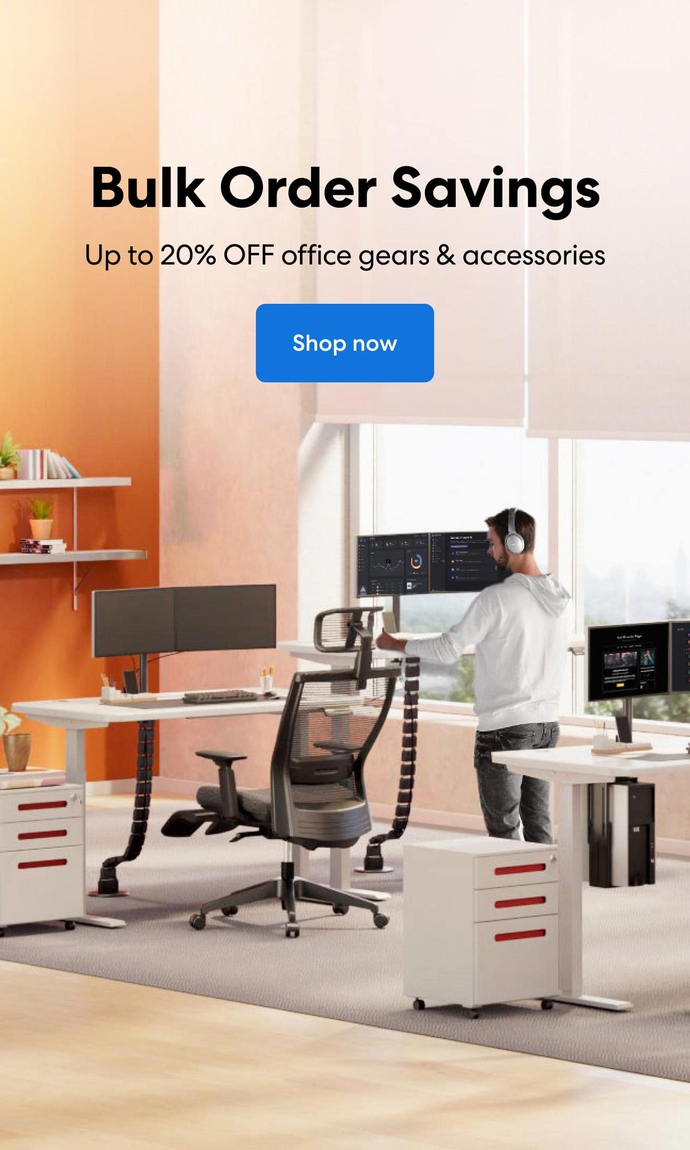 Subcribe newsletter and get $100 OFF.
Receive product updates, special offers, ergo tips, and inspiration form our team.