Office workers from all over the world have been enjoying all the benefits of working remotely, such as setting up their own schedules and attending zoom meetings in pajamas. However, no one speaks about the ugly side of working from home. 
These new working habits have taken a toll on our body and health because our furniture usually isn't made for working eight hours a day. At regular offices, we find huge and comfy seats that feel like heaven and are already used to our bodies. Meanwhile, at home, sometimes we even think that working straight from our bed is a good idea and don't know where lumbar support should be.
If you feel called out by this, your back is probably begging you to find an office chair with lumbar support. It is designed to treat your spine with the delicacy it needs and always prioritize your health and wellbeing. 
We put together a list of the best ergonomic office chairs of 2022 for you to choose from. Hopefully, your next investment is waiting for you somewhere in this article. Keep reading to find out! 
Benefits of Lumbar Support
If you're still not convinced of getting a home office chair with lumbar support, let us explain to you all the different ways it can benefit your life. 
It helps to ease your back and neck pain by providing support and maintaining them in the correct position during the day

You can enhance your posture and train your back to remain straight

It prevents further damage to the bone and joints

Lumbar support can also improve your circulation, ease muscle stiffness, and lessen the fatigue you get from sitting in one position for too long

It is simply more comfortable and feels good

If you suffer from sciatica pain, it can also help you prevent it

You can get better sleep at night because your body isn't going to be strained and hurting

It helps you to work smarter, as your mind only needs to focus on your job and not your back pain 
Top 15 Home Office Chairs with Lumbar Support
Finally, we can dive into the best office chairs with lumbar support for 2022. Choosing the chairs for this list wasn't an easy task, but after reviewing every feature of several chairs, we found the 15 lumbar support ergonomic chairs that are sure to deliver the most efficient results. 
1. Autonomous ErgoChair Recline
This home office chair with lumbar support has the best of both worlds, as it allows you to work efficiently and rest effortlessly. Some of its fantastic features are its adjustable height, armrest, headrest, and leg rest. It also comes with lumbar support and reclines. It can carry up to 250 pounds of weight. In addition, you can buy it today and get one whole year of warranty. 
This reclinable computer chair is made out of the most excellent materials out there. Its responsive mesh adjusts to all bodies and makes it one of the most comfortable chairs on the market. Additionally, its soft vegan leather allows you to remain 100% free of animal abuse. 
Moreover, it is made to maintain your spine erect and stable without straining any of your joints. It adjusts itself to all your movements throughout the day to ensure complete support in all of your positions. 
The cherry on top is its complete adjustability, as it caters to a wide variety of people; you can adjust it to fit your specific size and weight. 
2. Autonomous ErgoChair Pro
If you're looking for an ergonomic home office chair with back support that caters to every part of you, the ErgoChair Pro is a perfect choice. All of its elements were specially designed to help you feel as free as possible while taking care of your health and wellbeing. It is sure to eliminate the pain you feel from sitting in the wrong position for hours, as it corrects your posture and places everything where it should be. 
You can lock up to five different positions to easily access them with just the press of a button. Its materials are also out of this world, as its breathable woven mesh is designed to give that extra bit of support that your back needs. 
Forget about being tired at the end of the day. This lumbar support ergonomic chair fights your fatigue by ensuring top-tier comfort and is sure to put an end to all that annoying pressure on your joints, making it the best office chair for long hours.
Relieve your back pain, improve your circulation, prevent hunching. These are just a few of the fantastic benefits this home office chair for lower back pain has to offer. It is also internationally verified for its durability and high performance. 
3. Liberty Humanscale
The Liberty Chair is engineered to deliver automatic lumbar support to ease the back pain and bad circulation you may get from long work shifts. You don't need any hard and long instructions to use it, as it is designed to be as simple as possible. 
Its minimalist aesthetic is partly due to its excellent high-tech materials, such as the revolutionary three layers of form-sensing mesh suitable for all kinds of bodies. Since each home office chair with lumbar support is custom-made, you don't have to worry about its suitability for your body type. Humanscale takes your wellbeing very seriously, and that's why it also includes a mechanism-free recline for you to adapt however you please. 
4. COSM Herman Miller
The COSM Herman Miller lumbar support ergonomic chair is definitely one of the best office chairs for back pain. Once you sit in a COSM chair, you may even forget you're sitting down. Its sophisticated and ergonomic design is meant to instantly adapt to your body, movement, and posture to give natural balance and total support. 
Forget about gravity with its automatic recline, suspension, and flexible structure, which are created to give you a complete feeling of freedom while you're sitting. Its recline gives you support, movement, and balance almost instantly. The continuous shape of its suspension eliminates the space between the seat and headrest, which adjusts a lot better to a person's body and spine. 
Finally, its thin and resistant structure is made to offer support and not be noticed no matter how much you move throughout the day. 
5. AERON Herman Miller
If you're looking for a sustainable option for your office, this is a great solution. This is a modern version of the classical AERON chair, made 100% of recycled plastic that would otherwise end up in our oceans. 
Almost 30 years ago, Bill Stumpf and Don Chadwick created the original AERON after a thorough investigation. Its essence is being ergonomic and catering to every person's needs. This improved version took everything we know and love about the original chair and adapted it to the needs of modern people. One of these needs happens to be taking care of our environment, that's why this famous home office chair with lumbar support is now good for our body and mother earth. 
6. Freedom Humanscale
The Freedom Humanscale redefines the concept of owning a home office chair for lower back pain by creating a design that instantly adapts to every user and allows them to move freely to every posture they desire. 
Say goodbye to all the complexities that other chairs may bring to the table. This chair's designers wanted to provide true comfort and adjustability, which translates to a simple chair that remains functional and aesthetically gorgeous. 
7. LEAP Steelcase
LEAP is Steelcase's most ergonomic office chair, and it's also the most effective one. They performed a one-year-long study on people who used this chair, and the results showed that it was able to increase their productivity by 17,8%. 
Moreover, this home office chair with lumbar support helps to reduce health problems related to your bones and joints. Its users have reported a significant reduction of back and neck pain since they started using LEAP, which makes it a fantastic chair if you're looking to deliver efficient and high-performance work every day. 
8. Diffrient Smart Humanscale
The Different Smart chair is made out of an intelligent mesh that gives fantastic lumbar support while maintaining a beautiful aesthetic that fits in nicely in any room. 
It is sure to deliver high-performance support, quality, style, and flexibility. In addition, it is constructed with Humanscale's revolutionary technology that adapts to all users and prevents further damage to their bones and joints. 
9. Vera Eurotech
This is one of the best office chairs with lumbar support. Suppose you're looking for a stylish and comfortable office chair with adjustable lumbar support that's sure to deliver top-tier performance at all times. In that case, this ergonomically correct chair is the one for you. You can personalize all of its settings to fit nicely to your shape by just pressing some buttons. 
The Vera Eurotech is available in six different ergonomic mesh colors that adapt to your body and provide a clean and minimalist look suitable for any office and environment. 
10. LE9ERG Ergohuman
This is the perfect home office chair for lower back pain for those people who are crazy about leather, as it is an all-leather version of the original chair we all know. It features a variety of interesting settings that are created to provide high comfort and support throughout the day. 
Some of its main characteristics are an adjustable back and headrest, constant lumbar support, and a flexible frame that easily molds to your back. 
11. BTOD Akir
If you want to feel superior comfort and adjustability, you should 100% try this chair, as it combines all the ergonomic support you need with a stunning style. You can choose between an adjustable mesh or fabric seat. It also features high-quality lumbar support and adjustability to all of its parts, which makes it the perfect chair for long conferences or work shifts. 
12. SAYL Herman Miller
The smart and elegant design of SAYL chairs offers more comfort for fewer pieces, making it a light chair that is sure to give you all the needed support to get you through your day. This chair has a suspended seat that provides extra comfort for you and all of its users. 
It has become one of the best chairs on the market due to its great design, healthy support, and exceptional value. The SAYL chair was engineered to transform simple materials into an accessible chair of exceptional quality. 
Additionally, its 3D intelligent frame allows the user to stretch and move with a healthy balance of support and freedom. This offers extra aid to the transition areas in your column and less pressure to the others so you can make a wide variety of movements while remaining in your seat. 
13. Haworth Fern
Fern provides a pleasant work experience and awakens incredible sensations while maintaining you in a balanced and centered position in the chair. Its human design integrates its tilt mechanism in its sleek aesthetic and makes it almost unnoticeable. 
This home office chair with lumbar support increases comfort and reduces distractions, as it effortlessly moves with every twist and stretch you make, which allows you to stay focused on your job. Additionally, it has a soft structure that adds to this fantastic mobility. 
It can also adapt to several bodies due to its new comfort levels that cater to all sizes, heights, postures, and work modalities. After going through an exhaustive investigation, the creators of this chair have added top-tier innovations that adapt to all backs and movements. 
14. Nightingale CXO
The Nightingale CXO office chair is sure to bring a refreshing look to your office while making sure you get all the comfort and support you need. Its entirety is made of breathable four-way stretch-knit fabric that's designed to improve your circulation and displace your weight evenly throughout the chair's surface. This lumbar support ergonomic chair can suit all types of offices as it is available in a wide range of colors and layouts. 
15. Steelcase Series 2
Steelcase Series 2 displays an ingenious design with refined support. It is also custom-made to provide comfort to each part of the spine while moving around and bending in the user's desired direction. This home office chair for lower back pain can be ordered with all the features you want, such as a headrest or a coat hanger. Additionally, it is entirely customizable to ensure the best possible support. 
Bottom Line
Hopefully, you found this article helpful for choosing the right chair for you and finally saying goodbye to your back pain and bad nights of sleep. 
Don't hesitate to go to our store and find out what other cool desk gadgets we have for you.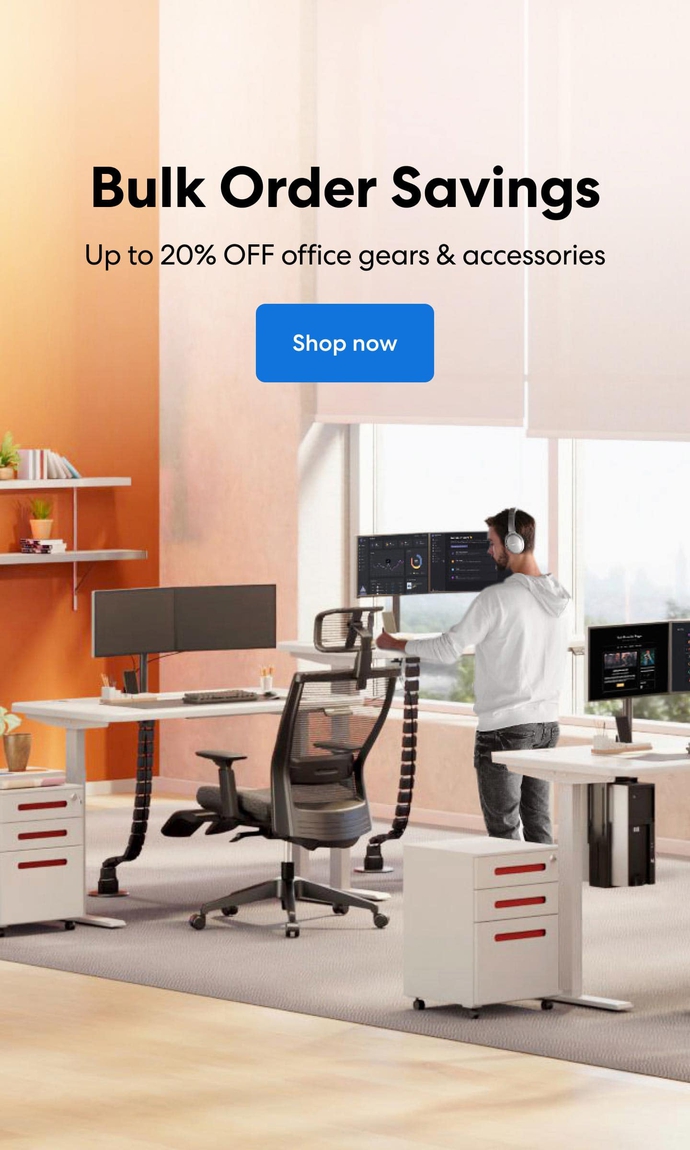 Subcribe newsletter and get $100 OFF.
Receive product updates, special offers, ergo tips, and inspiration form our team.