Workplace Inspiration
15 Creative Ideas for Cubicle Christmas Decorations in 2021

Autonomous
|
Dec 9, 2021
1,839 Views
Even though you can enjoy the full spirit of upcoming happy holidays at home, when at work, you are always thinking about preparing for Christmas and those amazing times. But who says you cannot make the most of Christmas just because you have deadlines to meet? Christmas is an occasion loved by all, and people wait for it all year.
Happy Christmas Vibes
Part of the reasons why Christmas décor begins way earlier than the original date. It's all about happy vibes and the positive mood Christmas brings. If you are also a bit too excited about Christmas this year, we have the best office cubicle décor ideas. With our cubicle Christmas decorations, you can feel the jingle bell already.
Hence wait no more, and get the cheapest yet most creative cubicle Christmas décor ideas from us.
Inexpensive Christmas Cubicle Decorating Ideas
Office Cubicle Christmas decorating ideas vary from person to person and personal choice. But one thing that remains common is that you want the cubicle Xmas décor ideas to be affordable and right in your budget. This means you need cubicle décor ideas that give the best results with minimum investment. Hence here are some work cubicle Christmas decorations you will love.
And if you are not up for Christmas decorations, you can only get some cubicle accessories for Christmas and, for the rest of the time, stay cozy on Christmas.
1. Christmas Train
Do you and your co-workers need an escape from work? We all do, but can we tell the bosses? Of course not! A Christmas train is a great way to feel your way fleeing from the office. All you need is a few pieces of cardboard and paint them red and black. Name the train as you like and surround your cubicle with it. A great idea for introverts too!
2. Snow in Cubicle
When there is Christmas, there is snow. And can you even feel that it is Christmas until it starts to snow? Hence you need a great amount of Christmas-sy vibe in your cubicle. Our idea is to get a lot of (really lots) cotton, get some glue and stick some cotton clouds on your cubicle.
3. Christmas Hearth
Garland, a wreath or two, strings of lights, and a warm hearth are all part of a traditional Christmas design. It's simple to achieve a warm glow with LED candles. This cubicle Christmas decorations theme works well in larger cubicles with plenty of room to work. To set up your exhibit, you'll need one whole cubicle wall.
4. Gingerbread House Cubicle
If your Christmas enthusiasm is uncontrollable and you want to go all out, a gingerbread home design is a way to go. This display, which focuses on the outside of your cubicle rather than the inside, is ideal for individuals who work in a corner. No concerns if you don't have a corner cubicle; the design may be scaled down to fit any size wall.
5. Create a Winter Wonderland
Instead of the traditional red and green Christmas hues, use cold white and blue tones, then add some sparkle to create a wintry wonderland in your cubicle Christmas decorations. This Christmas cubicle decoration is ideal for someone who loves minimalism.
6. Cubicle Chimney
Working at your 'grey' workplace might put a damper on your mood and holiday spirit, dude! All you need is a tall box to get back into the festive spirit, perhaps the one that came with your new office chair mat! Once you have this box, building a chimney is simple. Use another box to enclose the monitor, cutting out the section in front of it.
Print out some brick walls and place them in each box. Use the lid of the copy paper box as a mantle. Place Christmas-themed items on the mantle after the fireplace has been installed. Your office is prepared for a get-together.
7. Light Christmas Décor
If you are not up for a big fancy cubicle  Christmas decoration but still love to notch things up, then your cubicle space is the best option. All you need is it, so just add a Christmas garland, some green or red flowers (fake ones would do) and an LED desk light to sparkle the entire corner.
8. Winter Castle
Are you too impressed by the Disney princesses and their tall castles? Who says you cannot have your own, no matter how tiny. Here is an idea. Get some cardboard and cut rectangles in different heights. Make a castle and enjoy your privacy yet kingdom till Christmas is over.
9. Christmas Village
The more, the merrier when it comes to decorations! This is your time to enlist the help of everyone in the office. You might make it a teambuilding activity by holding a Christmas decorating contest. Ensure there are enormous lighting candy canes, plenty of fluffy snow, and plenty of lights.
10. A Big Gift Wrap
Sometimes the most basic decorations are the most effective. As though you were using wrapping paper and ribbons to make a presentation. You can get creative by wrapping up the front of the storage cabinet for a unique and functional cubicle Christmas decoration, with a ribbon and Santa tag, or simply take a long vacation, and your coworkers may wrap your entire desk, cubicle, and chair for you, as they did for this guy.
11. SnowFlakes
Snowflakes are the prettiest thing to fall from the sky. How about capturing some of them in your cabin? You can hang them from the ceiling or also below your desktop.
12. Christmas Stickers
Many things represent Christmas, such as candy cane, Santa, snowflakes, reindeer and Christmas hats. To get them all in one place is tough until you have a Christmas collection of stickers.
13. Tiny Santa
After all, this idea never gets boring; who cannot get enough of Santa. All you need is empty toilet rolls and paint them in pretty colors of Santa. Reds and greens with a tiny snow cap. You will be happy to see them right beside you.
14. Coffee Mugs
Not an entire cubicle décor, but this idea can be a great addition to the overall Christmas décor. Just take your coffee mug and use waterproof paints to paint some pretty Christmas colors.
15. Christmas Memory Banner
Do you have some amazing Christmas pictures from years back? It's time to take them out, get them printed and paste them in your cubicle. You can also make a banner with all the pictures of wonderful memories.
Video ads for product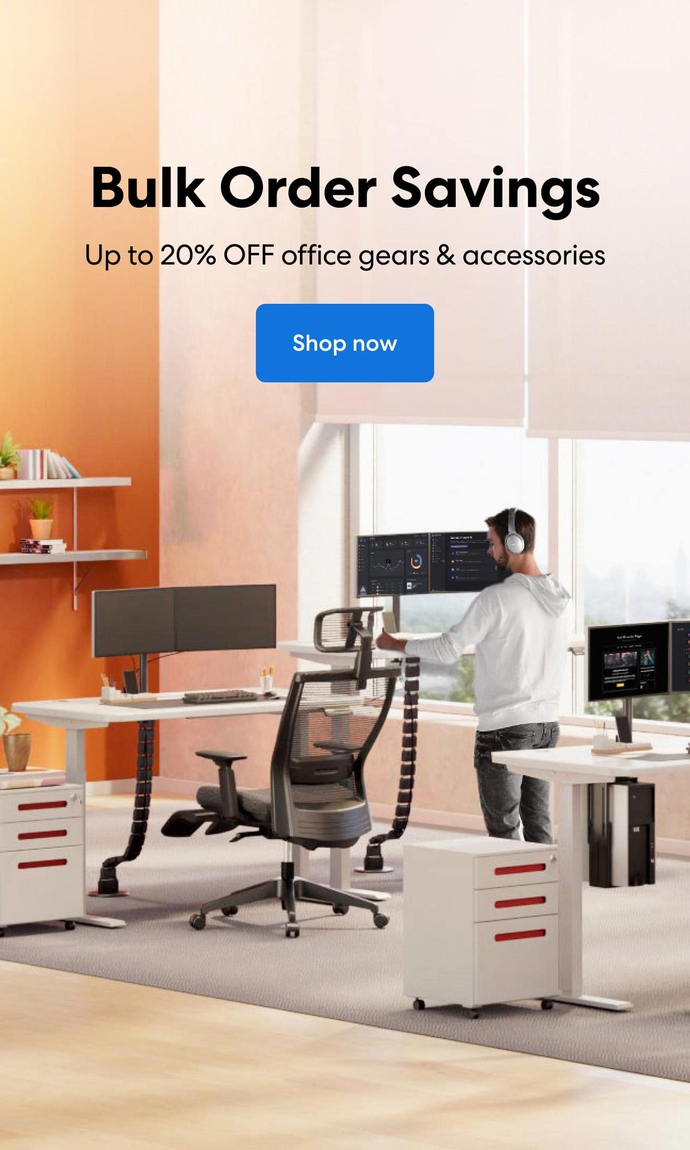 Subcribe newsletter and get $100 OFF.
Receive product updates, special offers, ergo tips, and inspiration form our team.