Latest Updates
15 Ideas of Virtual Christmas Games for Work to Make Your Team Merry
1,877 Views
The world has changed a lot in the last two years, and now that the work industry is emphasizing remote work, virtual Christmas games for work can help you keep the holiday spirit alive during this season.
These virtual games for office parties are an excellent way of celebrating while staying safe. These activities are excellent for both hybrid and remote teams, as these people will typically miss out on what's happening at the office.
It is impossible for many of us to celebrate the holidays as we did in previous years. However, here we have some creative ways to motivate employees by scheduling some of the following virtual Christmas games for the office.
Virtual Christmas Games for Work: 15 Creative Ways to Celebrate the Holidays
Working from home and mental health are deeply related. Still, you can contribute to your team's wellbeing by trying one of the following online Christmas games for teams.
1. Holiday Bingo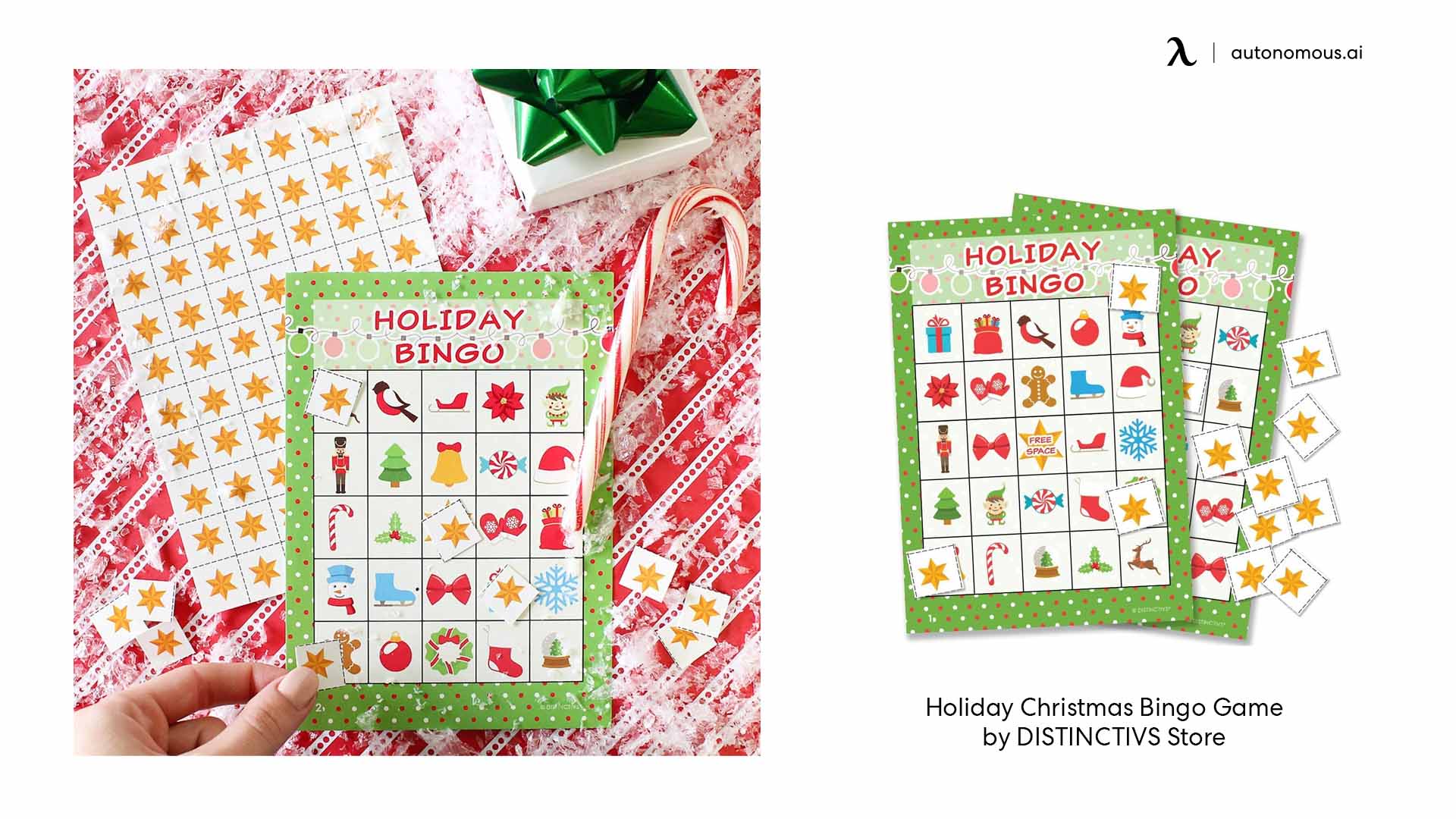 An online holiday bingo is an easy and fun way of having fun at any virtual holiday party. It can also serve as a way of bonding with the entire team, as people will interact as the bingo goes on. Furthermore, you can personalize the bingo's contents so you can make it more familiar for everyone.
2. The Naughty List
This virtual Christmas game for work is the holiday version of "never have I ever." Each person will put their open hands in the air, and then each teammate will state, "you are on the naughty list if [insert activity here]." The game ends when only one member of the team has fingers up. You can personalize this game as you please for more fun!
3. Scavenger fun
A good online Christmas game for work can be a virtual scavenger hunt. It's another game that everyone is familiar with, and its short duration gives you plenty of room to schedule other fun activities and interact with your teammates even further. You can make your own list. This is also a great opportunity to share stories about those particular items.
4. Holiday Playlists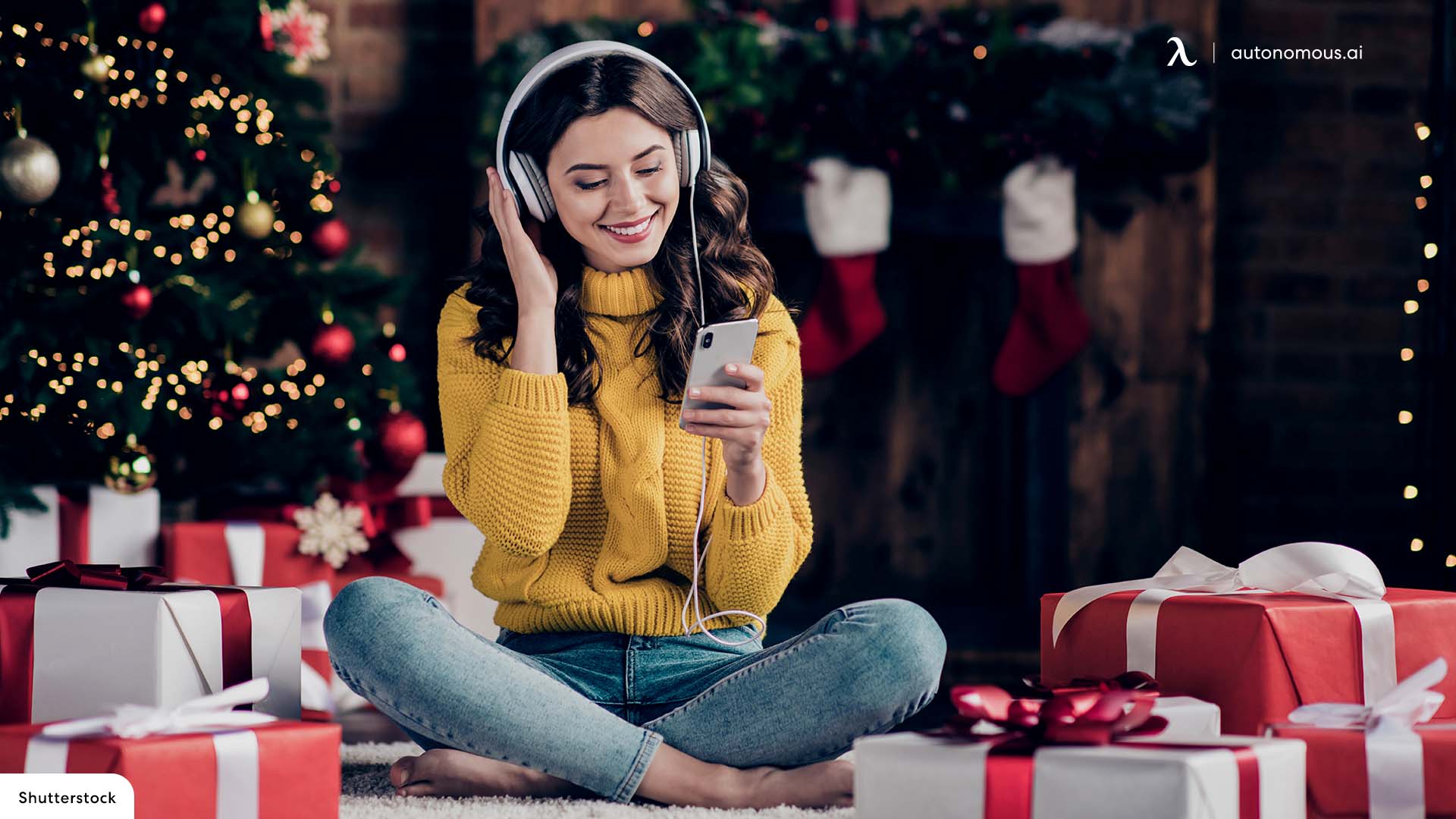 In the modern-day, it is possible to make a fun playlist along with your friends and colleagues thanks to streaming software like Spotify, Deezer or Pandora. Thus, you can take advantage of these apps and encourage everyone to contribute to a holiday playlist. Then, the whole team will be able to add their favorite songs to the playlist while listening to everyone else's favorite holiday jingles.
5. Virtual Secret Santa
Who says that Secret Santa has to be in person? You can perfectly organize this holiday party activity during a virtual meeting. All you need to do is use a gift exchange generator and then schedule a specific day to open all the gifts together at a Zoom meeting. It doesn't have anything physical. Gift cards and subscriptions to certain services also work perfectly.
6. Costume competition
Another online Christmas game for the office can be a costume competition. It can be such a wholesome activity when planned appropriately. Furthermore, you can make the whole activity more entertaining by offering prizes for the best costumes.
Also, you can flip the script and make this an ugly sweater competition! It will take less effort, but it will be equally fun to have.
7. Holiday charades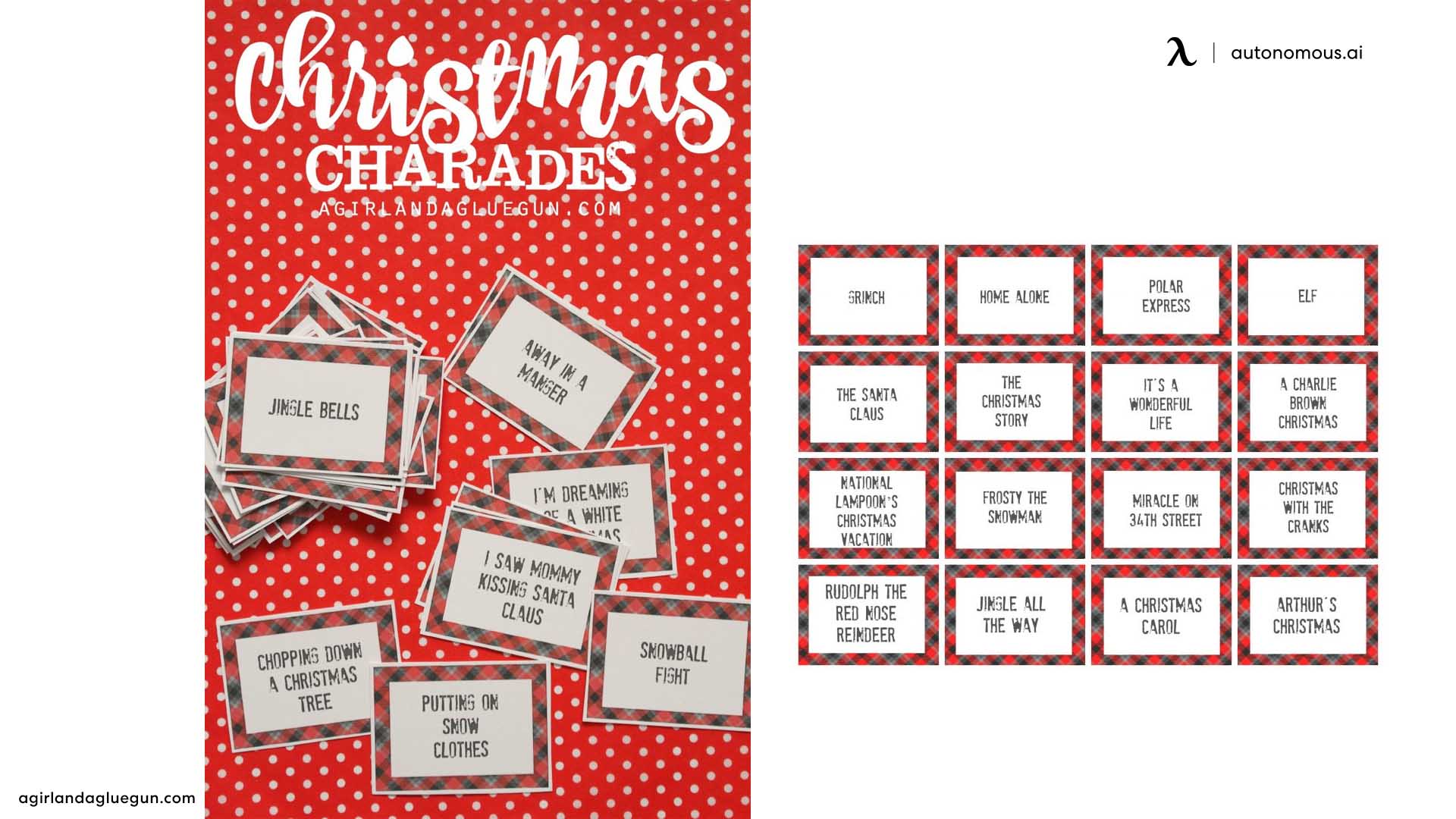 Charades are always a fun game at parties, regardless of the theme and the atmosphere. Since it will be a virtual Christmas game for work, there will be plenty of topics to choose from. People can act in movies, songs and many other holiday-related things to keep the whole thing interesting. You can use your creativity to make this game even harder.
8. Christmas Trivia
Another great activity to have at any virtual holiday party is good old Trivia. Similar to other activities listed here, you can also offer prizes to those teammates who answer all of the questions included correctly!
You can make this via poll features, for instance. There are many ways to make trivia something more entertaining than it appears to be!
9. Festive movie night
This is another idea of virtual Christmas games for work for you. Parties are not everyone's cup of tea, but everyone loves to relax for a little while. If it's with colleagues, the whole thing can get more interesting.
You can watch movies together with anyone regardless of where they are by installing certain browser extensions. Then, you can start an online meeting with all the participants, and you all will be able to spend a good while watching movies together.
10. Decoration competition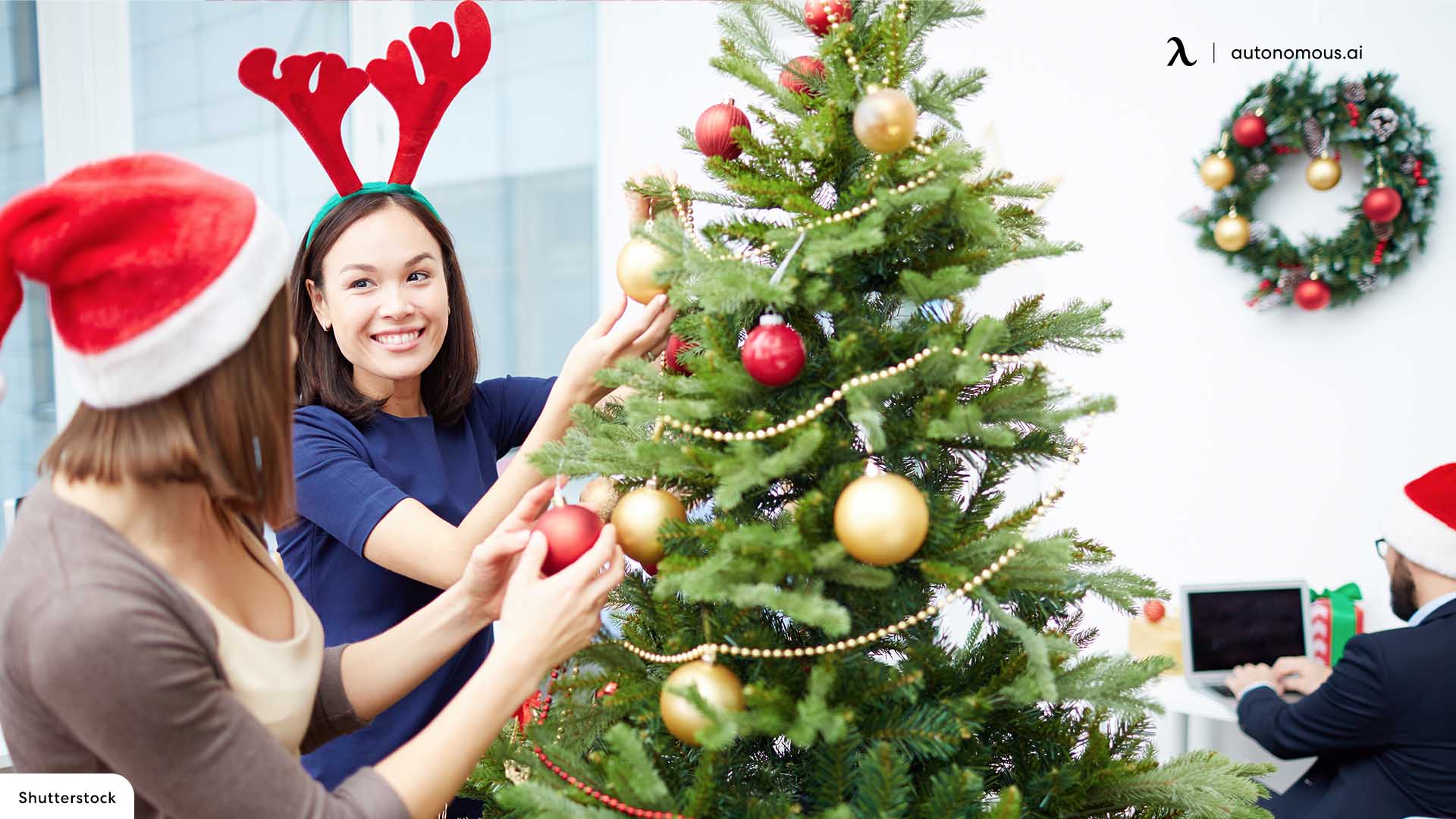 Office Christmas decoration is always something fun. Many people love decorating their office spaces or pretty much anything else for the holidays. Therefore, making a decoration competition can be a fun online Christmas game for work.
Here you have plenty of room to choose: Christmas cookies, Christmas trees, Christmas-themed pet costumes, and so on.
11. Holiday Newsletter
If you have a newsletter at work, then you can modify it a bit and make it holiday-themed for as long as December lasts.
Newsletters are already an excellent way of keeping up with what's happening at the office. Therefore, making it a holiday theme can be an excellent move for the organizational culture. Here you can learn more about why organizational culture is important.
12. Virtual Card Exchange
E-cards are an excellent alternative to the physical versions. There will be no waste, and they will remain forever. As distance has made this tradition quite complicated to follow, you can schedule an activity where people exchange virtual cards either purchased or made by themselves.
It is possible to create these cards with Canva or similar sites that make graphic design accessible to everyone.
13. Holiday Gift Boxes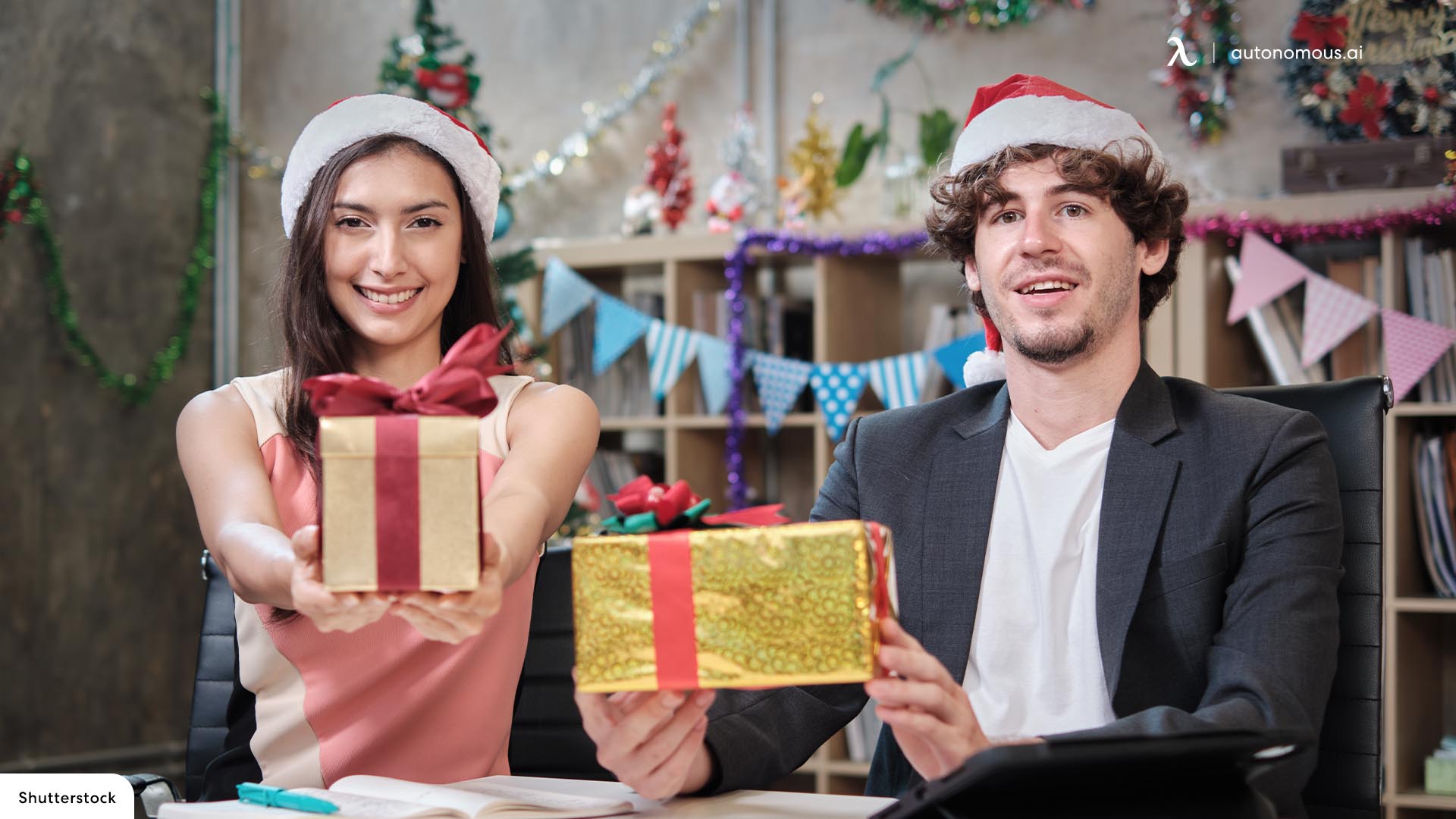 You can all exchange holiday gift boxes together. These boxes will include tons of holiday-themed food, such as cookies, marshmallows and candy canes.
14. Caroling Karaoke
We all know the lyrics to the Christmas carols that have been playing for quite a long time. Therefore, organizing a karaoke session at any holiday party is an excellent idea.
15. Virtual Cocoa Break
At least for the holidays, you can transform the traditional coffee breaks into cocoa breaks. You can send cocoa to everyone in regular mail envelopes.
Keep up with Autonomous news
Stay informed, stay inspired with our new blogs.
WRITTEN BYAutonomous
We build office products to help you work smarter.