Remote work has become ever more present in recent years due to the COVID-19 pandemic. A home office setup can make all the difference in the overall experience. If one is looking for meaningful and useful home office gifts, do not look any further. 
What makes a great home office? Firstly, it should be comfortable with products that provide body support. Secondly, aesthetics can be a significant factor. One wants to work in an environment that is pleasant to look at and fits his or her personality. 
There are so many different types of home office gifts. From essential products like chairs and desks to beneficial accessories like a lumbar pillow, there are plenty of gift ideas to explore. Here are 15 of the coolest gifts for people who work at home! 
Ergonomics Defined
Ergonomic products are designed for one's maximum comfort, health, and safety. According to Collins Dictionary, "the study of how equipment and furniture can be arranged so that people can do work or other activities more efficiently and comfortably." Simply, ergonomic products are specifically designed with users' overall experience in mind. One's well-being is of the essence in the development process of ergonomic chairs, desks, and accessories. 
Home Office Gifts as Home Office Essentials
The best place to start is essential products! The ErgoChair and SmartDesk lineups are high- quality and reliable ergonomic offerings that would make excellent gifts for home offices. 
1. ErgoChair Plus
The ErgoChair Plus is one of the greatest products Autonomous has ever created and is the most advanced ErgoChair. It was specifically designed to Business and Institutional Furniture Manufacturer's Association (BIFMA) standards. 
ErgoChair Plus boasts 26 degrees of recline and 11 lockable positions for ultimate comfort. Additionally, the chair's materials were specially selected so that heat is not trapped. 
What makes the ErgoChair Plus shine is its ability to correct posture and protect the curvature of one's spin. This limits back and neck discomfort and creates an overall more pleasant sitting experience. 
The ErgoChair Plus starts at $699 and comes in black, grey, white, and blue color variations. 
2. ErgoChair Pro
Here is one of the necessary home office gifts. The ErgoChair Pro was designed with the same attention to detail and ergonomic standards as the Pro+. Carefully crafted, the ErgoChair Pro is an excellent ergonomic chair offered at a more affordable price.   
What are some of its key features? The Pro boasts 22 degrees of recline and has five lockable positions. It features the recommended ergonomic 2:1 ratio with back and seat movement for the most comfortable experience possible. 
At the core of its design is to eliminate back and neck pain. The Pro, like the Pro+, reacts to one's body shape and protects the curvature of his or her spine. With 45 degrees of flexibility, the chair is able to limit the annoying neck pain that comes from sitting for extensive periods of time. 
The ErgoChair Pro starts at $499 and is available in All Black, Cool Gray, EverGreen, Black and White, Red Apple, and Baby Blue. 
3. ErgoChair Recline
The ErgoChair Recline is a great office chair for working or relaxing. What is awesome about the Recline is one can simply lay back and put his or her feet up! This is the perfect chair for a quick energy nap or reading a book. 
ErgoChair Recline features 18 degrees of recline, an adjustable headrest, and extendable leg rest. All its adjustable features are controlled by two simple levers. Designed to be very comfortable and easy to use, the ErgoChair Recline is one of the best gifts for home office users.
ErgoChair Recline starts at $599 and comes in All Black and Cool Gray. 
4. SmartDesk Pro
The Smart Desk Pro takes SmartDesk features to a whole new level. Height adjustable from 26.2" inches to 52" inches, the desk is adjustable for both regular or XL desktop sizes. It has an updated dual-motor system and is extremely quiet at only 40 dB. 
SmartDesk Pro can withstand 310 lbs, making it one of the strongest SmartDesks. Each desktop is White, while the frames come in White, Black, and Grey. The Pro starts at $649, which is an excellent value for the features provided. 
5. SmartDesk Core
The SmartDesk Core is the essential home office standing desk. It is height adjustable from 25" inches to 45" inches and can hold up to 270 lbs with ease. The Core has three desktop options with pre-drilled holes for easy assembly. 
Like the SmartDesk Pro, the Core is controlled by a programmable keypad. Users can select four customizable height positions to program. The Core will remember these heights for all future uses. 
SmartDesk Core is quiet at only 50 dBs when operating. It starts at $549 and comes in White, Black, Walnut, White Oak, Bamboo, Dark Bamboo, Pink, Blue, and Teal desk top color options. 
6. SmartDesk Connect
The SmartDesk Connect is the most state-of-the-art and technologically advanced product in the SmartDesk lineup. What makes the desk so unique is that it provides users the ability to program it through a mobile application. The app can be downloaded on Macs, PCs, smartphones, and tablets. 
With the app, users can program more than the four positions available on all other SmartDesks. Additional key features include that the desk is height-adjustable from 23.6" to 49.2" inches, can withstand the same load capacity of the Pro at 310 lbs, and is equally very quiet at 40 dB. 
The SmartDesk Connect starts at $699 and is available in a White, Black, Dark Bamboo, Pink, Blue, or Teal desk top. 
Home Office Gifts as Accessories
Yes, essentials are important, but accessories can make the home office experience so much better! These home office gifts can increase comfort, mood, efficiency, and productivity. Accessory work from home gifts can be just as impactful as essential products. Below are nine of the top ergonomic accessories available for an assortment of different needs. 
7. Monitor Arm
 A monitor arm desk mount is a great addition to an at-home office setup. What does this product do?  It securely holds and secures one's computer monitor at any angle! 
At the core of the monitor arm's design is the encouragement of a flexible work environment. It offers 360 degrees of rotation since the human body was not intended to stay in one position for extensive periods. With a monitor arm and an adjustable chair, movement has never been easier.
Both single and double-armed designs are available. Autonomous's monitor arms start at $99.  
8. Carpio Ergonomic Wrist Rest by Deltahub
The Carpio Wrist Rest was specifically engineered under the guidance of medical consultants to eliminate and relieve undesirable wrist pain. Composed of a contoured silicone pad, an ergonomic wrist rest can have lasting positive implications. 
When typing, one can place the rest under their wrist for ultimate comfort and ease.  Deltahub's rests come both in left and right wrist configurations. For just $35, one can protect their wrists during a long workday. This is an affordable gift that can make a world of difference. 
9. Sustainable Cork Desk Pad
A cork desk pad is an aesthetically pleasing and environment-friendly accessory that would make a great home office gift. The Autonomous sustainable cork desk pad is 100% recyclable and brings a sense of nature's serenity into one's work environment.
Not only is the product's manufacturing process kind to the Earth, but it offers a reliable protective layer for one's desk and supports effective mouse performance. The fabric of a cork desk pad is strong and durable yet comforting to the touch.
Autonomous's cork desk pads start at $59. In every way, these products are a win-win.
10. Anti Fatigue Mat
Long workdays can be tiresome! Therefore an anti fatigue mat can be such a helpful accessory. The product was specifically created to support one's pelvic and lumbar area and keep one's spine at a comfortable and healthy angle.
With an incline and decline design, users can move the mat around during the day to benefit from its different angles and movement ability. If one likes to stand while working, this is the perfect accessory. Stand comfortably all day long with Autonomous's anti fatigue mat.
Additional features include that it is tear-resistant, has reliable anti-slip protection, and can withstand over 325 lbs. The Anti Fatigue Mat costs $89.
11. ErgoFoam Lumbar Support Pillow
The ErgoFoam Lumbar Pillow is the quintessential and dream backrest. Sitting upright in a chair has never been more comfortable. Additionally, the pillow has been designed with a breathable mesh fabric that creates an enjoyable cooling sensation.
Key features of the ErgoForm Lumbar Support Pillow include an extended reach and ergonomic contour design and ErgoFoam memory foam that is flexible and able to mold to one's body.
The ErgoFoam Lumbar Pillow has received critical acclaim by numerous U.S. chiropractors. It starts at just $34.95. This is a gift that will just keep on giving!
12. ErgoFoam Adjustable Foot Rest (Mesh)
The ErgoFoam Adjustable FootRest perfectly complements the ErgoFoam Lumbar Support Pillow and many of the other ergonomic products recommended. 
Featuring a high-density memory foam, the Foot Rest offers firm and comfortable support to users. It has an adjustable height and uses cooling, breathable mesh for the ultimate comfort experience.
When using the ErgoFoam Adjustable FootRest, one can even engage in light movement and rock their feet while he or she works! Regular movement has been scientifically proven to limit bodily discomfort throughout the day.
ErgoFoam Adjustable Foot Rest is the only product of its class to be recommended by U.S. chiropractors. The foot rest is available starting at $49.67.
13. Light Bar
A light bar for a desk can make an excellent at-home office gift. Proper lighting is imperative for the best possible working experience. With the Ultra Wide Led Desk Lamp, one's whole desk will be completely illuminated with accuracy.
Autonomous's light bar product features a 31.5-inch LED strip attached to a flexible 35-inch stem. As a result, the Ultra Wide Led Desk Lamp has a 200% wider and larger light coverage than most competitive offerings. Additionally, the light bar has four light temperatures and five brightness levels.
Ultra Wide Led Desk Lamp starts at $119.
14. Spruce Charger by Fledging
Here is another home office gift idea for you. The Spruce Charger by Fledging makes daily electronic charging less complicated and more efficient. By charging up to five devices with a multiport GaN charger, charging has never been easier or more enjoyable. The accessory also is a wireless charger with a dual coil wireless pad.
Fledging's charger uses Gallium Nitride technology and offers 140 watts of smart power delivery. This allows the charger to provide reliable and fast capabilities to users. The Spruce Charger by Fledging costs $124 and comes in Black, White, and Space Grey.
15. The ErgoActive Cooling Gel Seat Cushion
Here is the final home office gift suggestion in the list. The ErgoActive Cooling Gel Seat Cushion offers reliable ergonomic support for any sitting occasion. It was designed to ease pressure on one's back, hips, and coccyx. With cooling gel material, the cushion does not trap heat and limits buildup.
Developed with durable memory foam, the ErgoActive Cooling Gel Seat Cushion is flexible and will be comfortable for any body shape or size.
Perfect for an ergonomic chair, the gel seat cushion can be purchased for $34.99.
In Conclusion
The options briefly highlighted are just a few of the many work from home gifts available. Such gifts can have long-lasting effects that will improve one's health and wellbeing. One cannot go wrong with getting an essential product or an accessory for a friend or loved one's home office setup.
Both make great gifts for a home office. Accessories can have just as significant of an impact as core essentials. Ergonomically designed products can take personal comfort, and in turn work productivity to the next level.
Whether it is an ergonomic chair, standing desk, lumbar pillow, foot rest, wrist rest, or even a phone charger or desk pad, such a gift will be greatly appreciated by the receiver. These gifts are very thoughtful and meaningful.
Hopefully, the gift ideas shared in this blog have offered a taste of what is available and how such products can in fact be life-changing.
Video ads for product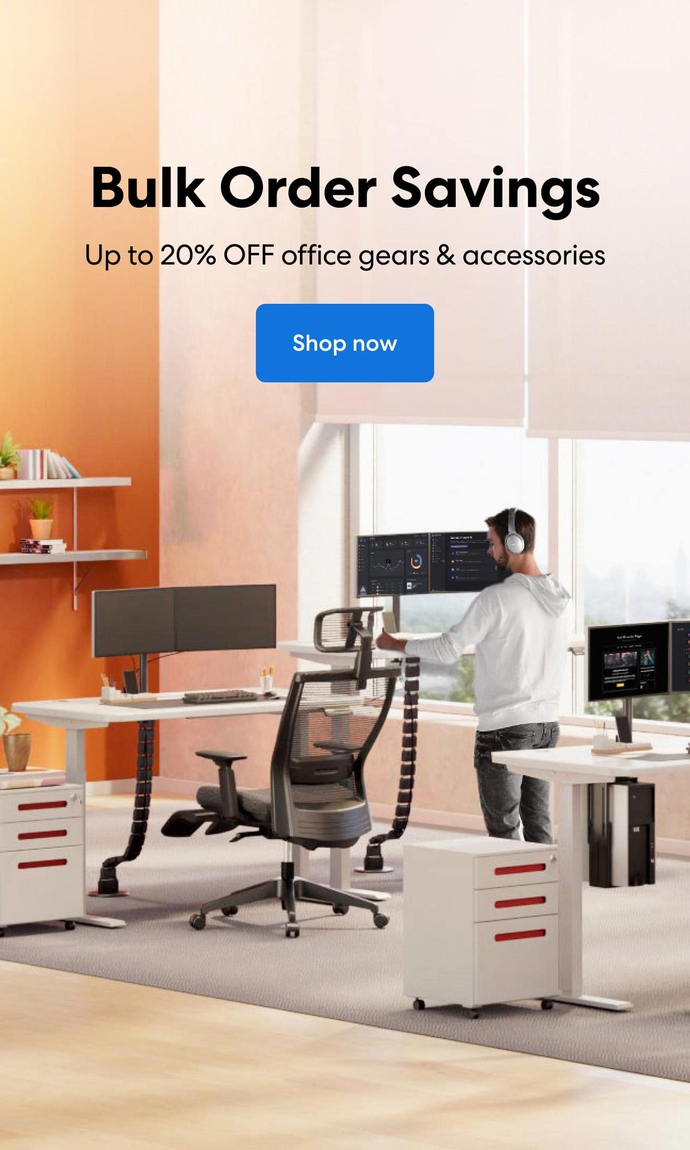 Subcribe newsletter and get $100 OFF.
Receive product updates, special offers, ergo tips, and inspiration form our team.