Smart Products
15 Most Modern White Standing Desks for Contemporary Office

Autonomous
|
Oct 28, 2021
1,457 Views
Your search for a modern white standing desk that blends in with any décor ends here. Explore our research and the various options that we have listed for you.
What is the Need for a Standing Desk?
Using a standing desk helps to overcome the effects of an otherwise sedentary lifestyle at work. Such a standing electric height adjustable desk includes all the features necessary to deliver the benefits you expect from a standing desk, such as enhanced focus and increased calorie burning. So raise a toast to the good health benefits of increased standing and reduced sitting at work. Incredible, isn't it?
Here is our selection of the finest modern white executive desks. You can also explore our selection of a white studio desk.
15 Most Modern White Standing Desks for Contemporary Office
1. SmartDesk Core
This marvellous modern white electric desk is one that you cannot ignore.  Adjust the height between 29.4" to 48" as you sit or stand to complete your work. You don't need to go under the table to manage the height. Use the electric panel of SmartDesk Core that has up to four programmable settings for your ease. The dual electric motors easily lift 265lbs with ease. Aim for the regular desktop (53"L x 29"W x 1"H) or the XL desktop (70.5"L x 30"W x 1"H). 
2. SmartDesk Pro
Need a higher desk for a tall-heighted person? How about the SmartDesk Pro, a modern white adjustable desk that offers you a height adjustment between 26.2" to 52"?  The upgraded electric dual motor operates noiselessly at 40 dB.  You quickly gain an improved load capacity of 310 lbs.  Don't miss the natural wood tops and classic finishes with a different color for the solid steel frame. Prefer an L-shaped home office computer desk?
3. SmartDesk Corner
Do you want to use that corner space? Go ahead and choose the SmartDesk Corner that gives you extra workspace. With the L shaped design, you can easily access all work areas.  With a lift speed of 2.3 inches per second, you can't get a better deal!  Raise or lower the table between 29.4" to 48".  This desk has a muscular build and can easily lift a payload of up to 330 lbs. Explore our white desk gaming setups.
4. Motionwise's Standing Desk
Now immerse yourself in work with his brilliantly sculpted desk by Motionwise.  Now you can raise the desk height to a maximum of forty-eight inches as you settle in for work.  The electric wires don't run across the desk. Instead, they drop into the telescopic solid steel and aluminium frame legs for your ease.  
5. Seville Classics's  airLIFT Standing Desk
This modern white standing desk by Seville will meet most of your needs without even looking at a second desk. How? This desk offers you a super smooth finish desktop with tempered glass. The elegance of this desk is so captivating! Glide from a sitting position at 27.5" to a comfortable position with 46.5" desk height.
6. Living Essential's Jefferson Electric Glass Top Standing Desk
Enjoy your good health as you give up the sedentary lifestyle of sitting and working. With the Jefferson electric lift desk, you can raise or lower the desk between 28.5" to 47.75" for your ease.  Just push a button to manage the change.  You also get to store your favorite settings for quicker change.
7. SmartMoves's Adjustable Desk
This modern white standing desk has a dual motor that you will love. As you stand at this brilliant ergonomic desk to work, change positions easily with the push of a button. So easy, isn't it? This desk is wholly made in the USA and approved by BIFMA.
8. Flexispot's EC1 Electric White Standing Desk
Use the extra-wide desktop with a 48" x 30" space for your work area. Keep those achievements on display or work with a minimalist design feature. Suppose you are a gamer, setup up two monitors on the desktop. Go from 28" to 47.6" desk height, excluding the desktop at 1"/second speed.
9. SKARSTA by Ikea
Now work your desk to raise or lower with a crank handle. As you work the crank, your wrists and lower arms and shoulders get exercised. As you bend down to raise the desk or put away the crank handle, you work your knees, back, and legs muscles.  Change your desk height from 27.5" to 47.25" with ease as you crank the handle. 
10. Hipso Adjustable Standing Desk
Need an ergonomic, sturdy desktop that has an electric height adjustable feature? The best part is that you get this modern white electric desk in a squared or radiused corner. To prevent accidents or use it for senior citizens, stay safe with the laminated edge and rounded corner tops.
11. Vari Desk
A popular and in-demand desk by Vari that even gives you cable management trays. The best part is that these high-quality desktops are laminated for increased durability and longevity of your desk.  Easily place up to 300 lbs of weight that is distributed across the table's surface.
12. Floyd Standing Desk
Are you bored with the standard standing desks?  Now you can go for this marvellous modern white standing desk that combines a modern and modular standing desk.  Don't miss the durable and sturdy desk frame made from steel. The birch desktop gives you a silky touch as you sit down to work.
13. UPLIFT V2 Curved Standing Corner Desk
These corner modern white adjustable desks give you plenty of space.  You will love the super quick height adjustment that this desk offers. This desk is entirely safe for children and senior citizens. How? The desks have curved corner desktops for enhanced safety.
14. Flaviana Height Adjustable Desk
You will fall in love with this standing desk as soon as you see it.  This desk showcases a refined and neutral finish that blends with any décor.  Unlike most other desks, you get a sturdy desk with an X-shaped frame.  Don't miss the two cut-outs that offer you to store any extra office supplies.
15. Jarvis Standing Desk – Bamboo
Bring nature closer to you with this modern white executive desk that offers you a bamboo desktop.  The super-smooth, sleek standing desk is here to offer a choice of working positions. Raise or lower the desk from a height of fifty inches, one of the best in its class. Don't miss the fact that this sturdy table can take a weight of 350 lbs. 
Here are some more ideas for computer desk office sets. 
Wrap-up
As you look for a modern office desk, you cannot help but wonder which one to choose from. First, consider the height settings you need.  White is an elegant color that offers to blend and provide a contrast to any room. Then, enjoy your good health as you give up a passive style of working!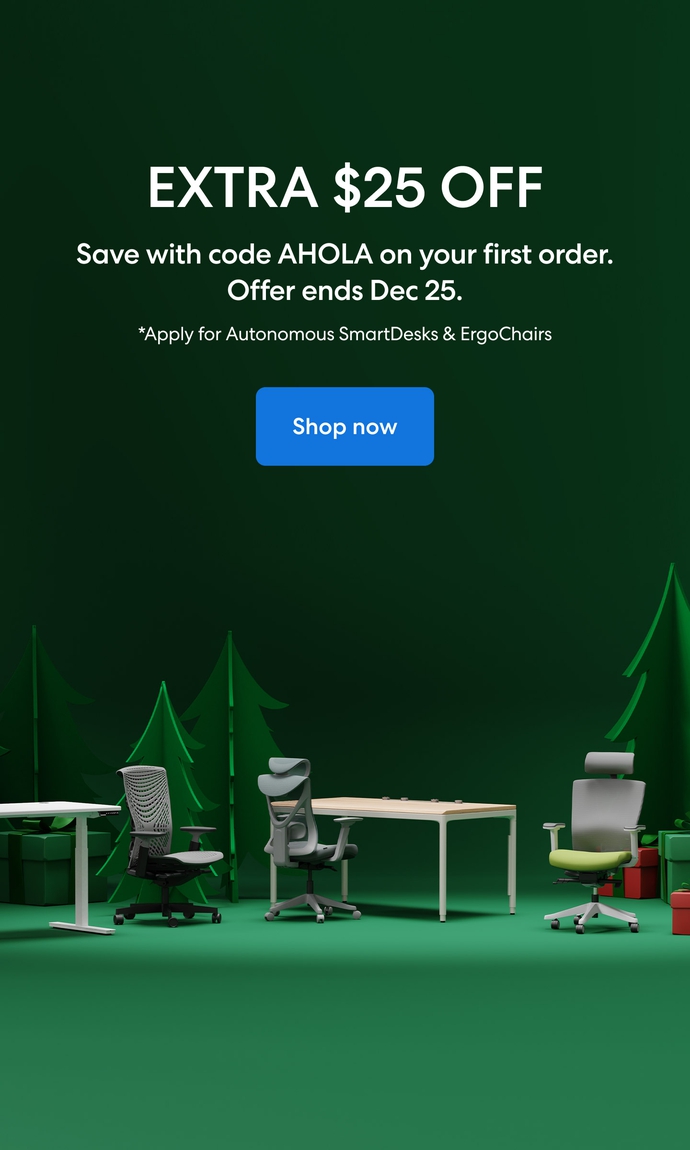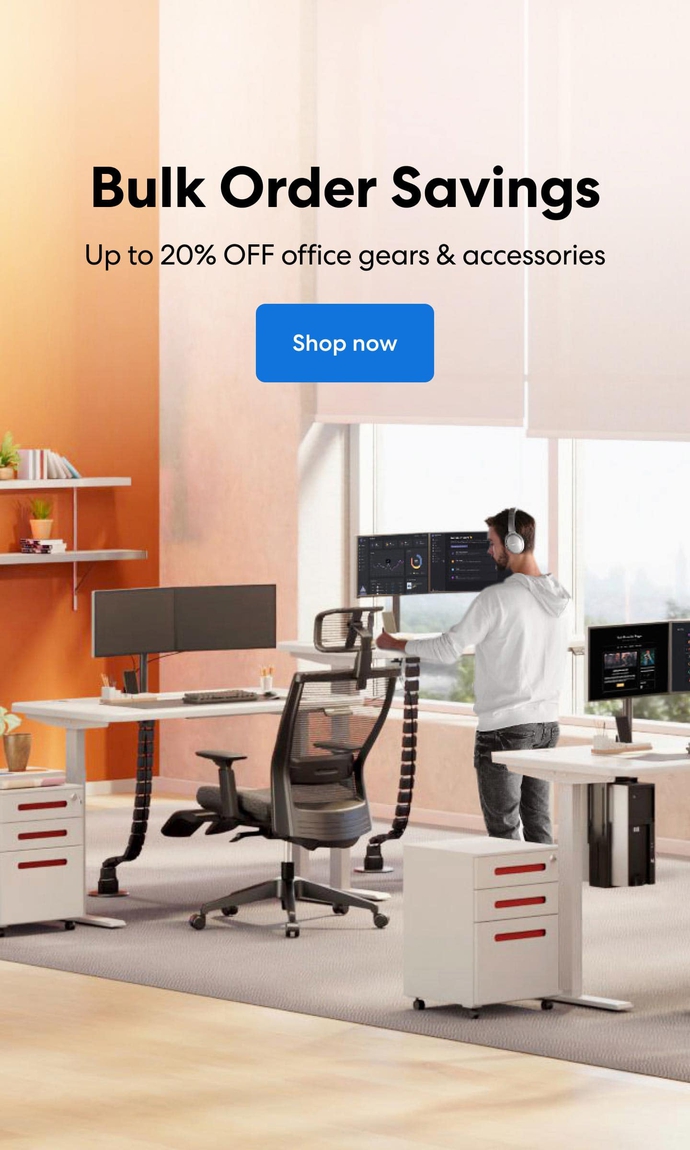 Subcribe newsletter and get $100 OFF.
Receive product updates, special offers, ergo tips, and inspiration form our team.