Working in some office areas tends to be uncomfortable for people; this is because some office settings aren't optimized to fit ergonomic trends. Overall, feeling uncomfortable while working on your current equipment can lead to several problems in the long run, such as muscle straining, headaches, bad moods, and decreased work performance. 
Thankfully, there are hundreds of different ergonomic products you can currently purchase to improve your working experience from anywhere you care. One of the best products you can get to start is the ergonomic chair. Still, not all ergonomic chairs may be the right fit for you, so it's vital that you know which one to choose. 
First, you must ensure that the chair you're getting offers adjustable features. These extra features allow the user to accommodate the chair to their needs, making the experience much more comfortable. Additionally, getting a high office chair that's adjustable can be the key for people who want to ensure full back and head support while they're working. 
As mentioned before, choosing the right high desk chairs may be challenging for some, especially if they've never purchased ergonomic equipment before. We put together a list of 15 tall computer chairs with adjustable features so that you can have a much easier time choosing something that works for you.  
In case you're looking to buy an ergonomic chair, keep reading this guide! 
What Makes an Office Chair Tall?
Most chairs come in different height settings. While most models can cater to most users' needs, not all chairs may be suitable for tall people. In most cases, your goal is for the chair to be able to support your entire back, although some people like to take the experience one step further and get a product that can support their head too. 
In most countries worldwide, there's not a "standard" office chair height, but most models follow a similar height range. Chairs are measured from the floor to the seat, so you may use that range to measure yours. 
Typically, the standard height range for office chairs is 16 to 22 inches. Some of the most popular products on the market go up to 20.5 inches, which is perfect for most scenarios. However, if you get a tall task chair, you may be able to adjust its height much higher, allowing you to improve your working experience in every way possible. 
If you don't know what the right height for your tall ergonomic office chair should be, don't worry; there are a couple of factors you may consider before choosing the right product for you. Overall, you must be able to comply with the two following factors to achieve an "ergonomic sitting posture:" 
Your forearms must be at the same height and parallel to your

tall standing table

Your two feet must be touching the floor without any problems

Your knees must be bent at least 90 degrees 
Why Would You Need Adjustable Features for Your Chair?
Traditional chairs tend to come with fixed components, meaning you cannot adjust them in any way. As mentioned at the beginning of this article, most chairs were designed to fit the average user. However, not all people are able to sit comfortably in a traditional chair. 
Ergonomic chairs have changed the sitting experience for everyone. Not only do they come in much more comfortable fabric than other chairs, but they also come with a wide range of adjustable features you can use to achieve the optimal sitting experience. 
Keep in mind that a tall adjustable office chair may not have all the features you may need, so you must look for a product that at least has what you need to sit more comfortably in your office.  
Generally speaking, a tall ergonomic office chair should come with one or more of the following adjustable features: 
Seat height/angle/depth

Back height/angle

Headrest

Armrests

Footrest 
In most cases, try to find a product that at least has adjustable seat and back height. There, you're adjusting the chair to be as tall as you need it to be. Still, if you have the budget for a "premium" chair, you can look for something that has as many features as possible. 
Remember that your goal with high desk chairs is to feel as comfortable as possible, so make sure to take your time to find something that works for you. If you can't currently purchase a tall office chair, you may also go for an office chair height extender. While these height extender options don't necessarily add more features to your chair, they make the sitting experience a bit more comfortable. 
What Can You Compliment Your Tall Adjustable Office Chair with?
Getting a tall computer chair is only the beginning of your ergonomic working journey. If you truly want to make the most out of your working experience, you may also want to invest in a standing or corner desk for a tall person. Combining adjustable seating with an adjustable desk maximizes your height adjustment possibilities, which helps improve the experience. 
Standing desks tend to be a bit more expensive than chairs, but they also offer you a way to optimize your working space since they're more practical than traditional desks. If you're not a fan of sitting for long periods, a standing desk may be ideal for you since you can simply change from sitting to a standing working posture with the push of a button. 
Some other items you can get to improve your working experience include drawers, filing cabinets, lamps, and others. 
15 Tall Adjustable Office Chairs for Your Workstation
It's time to discover our top 15 picks for high desk chairs this year. Keep in mind we considered some particular factors for choosing the products on this list, including pricing, adjustable features, fabric, brand, and others. 
If you're looking for a new chair for your office, keep reading and find the best one for you! 
1. Autonomous ErgoChair Pro
On the top of the list, we have Autonomous' ErgoChair Pro. Overall, this is one of the best options you can currently get if you're looking for something that can offer you everything you need at an affordable price. 
The ErgoChair Pro is fully adjustable and completely supportive of your entire body, so you don't have to worry about any comfort problems in the long run. You can adjust its height, armrest, headrest, backrest, and seat tilt. Additionally, you can choose one of five lockable recline positions. 
Finally, the chair can support up to 300 lbs, making it an ideal office chair for a heavy person. If you're looking to work in the most optimal way possible, consider going for this product since it's likely to be the best thing you can find for its price. 
2. Autonomous ErgoChair Plus
The ErgoChair Plus takes the experience of the standard Pro model one step further. This tall adjustable office chair offers frameless construction for unhindered movement and encourages natural mobility through all its adjustable features.
One of the best features of the ErgoChair Plus is that it comes with adaptive spinal support, meaning your back is going to feel its best at every moment of your working session. If you're one of those who tend to work for many hours a day, the ErgoChair Plus could be the most comfortable option to choose. 
3. HON Wave Big and Tall Mesh Office Chair
The Wave tall computer chair provides a great balance between durability, comfort, and price. Overall, this chair features mesh fabric, which is great if you're not a fan of leather while you're working. Thanks to the mesh, your back is going to breathe a bit better, preventing prolonged sweating. 
Additionally, you may adjust the lower back support, height, recline, and armrests. In case you're looking to maximize comfort, this is a great pick. 
4. Steelcase Gesture Chair
Steelcase's Gesture chair is one of the best chairs on the market due to all the adjustable features it has. In essence, you can adjust everything you can think of, making this a "premium" product. 
However, keep in mind that this product goes into the "expensive" price range, so if you're on a budget, this may not be the ideal chair for you. On the contrary, the Gesture chair comes with a proprietary seat technology that prevents your back and legs from feeling strained all the time. 
If you can afford this tall adjustable office chair, it may be one of the best investments to make. 
5. AmazonBasics Big & Tall Executive Desk Chair
Amazonbasics tall adjustable office chair is for those who value design over the rest of the features. While you still can adjust plenty of factors in this product, it excels due to the leather fabric that makes it look premium. 
Additionally, this chair comes with a 30.25 inches wide seat, making it ideal for most users who want to be more comfortable while they're working.  
6. Vinsetto Ergonomic Tall Task Chair
Overall, this chair was designed for big and tall people since it offers a much wider seat than other tall adjustable office chairs in this list. The most impressive factor about this product is that it can support up to 500 lbs, making it the perfect product for heavy users.  
7. NOUHAUS ErgoDraft Drafting Chair
This is one of the tallest options you're going to find on this list. Keep in mind that this product comes with a tall cylinder that allows the chair to raise between 23.4 to 30.9 inches, making it high enough for most user needs. 
8. AmazonBasics Executive Chair
The Executive tall adjustable office chair from AmazonBasics takes the sitting experience one step further than the previous product mentioned here. Overall, this product can hold up to 500 lbs and features full-body support, a pneumatic height mechanism, and a five-point base with hooded caster wheels. 
9. OIF Tall Computer Chair
If you're looking for a product with a "classic" look, this may be the one for you. This product offers full back support, comfortable seating, and adjustable armrests. While this tall adjustable office chair doesn't excel in the design department, it makes up for it by being extremely comfortable. 
10. Office Factor Drafting Chair
Overall, drafting chairs are great options for those looking to make their chairs as high as possible, and this product isn't the exception. It features a lower minimum seat height, so it's also a great option for shorter users who want to adjust their chair to their liking.
11. Oak Hollow Aloria Series
Thanks to this high office chair's adjustable seat depth and taller cylinder, you can adjust its height to almost any setting you want without any problems. 
12. OneSpace Taft Mesh Back Tall Adjustable Chair
OneSpace's chair offers one of the widest seats on this list at 30.5 inches. Whether you're big or tall, this is one of the most comfortable high office chairs with adjustable features you're going to find on the market today.  
13. SUNNOW Ergonomic Office Chair
This chair can reach a maximum height of 23 inches, which is perfect for most users who want a tall chair. Additionally, this product features an ultra-wide headrest, adjustable tilt and recline, and great office chair lumbar support. 
14. Starspace Executive Office Chair
If you're looking for a high-quality, executive office chair, this may be the right option for you. In essence, it features leather fabric, flip-up armrests, a maximum seat height of 22.8 inches. While it doesn't cover some other adjustable features, it's still a great option for people looking to maximize comfort. 
15. BestMassage Big and Tall Chair
This chair is for those who are looking for something simple to accommodate their office. Overall, this chair supports up to 500 lbs, and it features a durable mesh back and a breathable padded seat. Not only is your back going to feel more relaxed, but the chair also prevents it from sweating. 
Bottom Line
When it comes to high desk chairs, there are hundreds of options to choose from. While most of them can be of great help to you, you must still go for something that you can work on. Remember not all bodies are equal, so do your best to find the right tall adjustable office chair option for your working sessions.
Video ads for product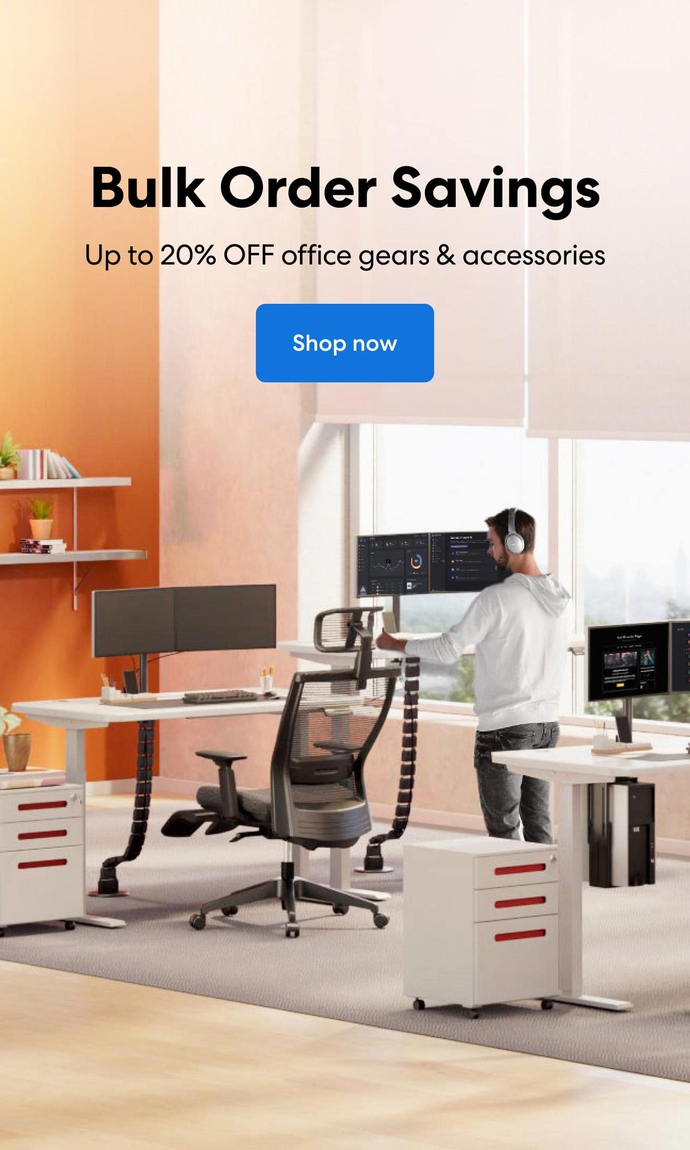 Subcribe newsletter and get $100 OFF.
Receive product updates, special offers, ergo tips, and inspiration form our team.