Smart Products
15 On Top of Desk Storage and Organizers for Your Workspace

Autonomous
|
Oct 8, 2022
883 Views
Desk organizers are essential to a productive workplace and help achieve most of the day-to-day tasks at the office or even when studying. But one thing that troubles most people about desk accessories is the clutter they bring to your desk. Since you cannot discard them but cannot keep them on the desk all day as it minimizes the space that can be used for work. Hence there is a need for proper organization or on top of desk storage ideas. This article will enlist the best desk organizer accessories and ideas to help you set up a productive workstation without having to throw away any of your desk essentials.
1. The Office Oasis Magnetic Desk Organizer
The Office Oasis magnetic desk organizer is versatile, smart, and very cheap on top of desk organizer. You get multiple compartments for your pen, notepad, sticky notes, paper pins, thumb pins, and other stationery items. It has a magnetic base, so it sticks to your desk surface. This feature ensures the organizer remains in one place and doesn't move when the desk is slightly shifted.
2. Mindspace Desk Organizer
If you are looking for an on-top desk organizer that looks pretty while doing the job, then the wire office desk organizer from Mindspace is your best bet. This desk organizer from autonomous comes with multiple compartments, each wired with a mesh carefully, so you get a durable structure. It also has a file space for your big stationery and several tiny compartments for daily small stationery items.
3. Mindspace Multi Step File Organizer
Looking for the best office desk organizer on a budget? All the paperwork finally comes to rest when you buy the step file organizer from Mindspace. Available in black color, this is one universal product with multiple features. The thick black wires divide the organizer into multiple categories, and the multi-step feature provides easy access and more control over finding the right file.
4. Mindspace File Rack
A cabinet is one thing but having an on-desk file organizer plays to your benefit because you get multiple benefits. The first one with this Mindspace office desk organizer is easy to file accessible as the organizer is inclined to give better visibility. The mesh design also plays a vital role in aesthetics, and you can get multiple options for varying file sizes.
5. Mindspace Desktop File Organizer
Get yourself sufficient space for storage with this black desktop file organizer. This Desktop File Organizer Sorter magazine holder has 6 strong, high-quality compartments, so there is no need to worry about documents slipping out. Use this section organizer to keep track of files, folders, and other vital documents. Each 5-slot vertical sorter compartment with black wire mesh is built for simple viewing and rapid document selection.
6. Aothia Magnetic Desk Organizer
Looks and functionality combined to get your hands on the Aothia magnetic desk organizer for a one-of-a-kind disciplined desk storage option. This desk organizer is made entirely of natural materials and has a pleasant scent. It is hard to distort and strong and wear-resistant. It is suitable for contemporary to opulent desk arrangements because of its meticulously polished, flat, and smooth surface. You receive 6 unique parts that you can freely arrange to match your liking.
7. Dual Monitor Stand
Using many displays when working? In addition to cable management to keep things neat and orderly, this adjustable organizer has a place to carry your tablet and telephone. Additional room is available underneath your laptop, books, pencils, and other items.
8. Bigso Desk Storage
After luxury is enjoyed through leather chairs, you can now get a leather desk organizer. This set of three Bigso workspace kits is an entire storage solution. You get tiny drawers, a mid-sized drawer, and an open compartment for other accessories. It comes in navy blue and green leather color, both regally belted with a brown leather drawer knob.
9. Aothia Metal Desk Organizer
Some people are too tasteful to use a basic design desk organizer, and this one is for them. The Aothia metal desk organizer has multiple compartments with pegboard adjustment. It comes with a pen cup, a place for your cell phone, and another compartment for other stationery items. It rests gracefully on the edge of your desk, and the shiny black surface looks dapper on your executive desk setup.
10. Maydear Bamboo Desktop
The Maydear bamboo desktop is a multi-tiered desk storage solution. It comes with tiny drawers and a space for your books. The top platform has space for your pen, notepad, and other stationery items. The natural bamboo look adds grace to your work desk.
11. Lexon Pen Cup
Pen cups are the most straightforward desk storage solution, but a smart purchase can make all the difference, just like the Lexon City pen cup, which has a silky-smooth surface and is available in three unique royal colors. Get this to keep your pens organized and make your desk look pretty.
12. AmazonBasics Mesh Desk Organizer
For those whose work desks are overloaded, this desk organizer is great. The finest product for keeping and managing your work files is this one. The item is also offered in wall file, triple tray, and desk drawer organizer designs. Additionally, the mesh design gives it a professional appearance and conveys your intent to do business.
13. West Elm Curved Monitor Stand
With the help of this creative desk riser, you can move your essentials—like your phone and planner—out of the way while you work. The base is made of durable aluminum and can support both large displays and laptops. It also has an incorporated shelf for additional storage. It's one of our preferred simple solutions.
14. Easypag Office Organizer
The adorable desk organizer has six compartments and is available in dark teal, black, and white. It is strong, effective, and extremely beautiful. You can use it to keep things like pencils, rubber bands, sticky notes, and other office supplies of a similar nature. Additionally, you may use it for other things like storing your makeup to give your vanity an orderly look.
15. Vivid Studios Bamboo Desk Organizer
Consider the Vivid Studios White Bamboo Wood Organizer if you need a stylish method to manage a few desk necessities but are limited in space. Since they may fit directly over the keyboard, racks like this are ideal for compact desks. This style is simple to put together and is available in three universally flattering colors.
Video ads for product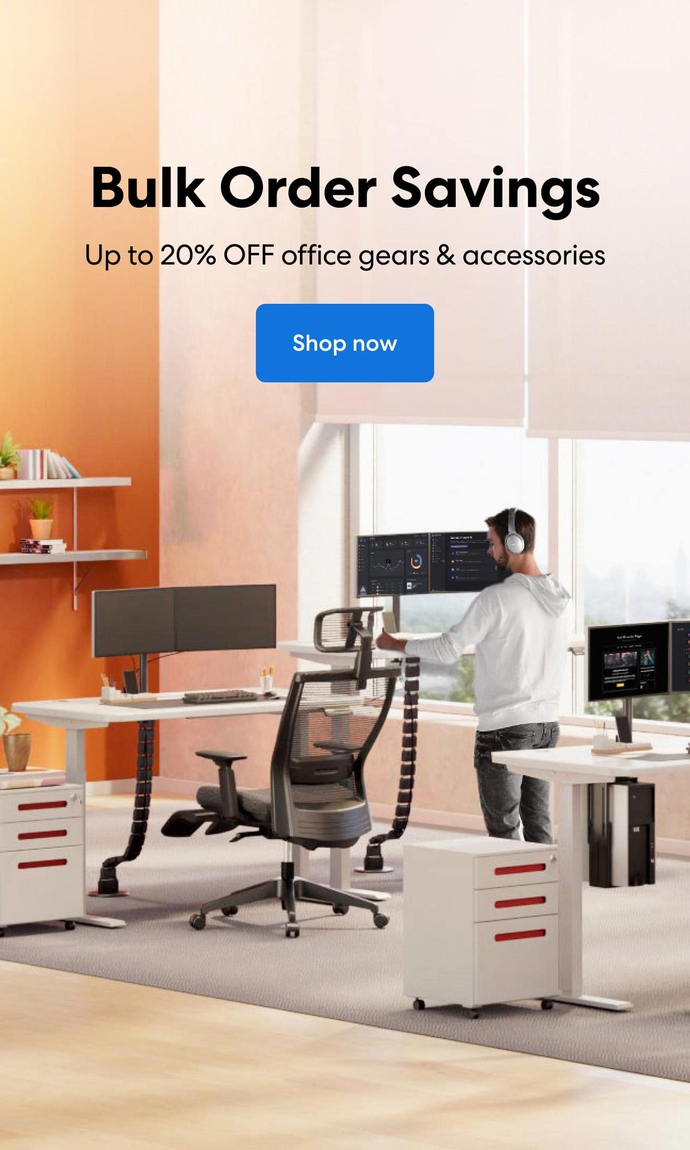 Subcribe newsletter and get $100 OFF.
Receive product updates, special offers, ergo tips, and inspiration form our team.