Posture is one of the most important things to keep in check while working, especially if you're doing it for many hours a day. While engaging in better sitting habits can help you avoid back/neck/shoulder pain issues, purchasing an office chair for posture may also be a great solution. 
Thanks to ergonomics, everyone has access to hundreds of different office products designed to make your working life more comfortable. However, when it comes to chairs, you must make a smart purchase.
Whether you're working, playing, or studying, proper posture is important if you want to keep your productivity and physical health to a decent degree. On this page, we're going to take a look at the 18 best office chairs for posture correction. 
What Makes a Good Chair for Posture Correction?
Many people purchase chairs to help posture while working since they tend to forget to do it themselves. Our body tends to adapt to long hours of work, which may lead to slouching, leaning into your monitor, and other unhealthy working habits. 
As you may already know, there are hundreds of different chairs on the market today, making the purchase decision much more challenging. However, there are some guidelines you may follow if you're looking for a chair for good posture. 
Overall, a posture correcting chair should include one or more of the following items: 
Back support.

Lumbar support.

Reclining/swiveling capabilities.

Adjustable armrests.

Headrest.

Breathable fabric. 
If your chair doesn't include one of those items, it doesn't mean that it's a bad chair. However, the more posture correction features your chair has, the better.  
It's important to note that an office chair for posture is not going to do all the correcting work for you. If you truly want to maintain good posture while working, you must engage in healthy sitting habits too. 
Pros and Cons of Office Chairs for Posture Correction
Pros and Cons of Office Chairs for Posture Correction
They feel more comfortable for your body.
You have access to several adjustable features.
You can adapt the chair to your sitting needs.
These chairs tend to be expensive, depending on the number of features they have.
Should You Purchase a Chair for Good Posture?
Even if you have perfect posture while sitting, it doesn't hurt to have a comfortable chair to work in. Keep in mind that if your body feels relaxed, you're going to feel much more productive, and your body is going to thank you for that too. 
If you have the budget, it's highly recommended for you to purchase a posture-correcting chair. On the other hand, if you currently don't have access to a chair of this kind, you may also purchase a posture correction office chair, which is also helpful. 
What Are the 18 Best Desk Chairs for Posture Correction?
Now that you know all the benefits of having an office chair for posture, it's time for you to discover our top picks for this year. As mentioned before, there are many different options for you to choose from, but they may not all work as efficiently for your specific case. Let's find out the best desk chair for posture for you!
1. Autonomous ErgoChair Pro
If you're looking to buy an ergonomic chair, the ErgoChair Pro from Autonomous is one of the most solid choices you can take. This product features an adjustable armrest, height, backrest, headrest, and seat tilt, which is more than enough for your posture correction needs. 
Another thing that makes the ErgoChair Pro so special is that it has a woven mesh back, which allows for much better airflow within your back and lower back area. This chair was designed to eliminate pain and increase mobility. Considering all its posture-correcting features, it's safe to say this is one of the best perfect-posture chair options out there. 
2. Autonomous ErgoChair Plus
The ErgoChair Plus from Autonomous takes the Pro model one step further, featuring an earth-friendly TPE with 10x durability, which feels good for the body and looks even better. One of the main reasons why the ErgoChair Plus surpasses the Pro model in posture correction is because the former has adaptive spinal support. 
Thanks to the ErgoChair Plus's design, people are able to sit much more comfortably without having to worry about their posture since the chair does a great job at adapting to any position your back takes. This product's dynamic pressure distribution is responsible for keeping your body in the best state possible. 
3. Autonomous ErgoChair Recline
If a computer ergonomic chair is what you're looking for, the ErgoChair Recline may be the right fit for you. The Core "Model" of Autonomous chairs offers a more affordable approach to comfort since it gives you the necessary elements to cover your posture correction, such as reclining, breathable mesh back, adjustable lumbar support, and more. 
In case you're looking for the best desk chair for posture but don't have such a high budget, the ErgoChair Recline may provide you with everything you need. 
4. Herman Miller Classic Aeron
Herman Miller is another popular manufacturer of chairs to help posture, and its catalog is interesting to check out. The "Classic Aeron" model comes in three different sizes depending on the person's height and weight.  
Additionally, the chair features a breathable mesh fabric for the back so that your body experiences better breathability while you work. In essence, the Herman Miller office chair for posture is definitely worth looking at. 
5. ErgoHuman High Back Swivel Chair
If a better style is what you're looking for, the ErgoHuman High Back Swivel Chair is a great pick. One of the best things about this product is that you can adjust almost everything on it, including the back support, lumbar support, armrests, and headrest. 
This ErgoHuman chair for good posture was designed to last a long time, making it a perfect purchase for those who want to have their chair for many years to come. 
6. Space Seating Professional AirGrid
The Space Seating Professional AirGrid is a great choice if you're on a budget. While it doesn't provide you the same quality as the more expensive chairs, it still gives you adjustable armrests, enhanced back support, and others. 
Keep in mind that this is a budget perfect-posture chair, meaning it may not last as long as other chairs. If you're looking for something quick to help your posture, this may be a great option to consider. 
7. Modway Articulate Ergonomic Mesh Office Chair
This Modway office chair for posture is also in the "affordable" price range, although it offers much more features than the model shown above. The Modway Articulate Ergonomic Mesh Office Chair allows you to adjust your seat's height and armrests.  
You may also enjoy the benefits of the chair's lumbar support, breathable mesh fabric, and stylish design. As with the Space Seating chair, if you're looking for a quick workaround for your posture, consider this product. 
8. Ticova Ergonomic Office Chair
The Ticova Ergonomic Office Chair goes a bit higher in terms of price, but it makes up for it with its customization. This posture-correcting chair doesn't fall into the category of expensive chairs, but it still provides you with an adjustable headrest, lumbar support, armrests, and more. 
In essence, you may adjust this chair's features to your liking, allowing you to have a much better seating experience in general. 
9. IKEA Markus
The IKEA Markus has an interesting design, but don't let it fool you; this posture correcting chair offers just what you need to work for long hours without feeling exhausted or in pain.  
This perfect-posture chair offers lumbar support, headrest, breathable mesh back, and comfortable seating foam. However, you may not adjust the armrests on this chair, which may be a downside for some people. Still, this is an excellent purchase option, considering the price. 
10. Steelcase Leap
The Steelcase Leap offers an excellent balance between price and performance. One of the most remarkable features of this office chair for posture is that it has amazing spinal support, which is essential for good posture. 
You may also adjust the chair's armrests, reclining, and support bar, which allows you to have a more personalized seating experience. 
11. Steelcase Gesture
The "Gesture" model from Steelcase is similar to the "Leap" model, although the former looks much cleaner. Minimalistic office environments are getting more popular as the years pass, making the Steelcase Gesture an affordable and stylish choice. 
Additionally, this chair for good posture is available in over eight colors, which is a lot considering that most office chair manufacturers don't provide that much range of color customization. 
12. Herman Miller Mirra Two
If the Herman Miller Classic Aeron is too expensive for you, the Mirra Two chair can be a more affordable option without losing the excellent benefits the other chair has. 
As with the Classic Aeron model, the Mirra Two offers adjustable seat angle, lumbar support, and armrests, meaning you can adapt your seating posture as much as you like throughout the day. 
13. Branch Ergonomic Chair
This posture-correcting chair is as ergonomic as it gets. You may adjust everything on it to fit your seating needs, and its high-density cushion may support up to 300 pounds, making it highly resistant. 
One of the downsides of this office chair for posture is that it doesn't include a headrest, although it makes up for it by giving you all the other posture-correcting features you need. You may also choose from two different colors for the chair's frame and three colors for the cushion. 
14. Humanscale Freedom Office Chair
The Humanscale Freedom Office Chair may be one of the most expensive choices on this list. While it doesn't look that expensive from the outside, you're going to feel all of its benefits once you sit on it. 
Thanks to the chair's self-adjusting recline, you can adjust the chair's angle by leaning back on it instead of using a lever. 
15. Humanscale Freedom Desk Chair
The Freedom Desk Chair from Humanscale is a slight downgrade from the model mentioned above since it doesn't feature a headrest. However, this office chair for posture offers you everything else you need to have a premium seating experience. 
This chair is especially good for shorter people since it has an adjustable seat depth. 
16. Neo Chair Essential Office Chair
Neo Chair's office chair offers one of the widest lumbar support features of this list. Considering its price, you're getting much more value than what you're paying for. 
Aside from the lumbar support, you're also getting an adjustable mesh back, seat height, and many others. If you don't want to spend that much on a posture-correcting chair, Neo Chair's Essential can be a great product for you. 
17. Gabrylly Ergonomic Mesh Office Chair
Gabrylly's office chair for posture has most of the features you need for an excellent seating experience: Adjustable armrests, headrest, lumbar support, seat height, and more. Overall, this perfect-posture chair's range of motion can make your body feel comfortable and have a good posture regardless of how many hours you spend on it.
18. Furmax MidBack Lumbar Office Chair
Finally, the Furmax MidBack Lumbar Office Chair is a product that focuses on mid-back support, although it also provides you with other ergonomic features that your body is going to thank you for. 
Thanks to this office chair's lumbar support, you're going to have a safer sitting posture that also promotes productivity, mental health, and energy. The Furmax Office Chair has a decent price for its value, so consider getting it if you're on a budget. 
Conclusion
Whether you want to achieve a proper writing posture or work comfortably at any time, all of the chairs mentioned on this list do a great job at providing you with those benefits.  
Keep in mind that buying an ergonomic office chair isn't as easy as it may sound since you must look for products that suit your needs. However, if you take this guide as a reference, you may have a much easier experience while making the purchase.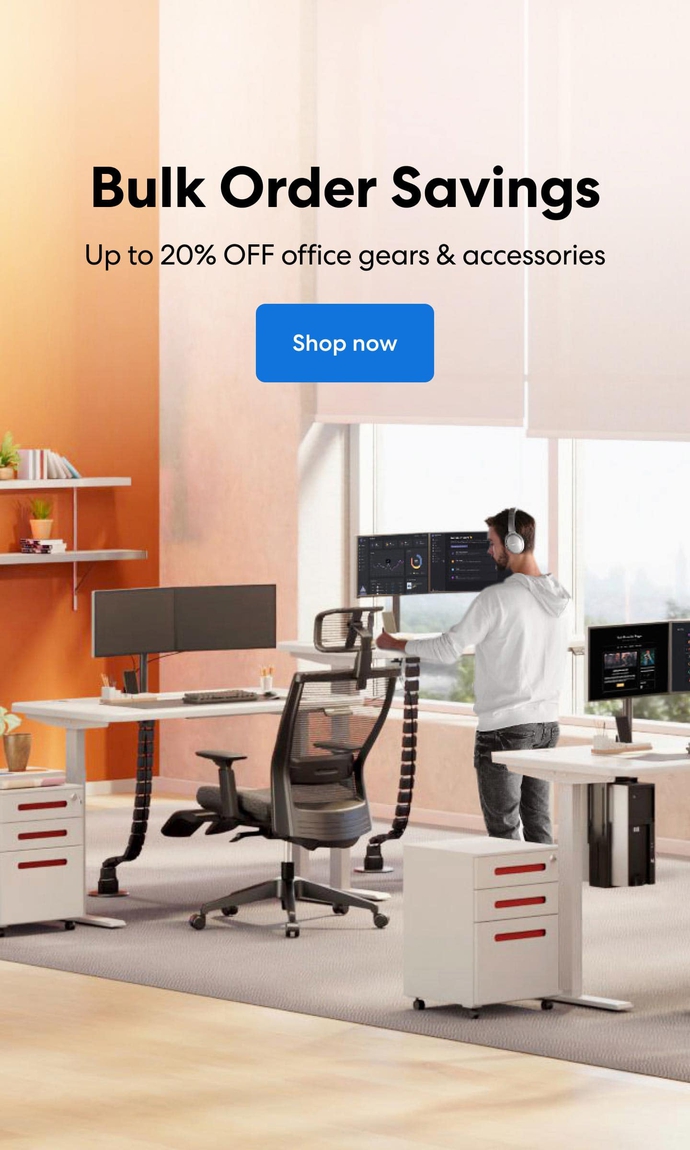 Subcribe newsletter and get $100 OFF.
Receive product updates, special offers, ergo tips, and inspiration form our team.