It's time to incorporate some ergonomically designed stylish home office chairs into your office setting, even if you're dedicated to remote working or working a mixed routine in the office. Certainly, convenience and biomechanics are the most crucial factors to consider, but it is necessary to find a high-quality office chair that is also appealing.
And that is where our best office chair list comes in. Not only have we chosen stylish desk chairs for home that are comfy, but also chairs that can be adjusted. Because no 2 persons are the same, a chair should be able to adjust to your needs. It should also support your lower spine, shoulders, forearms, and hands to avoid repetitive strain problems.
List of The Best Stylish Home Office Chairs
If you work over 8 hours a day at your workplace, it's wise to pay closer attention to your body's posture when you are seated. It's not simply about getting a comfortable office chair. It's also about keeping the chair's build in mind. The correct components can wick away warmth, and offering a lot of customization choices allows you to personalize the chair to your needs. Here are a few of our top-rated cool home office chair suggestions:
1. Autonomous ErgoChair Pro
On their web page, Autonomous Armchairs have many great customer reviews and images, which is wonderful. The ErgoChair Pro has an adjustable backrest cushioning that is quite comfortable for people's tailbones. We had no trouble getting into the appropriate position while seated on this chair. Another amazing variant of this chair is the ErgoChair Plus which offers greater benefits.
2. Autonomous ErgoChair Recline
This is a unique home office chair, since whenever it's time to wind down and stretch, recline, relax, and loosen up your legs by raising them at this reclining computer chair. To relax and work productively, the armchair includes various adjustment settings.
3. Autonomous ErgoChair Core
The fully adjustable ErgoChair Core is more luxurious than a couch and better than a computer chair. First, this customizable PC ergonomic chair is known for offering customers pleasant, tailored lumbar support.
4. Ergonomic Chair from Branch
The chair's narrow back avoids being too cumbersome while still providing optimal support. The mesh fabric is ventilated, and the pillion seat comprises elevated foam for a long-lasting, satisfying experience.
5. Aeris' Numo Chair
This seat's ergonomic option employs a kinematics system that adapts to just how you rest and promotes movement promptly. The seat's base is constructed of fiber-reinforced plastic, promoting proper posture.
6. Aeron Chair by Herman Miller
If you want an accent chair that sustains you physically and is comfortable for long periods at a desk, the Aeron chair is an excellent choice.
7. Steelcase Leap
If you have back problems, you need an armchair to adapt to your needs. Although you may customize many chairs to meet your needs, this one takes a different approach: it transforms while you sit in it.
8. Task Chair Bickham
Choose this cool home office chair with a curved design that provides mid- to upper-back comfort when you're all into simplicity. One can't go wrong with the pretty black leatherette and dark wood.
9. Furmax Office Mesh Armchair with Armrest
It could be a nice option if you would not want to spend a fortune on a stylish home office chair but yet want a pleasant seat for your back. It has a deep, padded seat and a mesh featuring back support, so your spine doesn't become burned up while still receiving the support it requires.
10. Hon Exposure
This stylish home office chair is solid, inexpensive, and functional, but it isn't flashy. It also offers back support that you can adjust to deliver lower spinal support.
11. Karnox Slate Gray Gaming Armchair
This gaming chair is optimized for maximum relaxation, with a big seat, broad lumbar support, and padded headrest. It's one of the greatest fabric desk chairs on the market right now.
12. Steelcase Gesture Seat
It's one of the most comfortable, flexible, long-lasting, and ecologically sustainable desk chairs we've ever tested: everything about it has withstood the test of time, first from the lumbar support to the adjustable features.
13. The HON Ignition 2.0
This is one of the popular stylish office chairs in the market. It is a very convenient and sturdy desk chair on the market, with all of the essential features, including seat orientation, tilting tension, adjustable lock, chair elevation, and adjustable armrests.
13. AmazonBasics Classic Chair
The ultra-soft cover wicks away moisture, preventing a wet back. It provides complete physical support, allowing you to relax while having your head and torso cradled. You will love this unique home office chair!
14. Space Seating Professional AirGrid
You may modify the elevation and location of the chair's arms and the inclination of the chair, which is a key element for achieving a comfortable positioning when leaning back and forth.
15. The X-Chair X2 K-Sport Management
It is an incredibly comfortable stylish home office chair with back support, a perforated backrest, and nearly all of the controls are customizable. It is an extremely durable chair with a strong metal frame and wheels.
16. Songmics Pro
This is one of the necessary home office essentials. You might want to take a seat occasionally, even if you utilize a treadmill desk. This armchair has no backrest or armrests; it's just a seat that tilts and rotates when you sit in it.
17. Gates Leather Aluminum Frame High-Back Executive Seat
This enormous and remarkable chair is upholstered in cowhide and provides full lumbar support, allowing you to relax and examine your business empire. This is a good option for your modern home office ideas.
18. Hon Volt Task Stool
This is also known as a writing chair (because it has been frequently used with a drawing table that requires a great deal of left and right movement). This armchair has a foot loop at the bottom of the column, which makes it very easy to control.
19. Laura Furniture Futura
The fabric backrest can be tilted and locked at multiple angles, the chair may be raised and lowered, moved forward and back, and the back support can be raised or lowered.
Conclusion
Choose a stylish home office chair that is suited to your body type. When users look ahead, for example, they should align their eyes with the center of the computer. That could entail investing in a height-adjustable chair, raising the desktop with a riser, or increasing the position of your display. It would help if you weren't squinting your shoulders down and up. Thereby it helps to relieve your back and neck.
Video ads for product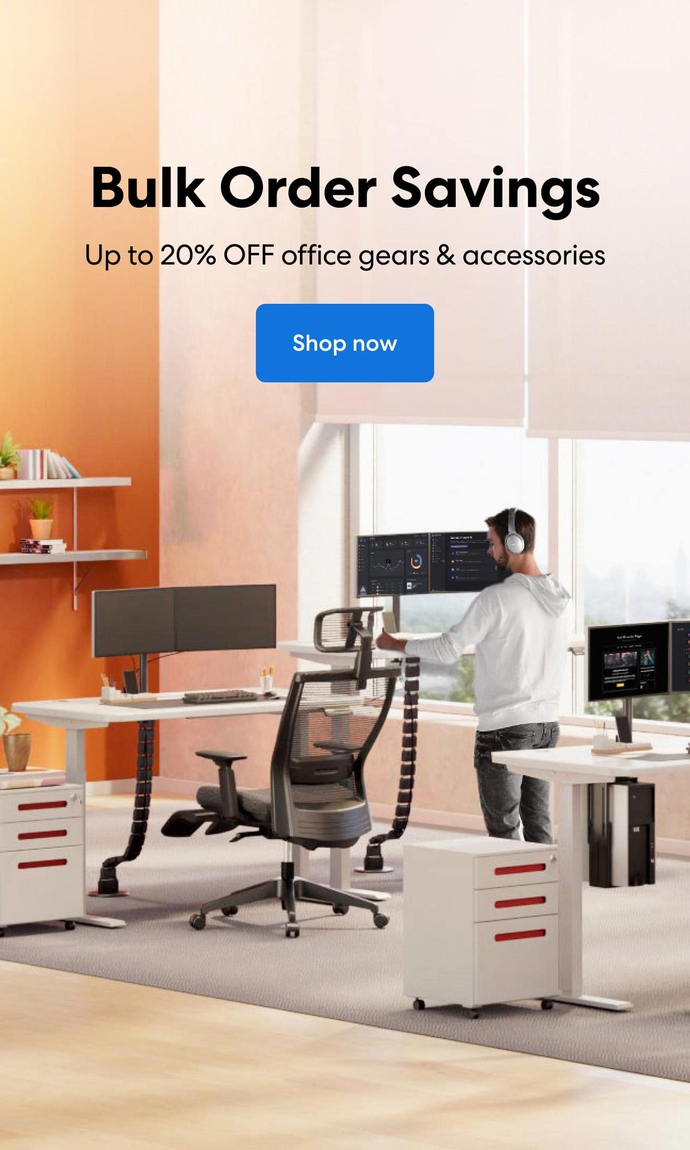 Subcribe newsletter and get $100 OFF.
Receive product updates, special offers, ergo tips, and inspiration form our team.