Smart Products
The 20 Best Adjustable Desk Stools for Active Sitting

Autonomous
|
Nov 2, 2021
2,095 Views
When setting up your office, what do you look for in a seat? Are you a person who is into chairs only, or can you diversify your sitting positions with other items? You may fancy other office sitting furniture, but which ones? There are other sit-stand items to use to make yourself comfortable at your adjustable standing desk. If you seek more comfort and flexibility, you should buy an adjustable desk stool. 
This article aims to take a closer look at some of the best adjustable desk stools you can use for comfort. You may be spoiled for choice because there are many of them on the market. Do you know which works best for you? Read on to find the most comfortable adjustable office desk stool for you. The article also covers the importance of active sitting. 
Importance of Active Sitting
Most offices have setups that encourage sitting a lot while working. Do you know the importance of active sitting? While you may enjoy sitting at work, you need to know what benefits it has for you. First, what is active sitting? It is a way of sitting that works your core muscles more often than usual when sitting in an office chair. Here are some of the benefits of active sitting: 
It Enhances Core Muscle Strength

. Active sitting removes overreliance on some sets of muscles to the exclusion of others. It prevents the weakening of idle muscles.

Healthy Spine Promotion

. The spinal column behaves like a sponge with water. With every movement, it releases fluids and nutrients that enhance motion. The process keeps the spine healthy as it reduces hernias and compression injuries. 

It Improves Body Posture

. Active sitting forces you to keep adjusting your body, making your posture better. You break the bad habit of relying too heavily on chair backrests.

Improved Concentration

. If you stray off a bit, you may fall off the stool. Since you always need to control your body, you are kept active all the time. Your focus stays on the task before you.

It Encourages Blood Circulation

. Sitting in a sedentary position slows down body metabolism and blood circulation. This may cause body weakness, vein thrombosis, and other complications. Active sitting forces muscles to be active, leading to improved blood circulation.

It Burns Calories

. Sedentary sitting builds up a lot of calories since there is no physical exercise done. Active sitting encourages a lot of muscle movements and usage. Please note the stool is not a weight loss program since it only burns small amounts of calories. 
The 20 Best Adjustable Desk Stools for Active Sitting
1. Autonomous ErgoStool
This ergonomic stool provides sitting comfort and style. ErgoStool works to strengthen your core and back. It allows free movement across the office, promoting blood circulation in the process. 
You can adjust its height to about 10" without having to lower your adjustable desk. To avoid possible disc diseases, you can wobble on this stool to enhance comfort. The sitting areas are cozy and sloped. It has a strong base that lifts a weight of 270 pounds. 
2. The Perch Sit-Stand Stool
This stool takes the shape of a chair with small back support. It is one of the best standing to sitting chairs you can use at your desk. You can use it for long periods as it has a seating area that extends to support the user. 
The Perch office stool eases back pain with its seat extension. It has a base with five non-slipping rods and is highly durable due to its stainless-steel makeup. The raised back prevents you from slipping.
3. Capisco Plus
This stool is a product by Hag with some features resembling those of an ergonomic chair. Capisco is one of the best office stools with wheels. You can pick it when it is fully or partially upholstered. It has a height adjustment feature for your use. 
How would you like to move with comfort at your standing desk? With ease? If that is the case, go for this sleekly designed stool known to promote comfort. Its wheels move with ease on any office floor surface. 
4. Interion Standing Stool
This is an adjustable desk stool or chair with a small back for support from slipping off. It has a height change lever for setting the right height at the desk. It serves as a stool but with a backrest like that of a chair. 
Overall, this is one of the best standing desk ergonomic stools or chairs for adjustable height and backrest. 
5. Wayfair Resaca Industrial Stool
This stool is considered basic despite coming nowhere near boring. First, with its sleek wheels, you can move and spin anywhere sitting on it within the office. 
Second, it promotes comfort and flexibility with great support for your back. You can also adjust the height of the stool to meet your standing desk settings. 
6. The Learniture Learning Stool
You can sit comfortably on this office stool seat with its padded seat. The pad is good for supporting your tailbone and lower limbs. It is easy to assemble and has a lightweight design. 
The curved base permits a wide range of motion, and it has non-slip support. Apart from the support of the backless design, it has a wide range of height adjustments. It also has replacement lifts which you can install by yourself with ease. 
7. The Luna Stool
Luna is a standing desk stool with slip resistance. It is a one-of-a-kind stool for working at home or in the office. Users can adjust this stool's height to find comfort at the desk. Its padded seat is comfortable for people sitting for long hours. 
The slip resistance helps you to open your hips and activate your core. Luna has a strong base enough to lift a weight of over 270 pounds. 
8. Twixt Active Seating Chair
This is one of the best standing desk chairs with a resemblance to a stool. Apart from being an adjustable desk stool, it has a flexible ring under the base. You can rest your legs on the ring or use it to adjust the chair's angle. 
Its 360-degree swivel allows motion with no problems at all. You can adjust its height up to a range of 10". Moving the office stool about is easy due to the underside of the seat handle.
9. HVLPerch Stool by HON
Are you looking for an elegant and ergonomically designed stool? Well, the HVLPerch is a good option. The office stool can support a weight of up to 250 pounds. A product of active and comfortable seating material, this stool is ideal for both sitting and standing options. 
It has a pivoting base that allows you to lean in all directions. The stool enhances neutral posture and strengthens your core muscles.  
10. Saloniture's Professional Ergonomic Saddle Stool
This is among the most affordable stools you can find on the market. It has sturdy support that can carry up to 350 pounds. The stool offers stability in that it does not lean when you sit or put weight on it. This stool is comfortable and ideal for active working. 
11. Vari Active Seat
Vari is a standing desk stool for work that supports active sitting. The stool strives to keep your core well engaged with its wide range of up to 20 degrees. Its height is adjustable since it uses an airlifted piston mechanism. 
The Vari Active Seat is made of comfortable cushions with a small backrest. Its double handle makes it flexible and portable. Unlike other ergonomic stools, it is easy to assemble and use. 
12. FFS-1000-BK Mobis Stand-up Leaning Seat
This is a friendly desk stool that offers you maximum comfort. It is highly stable and has a built-in handle that enhances portability. The materials used in making it are easy to clean, and it has a stable footrest. Its excellent height and strength make it possible to carry heavyweights. 
13. Move Tilting Saddle Stool by Varier
The Varier Move Tilting Saddle Stool is among the most popular stools for standing desks. It is created with simplicity and a three-step assembling process. The stool for work is made of a special polyurethane foam that allows you to sit comfortably. Though it does not support your spine, it offers a high level of motion. 
14. Adjustable Ergonomic Standing Stool by SONGMICS
Are you looking for a desk stool that offers a fun experience when sitting? Well, this adjustable ergonomic standing stool is the right model. This stool has the most attractive modern design with an anti-slip pad. 
The pad prevents the stool from scratching the floor. Overall, the stool assembly process is easy as it is a three-step procedure. This standing stool has a slightly inferior tilt range of only eight degrees when compared to other stools. 
15. The Wobble Stool
This desk stool chair was created with uniqueness and high-quality materials. It has a swaying base that enhances mobility and stability. The Wobble Stool has a push button that helps in adjusting the height. Its strength and stability can accommodate people of all sizes. 
The desk stool is made of comfortable plush with padded fabric and a 360-degree swivel. This is one of the desk stool chairs for work meant to keep you active, energized, and alert all day long. It also keeps you engaged in your activities and workspace. 
16. Focal Upright Locus Seat
This adjustable desk stool has some notable features that are not present on other stools. Though it may seem a bit expensive, this stand-up desk stool was created with quality materials and innovativeness. It has a built-in footrest that improves your comfort and relaxation. 
The footrest feature comes with an anti-fatigue mat that helps in relieving stress on the lower body. Although it can be challenging to move the stool around, it has some added wheels on the mat that enhance slight motion. 
17. UPLIFT Desk Starling Stool
This ergonomically designed office stool allows you to switch your legs and feet when in sitting or standing positions. It has a tiltable angle that helps lower pressure on your lower body. The stool improves your spine's posture to a neutral position. 
18. Muvman Sit-to-stand Stool
Are you looking for a desk stool made of a microfiber breathable fabric? If so, this is a go-to stool. This stool is a result of creativity and polyurethane that makes it resistant to sweat and tear. 
It is also easy to clean, assemble, and use. The desk stool chair comes with a rubber base that helps prevent it from sliding when leaning on it. It has an easy-to-grip handle, and it is highly portable. 
19. Adjustable-height Active Learning Stool by Learniture
If you are looking for a simple standing desk stool that is easy to clean, this is the ideal option. This stool has a minimalistic design that strives to perfect some of the basics of an ergonomic stool. 
Though it does not stand out like other stools, it offers the features needed for active sitting. The stool has a 10" adjustable height that extends to around 28". Additionally, it has a variety of motion features that help in promoting proper posture. 
20. High-rise Balance Ball Stool by Gaiam
This is one of the most unique standing desk stools that stands out from other ergonomic tools. Its unique design leaves your work area looking stunning and stylish. Though it looks peculiar, it offers stability just like other stools. Its 360-degree swivel base enhances swift and micro-movements. The stool has a reflection that improves posture and circulation. 
Final Remarks
It is not always about sitting on a chair at the office while working that makes you comfortable. You can stand at your desk or sit on a stool all day while staying comfortable and productive. When planning your office layout, include an adjustable desk stool on your list of to-dos. 
Along the way, the need to sit on your chair or stool may crop up. You may need to keep adjusting your body to enhance comfort. Some office chairs may not grant this comfort in an active sitting position. Let's say you want to wobble about in the office; can you do that on a chair? Not really. With an adjustable office stool, this is very much possible. 
Fill your office with the right items ideal for comfort while working. When buying office accessories and furniture, pick ergonomic items. You now know that a stool should be part of the items you buy. All the best as you stay safe and comfortable at work on your new stool.
Video ads for product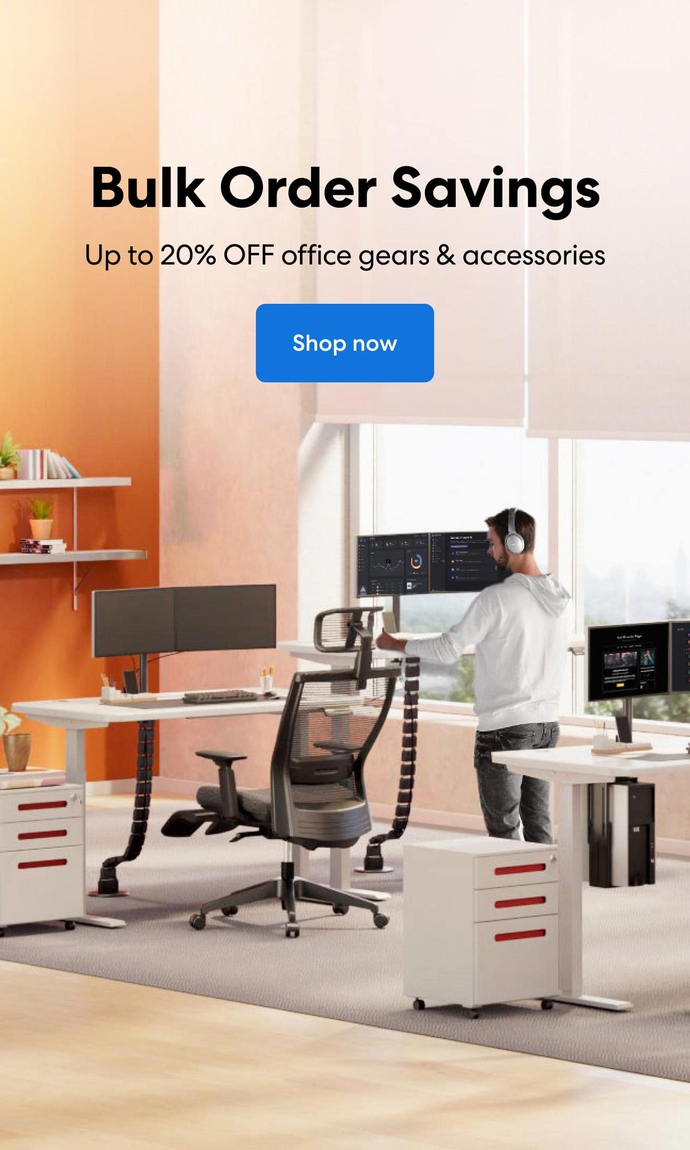 Subcribe newsletter and get $100 OFF.
Receive product updates, special offers, ergo tips, and inspiration form our team.